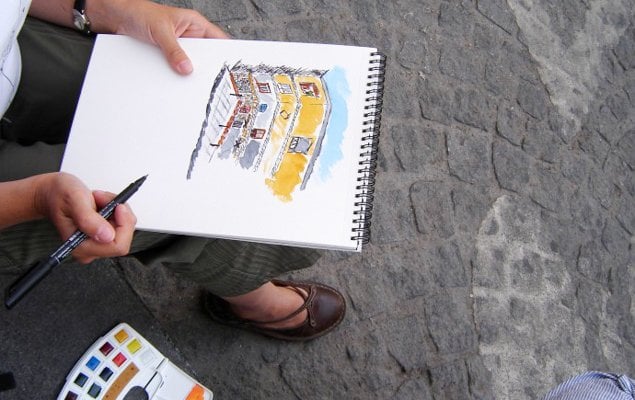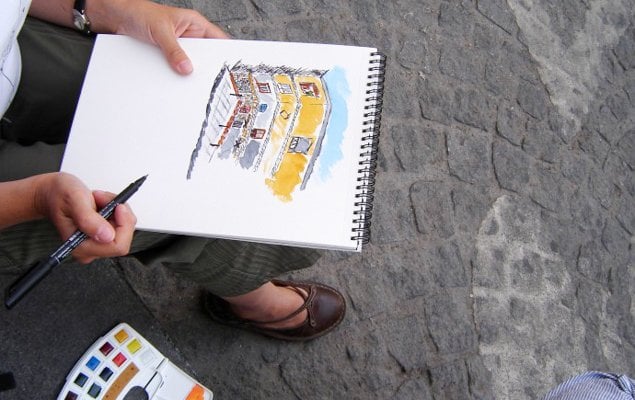 Imagine what traveling was like before the advent of cameras. How did people remember their voyage without a smartphone or social media? Postcards were a popular souvenir, as were paintings and sketches. If you were an artist and privileged enough to travel, it was common practice to sketch and paint your way through Europe. Paris, Rome and Venice were all popular artistic destinations. Nowadays, this artistic spirit remains alive in some ways. You'll still find painters along the edge of the Seine, at Place du Tertre selling their canvases in Montmartre, and even copying the great masters in the Louvre museum.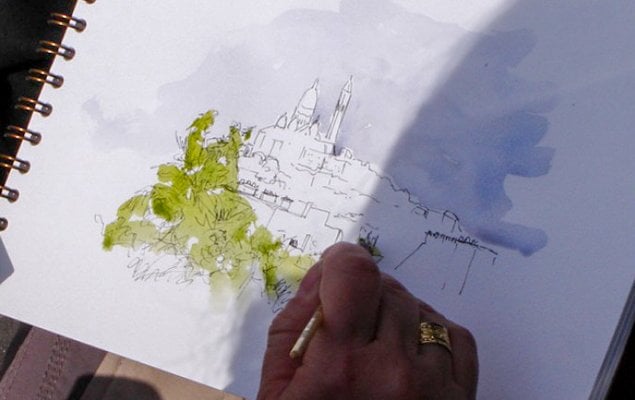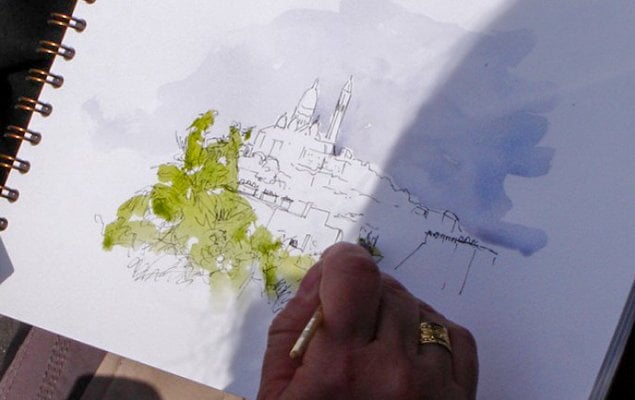 You don't have to be a professional artist to take part in this artistic tradition – all you need is a sketch book, some paint, and a great art teacher! Pauline Fraisse is a skilled artist and teaches art classes all around the world, but her courses in Paris are her specialty. She offers everything from outdoor sessions, to classes in her studio or even inside museums. Scheduled classes are offered on a regular basis, but you can also arrange for a customized course near your apartment or in your favorite Parisian neighborhood. She works with both adults and children, so this could be the perfect family activity!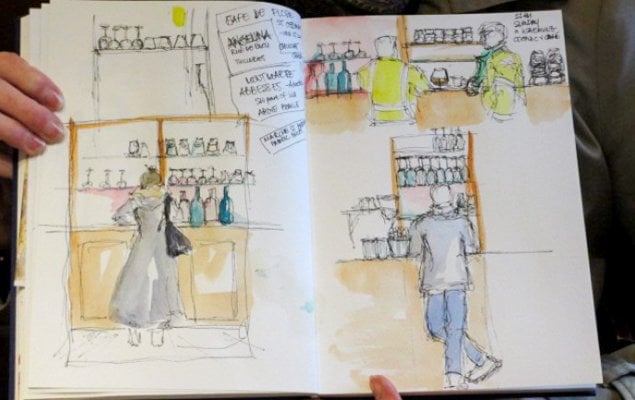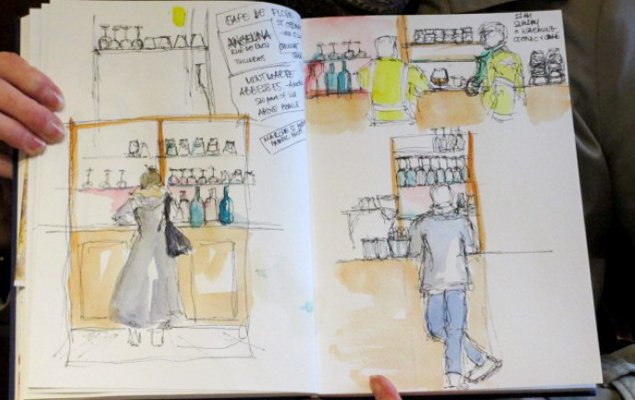 One of our favorite classes is the Travel Sketchbook Workshop. Held in various locations throughout Paris, you'll practice quick sketches of cafes, gardens, or charming streets, and learn how to create a beautiful travel journal that you'll look back on for the rest of your life. This course allows you to soak in Paris one scene at a time. There's no rushing or stressful itineraries here, just calm, peaceful time to observe the beautiful world around you. Pauline has taken groups to amazing locations such as the romantic Tuileries Garden, the elegant Passages Couvertes, bustling open air food markets, bohemian Montmartre and so many more Parisian favorites.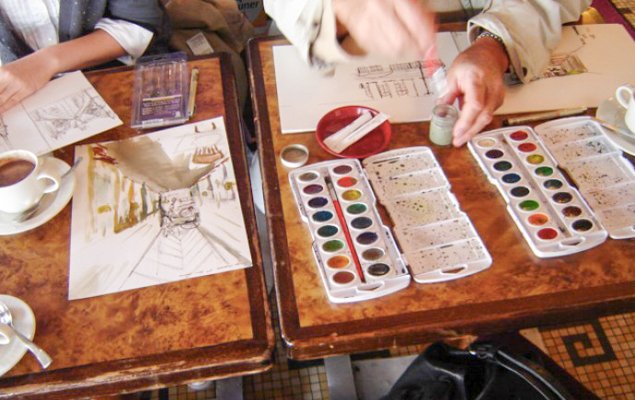 Another great option for families is the Customized Course for Children & Teenagers. Whatever level your child is at and whatever interests they have, Pauline will work with them individually. The course is different for each student, and can focus on anything from introduction to color and creativity, collage, painting, sculpting and even basic Art History. Each class is limited to a very small number of participants, so your child will receive lots of individualized attention.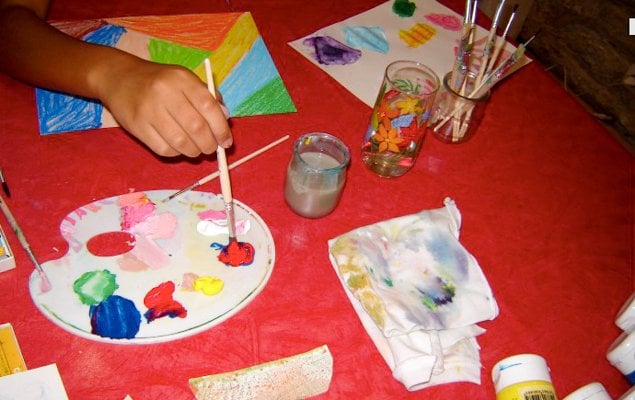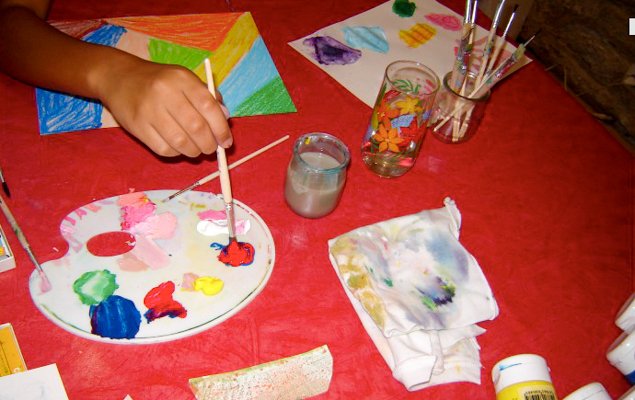 Pauline also offers a private excursion to Giverny to sketch Claude Monet's garden as well as the surrounding village and countryside. She can also take you inside the Louvre to sketch the great masterpieces and grand architecture. There's also painting and portraiture courses that are held in Pauline's studio. Whatever your artistic goals are, there is a customizable course to match.
Don't worry about packing paint or sketchbooks in your suitcase. Pauline makes it very easy to obtain basic supplies. We can arrange that all of your needed art supplies be taken to the agreed-upon meeting point in Paris, whether it be Pauline's studio or a picturesque bridge – creating art in Paris couldn't be simpler!
(Image Credits: All images courtesy of Pauline Fraisse unless otherwise noted)