It's been cold in Paris, and even though spring is right around the corner, it definitely still feels like winter. As a result, I've been craving my favorite comfort dish: pumpkin soup. A few years ago, I tasted the pumpkin soup from Christian Constant's kitchen and it comes to mind every time I want some cozy food to take away the chill. Recently, I had lunch at Philippe Excoffier's eponymous restaurant on rue de l'Exposition in the 7th arrondissement, and he kindly shared his easy-to-make recipe for pumpkin soup. The photo above is how this lovely soup was served at the American Embassy in Paris for a special Thanksgiving day meal when he was head chef there.
While at the restaurant, I had a chance to flip through his beautiful cookbook Elegant Entertaining: Seasonal Recipes from the American Ambassador's Residence in Paris. You will drool at the beauty of the Haussmann-era embassy and the delicious recipes! Here's one for you to try at home: Philippe Excoffier's delicious pumpkin soup! What makes the flavor so divine are the shallots and garlic, a good complement to naturally sweet pumpkin. The soup is extra special when prepared from a fresh pumpkin, but if you are short on time, canned pumpkin purée will work out great as well!
Philippe Excoffier's Easy Pumpkin Soup – Potage de Potiron
Serves: 8
Prep Time: 15 min
Cook Time: 20 min
Total Time: 35 min (when using canned pumpkin purée)
Ingredients:
4 shallots
3 cloves of garlic
4 cups of pumpkin puree – pure pumpkin, not salted/sugared or spiced. (alternatively 1 medium pumpkin (6 pounds).  Cut open into big pieces, remove seeds and bake in oven at 385F for 45 minutes. Then remove skin.)
3 teaspoons olive oil
6 C (1.5 litre) chicken stock
3 TBSP (25 g) crème fraiche
¼ Cup (70 grams) butter
Salt and pepper
Garnish suggestions:  Toasted hazelnuts and crème fraiche or sour cream.
Instructions:
Peel shallots and slice thinly, then peel and chop the garlic.
If you're using a fresh pumpkin, see ingredient list for cooking directions. When cooked and peeled, puree with an electric whisk or in your blender.
Heat olive oil in a large pot over medium heat.
Add the shallots. Stir for a minute or so – don't let them burn.
Add the garlic and stir for a minute, then add the pumpkin and stir for 5 minutes.
Add the chicken stock.
Add salt and pepper.
Let the soup cook for 15 minutes before adding crème fraiche and butter.
Pass it in blender or the electric soup whizzer and strain.
This recipe is just a small taste of what's to come this spring!
Summary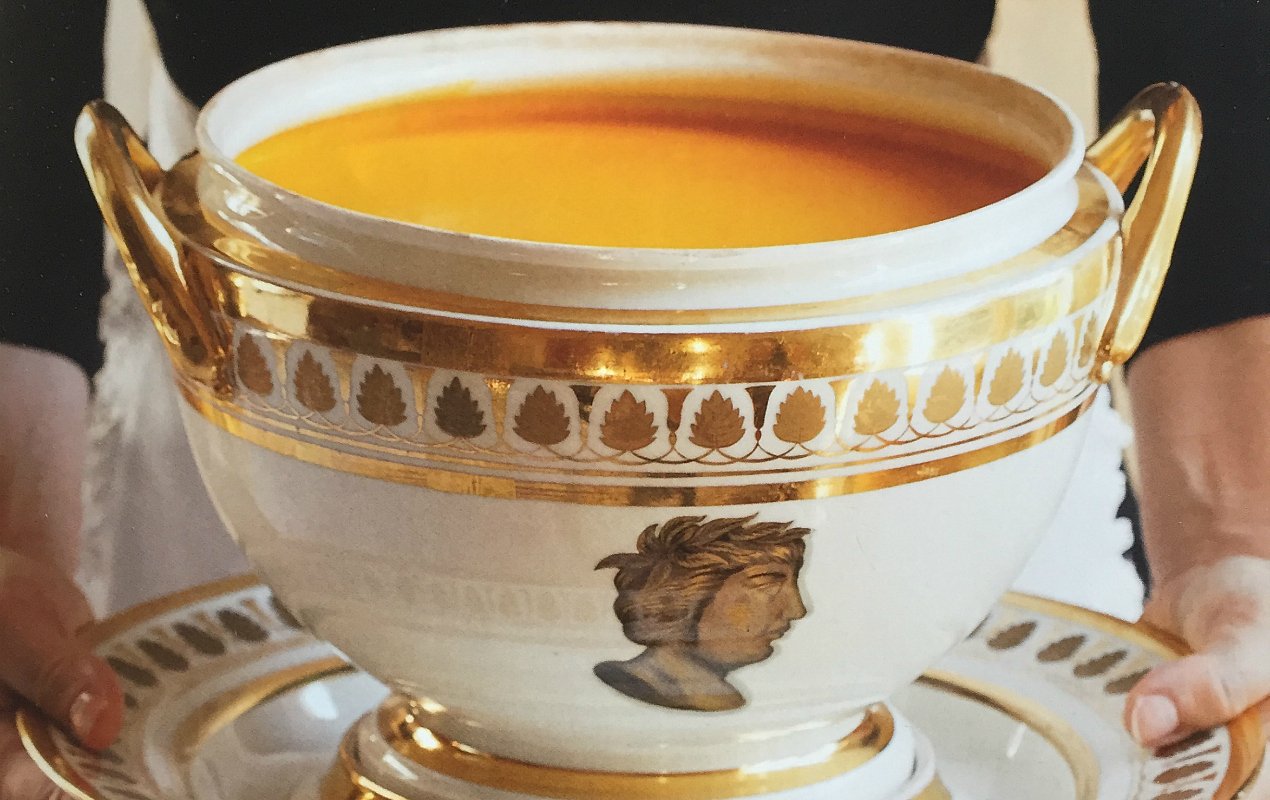 Recipe Name
Philippe Excoffier's Easy Pumpkin Soup
Published On
Preparation Time
Cook Time
Total Time
Average Rating





Based on 195 Review(s)