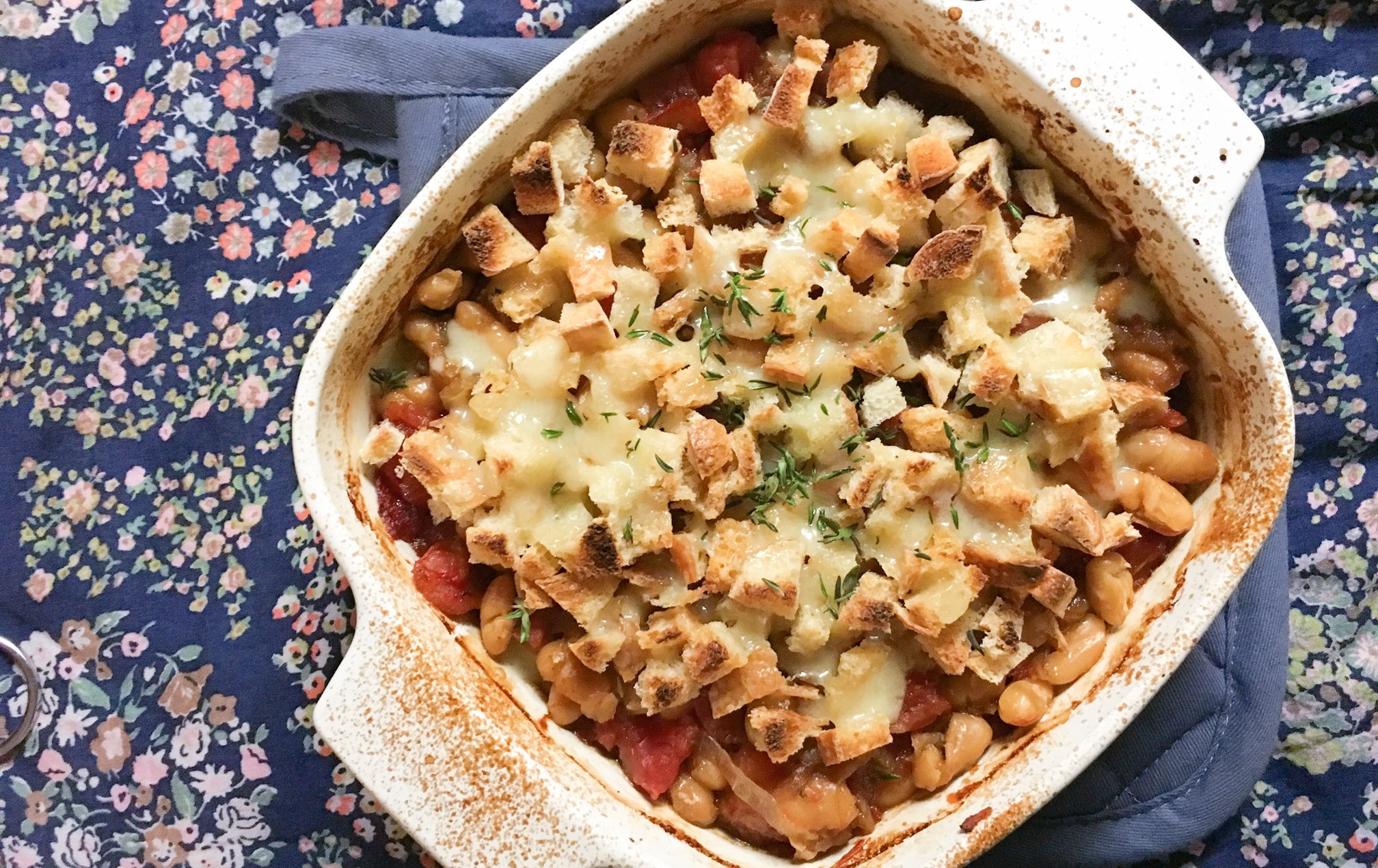 Combine two of France's most beloved recipes with this French Onion Soup-inspired baked bean dish. A typical cassoulet takes hours to make and often calls for a variety obscure meats, but this meat-free version is much simpler – and faster – from start to finish. Cook up this recipe for a comforting and nutritious meal!
Everyone in France knows of the southwestern treat that is the cassoulet – a slow-baked, melt-in-your-mouth dish of white beans and various meats like pork skin, and goose or duck sausages. They are cooked together, sometimes all day, to make a hearty and strengthening meal. France also knows onion soup – a salty and sweet beef-broth based concoction topped with toast and melted cheese. What France may not be familiar with is a blend of these two traditional foods: a French Onion soup-inspired cassoulet. This recipe provides a balanced combination of rich and wholesome, sweet and savory – and is perfect for warming up on the colder days of fall or winter.
French Onion Cassoulet
Serves 2-3 main portions, 4-5 side portions
Prep Time: 20 minutes
Cook Time: 75 minutes
Total Time: 1 hour 35 minutes
Ingredients: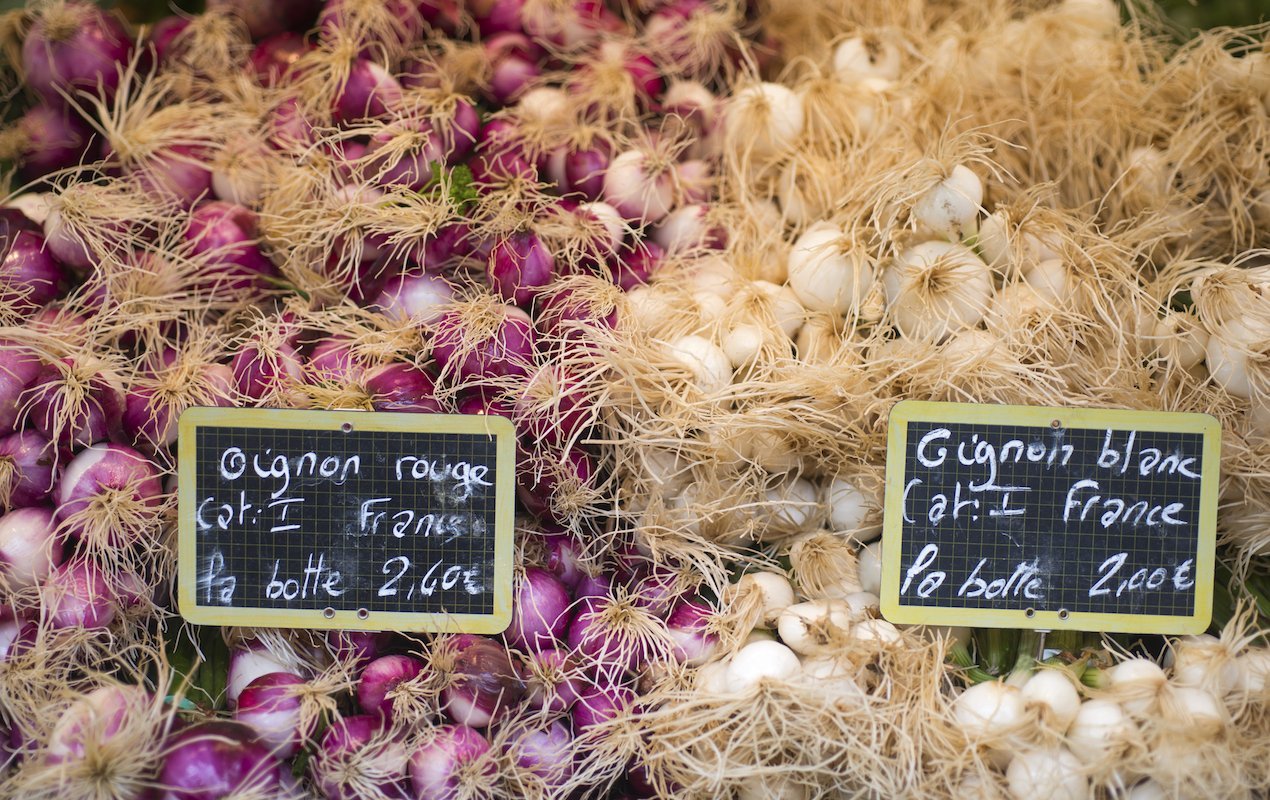 1 large sweet onion
2 tbsp olive oil
1 tsp sea salt
2 cloves garlic, minced
1 tbsp fresh (or 2 tsp dried) thyme leaves, sprigs set aside
1 1/4 cups beef broth, divided
1-14oz can cannelini, great northern, or other white bean
1-14oz can chopped tomatoes
Salt and freshly cracked black pepper to taste
2 or 3 slices sourdough or french bread, cubed (approx. 1 cup)
1 ounce grated gruyere cheese (approx. 1/4 cup)
Instructions:
Cut ends off onion and peel off skin. Set onion on one of its flat sides and cut in half. Lay halves down on board; cut each into 1/2 inch slices.
Heat oil in a large sauté pan or cast iron skillet with a lid. Add onion slices and salt, stirring occasionally until onions are translucent. They will start to give off a sweet aroma. If you have the fresh thyme sprigs you plucked the leaves off of, you can add it to the pan now. Cover pan and turn heat to low, checking on and stirring the onions every 15 minutes to keep them from burning. Cook onions for approximately 45 minutes, until golden and caramelized.
While onions are caramelizing, heat oven to 350 degrees F. Spread bread cubes on a baking tray and toast until lightly browned, about 10 minutes. Set aside.
Increase heat to medium-high and stir garlic and thyme leaves into the onions. Cook for 2 minutes, then add in 1/2 cup of beef broth. This will help deglaze the pan, which will be helped along by scraping with a spatula. Get all the bits off the bottom for extra flavor! As soon as the broth evaporates, add another 1/2 cup and let reduce once more. Turn off heat and transfer contents to a small baking dish.
Drain and rise chopped tomatoes. Do the same for the beans. Add both to baking dish and evenly incorporate into onions. Sprinkle with freshly ground black pepper. Add remaining 3/4 cup beef broth until cassoulet mixture is almost covered with liquid. Top with toast cubes and shredded gruyere. Bake in 350 degree F oven for about 30 minutes. It may need to be covered with foil half-way through if the topping looks like it's cooking too quickly.
Let cassoulet rest for 5-10 minutes before serving with a garnish of fresh thyme. This dish would go wonderfully with mashed potatoes for a comforting cool-weather dinner.
So throw on your coziest sweater and warm up with this comforting meal. We think it would be a perfect addition to any Thanksgiving, Christmas, or other holiday table!