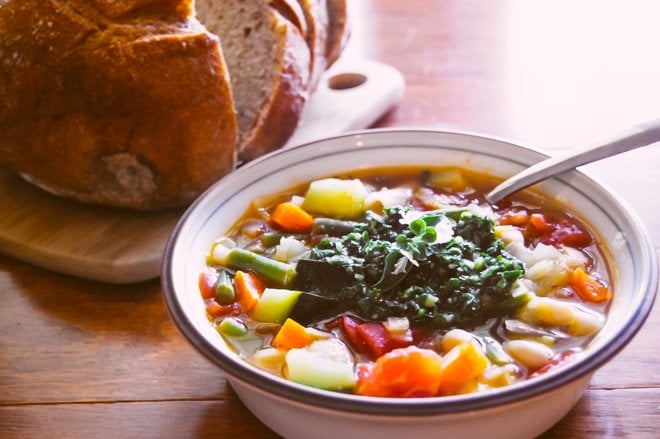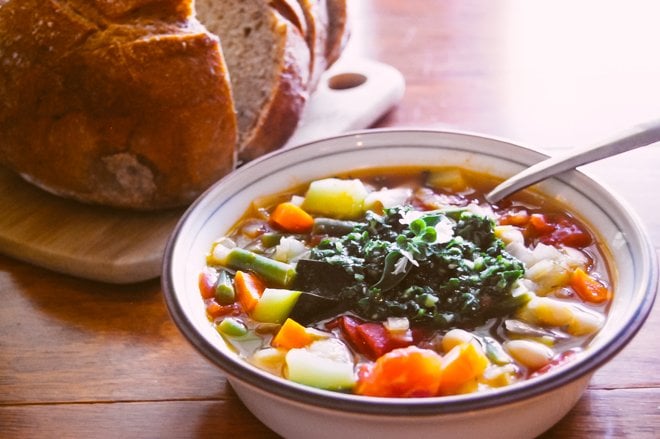 When cool weather hits, there's nothing like a warm bowl of soup to ease the chill. Soupe au Pistou, a Provençal vegetable soup originating from Nice, does exactly that. Late summer vegetables combine with a garlic and basil pesto topping to create a flavorful, nourishing meal.
This recipe is infinitely adaptable. Exchange the zucchini for a golden butternut squash, or the green beans for swiss chard; omit the tomatoes; add a sprinkle of parmesan; even substitute quinoa or rice in place of the pasta! Let this recipe serve as a base for your own culinary exploration.
Soupe au Pistou
(Yield: makes about 5 quarts)
Ingredients for the Soup:
3 tablespoons olive oil
2 leeks, sliced
1 onion, diced
2 teaspoons chopped fresh thyme
2 medium carrots (6 oz, 170g), peeled and diced
1 medium zucchini (1 lb, 450g), diced
1/2 pound (230g) green beans, tips removed and cut crosswise into quarters
2 cloves garlic, minced or thinly sliced
1 tablespoon sea salt
Freshly ground pepper, to taste
1-28oz can (about 800g) of diced tomatoes
2-15oz cans (about 850g total) of cannellini beans, drained and rinsed
1.5 quarts (1.4L) of water
1 cup (100g) dried small pasta, such as orzo, vermicelli, elbows, or shells
Ingredients for the Pistou:
5 large cloves of garlic
1/4 teaspoons salt
2 cups packed fresh basil leaves (about two large bunches), coarsely chopped
1/4 cup (4 tablespoons) olive oil
To make the soup:
Heat olive oil in a large pot over medium heat.
Add the leeks and onion. Cook, stirring occasionally, until soft and translucent.
Add thyme, carrots, zucchini, green beans, garlic, salt, and pepper. Cook, stirring occasionally, until the vegetables are cooked through.
Add the beans, tomatoes, water, and pasta. Bring to a boil and simmer for a few minutes until the pasta is cooked. While the soup is simmering, make the pistou.
To make the pistou:
Using a mortar and pestle or food processor, pound or process the garlic and salt into a paste.
Add basil, incorporating it into the garlic until smooth.
Lastly, add olive oil. Taste and salt accordingly.
Note: If you can't find the large quantity of basil needed to make your own pistou, or you'd simply like to save some time, store-bought pesto would provide a similar flavor and be just as delicious.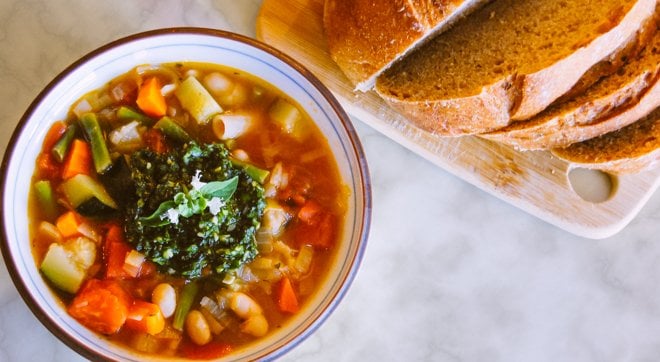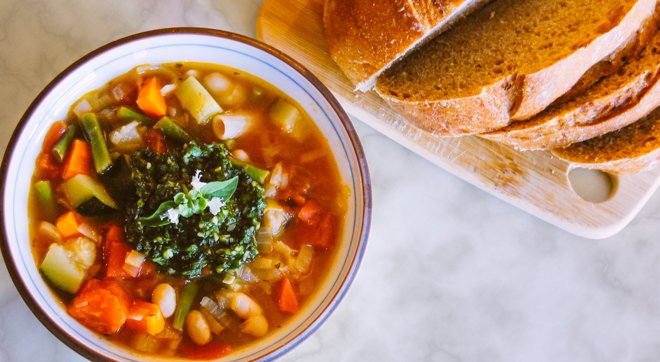 Serve this hearty soup with a swirl of pistou and enjoy with a crusty baguette, warm and fresh from the boulangerie.
All of these ingredients can be picked up at one of Paris' many open-air markets. See our guide to shopping for groceries like a Parisian here!
(All images by the Author. Recipe adapted from David Lebovitz)