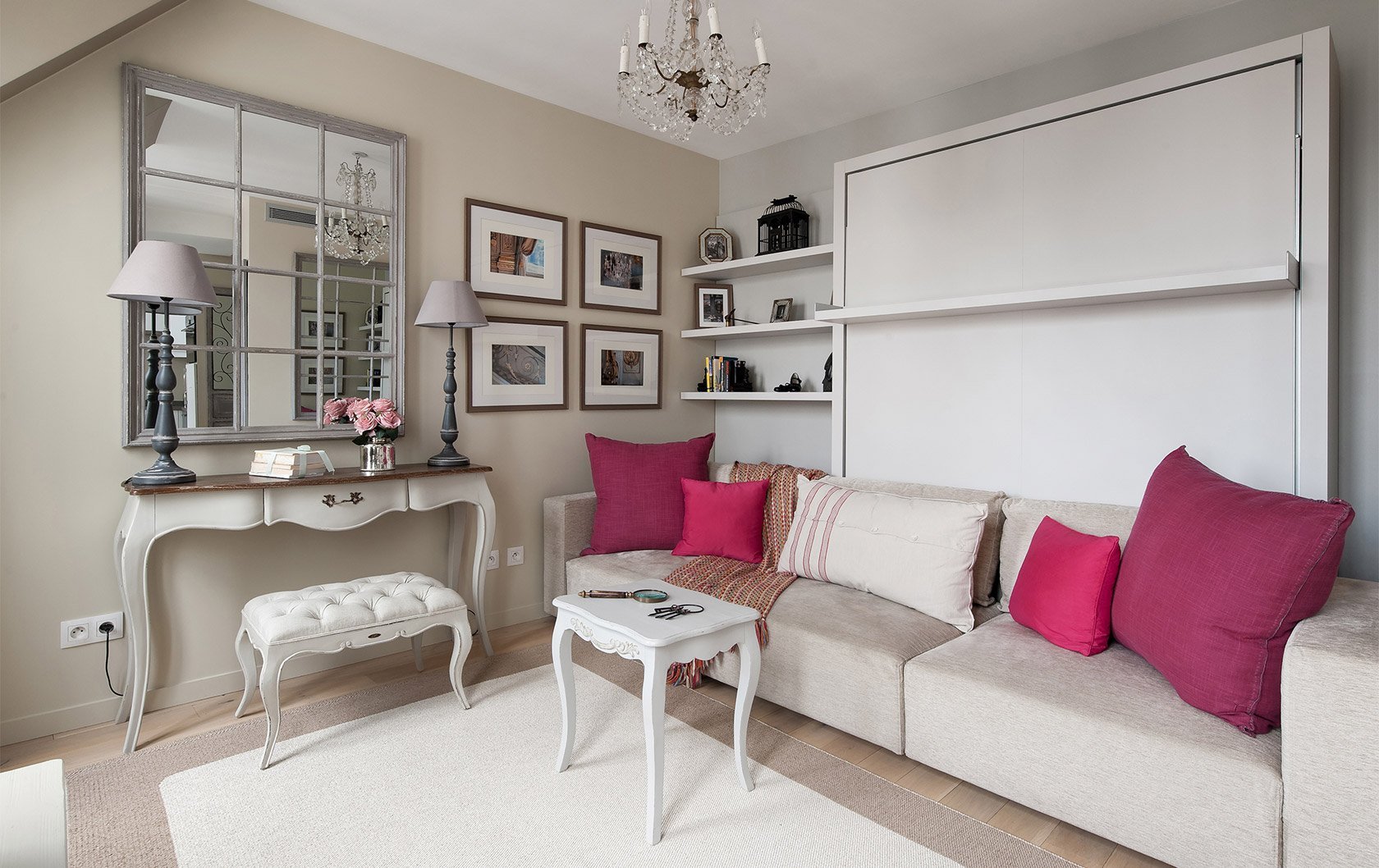 I love interior design and especially the challenges of remodeling a tiny apartment into something fabulous. Paris is one of the best places to transform small spaces – apartments are generally not as spacious as the USA.  Done well, even a petite apartment can seem grand with the right design.
How to remodel a small Paris apartment 
We had the pleasure of remodeling a darling apartment called the Saumur for some new owners. My amateur photos don't do it justice, but we believe we solved the most important problem, creating a spacious living room and a real bedroom in this tiny space (only 270 square feet).
The challenges
First up was gutting it and improving the layout. The apartment was in dire need of redecoration, not having been touched since the 1970s. Can you believe it?
A functional living room
The most important aspect was creating a living room that felt large and comfortable but could easily convert to a cozy bedroom at night.  One option was to buy an excellent convertible sofa like the ones we import from Italy and use for many owner apartments.  Italians are the masters of design and comfort for small spaces. But this time, our owners wanted more – both a sectional sofa and a Murphy bed that pulled down from the wall.
Daybeds are common in the US but they were not what our owners wanted. For American designers, it's a difficult challenge because there hasn't been a lot of design innovation for small spaces. Our owners didn't want to buy a queen-sized bed which would serve as a daybed like the one below. We agreed, they're not particularly comfortable and take up a lot of space.
Finding a combination sofa/wall bed
We work with a leading Italian design company that makes wall beds, or Murphy beds, as mentioned. Measuring only 15 inches deep they perform the entire function of a living room or bedroom with their clever design. You simply remove the two back cushions and pull down the shelf. Voila! A queen-sized bed. An added bonus? Even the items on the shelf stay put as you lower it.
We presented the idea to our owners and they loved it. I contacted the company in Italy; I'm lucky to have learned Italian when my father was stationed there as an Air Force pilot. I spoke with the manufacturer, who suggested one of their best selling sofa/Murphy bed models along with installation in Paris. Then, came the long price negotiation (this is typically Italian but necessary). 'Un piccolo sconto' – or a small discount – was offered on the unit and also a fantastic deal to drive it from northern Italy to Paris and have professionals install it for us.
The price was about €9,500 for everything, which initially seemed like a lot. However, it was for the whole package and included: a large three-seater sofa, ottoman, bookshelves, a closet, an excellent bed, a mechanism and even an LED reading light feature in the bed. In the end, the cost wasn't a lot more than a high-end sofa with an ottoman and a queen-sized bed. And, it was the best quality we'd ever seen.
My husband claims differently, but I carefully photographed and measured every turn and angle in the six long flights, emailed them to the installers and was confident I had covered everything.  We felt all the pieces would fit and it could be carried up six floors to reach the apartment. But we'd have to wait and see…
Installing the bed
Like all the best transformations, we had many challenges. Signor Domenico and his brother drove the bed overnight to Paris and arrived on Rue Cler early the next morning to meet our builder. They were allowed to park outside in the morning in order to unload the boxes, the mattresses, sofa, and shelves. All went to plan until the largest piece (measuring 160 x 200cm or 63″ x 82″) would not fit up the stairs. They made it all the way to the 6th floor (7th in the US), only to find it would not turn the last corner into the apartment. Nightmare!
I can calculate things like internal rates of return, cash flows, and price to earnings (p/e) ratios but my Yeux de Texas (Texas eyes) just couldn't compute that it would not make the final turn. Below is the initial photo I sent Signor Domenico with my note on what each angle and turning was like – so he could prepare:
"Ecco il corridoio per entrare l'appartamento." (Here is the corridor to enter the apartment). I remembered the turn from the top of the staircase through this doorway. But I forgot that final disastrous left turn from the end of the small corridor into the apartment. Oh no!
After numerous calls, our French-Polish builder called a contact at a company which rents outside elevators. They'd just had a cancellation and had a truck was available that afternoon. At €300, the price was a bargain, especially compared to having no sofa or bed at all.
Finally, it was a success! The last big piece was lifted to the balcony via the outside elevator, slid over the railing and through the French doors into the apartment. Domenico and his brother assembled the system perfectly. Although we offered them an apartment for the night, they decided to drive to Geneva where a client was waiting for another installation. They took us up on our offer the following spring, when Domenico brought his wife and daughter. We were so lucky to have met and they're welcome to visit anytime.
The incredible new Saumur
After all the challenges, the apartment looks stunning! Here's the brand new Saumur. Don't you just love it?

BEFORE/AFTER: The living area before and after. A total transformation!
We finally did it and what a handsome transformation! I hope you've enjoyed this before and after look at the remodeling of our Saumur apartment in Paris. Let us know your favorite space-saving tips and ideas for small spaces. And, if you love the look of this charming little apartment, visit the Saumur page to see more photos and book your stay overlooking fabulous Rue Cler in Paris.
For your next stay in Paris, our friendly reservations team are on hand to help you select one of our stunning family vacation rentals.