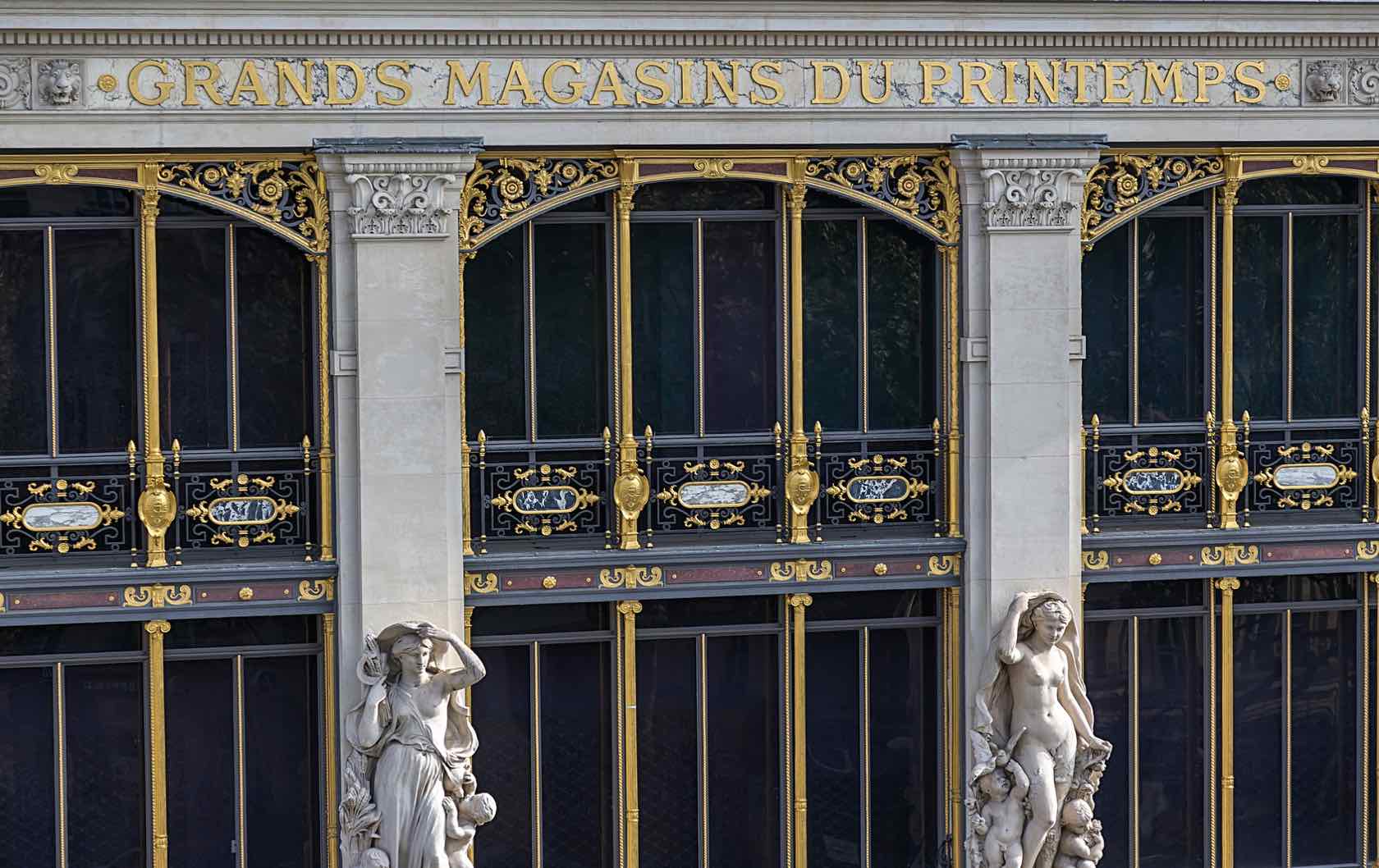 Paris may be famous for the Notre-Dame Cathedral, but shopping is also a spiritual experience in this super-chic city. The department stores in Paris are some of the world's most beautiful, rivaling the Eiffel Tower as alluring attractions. The big three legendary monuments to shopping are Le Bon Marché, Printemps and Galeries Lafayette. All feature fabulous fashion, beauty buys, homewares and accessories. It's not just retail therapy on offer, though – heritage history, cultural events, pop-ups and destination dining tempt you to linger.
Department Stores in Paris
Did you know the department store concept was created in Paris? In the mid-1800s the city's retail scene evolved from traditional covered passages to les grands magasins. These glamorous, illuminated stores set up shop on wide boulevards, wowing visitors with ornate architecture, dazzling interiors and desirable merchandise. They shook up the way people shopped, creating the blueprints for the elegant emporia of the future. Discover the stores' seductive secrets below, along with stylish Paris Perfect vacation rentals just a stroll away…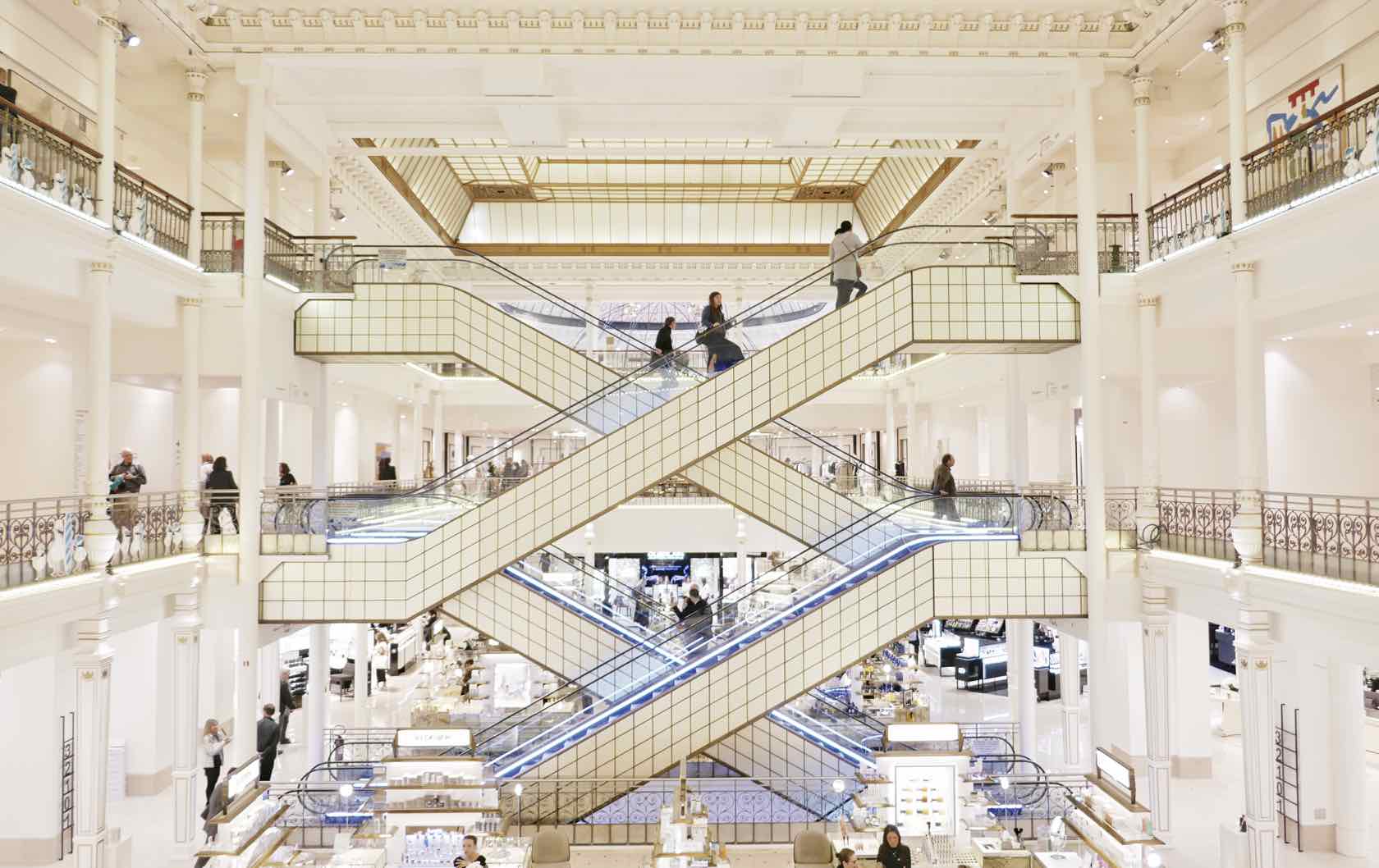 Le Bon Marché
Founded in 1838 on the Left Bank, Le Bon Marché was the world's first modern department store. Originally a simple shop selling lace, buttons, ribbons and umbrellas, it was revamped completely in 1852 by milliner's son Aristide Boucicaut and his wife Marguerite. The pair wanted to create a new kind of curated store that would thrill all the senses. Innovations included fixed prices, an exchange service, home delivery, seasonal sales, concerts, art and a reading room for waiting husbands. Engineer Gustave Eiffel (of Eiffel Tower fame) even helped to expand the successful store.
Today Le Bon Marché's departments house a luxe mix of designer brands, from fashion to beauty, homewares, stationery and books. Don't miss the Gallery of Imagination, which showcases cutting-edge global finds. Indulgent beauty services span make-up lessons, mani-pedis and skincare treatments, with two nail bars and a Jo Malone fragrance outlet. Get your hair dry-styled at Le Bar à Coiffure 365c or cut by top hairdresser Marisol. Gents can visit the dandy barber shop. Eye-catching art adorns the walls with stunning pop-up installations by design collaborators.
Foodies will love the delicious dining. Try Tuscan restaurant Primo Piano, coffee/vinyl shop Sunlee Howard for snacks or Rose Bakery Tea Room for treats. Alternatively, pop to sister store La Grande Épicerie de Paris nearby (38 rue de Sèvres). This gourmet grocer's teams a dream deli hall with French and Italian eateries. Think oysters, truffles and bubbles…
Le Bon Marché, 24 rue de Sevrès, 75007; 10am to 8pm, Thursdays until 8:45pm, Sundays 11am to 7:45pm.
Shop-friendly stay: Paris Perfect rental Morgon is near Le Bon Marché in the 7th arrondissement. This elegant apartment sleeps six, with three ensuite bedrooms, a spacious living room and impressive kitchen. Combining contemporary style with antiques and art, it's a perfect base for a stylish shopping trip. For a smaller apartment near Le Bon Marché pretty Picardin sleeps two.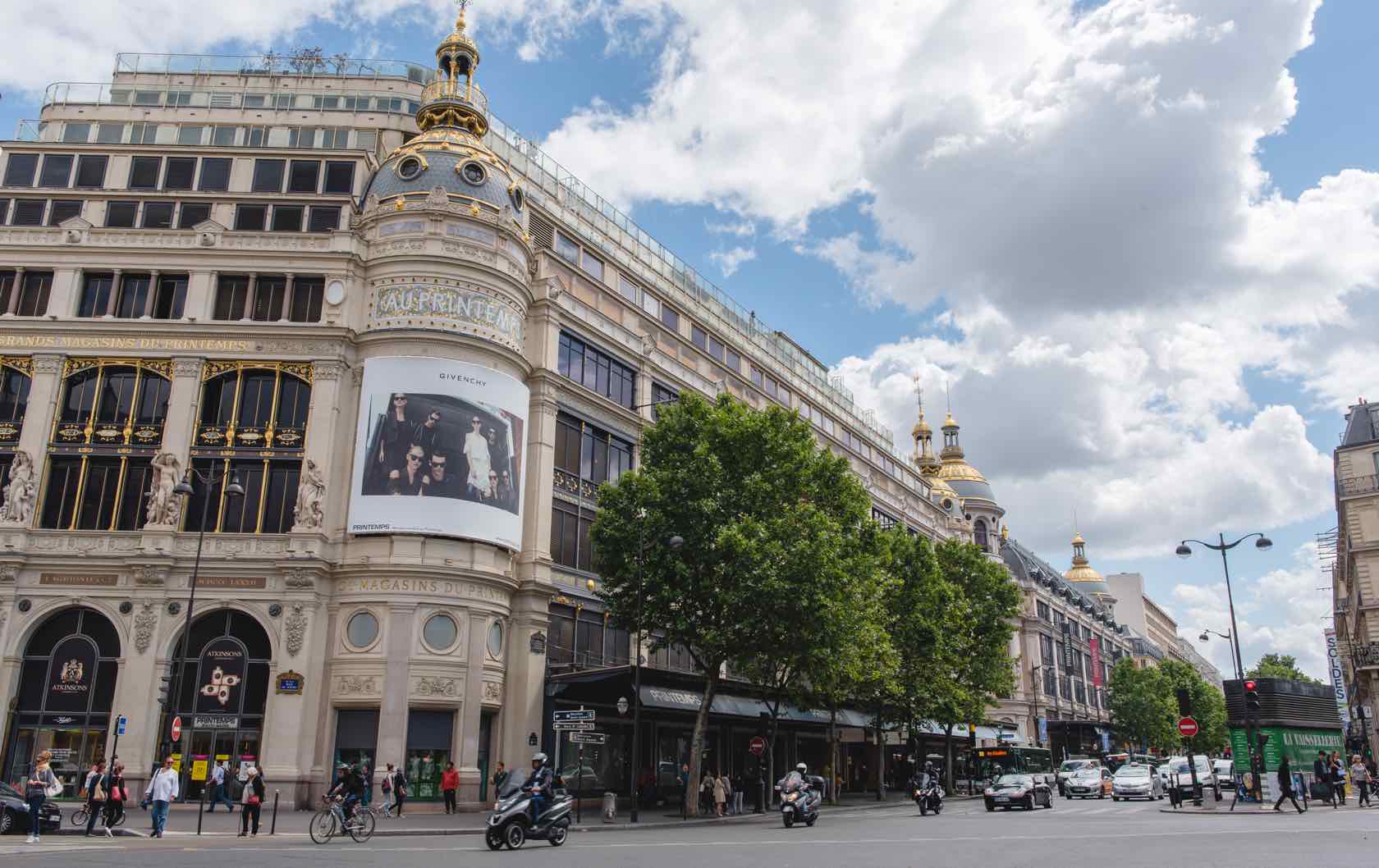 Printemps
Created in 1865 by founder Jules Jaluzot, Printemps is one of the popular department stores in Paris. Its name means 'Spring', as everything was intended to be "new, fresh and lovely". The original store Printemps Haussmann in the 9th arrondissement is a listed historic monument (there's also another outlet Printemps Louvre in the 1st). It was the first department store to install elevators and the first building in France to be lit by electricity, just three years after Thomas Edison introduced the electric bulb.
Shop till you drop for fashion, beauty and accessories, then hit the store's tasty restaurants, including Brasserie Printemps (Women's Store, Floor 6) under the jewel-bright Art Deco cupola for French bites and bubbles. Ladurée serves elegant macarons (Floor 1). For seasonal snacks ascend to Printemps du Goût (Men's Store, Floors 7 & 8), where terrace tables offer panoramic views over Palais Garnier and the Eiffel Tower. Check online before visiting for the latest news and events, including exclusives, hot product launches and seasonal pop-ups.
Printemps Haussmann, 64 boulevard Haussmann, 75009; 9:35am to 8pm, Thursdays until 8.45pm, Sundays 11am to 7pm.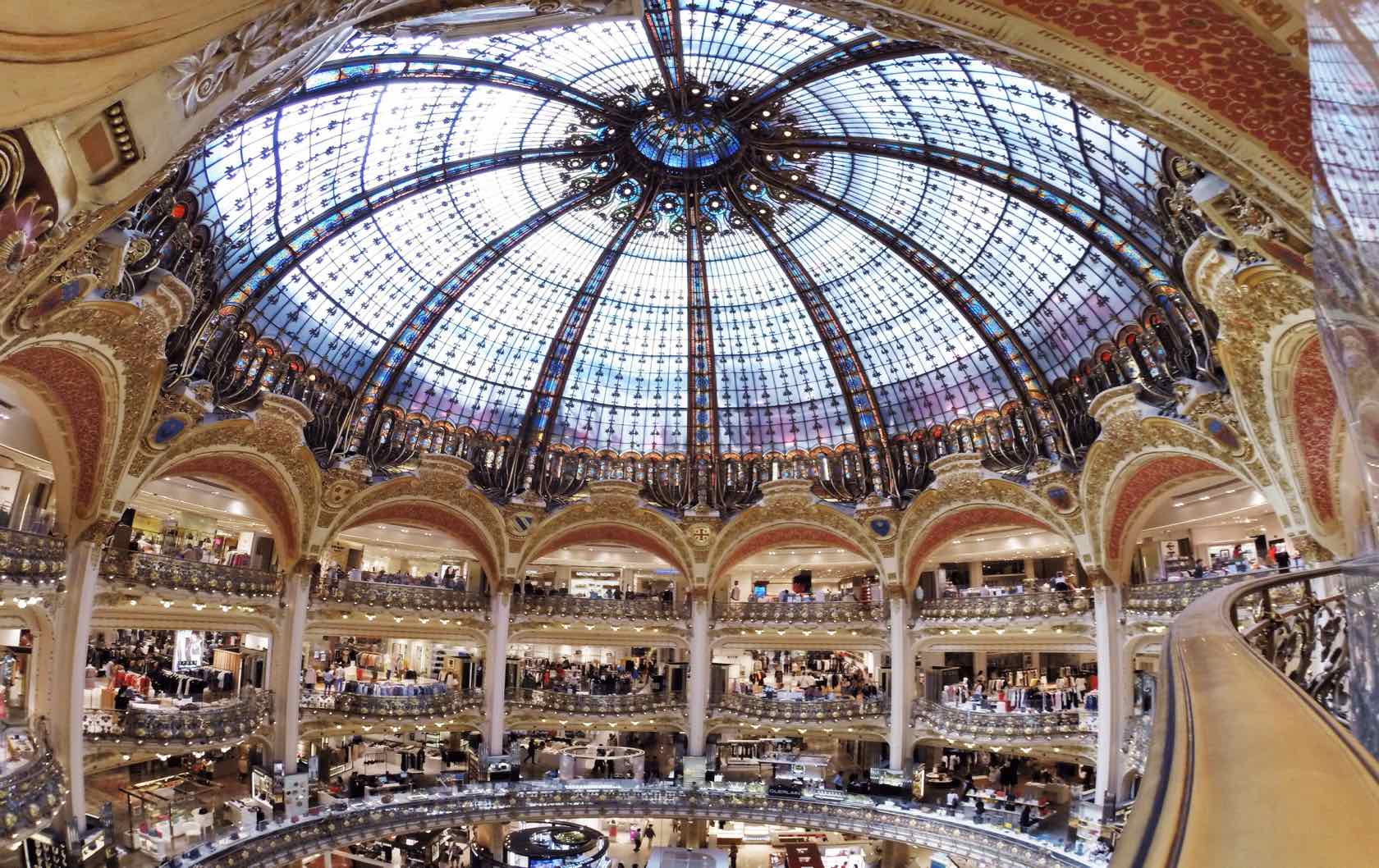 Galeries Lafayette
You can't say you've been to the department stores in Paris without a visit to gorgeous Galeries Lafayette! Launched in 1893, it was the last-born of les grands magasins, founded by two cousins from Alsace. The flagship store on Boulevard Haussmann in the 9th sports a grand foyer, famous neo-Byzantine dome (adorned with colored glass and ironwork) and panoramic terrace. It's now a listed historic monument, beloved for its ornate Art Nouveau style.
Wander the massive women's store under the cupola, attached men's store and mouth-watering homewares and food outlet opposite (no 35). Splurge at ground-floor Petrossian Caviar for a salmon, caviar and Champagne pit stop. In the main store take the elevators to the 7th floor for Cube Bar's seductive share plates and cocktails with wonderful terrace views.
Galeries Lafayette Haussmann, 40 boulevard Haussmann, 75009; Cupola, Men and Home, 9:30am to 8:30pm, Sundays 11am to 8pm; Gourmet, 8:30am to 9:30pm, Sundays 11am to 8pm.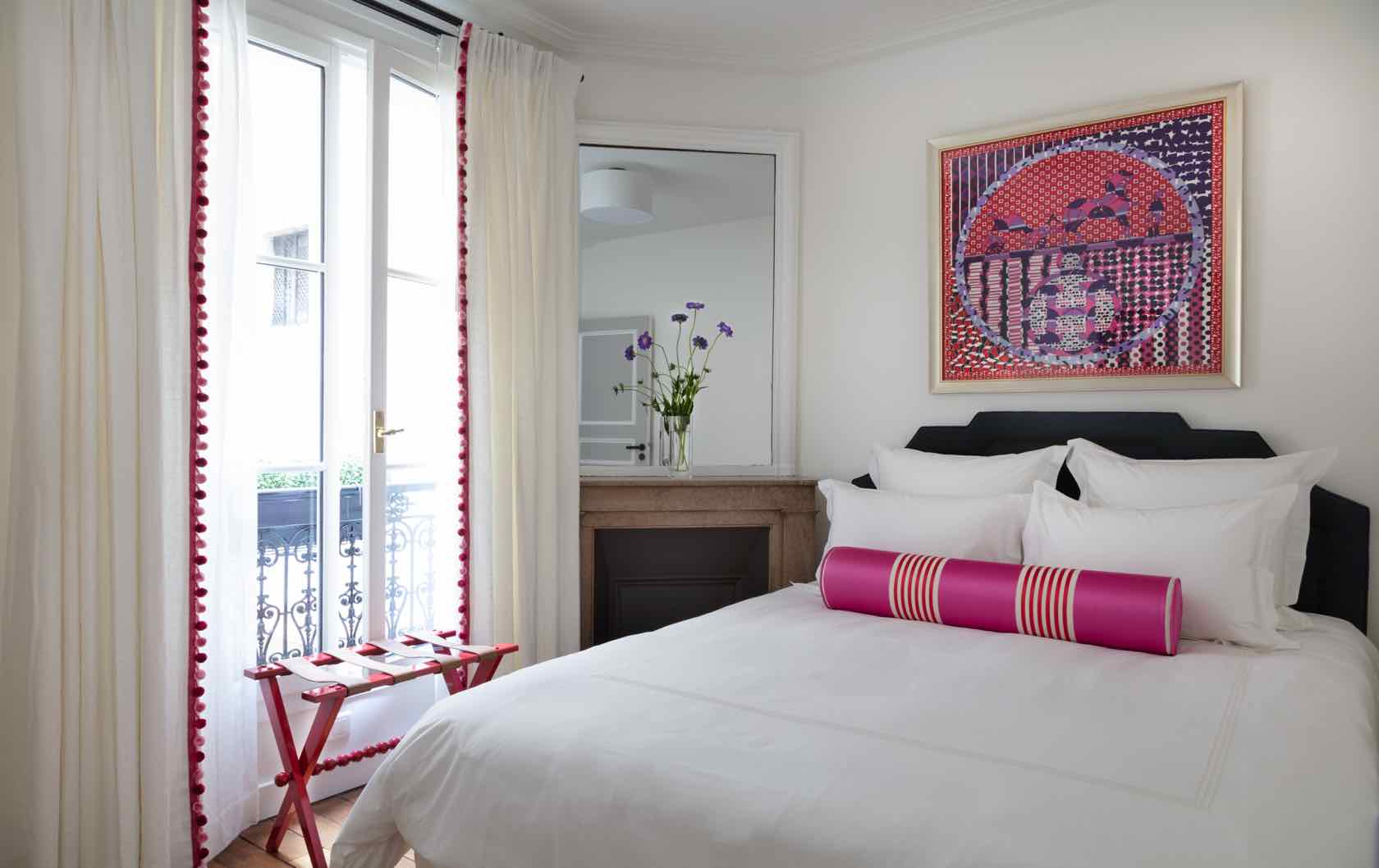 Shop-friendly stay: For a chic rental apartment near Galeries Lafayette Haussmann, book Paris Perfect's Saint-Pourçain in the nearby 2nd arrondissement. Flaunting modern interiors and vibrant art, it sleeps six in three bedrooms. Wooden flooring, generous windows and light, neutral tones add to the luxurious look.