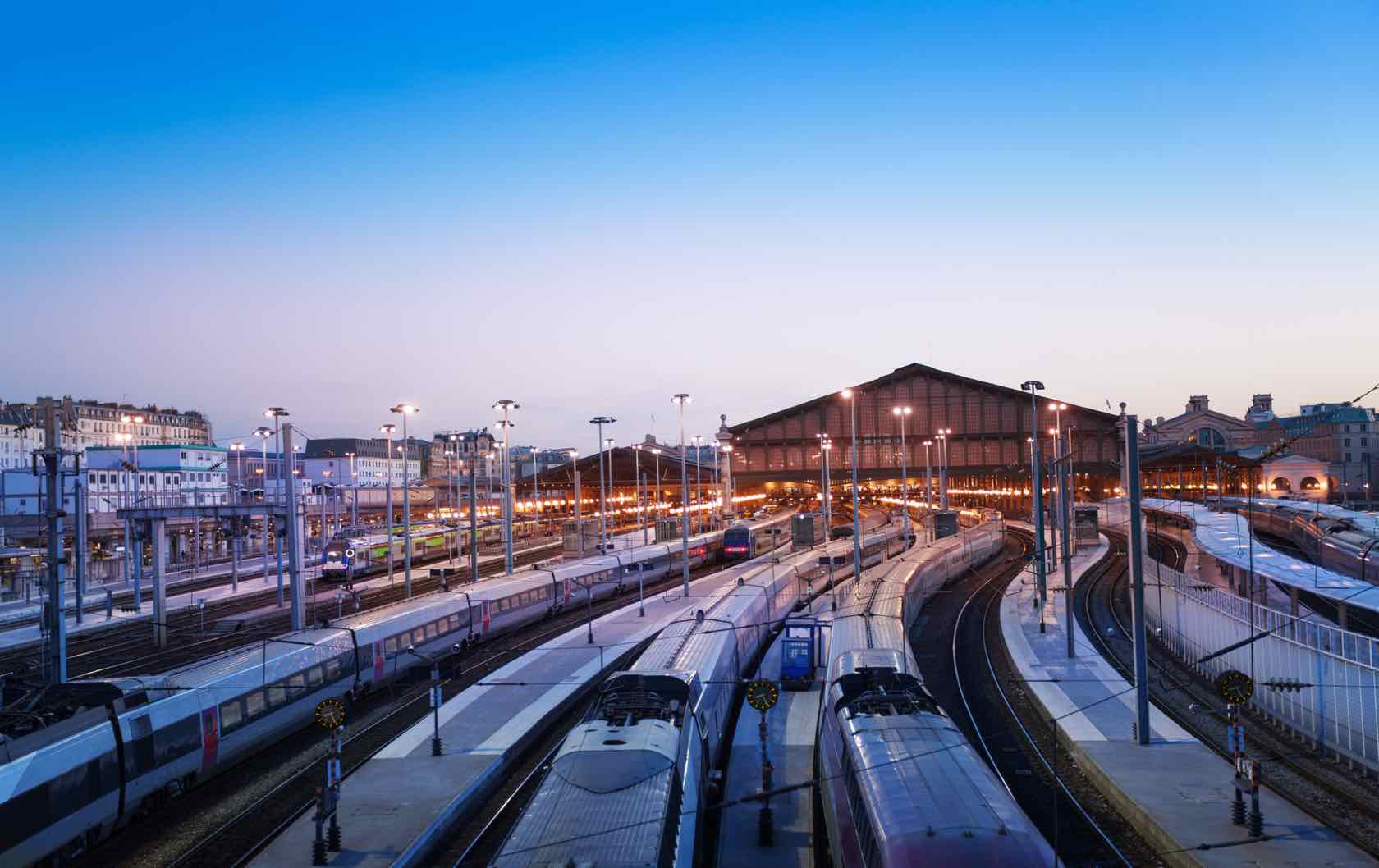 Travel from Paris to London by Train

Wondering how to travel from Paris to London by train? There's no need to schlep out to the airport in either city, as the train stations are centrally located. The Eurostar departs Paris from convenient Gare du Nord station. By contrast, Charles de Gaulle Airport is about 25 kilometers north of Paris (around a 35-minute train ride away). Eurostar trains arrive into the heart of London at St Pancras International station in King's Cross. Taking the train means you avoid longer London airport transfers from Heathrow, Gatwick, Stansted or Luton. You'll save time, money and stress both ends, with much shorter check-in requirements.
Fast Travel Time
Eurostar is the fastest way to travel from Paris to London, with the journey taking around two hours and 15 minutes. There are three ticket classes, with different check-in times and perks. With Standard and Standard Premier tickets, ticket gates and checks close 30 minutes before departure. You should get to the station 45 to 60 minutes before departure, though, to clear customs and security and beat any queues. At bank holidays or weekends, check-in is a minimum 45 minutes before departure. For top-tier Business Premier ticket gates close 10 minutes before departure, with an exclusive lounge.
Easy Booking
You can usually book Eurostar tickets between 138 and 190 days before traveling, with the cheapest Paris-London fare starting from €56. Book online to avoid service fees, and use official website www.eurostar.com. Keep your booking reference in case you lose your tickets. Children under four travel for free, with discounts for under 12s and youth fares for teens.
Don't Forget Documents
Remember, you'll need your passport as you're traveling between two countries. You'll pass through airport-style passport checks and security at the Eurostar station, where staff will scan your bags. Another plus is you're allowed liquids, and can carry one bottle of wine or bubbly per person or four beers. Any more will have to travel via the registered luggage service.
Bags of Room
A huge advantage of traveling by Eurostar is there are no airplane-style weight limits on your luggage. Just make sure you can carry your own bags and put them safely in the racks on board. For adults, there's a generous two-bag luggage allowance (up to 85cm long), with no extra fees. You can also carry one small piece of hand luggage, such as a handbag, laptop or briefcase. Business Premier ticket holders are permitted three pieces of main luggage. See Eurostar's website for more details of how to travel from Paris to London, by train including extra luggage services.
Seat with a View
Most of the train route is above ground, so you can admire the scenic countryside rolling past your window. The train goes underground briefly for about 20 to 25 minutes as it passes through the Channel Tunnel. This safe route connects France and England under the Channel waterway. For more tips including the best seats, see our insider advice on how to travel from Paris to London by train by train.
Indulgent Eats
You can pick up a picnic before you travel at Gare du Nord – try Paul bakery. For a fuller meal, treat yourself at smart day-long restaurant L'Étoile du Nord by Thierry Marx. For food on board, pop to the buffet car for drinks and snacks. Light meals and drinks are delivered to your seat with Standard Premier tickets; Business Premier travelers get a three-course Raymond Blanc meal. Toast your arrival in London beside the station platform at Europe's longest champagne bar – St Pancras Champagne Bar by Searcys. Fun restaurants nearby include German Gymnasium, Granger & Co. and Dishoom.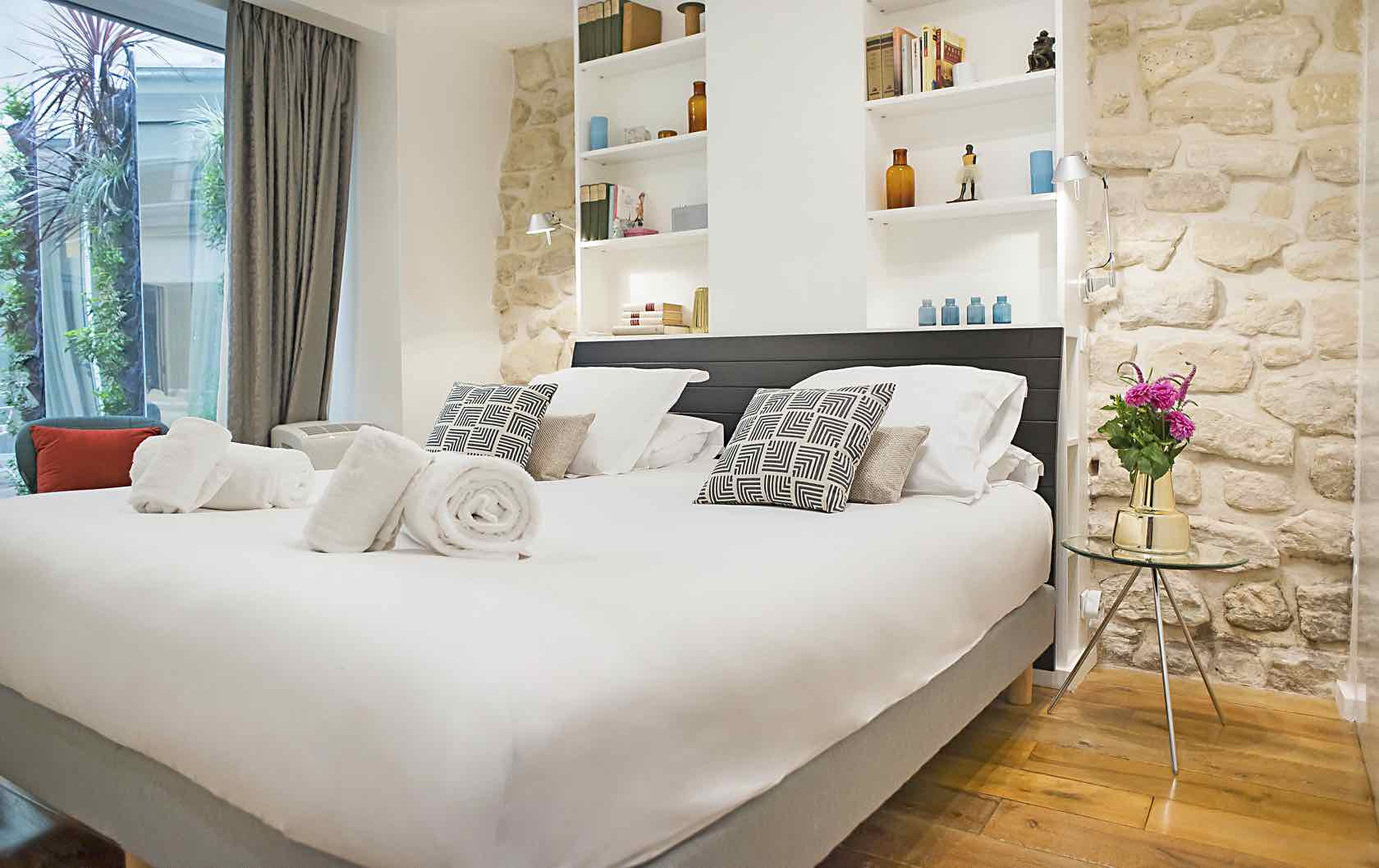 Seductive Paris Stays
Paris Perfect has stylish vacation apartments in Paris within easy reach of Gare du Nord. Stay in the heart of Paris at historic La Place Dauphine on the Île de la Cité. The six five-star apartments sleep two each, with the exception of Anjou which sleeps four. For reach-out-and-touch Eiffel Tower views, Viognier in the 7th arrondissement sleeps up to five with two bedrooms and pretty balconies.
Luxe London Apartments
For an elegant holiday apartment in London, check out London Perfect's central stays in the best locations. Our pattern-flaunting The Westminster is a skip from Westminster Abbey and major sights. Vibrant one-bedroom contemporary apartment Leicester sleeps four in Notting Hill, home to famous Portobello Road Market. Bright charmer the Gordon lets you and three companions live like locals in upscale Kensington.
Door-to-Door Service
Taxis can take you to or from the Eurostar stations or our team can arrange drivers for a door-to-door pick-up or drop-off. Bon voyage and happy travels!
Browse Paris Perfect's online collection. Call 1-888-520-2087 from the USA or email [email protected] for our apartment reservation team.
Check out our London Perfect apartments, and then get in touch with our London reservation team to book your stay today!