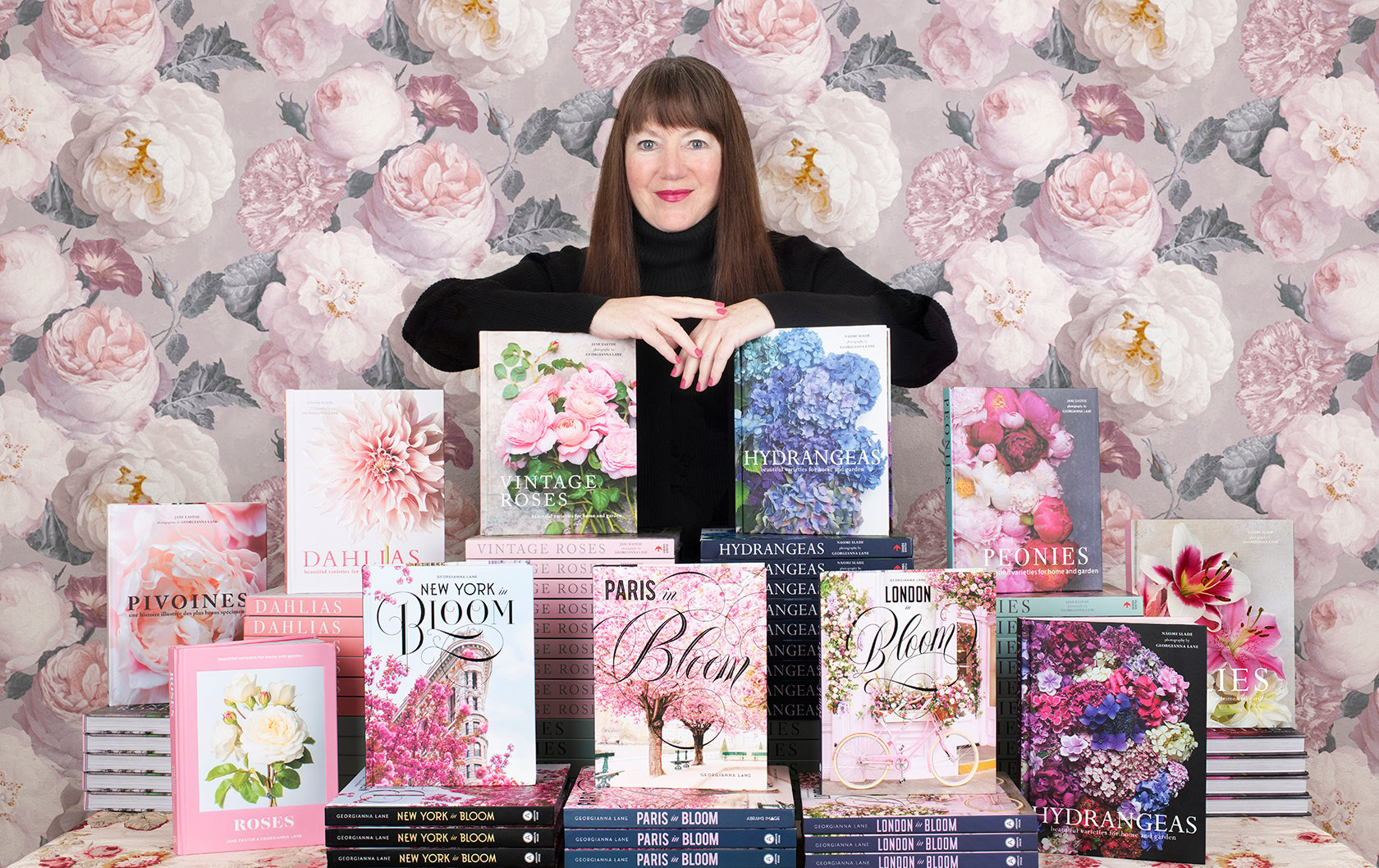 When spring blossoms in Paris, the City of Light takes on an even more romantic hue. As Paris bursts into bloom this spring, it's the perfect time to share the beautiful work of Georgianna Lane, a photographer and author, who inspires us with her extraordinary ability to capture that special magic of Paris in bloom. Whether it's the cherry trees with their glorious pink flowers around Notre Dame, those famous chestnuts in blossom in Place Dauphine or a pretty flower market, Georgianna's photographs transport you to the Paris of your dreams. You may even have spotted her gorgeous photos of many of our Paris Perfect vacation rentals. We sat down with Georgianna to ask more about her floral photography, creative inspiration and the beauty of life in Paris.
After your trilogy Paris in Bloom, New York in Bloom and London in Bloom, are there other cities that have tempted you with their beautiful blossoms?
First, thank you so much for inviting me for this floral Q&A!
As for other cities for the series, many are tempting and I'm regularly receiving suggestions from readers of cities that they think would be good candidates. It's really a matter of commitment as each of the cities in the trilogy required me relocating to them for months at a time. Tokyo has been on the list as well as Amsterdam but at the moment, I don't have another title scheduled.
Your photos have a meditative quality about them, especially the detailed shots, do you find the process of photographing flowers has that quality for you?
Absolutely, yes. Photographing flowers has always been therapy for me and and I do strive to capture the serenity and grace of individual flowers. Close up photography allows me to immerse myself in the intricate details that are truly captivating. Each bloom has its own story, whether the bright trumpets of a tiny narcissus or the showy petals of a ruffled peony. Taking the time to experience those stories is endlessly fascinating.
You have a way of capturing the magical beauty of Paris every season of the year. But for travelers looking for blossoms, what is your favorite springtime walk in Paris?
I do have many well-traveled routes for blossom hunting. In mid March, I set out from my apartment in Saint Germain to cross the river, wander through the Tuileries where there are two pretty magnolias and then over to Palais Royal which has a marvelous display of early magnolias as well as some of the first daffodils in the city. The walk home takes me past the Louvre back to my neighborhood and the whole outing is an invigorating treat.
And I also always visit Champ de Mars many times during the spring. The first plum trees and early cherries bloom by the first week of March, followed by beautiful magnolias and camellias near the base of the Eiffel Tower. I like to spend time with the trees and encourage them, especially when the weather is harsh.
The real show begins a few weeks later when the Kwanzan cherry trees open up at numerous locations, most covered in the appendix in Paris in Bloom.
What museums or works of art in Paris do you find yourself often returning to?
For me, it is always the Impressionist and Post-Impressionists painters. They greatly influenced me artistically during my first visit to Paris when I was 14 and they continue to inspire. It's a great comfort to know that their incredible works are just a few blocks from my home and that I can visit whenever I like.
Behind the scenes: What is the most surprising/ interesting/ odd aspect of being a floral photographer?
Possibly that much of the time it's not really glamorous! I'm usually working on a tight deadline in muddy fields or cold, wet greenhouses with weather and other seasonal challenges. I'm occasionally spotted by readers or followers who might be surprised that I'm invariably dressed in all black, wearing combat boots and lugging my gear.
But I always make sure to have a "reward" built in for myself of some quiet time alone with the flowers, once the specific shots needed are done. I have to maintain that connection with them to ensure I am able to capture and communicate their beauty and unique qualities.
You share so much beauty with the world – something that is especially needed these days. But what fills your "creative well"? How do you recharge and channel so much inspiration into your work?
I am very focused with a pretty clear intention of what I want to accomplish. My overriding thoughts are of what I want people to experience, what emotions they will feel from my work. It can be very intense and with my schedule, I do risk burn out. So I do need time alone to stroll through a park, listen to birds, admire architecture and the work of other creatives. I definitely have my eye on a slower pace in the country in the near future!
Your home in Paris is as beautiful as one of your photographs. How did you decide to settle in the 7th arrondissement?
Over the last seven years or so, I've spent so much time in the 7th arrondissement, especially in Paris Perfect properties, that it really feels like home. My new apartment is in the 7th but just near the border of the 6th, so really for me the best of both worlds as I'm close to all that is happening in Saint Germain, too. It's an ideal location that I love and appreciate every day.
What blooms are currently in your home?
I'm currently shooting a big project with ranunculus, so had buckets of them here last week. This week, I treated myself to a spring bulb display with potted hyacinth, paperwhites and various narcissus. The apartment smells incredible – the glories of a spring garden.
Thank you, Georgianna, for sharing the beauty of spring in Paris! Find out more about Georgianna's floral books and follow her on Instagram and Facebook for floral, travel and photography inspiration throughout the year.