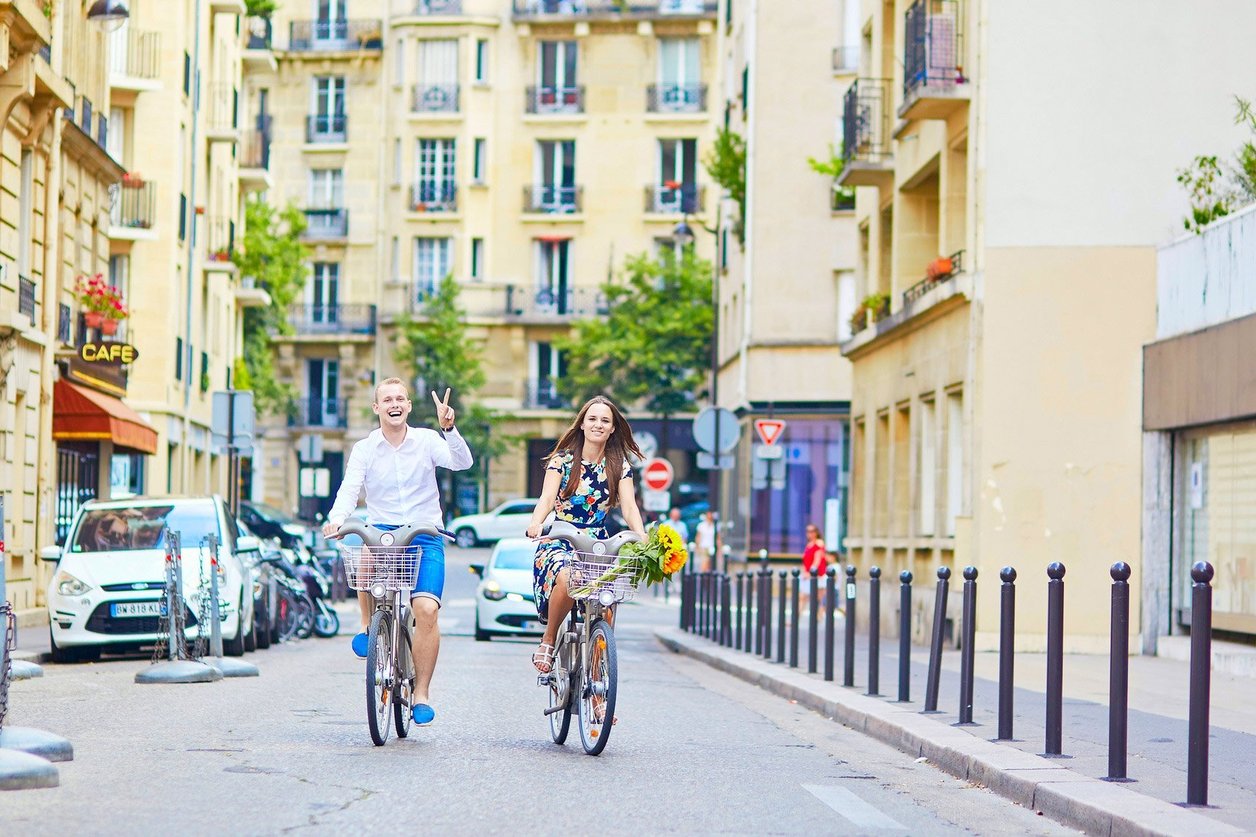 Bicycle-lovers will be pleased to learn that Paris boasts almost 600 km of cycle lanes! A free map is available at the Paris Visitors Bureau and on the Mairie de Paris website.
he Vélib public bicycle scheme is fantastic! There are 20,000 bikes throughout the city, and you can use them whenever you want. For a half-hour rental, the cost is one Euro, and goes up from there. You do have to use your credit card (must have a microchip in it) to check them out, and you do have to agree to a 150 Euro charge, should the bike not be returned or be damaged during your use. The cost for not returning the bike at the end of the first half hour mounts quickly, but the cost for regular use just can't be beat! And, the bike posts are no more than 300 meters apart throughout the city
Website: https://www.velib-metropole.fr/en_GB
Fat Tire Bike Tours (Bike Hire)
You can hire a bike from Fat Tire Bike Tours for €4/hour or €25/day. Their offices are conveniently located in the 15th arrondissement, just near the Eiffel Tower. For more information, please contact their friendly English-speaking team via email or phone.
Address: 24, rue Edgar Faure, 75015 Paris, France
Website: www.fattirebiketours.com
Email: [email protected]
Phone: 01-56-58-10-54 (calling from within France)
+33-1-56-58-10-54 (calling from outside of France)
1-866-614-6218 (toll-free from North America to their Paris office)
Paris Bike Tour (Bike Hire)
Paris Bike Tour rents bikes that are recent, safe and comfortable; complementary equipment, such as helmets, locks, raincoats or baskets are available on request (free of charge). Bikes can be collected from their offices in the 3rd arrondissement or you can pay extra to have your bike delivered and picked up from your apartment. Rates start at €12 for 4 hours or €15 for 8 hours on weekdays (slightly more for weekends). You can also take advantage of their 'weekend special' which allows you to rent the bike from Saturday morning to Sunday night for a flat rate of €28. Please note: A €250 deposit and proof of identification is required at the time of booking. For more information, please visit their English-language website.
Address: 38 rue de Saintonge, 75003 Paris, open everyday from 9.30 am to 6.30 pm
Website: http://www.parisbiketour.net/uk/paris-bike-rental.php
Alternative Bike (Electric Bikes)
The most energetic amongst you should opt for an electric bike as it still requires regular pedaling to stay functioning. These can be rented from Alternative Bike, a company specializing in 'electric transport' and owner of the largest electric cycle park in Paris. You can rent bikes for a few hours, a day or even a week. Helmets, baskets, rain ponchos and all other necessary equipment are provided. No driving licence is required. Travel at approximately 25 km/hr or 15 miles/hr.
ALTERNATIVE BIKE
227 rue Saint-Martin, Paris 3rd
Tel +33 (0) 1 44 61 56 76
www.alternative-bike.com
Sign up for our Vacation Perfect newsletter and real estate updates.