Paris Open Air Food Markets
The fabulous open-air markets of Paris feature the best food and ingredients from across France. Stop by for a taste of Parisian life and to pick up items for a picnic or a beautiful meal at home!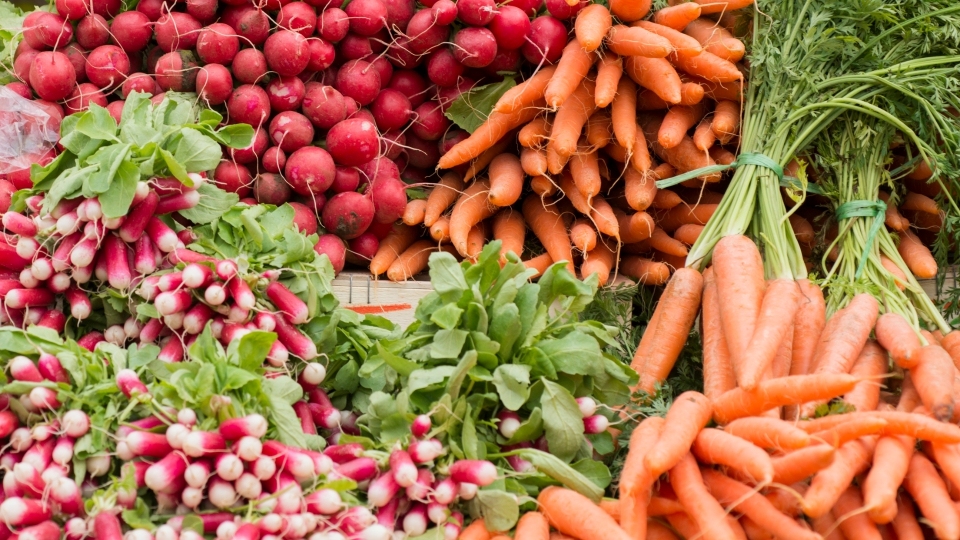 Open markets have been established in Paris since the 15th century and this wonderful tradition is part of what renting a Paris apartment and enjoying life as a Parisian is all about. Farmers, bakers, fishermen, olive growers and chicken farmers come from all over France to sell their wares. Definitely plan a visit to your local market, shop for your lunch or dinner and learn why open air markets are part of French life.
Thanks to the French pride in quality and origin, more than 80 food markets remain active today in Paris, ranging in size and variety. Most are temporary, only occurring a few days a week, but others are permanently integrated into Parisian streets. This list outlines some of the best in Paris near our vacation rentals, so you won't feel overwhelmed or confused. Shop for your lunch or dinner and learn why outdoor markets are a quintessential part of French life. It's fine to haggle the prices or verify the quality of the product if you're feeling confident. You'll see many Parisians engaging in lively conversation with the vendors.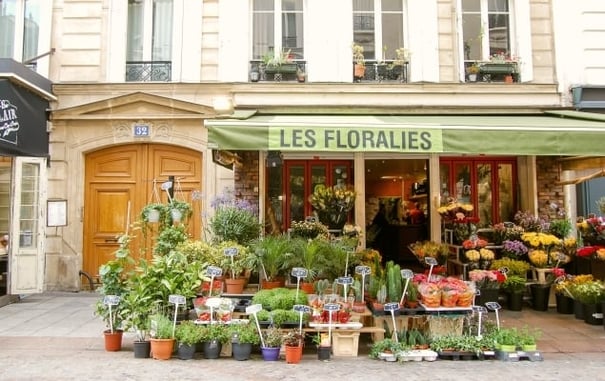 Rue Cler Market Street
Location: Rue Cler, 7th Arrondissement
Transport: Metro École Militaire (line 8)
Opening Hours: Tuesday to Saturday, but closed Mondays & Sunday afternoons
The 7th is home to rue Cler, one of the most famous streets for food in Paris, and the perfect place to start learning the fine art of Parisian living. Walk along the colorful street and enjoy the mouth-watering displays and divine aromas that come spilling out of every little shop. We dare you to walk by without stopping at one of the patisseries to admire the jewel-like displays of tempting desserts.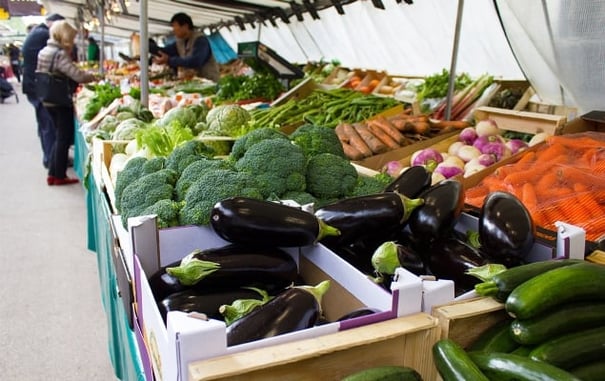 Saxe-Breteuil Market
Location: Avenue de Saxe, 7th arrondissement
Opening Hours: 7am to 2:30pm every Thursday and Saturday morning.
Among the many markets in Paris, the Saxe-Breteuil market is often regarded as the most beautiful. Why, you ask? Because of the amazing Eiffel Tower view! There isn't a lovelier setting: the bustling rows of market stalls and lines of trees converge at the horizon, perfectly framing that beautiful symbol of Parisian magic. Farmers travel into Paris from Normandy, Brittany and other areas of the French countryside, and much of the product is organic.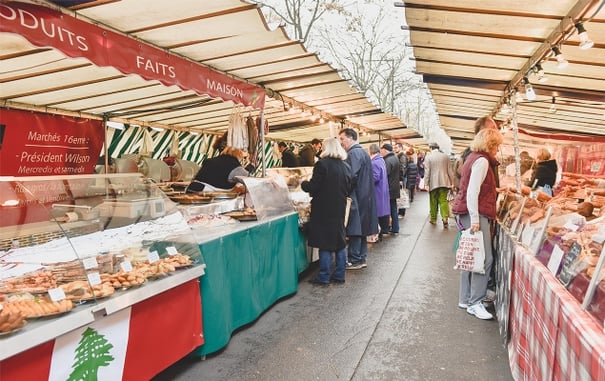 Location: Av. du Président Wilson, 16th Arrondissement
Transport: Metro Iéna or Alma Marceau (line 9), or Pont de l'Alma (RER C)
Opening Hours: 7am to 2:30pm every Wednesday and Saturday

Also called the Pont de l'Alma Market, this open-air market on Avenue President Wilson in the elegant 16th arrondissement is just a few minutes walk from the Place du Trocadéro. The variety at this market is huge, ranging from seasonal produce to italian pasta, and even five types of escargots! As you head home with your packages, you may find yourself wandering up to Trocadéro square where you can stop and admire the breathtaking view of the Eiffel Tower from across the Seine.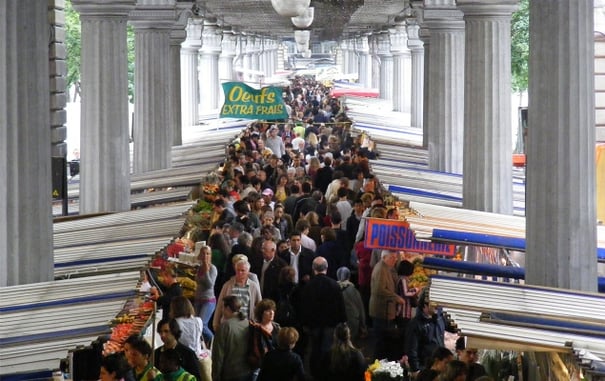 Rue de Grenelle Market
Location: Rue de Grenelle, 15th Arrondissement, between Metro Motte-Picquet and Dupleix
Transport: Metro Motte-Picquet Grenelle (line 6, 8, and 10), and Dupleix (line 6)
Opening Hours: 7am to 2:30pm every Wednesday and Sunday

Located in the 15th arrondissement, this market is a stone's throw from the 7th across the Champ de Mars. This is a true neighborhood market - not as "chic" or picturesque as the Saxe and Président Wilson markets - but the variety is vast, quality is high and prices very good. Don't miss the antiques and "brocante" section on Sunday mornings. There is a big Monoprix (like a French Target) nearby, as well as lots of fashion boutiques down rue du Commerce. We love staying in the 7th, with the Eiffel Tower views and beautiful buildings, but do love the convenience of the more economical 15th arrondissement.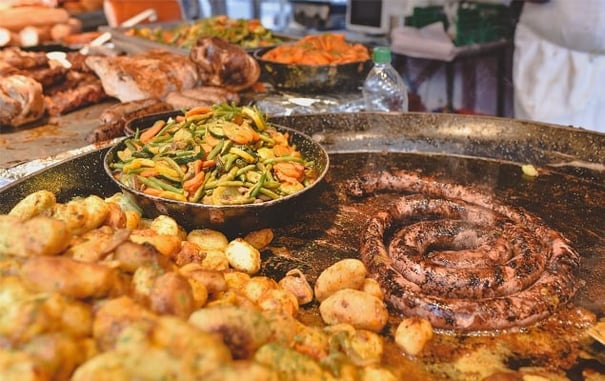 Raspail Market
Location: Boulevard Raspail, 6th arrondissement, between Rue du Cherche-Midi and Rue de Rennes
Transport: Rennes (line 12)
Opening Hours: 7am - 2:30pm every Tuesday and Friday, Organic market on Sundays from 9am - 3pm

This market is a great place to shop while you snack on delicious, freshly-prepared foods. It is situated on a beautiful, grand boulevard in Saint-Germain-des-Près. On Sundays, the market is certified organic, one of just a few in Paris! There's plenty of popular clothing boutiques along Rue de Rennes as you head toward the Montparnasse tower, and don't forget to visit the Bon Marché department store just a few blocks away.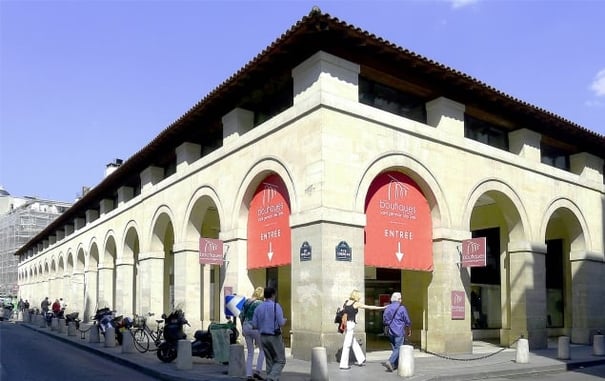 Saint-Germain Covered Market
Location: 4-6 rue Lobineau, 6th Arrondissement
Transport: Mero Maillon (line 10)
Opening Hours: Tuesday to Saturday, but closed Mondays, Sunday afternoons & during lunchtime.

At first glance, this large building encased on each side with stone arches doesn't look like a food market, but venture inside and you'll be surprised. It's almost a cross between a shopping mall and a food market with a mixture of grocers, gourmet and specialty food shops, some clothing boutiques, and a few cafes.
Rue Mouffetard Market Street
Location: Rue Mouffetard, 5th Arrondissement, between Square Saint-Médard and Place de la Contrescarpe.
Transport: Metro Censier-Daubenton or Place Monge (line 7)
Opening Hours: Tuesday to Saturday, but closed Mondays & Sunday afternoons

A quintessential institution of the Latin Quarter, rue Mouffetard is a charming, narrow market street that has managed to maintain its medieval quaintness. Many of the grocers on the southern end stock organic goods, while the northern portion boasts a plethora of multi-cultural restaurants. Au P'tit Grec makes one of most delectable Nutella crèpes you may ever taste, and for mere pocket-change!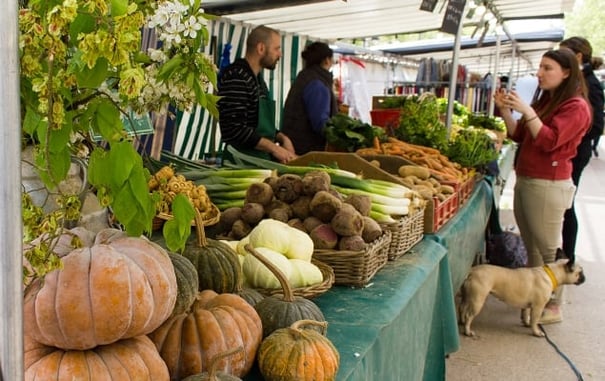 Place Monge Market
Location: Place Monge, 5th Arrondissement
Transport: Metro Place Monge (line 7)
Opening Hours: 7am - 2:30pm every Wednesday, Friday, and Sunday

Situated in a lovely, tree-covered square, this market tends to be a little more pricey than the others, but it has a more peaceful atmosphere than the somewhat more touristy rue Mouffetard just one block away. The babbling fountain in the center of the square really adds to the picturesque scene.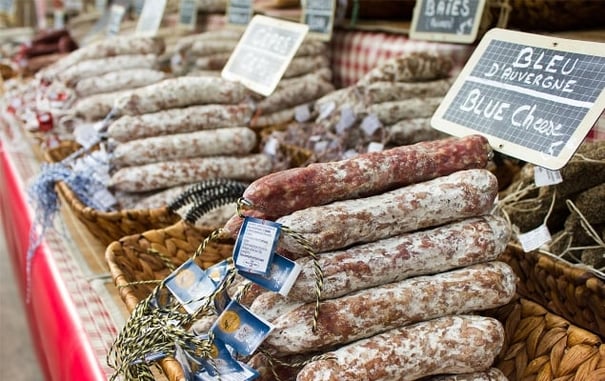 Maubert Market
Location: Place Maubert, 5th Arrondissement
Transport: Metro Maubert-Mutualité (line 10)
Opening Hours: 7am - 2:30pm every Tuesday, Thursday, and Saturday

Smaller in size, this market has all the staples you could ever need for the perfect French meal, and is only a 5 minute walk from Notre Dame Cathedral. In addition to food, it offers things like jewelry and scarves. Even if you miss the temporary market days, there is a line of permanent shops where you can find excellent cheese, meat and baked goods.
Rue Montorgueil Market
Location: Rue Montorgueil, 2nd Arrondissement
Transport: Metro Étienne Marcel (line 4), or Sentier (line 3)
Opening Hours: Open everyday

Just like rue Cler and rue Mouffetard, this is a permanent market street. The quality here is high, known especially for its gourmet food shops and seafood vendors. You'll find two famous establishments here: Maison Stohrer, the oldest bakery in Paris with gorgeous detailing on its ceiling, as well as Au Rocher de Cancale, a seafood restaurant established in the mid-19th century that is pure eye-candy from the outside. There's also plenty of cafés to stop and enjoy un café or un verre de vin.
Sign up for our Vacation Perfect newsletter and real estate updates.