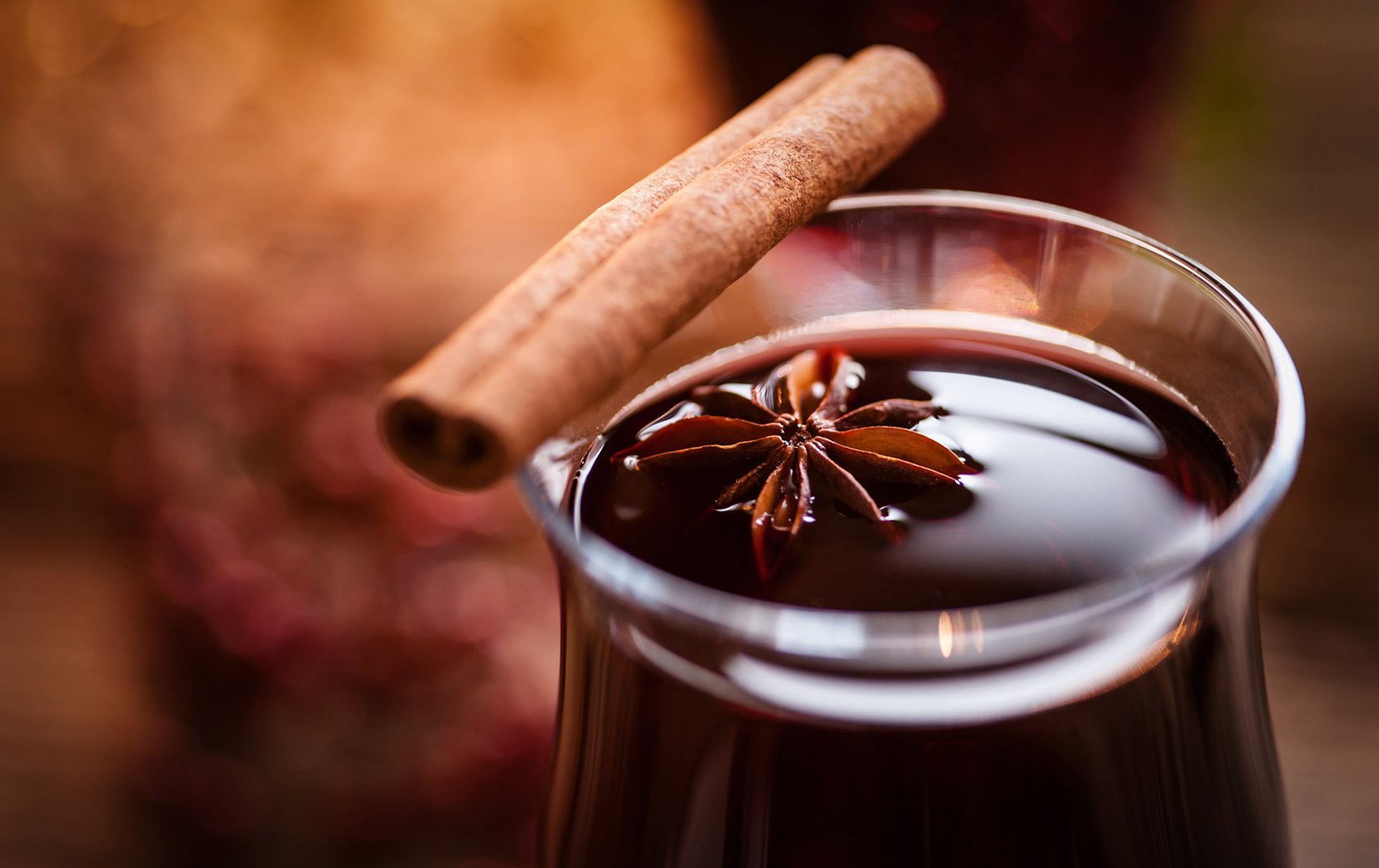 Winter is a wonderful time to visit Paris with plenty of comforting French foods adding to the fun. The crisp weather calls for hearty dishes and warming drinks. Join in with the feasting at local events, bars and restaurants or recreate your own gourmet Gallic treats at your stylish Paris Perfect vacation apartment or at home while dreaming of your next holiday in Paris.
Vin Chaud
Mulled wine or spiced wine – literally "hot wine" – makes the perfect winter warmer, whether sipped in a cozy bistro or outside at a café table surrounded by the glowing lights of Paris. Loved by locals in winter, vin chaud is prepared using a fruity red wine heated with brown sugar, sliced oranges, lemon peel and spices such as cinnamon, star anise, cloves, nutmeg and ginger. Here's our favorite vin chaud recipe – an added bonus is that it makes the house smell divine!
Roasted Chestnuts
Look out for street vendors roasting chestnuts or seek them out at seasonal markets. The toasty smell is the scent of winter in Paris. One of the classic French winter foods, they're usually sold in paper cones, so work well as hand warmers too. You can also roast your own at home. Just remove the charred outer shell to enjoy the hot nut inside.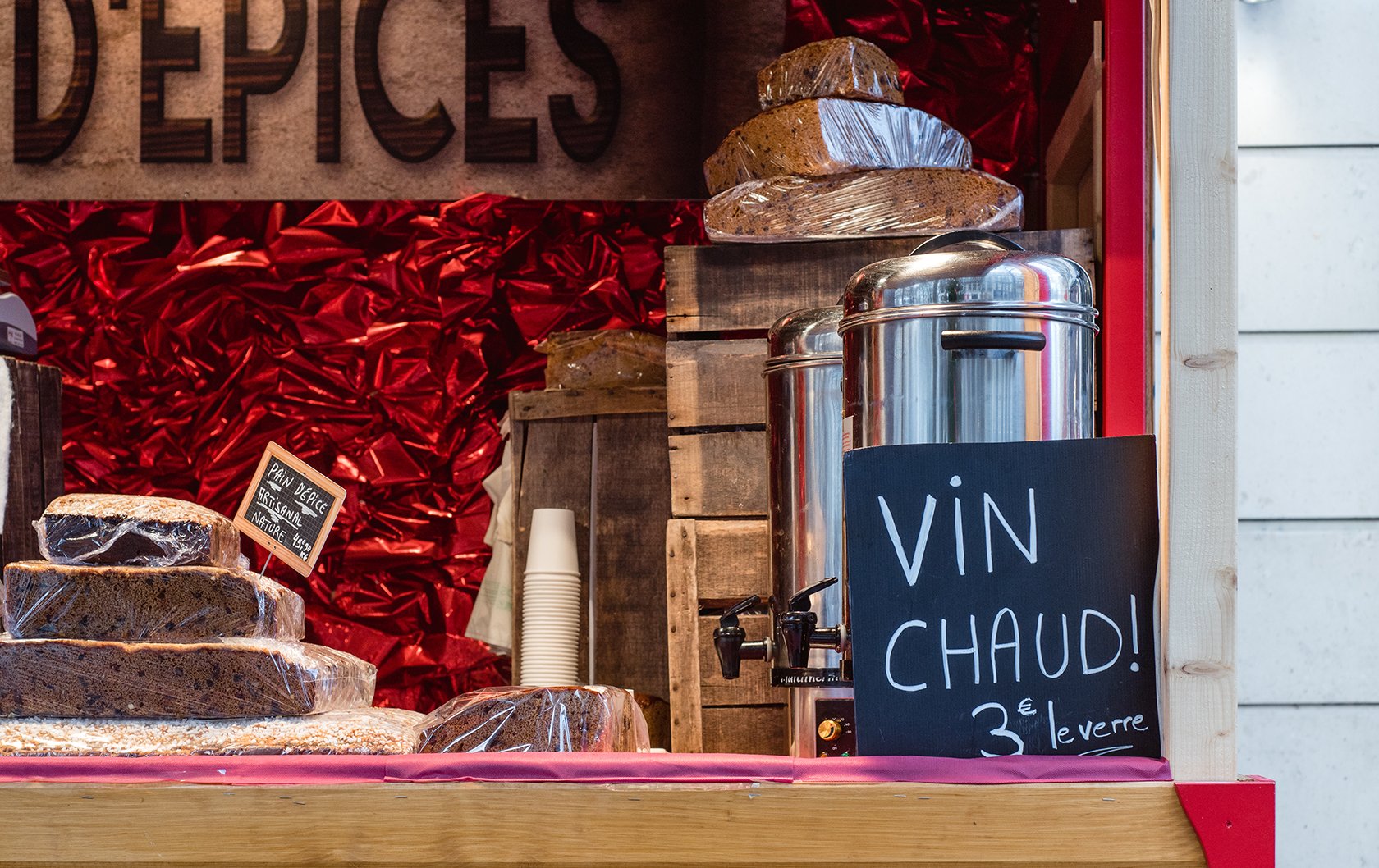 Pain d'épices
French spiced bread – pain d'épices – is usually made with rye flour, honey and ground, blended spices such as star anise, cinnamon, cardamom, nutmeg, cloves and ginger. Similar to gingerbread, it's both spicy and sweet with hints of citrus flavors (think candied orange peel, dried apricots and plums). Originally spread through the monasteries of Europe during the Middle Ages, this warming honey cake is one of the most comforting French winter foods.
Fondue
Born in Switzerland, beloved in French ski resorts and ideal for a wintry day in Paris, fondue is a pot of melting cheese that's best when shared. Diners dip small chunks of bread or meat into the heated pan to enjoy the warm, gooey flavors. Comté and Beaufort, both firm Alpine cheeses, are typically used, or Camembert, Roquefort and Emmental. For an indulgent double act, dip fruit into chocolate fondue for dessert. Pain Vin Fromages (3 rue Geoffroy-l'Angevin, 75004) restaurant in the Marais serves fondues, plus melted cheese raclettes.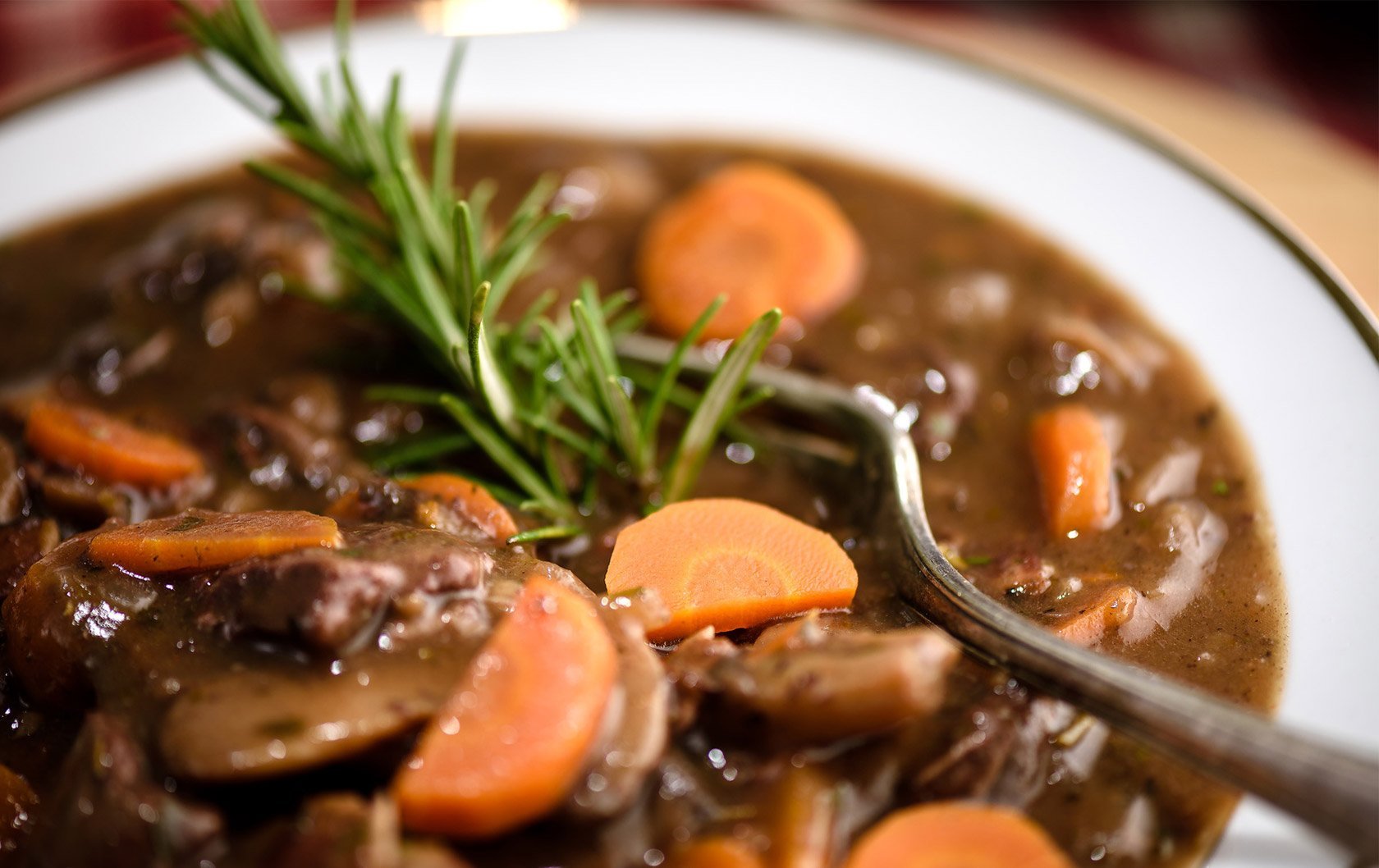 Boeuf Bourguignon
Originally from Burgundy, this hearty stewed dish consists of braised beef slow-cooked with vegetables (carrots, onions and mushrooms), bacon, bouquet garni herbs, garlic, stock and red wine. Many restaurants serve this warming classic in winter (try it at Le Café des Musées, 49 rue de Turenne, 75003) or try Philippe's famous Boeuf Bourguignon recipe to enjoy a blissful bowl at home.
Roast Turkey and Gratin Dauphinois
Roast turkey is a common winter meal in French homes and appears on Paris restaurant menus too. It's often served with chestnut, veal and parsley stuffing or just roasted chestnuts. Here you'll find our family favorite recipe for Dinde au Marrons, or Roast Turkey with Chestnuts. A large chicken, venison, pheasant, duck, goose or foie gras-stuffed quails are sometimes cooked instead, or roasted ham may grace the table for special family gatherings. Gratin dauphinois is a decadent sidekick for the satisfying main course. This French dish of sliced potatoes baked in milk and cream hails from the Dauphiné region of south-east France. It's seasoned with garlic and nutmeg, and can be topped with Gruyère cheese.
Cassoulet

French winter foods are celebrated the world over, including cassoulet, a rich slow-cooked stew combining meat (usually pork, sausages, duck or goose), pork skin, white cannellini beans and stock. A rustic medieval peasant meal from the South of France, its name hails from the traditional cooking pot, the cassole or casserole, used for cooking and serving this hearty treat. The ultimate comfort food, it's widely considered to be France's national dish. Bistro La Fontaine de Mars (129 rue Saint-Dominique, 75007) near the Eiffel Tower serves a great cassoulet. Vegetarians can enjoy our simpler meat-free French Onion Cassoulet recipe.
Galette des Rois
French Galette des Rois – Kings Cake – is usually shared on 6 January to celebrate Epiphany, the day the Three Kings visited the baby Jesus. It's eaten throughout January in France and sold in patisseries. The cake consists of almond cream between two layers of flaky, buttery puff pastry. It can also be made with frangipane filling (almond cream and pastry cream). Traditionally, a small charm, or fève (fava bean), is hidden inside, and whoever finds it becomes king or queen for the day, wearing a paper crown. These trinkets evolved into tiny porcelain and then plastic figurines and are collectors' items.
Champagne
The French love to toast sociable gatherings with good local Champagne and in winter it adds instant feel-good factor, boosting everyone's mood. For special occasions, respected Champagne houses include Veuve Clicquot and Moët et Chandon. Just add blackcurrant liqueur (crème de cassis) to make a Kir Royale cocktail. Crémant, French sparkling wine from regions beyond Champagne, is also popular. Think of it as Champagne's cheaper but delicious cousin! Team a bottle of bubbly with some oysters, smoked salmon or foie gras on toast for a luxurious appetizer.
Picard Frozen Foods
For quality ready-to-cook frozen foods in Paris, head to Picard, handy for picking up local dishes to enjoy in your chic Paris Perfect vacation rental. Its branches stock delicious French winter foods for easy and tasty celebrations at home.