Rue Cler - The Most Famous Market Street in Paris!
Uncover hidden gems along rue Cler, one of Paris' most beloved market streets. Brimming with cafés, boulangeries and specialty shops, this is where local Parisians go for daily shopping.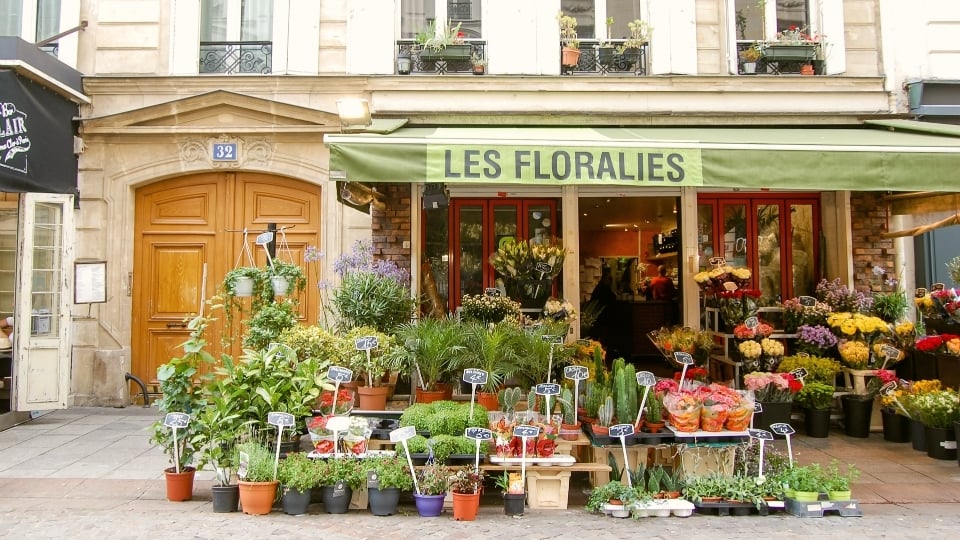 The 7th arrondissement is home to rue Cler, one of the best market streets in Paris. Find a wonderful selection of specialty food stores, pastry shops, butchers, delicatessens, cheese specialists, fishmongers, greengrocers, chocolate shops and cafés. Most of the street is a pedestrian area and still has its original cobblestones. This authentic market street is where the locals go to buy their favorite foods or sit on one of the many café terraces with friends and family and watch the world go by.
Renting an apartment near rue Cler
is one of the great pleasures of living in Paris. Everyday, you can fill your shopping baskets with fresh produce and other goodies for intimate meals in the privacy of your very own home base, or take them for a picnic in the shadow of the Eiffel Tower in the nearby Champs de Mars garden. Everything you need and more can be found on rue Cler - it's the perfect area for experiencing the Parisian way of life!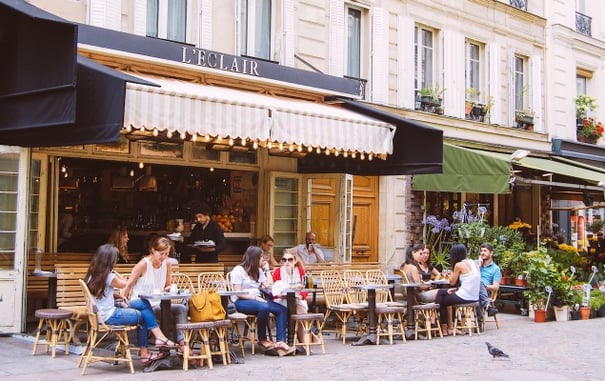 Location & Opening Hours
Location: rue Cler, 7th arrondissement
Opening Hours: Weekdays, all day Saturday and Sunday mornings. Many of the stores are closed on Mondays.
Rue Cler is especially convenient for the neighborhood because it is open on Sunday mornings, displaying the finest foods for the French families' Sunday lunch. Many families attend mass at St. Pierre du Gros Caillou on rue de Grenelle, then head to rue Cler for their baguettes, bottle of wine, cuts of meat, cheese and desserts for their traditional Sunday lunch, even selecting their Camembert and St. Felicien to the correct ripeness. You'll hear customers telling the merchants when they plan to eat the cheese, so they are carefully selected: "L'Epoisse pour demain s'il vous plait...le chevre c'est pour ce soir" ("We'll eat the Epoisse tomorrow and the goat's cheese tonight"). Get there early on Sundays to beat the crowds!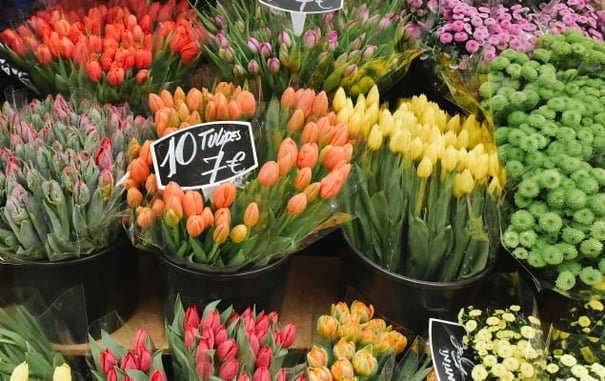 What You Will Find on Rue Cler - Left Side
Start at the top of the street, near the Ecole Militaire Metro stop, on the corner of La Motte Piquet and rue Cler. There is a large post office with yellow signs on the corner. But before you start, don't miss the famous gourmet food shop, Lenôtre, just outside the metro on Ave de la Motte Piquet! (described near the bottom of this page). Now start down the left side of Rue Cler, after the Post Office.
Mariage Frères
A legendary tea brand that was established in 1854, they offer some of the highest quality tea in Europe. Dozens of tins are displayed for you sample, from classic green teas to sweet floral blends, there's a tea here to satisfy every taste. For a look inside the shop, click
here
.
Brasserie Aux PTT
A very french style brasserie that has been recommended by Rick Steves.
Boucheries - Roger Billebault
A large butcher store, offering gourmet meats. Fresh and good quality.
Halles Bosquet
A fruit and vegetable stand. One of the largest greengrocers on Rue Cler. The competition among the fruit and vegetable merchants means prices are competitive. Always shop for their specials out front.
François Pralus - Maître Chocolatier
Very quaint chocolatier, with a large model chocolate eclair out front that you can sit on like a bench, which is fun for kids!
Amorino
Italian-style gelato café that is a popular ice cream chain in Europe. If you order a cone, they'll build an ice cream "rose" constructed with many flavors of your choosing.
New Asia - Restaurant Chinois
Offers typical asian takeout food: rice, noodles, meat dishes in sauce, egg rolls and steamed dumplings.
Cafe Central
French style cafe with a very large terrace and good menu. The cocktail and drink menu is also great, and the interior has a cozy, urban vibe with subway tile and back-lit bottles lining the walls.
Cafe du Marché
You are now on the corner of Rue du champ du Mars and Rue Cler. The Cafe du Marché is one of the most popular cafes in the neighborhood, with a covered area outside where you can eat winter and summer and people-watch for a few hours. Get there early, because you can't make reservations; it becomes very crowded especially with the chic people of the quartier. There are a number of daily specials on blackboards at reasonable prices.
Tribeca
A trendy cafe with good service. Busy all year long, and an "in" place to have your cafe or a light meal.
Les Quatre Saisons
Large greengrocer; as with the others, good prices due to the competition on the street.
Davoli - La Maison du Jambon
The lines leading onto the street indicate one of the best shops on rue Cler and in the neighborhood. This Italian delicatessen sells homemade specialties from Italian sausages and meats to pasta, Italian cheeses, side dishes such as roasted peppers, desserts and finally, the best Choucroute in Paris! Choucroute is an Alsatian specialty, perfect for a cold day, consisting of sausages, sauerkraut, other meats and often potatoes. Tell the salesman how many you'll be feeding they'll give you the proper amount. Once back in your apartment, heat over a low flame and serve. The portions tend to be large, so keep that in mind for leftovers, or subtract a few people. Definitely go here early!
L'éclair - Cocktail bar and cafe
Very cute and quirky cafe with imaginative cocktails and yummy burgers. The perfect place for a pre-dinner apèro.
Les Floralies
A nice flower vendor with a good selection of green plants and flowers that spill over onto the street.
Mademoiselle BIO
An organic cosmetic and skin care shop focused on wellness and sustainability.
NYSA - Vins et Spiritueux
A retailer of wine and spirits built on the idea that wine shouldn't be for the elite few, but for the People; After all, wine is part of everyday life in France. According to their mission statement, they try to do away with the pretentious attitude that can sometimes affect connoisseurs of wine and spirits.
Creperie Ulysee en Gaule
The reviews say it all! "If you need a snack, my favorite street crepe is at the greek Ulysse, on 28 Rue Cler. I first discovered it 12 years ago and I go every time i'm in town. Their batter has a subtle sweetness but still tastes great for savory crepes, and it comes out crispier than any other crepe stand I've tried in France. I highly recommend their "speciale," which consists of egg, emmental cheese, feta, tomato, onions and bell peppers... sounds crazy but it's sublime! Last time I was there they told me they now only make them if you sit down since it is a bit time consuming to make, but made an exception for me!"
La Sablaise Poissonnerie
A note from Paris Perfect founder Maddy: "This is one of the finest fish merchants in Paris , with an enormous selection of everything from sea snails, to crab to fresh fish from the Channel every day. Their displays alone make your mouth water. When our children were born and my in-laws would visit, my father-in-law would come here every day to buy a fresh sole for us. He would choose two whole fish and insist that the poissonnier skin and filet it in front of him, so he would be assured of its freshness. My son won his grandmother's heart when he told her at age six that she made best sole in the world. It is breaded with egg and quickly fried in butter."
Asian Traiteur
Asian fast food shops are springing up everywhere in Paris! Their tables always have room on warm days outside. The food is fine, but it just isn't the Hunan in San Francisco. They do a roaring trade for lunch, as even the French are taking shorter lunch breaks.
Top Halles
A note from Maddy: "A large greengrocer which I've enjoyed shopping at for 20 years. It is across the street from another greengrocer so there is good quality and the prices stay competitive. As with anywhere else, try to buy their "specials" - whatever is displayed in quantity outside - and you are guaranteed the best flavors and prices. The country of origin must be posted; smell the differences between the small French melons and the ones from Spain."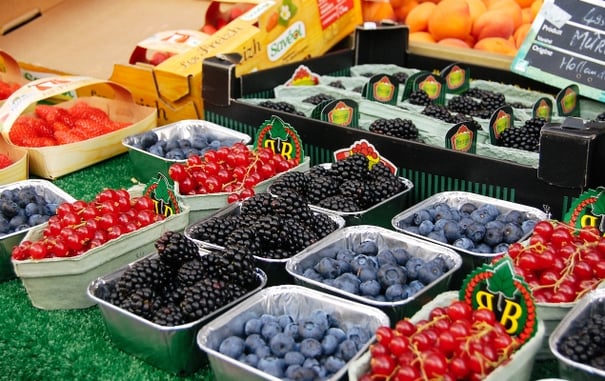 What You Will Find on Rue Cler - Right Side
The right side of Rue Cler is the East side of the street from Rue de Grenelle.
FranPrix
There are two "supermarkets" on the street; FranPrix and Leader Price. A small supermarket, but good for the basics, from toothpaste to cereal. They have just remodeled and it now offers some higher end specialty foods - great for finding quick gifts to bring home, such as herbs, bars of soap from the south of France and chocolate.
Bistrot Le Petit Cler
Another one of Christiane Boudon's restaurants, also known for Fontaine de Mars on Rue Saint-Dominique. It's a very cute bistro with a charming terrace and booths inside. Also sells delicious Berthillon ice cream.
Le Repaire de Bacchus
A note from Maddy: "This wine shop is a good one and they do a good job recommending wine for a particular meal. Our favorite wine shop is at 145 rue St. Dominique where Julien does an excellent job. He knows his wines and offers good value for money. When we walk by, he signals Philippe if he has a good deal on red wine or Champagne. He is a character who roller blades to work and always wears sunglasses on his head; kind of a heartthrob in the quartier. When I first introduced my French husband to California wines in Napa Valley, he couldn't understand the American obsession with brand and price. Now I understand his point: in France, wine doesn't have to be expensive or famous in order to be good."
Fromagerie
Maddy's recommendation: "We have been going to this cheese store for decades and love it. The lines outside on Sunday mornings can stretch down the block, so go early! The less expensive cheeses and basics such as eggs and better are usually sold at the counter outside. This is a real dairy store where you can find a delicious selection of butters from Normandy , yogurts and fresh eggs.
The French are particular about food and eating cheese when it is perfectly ripe is one of their rules. They get to know their local cheese merchant, who will tell them which cheeses are in season or particularly good. For example, Beaufort is a delicious, grainy hard cow's cheese. It has two seasons, but the best season is winter Beaufort, which is made from summer cow's milk (when the grass in Normandy is greenest).
When you select a soft cheese, such as Camembert, Brie, Epoisse, St. Marcelin (the same as St. Felicien) or Neuchatel -- tell the salesperson when you plan to eat it. "Ce soir" or "Demain", etc. Your specialist will squeeze the packages until they find the cheese that will be perfect at the moment you want to savor it. It's really a treat! If you haven't had St. Felicien or Marcelin (same cheese), try it and make sure it's "fait" (ready to eat). It's so creamy you almost need a spoon and you will be back the next day for more.
These experiences are part of the joy of renting a Paris apartment, where you can live life like a Parisian."
Famille Mary - Miel et Nature
An excellent natural store, specializing in honeys. Also sells specialty breads made with honey and wonderful regional specialties.
Charcuterie Jeusselin
Increasingly popular, this Charcuterie sells all French specialties and is located across the street from Davoli. Their growing popularity and prepared casseroles and dishes make them a popular stop for locals. Specialties are displayed in the glass cases in front of the shop and they have won several awards for their sausages, which we recommend.
Martine Lambert - Artisan Glacier
Divine little icecream parlour with unique, seasonal flavors! You can get a scoop on a cone or take home a carton for later. They also do amazing ice cream cakes and macarons!
Nicolas
This is a very common chain store of wine and spirits. You'll see them everywhere in Paris.
Contretemps Votre Librarie
Parisian book store, holds signings by authors.
Leader Price
This is the other supermarket on Rue Cler and sells more bulk foods. Again, fine for all of your staples. Not a beautiful store, but it's good for basics.
Ronde des Pains - Boulangerie & Pâtisserie
This bakery is on the corner of Rue Cler and Rue du Champs de Mars; note the beautiful windows and original features. Good bread, including the flute and grain breads. Long lines just before lunch, since it's the only bakery on the street!
Onawa - Japanese Restaurant
Offers typical Japanese fare such as sushi, miso soup, and yakitori, or meat on skewers. The sushi rolls in France are much simpler than in the US - they don't use as many fillings, garnishes or sauces.
A La Mere de Famille - Chocolate and Sweet Shop
A gorgeous little shop selling chocolate in all shapes, sizes and flavors. They claim to be the first chocolatier in Paris, established in 1761! Inside, it smells delicious and they often give out free samples.
La Fabrique - Cookies Paris
Very small quaint little cookie store, selling soft and gooey cookies! Some of the recipes have been made based on specialities from French Regions, with an example being: Calisson d'aix-en-Provence - Almond paste flavoured with Orange and Melon. They also make an incredible salted caramel cookie: so soft it melts in your mouth!
Au Nom de la Rose
Small Flower shop that sells beautiful arrangements of roses for any and every occasion.
Leonidas Chocolatier
Belgian chocolates which are excellent and reasonably priced, much better than Godiva. There are some wonderful chocolate stores in the quartier, but this is a staple.
Droguerie - Cler Affaires
The Droguerie is not a drug store; it sells household goods like cleaning products, utensils, pots and other knick knacks. They have a good selection of panniers or carts on wheels which everyone uses for their food shopping. There are new ones with special wheels to push it in front of you, like a pram and even one with two extra wheels, which allow you to roll up flights of stairs! This is a brilliant idea, since many apartments still have no elevators and lugging the shopping up the stairs every day is exhausting.
Les Grandes Caves
Another retailer of wine and spirits.
Kaviari Delikatessen
Boutique Delicatessen.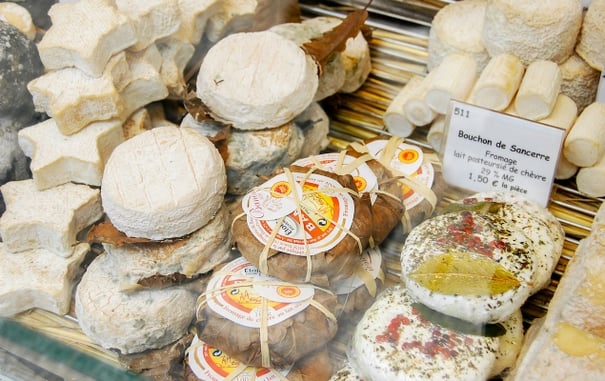 Specialty Stores Near Rue Cler
The smaller streets off rue Cler are home to many excellent speciality stores.
Marie Cantin - 12 Rue Champ de Mars
Friends of ours who live in the 17th tell us this is the only cheese store they will go to!
L'Epicerie Fine Rive Gauche - 8 Rue du Champs de Mars
Located on rue du Champs du Mars, they sell Berthillion Ice Cream and will blend your favorite coffee beans. Like other Épiceries, they also sell herbs and specialty salt, fine tea, preserves and canned goods like terrine and foie gras.
Lenôtre
A sweet tip from Maddy: "Don't forget to stop at Lenôtre, the takeaway gourmet food shop on Ave. de la Motte Piquet, just before rue Cler. One of the best pastry makers and caterers in France, Lenôtre caters to Princes and Kings, from the Elysee' Palace to the Grands Couturiers on Avenue Montaigne. It's an experience to simply window shop, savoring the beautiful delicacies and pastries in the glass display cases. You're not allowed to photograph for 'pastry copyright' reasons. I've never understood their policy since you can buy anything and photograph at home…but this is France. Prices of meals range from a reasonable daily special to higher priced delicacies for that special meal. Every meal is fresh and marked clear instructions on how to heat and serve. The dishes are even garnished so you can set it on a porcelain dish, serve it with style and say you cooked it yourself! The staff are friendly and will hep you select the entire meal: from the salad to the main, to the cheese, wine and bread. Top it off at the dessert counter for that little something to finish your meal; their desserts are excellent. Do take your time as they are patient and understand the importance of eating a good meal."
Boucherie Kermorvant - 208 Rue de Grenelle
One of the best butchers in Paris.
La Fromagerie de Grenelle - 204 Rue de Grenelle, near Ave. Bosquet
Delicious cheeses from small farms.
Picard - 195 rue de Grenelle near rue Augereau
A plethora of frozen food at your fingertips. From meats, seasoned and plain vegetables, pizzas, quiche, sauces and deserts, Picard makes meal prep so easy!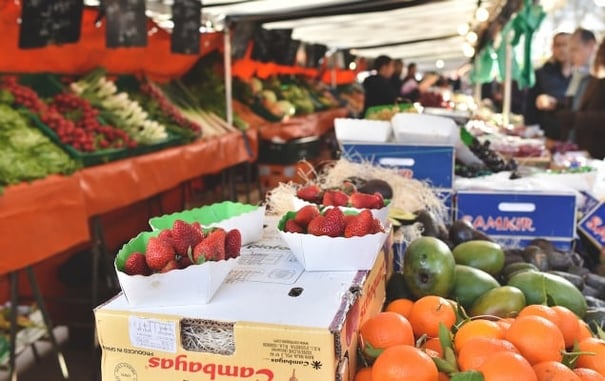 Other Markets in the 7th Arrondissement & Surrounding Areas
The gourmet experience of the 7th arrondissement doesn't stop at rue Cler. The 7th arrondissement is surrounded by open air markets and for a true Parisian experience, you can't beat it.
Saxe-Breteuil Market: Thursday and Saturday from 7:00am to 2:30pm
Marche de Grenelle Market: Wednesday and Sunday from 7:00am to 2:30pm
Marche Ave President Wilson Market: Wednesday and Saturdays: 7:00am to 2:30pm
For more information, visit our our Paris Open Markets page.
Sign up for our Vacation Perfect newsletter and real estate updates.