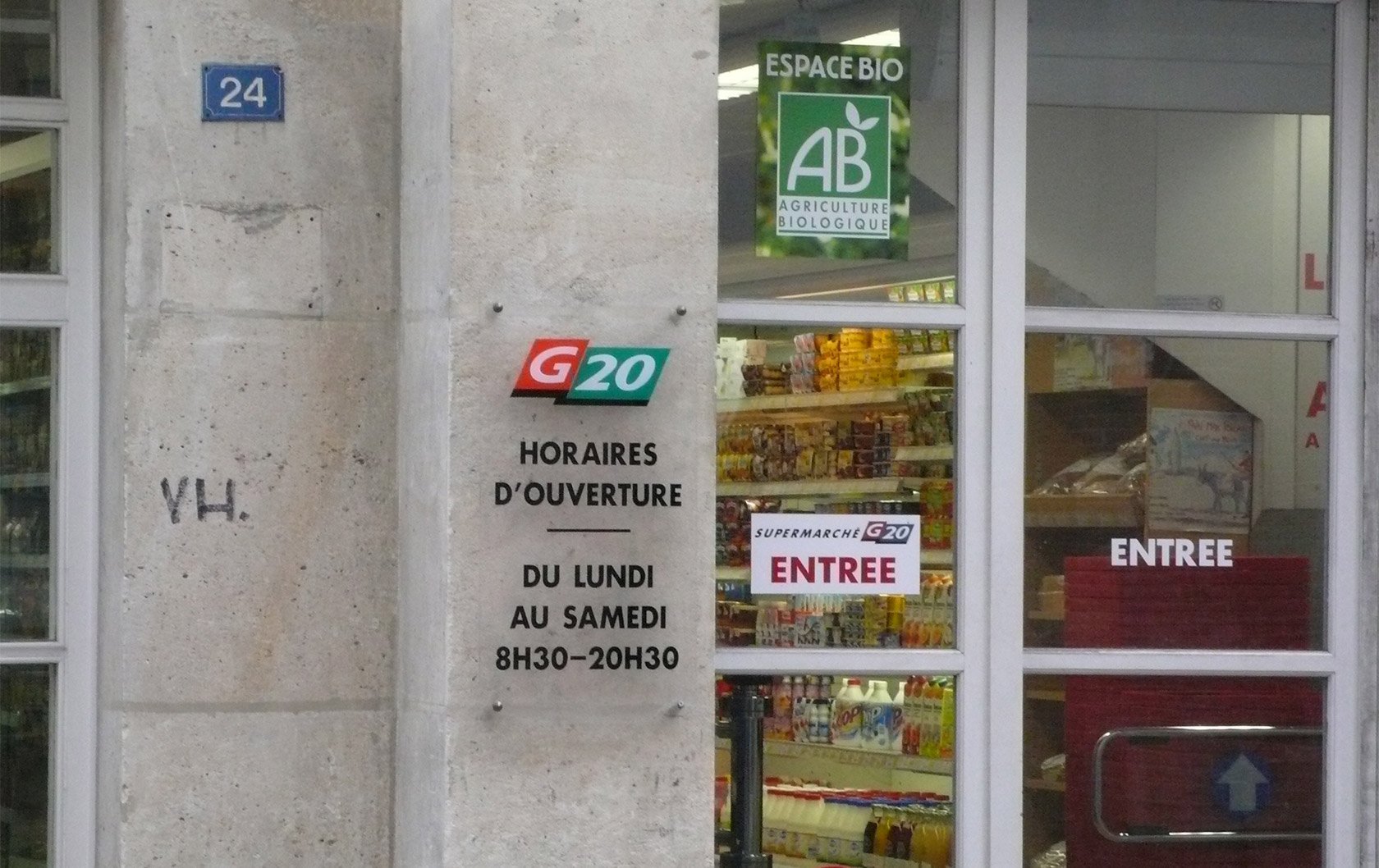 Back at home, grocery shopping is usually considered mundane….a weekly chore. But in Paris, ahhh….there's just something so exquisitely exotic about walking down the aisles of your local grocery store, seeing items that are vaguely familiar, but all the labels are in a foreign language!
Don't worry, even if you speak no French at all, it's fairly easy to manage. The following tips will help you navigate like a true Parisian.
First, the shopping cart. In some outlying areas, you'll find the shopping carts stacked up outside, but in Paris, they are usually just inside the doorway. You'll find them all chained together, and you need a 1 Euro coin to unlock your cart.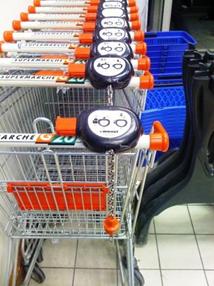 When you are finished shopping, return your cart and slide the key back in to the cart in front of you and the Euro coin pops back out again…just a rental.
True Parisians shop with their own rolling market basket, to transport all their daily purchases easily, without lugging everything around by hand. Remember, they have several stops to make, so carrying multiple bundles around can be unwieldy. Lucky for you, Paris Perfect stocks a rolling market basket in many of their apartments.
When you arrive at the grocery, it's usually customary to leave your market basket at the front of the store (look for the variety of wheeled baskets lined up in front) and use the store's shopping carts to travel up and down the aisles.Now, produce can be a bit tricky. Some grocery stores weigh your produce at the check out stand. But many require you to weigh them yourself in the produce department. Watch what the other shoppers are doing and take your cue from them. Scales in the produce department are easy to use. Just bag your item in plastic and place it on the scale. There are little pictures of each fruit/vegetable item on the scale, so you just locate the appropriate photo, push the button, and voila, the machine calculates the weight and spits out the label for you to affix to the plastic bag.
Don't be surprised to find larger grocery stores in Paris on 2 levels, with large elevators or escalators to accommodate the shopping carts.
Yogurt – the French love their yogurt, and there must be 100 different kinds
And of course, French cheese is legendary. Pick up a few basic cheeses if you like, but save your main cheese shopping for the neighborhood fromagerie.
Sliced luncheon meat is always available. You'll find dinde (turkey), poulet (chicken) and jambon (ham). And you'll see selections for meats smoked (fumer) or roasted (roti).
Salad dressing is interesting. In France, it's customary for the chef to prepare a special dressing or vinaigrette for each salad, to bring out the special flavors of the greens. So in a French supermarket, you do not have a large selection of pre-made dressings. Your choices are: yellow or white. That's about it!
On the other hand, sauces, condiments, mayonnaise, and mustards you will find in abundance. One of our favorite lines is Benedicta sauces, which come in about 8 delicious varieties (the Benedicta Sauce au Poivre is missing from this shelf below, as I bought every jar to take home with me to the States). You'll also see mayonnaise in a tube, like toothpaste. Olives, pickles and cornichons come in many varieties as well.
Bonne Maman shortbread cookies filled with raspberry or strawberry jam are scrumptious with a cup of hot tea when you need a sugar high to perk you up after a long day sightseeing.
Here's another difference in French supermarkets. Milk is rarely refrigerated. It is sterilized and perfectly safe, so don't be afraid (remember Louis Pasteur, as in pasteurized)! Milk comes in white plastic bottles or boxes – usually 1 liter, and shrink wrapped 6 bottles to a pack. But most groceries allow you to break the plastic and purchase just 1 or 2 bottles at a time.
If you're looking for organic options, look for "Biologique".
Frozen foods – lots of interesting choices here.
Soda and soft drinks? Of course – Coca Light is Diet Coke.
You'll also find a very decent wine selection – you're in France, of course!
Lot of bottled water too – Volvic is a favorite, along with Evian and Perrier, if you want avec gaseus (carbonation)
When it's time for checkout, take your place in line, and when it's your turn, be sure to greet the clerk with a polite "Bonjour". Cashiers don't smile…..don't take it personally. It's against the rules. It's just not done. Pay in Euros or with Mastercard, Visa, and some supermarkets accept American Express. Good to verify in advance.
Once you check out, you bag your own groceries in plastic, load them into your rolling market basket, and you're on your way.
Yummy French specialty products you can't find abroad make great small souvenirs to bring home for gifts (remember the Benedicta sauces). And French chocolate maker 1848 is a great line. Our favorite is the milk chocolate with whole hazelnuts and praline. Unbelievably delicious!
The packaging has changed to a gold box (instead of black, as shown in the picture), but the chocolate is still the same….incredible! And only about 2.50 Euros each, they make a great, and very packable, souvenir for friends, neighbors, co-workers, etc.