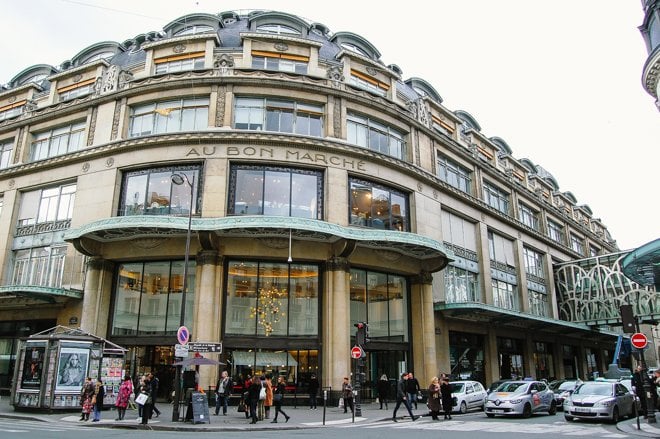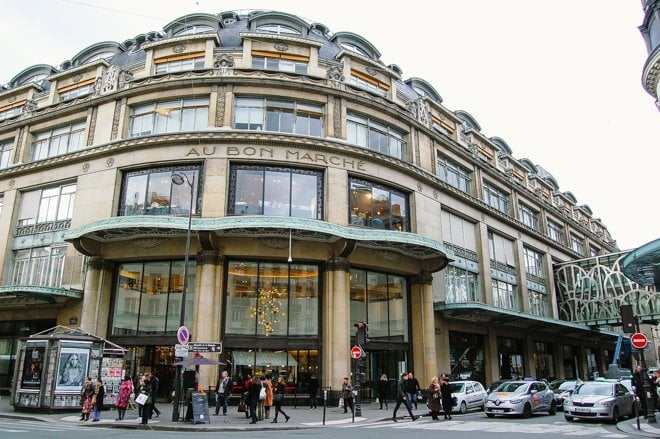 If you love food – eating it, cooking it, looking at it and smelling it – you must visit the Grand Épicerie in the 7th Arrondissement! It's literally a foodie's paradise and has been so for almost 50 years, although its roots reach much further back into the past. In 1852, the Bon Marché opened its doors, boasting the title of world's first department store. The advent of large-scale shopping centers was part of a massive shift in French society that changed how people consumed goods and fit into the social order. Instead of the royal court versus the peasantry, the economic gap narrowed and an upper-middle class emerged. As a result, access to quality goods and services was more widespread amongst citizens.
In 1923, the Bon Marché began offering simple teas and preserves at a small food counter. In the 1970s, the Grande Épicerie as it is known today was born: a bonafide supermarket. Then in 2013, a sparkly new design was unveiled after 18 long months of renovation. Now a multi-level food and décor emporium, it boasts some of the most exclusive and gourmet items from all around the world.
Upon entering the main floor, you'll see row upon row of dry goods, baskets of local and exotic produce and beyond that, specialty food counters where you can sit and have a taste. As you walk past the tea and coffee section, you'll be hit by a heavenly wall of scent. A bag of aromatic tea from Marriage Frères would make a fine gift for someone back home, they offer a myriad of interesting, unique and exotic teas. Venture a bit further and you may notice an entire floor-to-celing shelving unit dedicated solely to bottled water!
After the dry goods, you'll see the bright cargo of the produce truck, merely a clever display that enhances the shopping experience. You may even find fruits and vegetables you've never seen before such as Kaffir limes, South American ova potatoes or Jamaican hot peppers. Nearby, you'll find rows of fine herbs and spices; any of the customized blends would be our recommendation! They have blends made specifically for seafood, soups, poultry and more.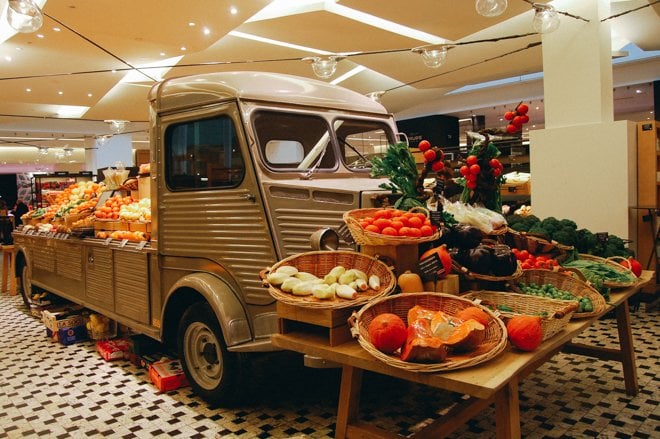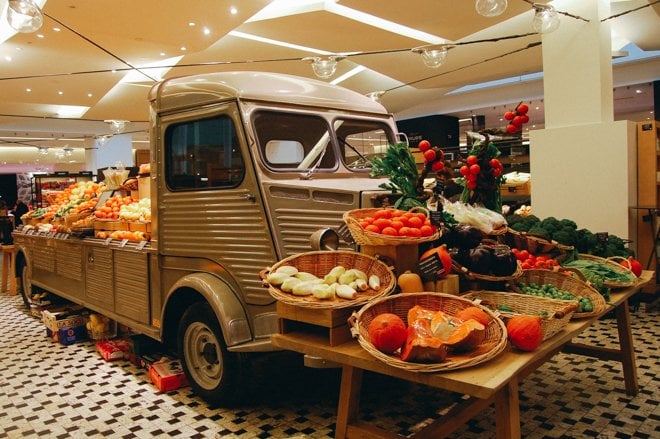 The cheese counter is worth at least a few minutes of your time. The textures, colours, and degree of mold vary greatly from cheese to cheese. Most fascinating are the speckled blue cheeses – not for the faint of heart!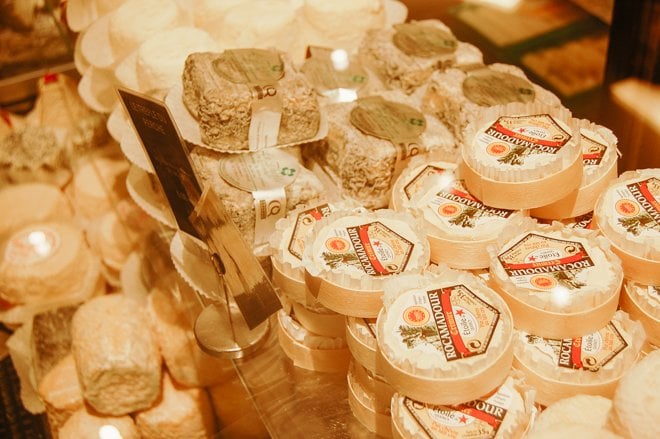 What makes the Grand Épicerie really stand out from a typical supermarché or open air market are the specialty counters at which you may have a snack. A plate of charcuterie, glass of wine and some fresh oysters make for the perfect afternoon refresher. There is seating available at the seafood, charcuterie, bread, sushi and ethnic counters.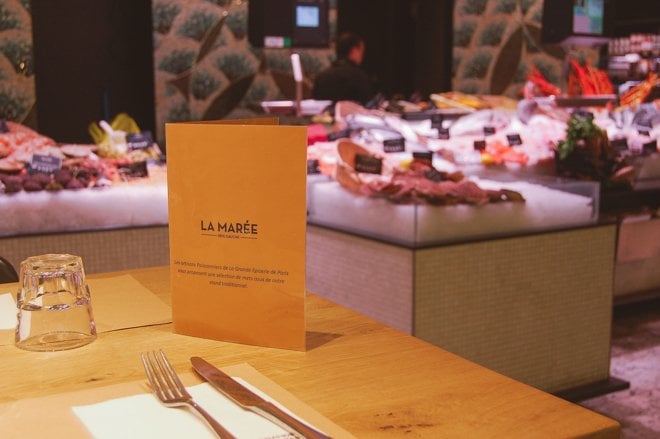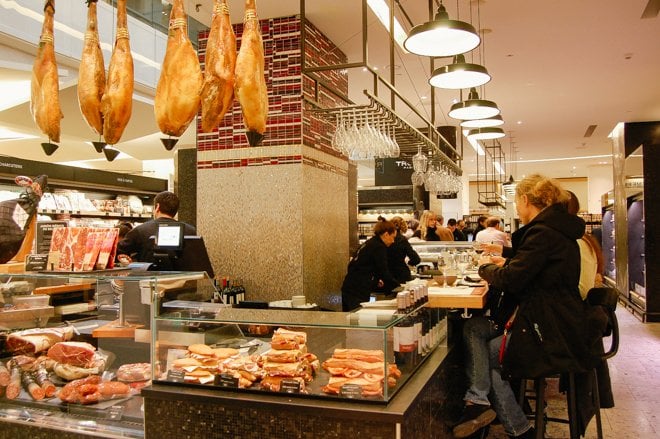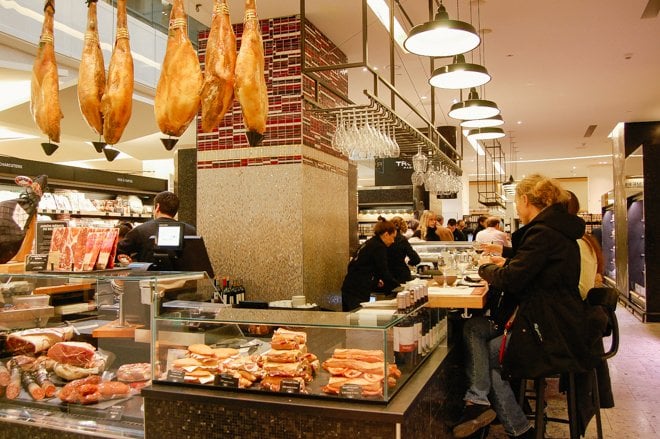 On the lower level you'll find an extensive wine and liquor cave, each bottle showcased impeccably with its own spotlight. Sommeliers are standing by to offer advice and knowledge whenever you require it, but if wine and spirits aren't your thing, head back upstairs for the large beer collection.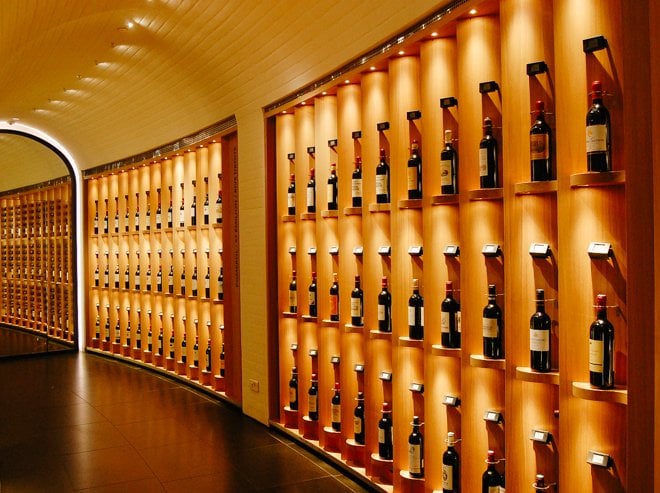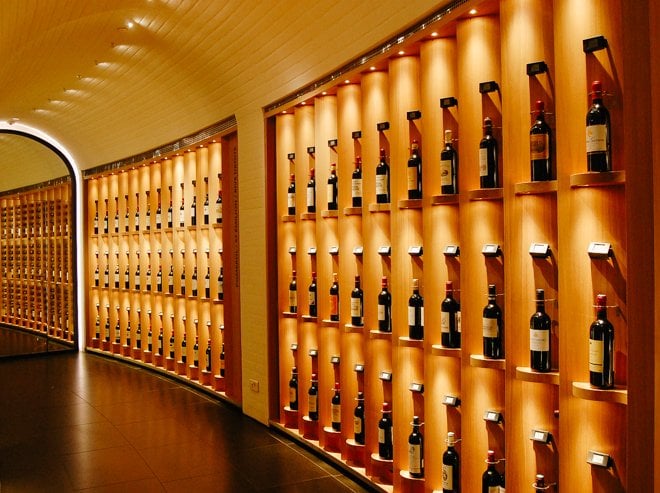 If the wide array of gourmet food options weren't enough, there are lots of beautiful home wares on the upper levels: fine china, elegant silverware, quality tablecloths, luxurious soaps and silk pillows in all colors. The view from the window here is wonderful, so make sure to take a peek; you can get a closer view at the stunning architectural details from this vantage point.
The Grand Épicerie features a restaurant in the central atrium, situated under a large skylight, filling the room with a beautiful, natural glow. The restaurant is called La Table and serves only fresh, seasonal dishes. Perhaps you can eat here before shopping to get some culinary inspiration! You'll certainly be able to find everything the restaurant serves on the shelves of the store itself.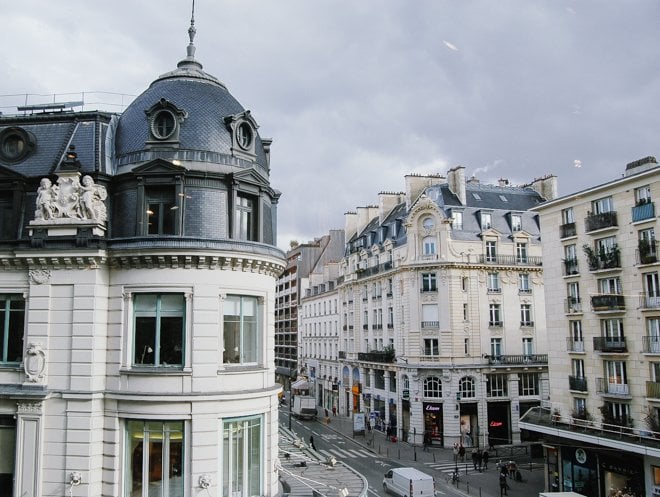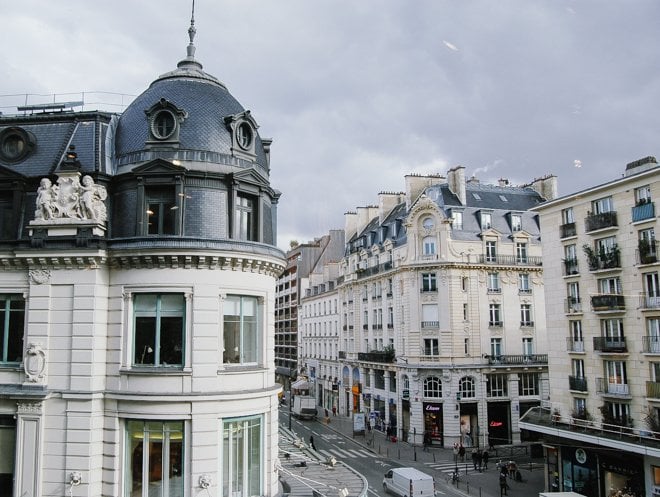 The Grande Épicerie sits directly next to Le Bon Marché, so after you purchase your fine tea and piece of chèvre, head across the street (or through the sky-bridge on the upper level) to get yourself some Guerlain perfume or the perfect Parisian hat. Just around the corner is one of the best coffee houses in Paris, Coutume, which you can read more about here.  If you love food or know somebody who loves food, this is the perfect place to shop!
La Grande Épicerie de Paris
38 rue de Sèvres, 75007 Paris, France
Metro Sèvres-Babylone, line 10 and 12
Mon – Sat: 8:30 am – 9:00 pm
(All images by the Author)