Paris has been the scene of so many movies over the years that our list can't contain them all. There is everything from romance (mais naturellement!) to comedy and drama — wonderful to watch and get into the Paris mood!  Each time I discover a new one, my heart jumps when I recognize beautiful old streets and scenes and I'm sure yours does too. From the romantic Amelié to the hilarious Something's Gotta Give with Diane Keaton and Jack Nicholson, the last scenes from Sex and the City, or the action-packed Frantic, you're bound to enjoy many of these movies set in Paris.
Watch these Movies Set in Paris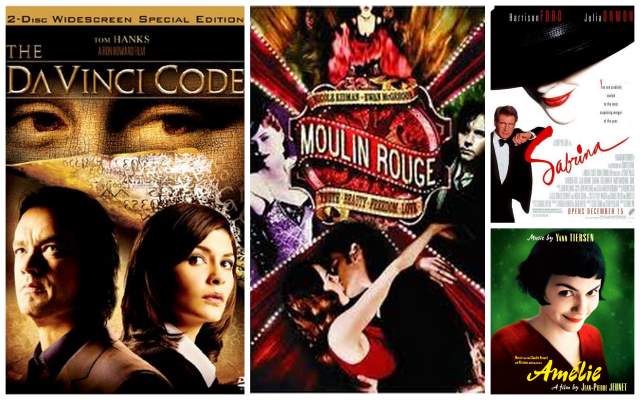 My first memorable Paris movie was watching Gene Kelly dance in An American in Paris … then seeing Funny Face with Fred Astaire and Audrey Hepburn. After watching them, I resolved to move to Paris one day.
If you're staying in one of our beautiful Paris vacation rentals, you'll find flat-screen TVs and dual-standard DVD players, so you can bring your own movies from home or rent French ones nearby. It's always fun to see who is the first to recognize the landmarks and street scenes you've visited during your stay.
Action & Thrillers
Rififi (1955, Jean Servais, Robert Manuel)  Four men band together to mastermind steal jewellery from a store in the Rue de Rivoli.
Breathless (1960, Jean Senberg)  A petty criminal kills a police officer and then tries to convince his girlfriend to flee with him to Italy.
The Day of the Jackal (1973, Edward Fox, Terence Alexander)
Diva (1981, Wilhelmenia Fernandez, Frédéric Andréi, Richard Bohringer)
The Bourne Identity (1988, Richard Chamberlain, Jaclyn Smith) Tame compared to the later version.
La Femme Nikita (1990, Anne Parillaud)
Léon (1994, Jean Reno, Natalie Portman) An excellent thriller.
Revenge of the Musketeers (1994)
Frantic (1988, Harrison Ford) Good suspense.
Kiss of the Dragon (2001, Jet Li) Awesome action, very violent.
The Bourne Identity (2002, Matt Damon) Great action, highly recommended.
The Da Vinci Code (2006, Tom Hanks, Audrey Tautou)  See what all the fuss is about!
A Good Year (2006, Russell Crowe, Marion Cottillard).  Filmed in Provence and based on Peter Mayle's book.  Not filmed in Paris but a great movie to put you in a French vacation mood.
Rush Hour 3 (2007, Jackie Chan, Chris Tucker)
National Treasure II:  The Book of Secrets (2007, Nicholas Cage, Diane Kruger)
Inception (2010, Leonardo DiCaprio)
Comedy
Sabrina (1954, Audrey Hepburn, Humphrey Bogart, William Holden)
Paris When It Sizzles (1964, Audrey Hepburn, William Holden)
The Pink Panther (1964, Peter Sellers)
A Shot in the Dark (1965, Peter Sellers)
What's New Pussycat (1965, Peter Sellers, Peter O'Toole)
How to Steal A Million (1966, Audrey Hepburn, Peter O'Toole)
Start the Revolution Without Me (1970, Gene Wilder, Donald Sutherland) Mel Brooks comedy.
The Pink Panther Strikes Again (1977, Peter Sellers)
Trail of the Pink Panther (1983, Peter Sellers)
Dirty Rotten Scoundrels (1988, Steve Martin, Michael Caine) set on the Cote d'Azur, this movie is hilarious!
Sabrina (1995, Harrison Ford, Julia Ormond) Remake; a bit more of Paris than the original movie
Le Divorce (2003, Naomi Watts, Kate Hudson)
Something's Gotta Give (2003, Jack Nicholson, Diane Keaton) Hilarious movie with wonderful Paris scene.
The Truth About Charlie (2003, Mark Wahlberg, Thandie Newton)
Sex & The City (2004, Sarah Jessica Parker)
Around the World in 80 Days (2004, Jackie Chan)
The Devil Wears Prada (2006, Meryl Streep, Anne Hathaway)
The Pink Panther (2006, Steve Martin) Even funnier than the original.
Julie & Julia (2009, Meryl Streep, Amy Adams)  Story about Julie Powell's quest to cook all 524 recipes in Julia Child's "Mastering the Art of French Cooking" in just 365 days.
Drama
The Hunchback of Notre Dame (the 1923 version is my favorite, with Lon Chaney; remade many times)
Three Colors:  Blue (1993, Juliette Binoche)  Story of a woman who loses her husband and child in a tragic car accident. The swimming pool scene was filmed at the rue de Pontoise swimming pool.
Is Paris Burning? (1966, Jean-Paul Belmondo, Charles Boyer)
Dangerous Liaisons (1988, Glenn Close, John Malkovich, Michelle Pfeiffer)
Valmont (1989, Colin Firth, Annette Bening) Similar to Dangerous Liaisons; also based on Choderlos de Laclos' 1782 novel.
The Three Musketeers (1990, Charlie Sheen, Kiefer Sutherland, Chris O'Donnell, Oliver Platt)
Jefferson in Paris (1995, Nick Nolte, Gwyneth Paltrow)
The Man in the Iron Mask (1997, Leonardo DiCaprio, Jeremy Irons, John Malkovich, Gerard Depardieu)
The Musketeer (2001, Catherine Deneuve, Tim Roth)
Napoleon (2002, Christian Clavier, Isabella Rosellini, Gerard Depardieu, John Malkovich) Made for TV; a good docudrama.
Merci Docteur Rey (2002, Diane Lane)
The Affair of the Necklace (2002, Hilary Swank)
The Dreamers (2003, Michael Pitt, Eva Green, Louis Garrel)  A young American studying in Paris in 1968 strikes up a friendship with a French brother and sister.
The Count of Monte Cristo (2005, Jim Caviezel, Richard Harris)
The Dreamers (2004) one of Bernardo Bertolucci's most recent films.
Marie Antoinette (2006, Kirsten Dunst)
Last Love (2013, Michael Caine, Michelle Goddet)
Belle de Jour (1967, Catherine Deneuve, Jean Sorel, Michel Piccoli)
Family Movies
The Aristocrats (1970, Disney animation)
The Hunchback of Notre Dame (1996, Disney's animated version)
An American Werewolf in Paris (1997, Michael J. Fox) For older kids!
Madeline (1998, Frances McDormand, Hatty Jones)  Based on the famous Paris schoolgirl.
Passport to Paris (1999, Mary Kate and Ashley Olsen) Cute for kids and parents too!
The Metro Chase (2004, Jon Cryer, Christopher Plumley)  An American student helps a young boy who has become lost in Paris.
Anastasia (2005, Animated)
Ratatouille (2007, Animated Disney/Pixar) A must see!
Musicals
An American in Paris (1951, Gene Kelly, Leslie Caron)
Darling Lili (1970, Julie Andrews, Rock Hudson)
Funny Face (1957, Audrey Hepburn, Fred Astaire)
Gigi (1958, Leslie Caron, Louis Jourdan, Maurice Chevalier)
Everyone Says I Love You (1996, Goldie Hawn, Julia Roberts, Alan Alda, Edward Norton, Drew Barrymore)  Huge cast of actors not usually know for their singing! Set in New York Paris and Venice.  Goldie Hawn's singing and dancing scene was filmed at quai de la Tournelle, on the Left Bank of Paris.
Moulin Rouge (2001, Nicole Kidman, Ewan MacGregor)
The Phantom Of the Opera (2004) Movie version of Andrew Lloyd Webber's Musical.
Les Miserables (2012, Hugh Jackman, Anne Hathaway, Russel Crowe) In 19th-century France, Jean Valjean, who for decades has been hunted by the ruthless policeman Javert after breaking parole, agrees to care for a factory worker's daughter. The decision changes their lives for ever.
Romance
Les Enfants du Paradis, released as Children of Paradise in America (1945, Arletty, Jean-Louis Barrault) Movie about one woman and the four men that loved her – the mime, the actor, the thief and the aristocrat.  In 1995 it was voted the "Best French Film Ever" by a poll of six hundred French critics.
Love in the Afternoon (1957, Audrey Hepburn, Gary Cooper)
Charade (1963, Audrey Hepburn, Cary Grant)
La Maman et la Putain, The Mother and the Whore (Jean-Pierre Léaud)  Three twenty-somethings in an unconventional love triangle.  Several scenes were filmed at the famous Le Café des Deux Magots in the 6th arrondissement.
A Little Romance (1979, Laurence Olivier, Diane Lane) Cute, contemporary classic.
American Dreamer (1984, JoBeth Williams, Tom Conti)
Three Men and a Cradle (1985) Better than the American remake!
French Kiss (1995, Kevin Kline, Meg Ryan)
Venus Beauty Institute (1999)
Forget Paris (2000, Billy Crystal)
Chocolat (2000, Johnny Depp, Juliette Binoche) French flavor.
Amelie (2001, Audrey Tautou)
Le Divorce (2003, Kate Hudson, Naomi Watts)  Filmed in Paris locations including Café de Flore, Eiffel Tower and the Louvre Museum.
The Grande Role (2004)
Before Sunset (2004, Ethan Hawke, Julie Delpy)  Nine years after Jesse and Celine first met; now, they encounter one another on the French leg of Jesse's book tour.
Paris, je t'aime (2006, Ensemble cast includes Juliette Binoche, Leonor Watling)  A series of eighteen short films set in the different arrondissements of Paris.
2 Days in Paris (2007, Adam Goldberg, Julie Delpy) A couple try o rekindle their relationship with a visit to Paris.
Les émotifs anonymes (2010, Benoît Poelvoorde, Isabelle Carré, Lorella Cravotta) Charming romantic comedy about two sensitive chocolate lovers and the challenges of love despite similarities.
Midnight in Paris (2011, Owen Wilson, Rachel McAdams, Marion Cotillard)  A family travels to Paris for business and has the life transformed.  Written and directed by Woody Allen.
What other movies set in Paris would you add to our list? Tell us in the comments!