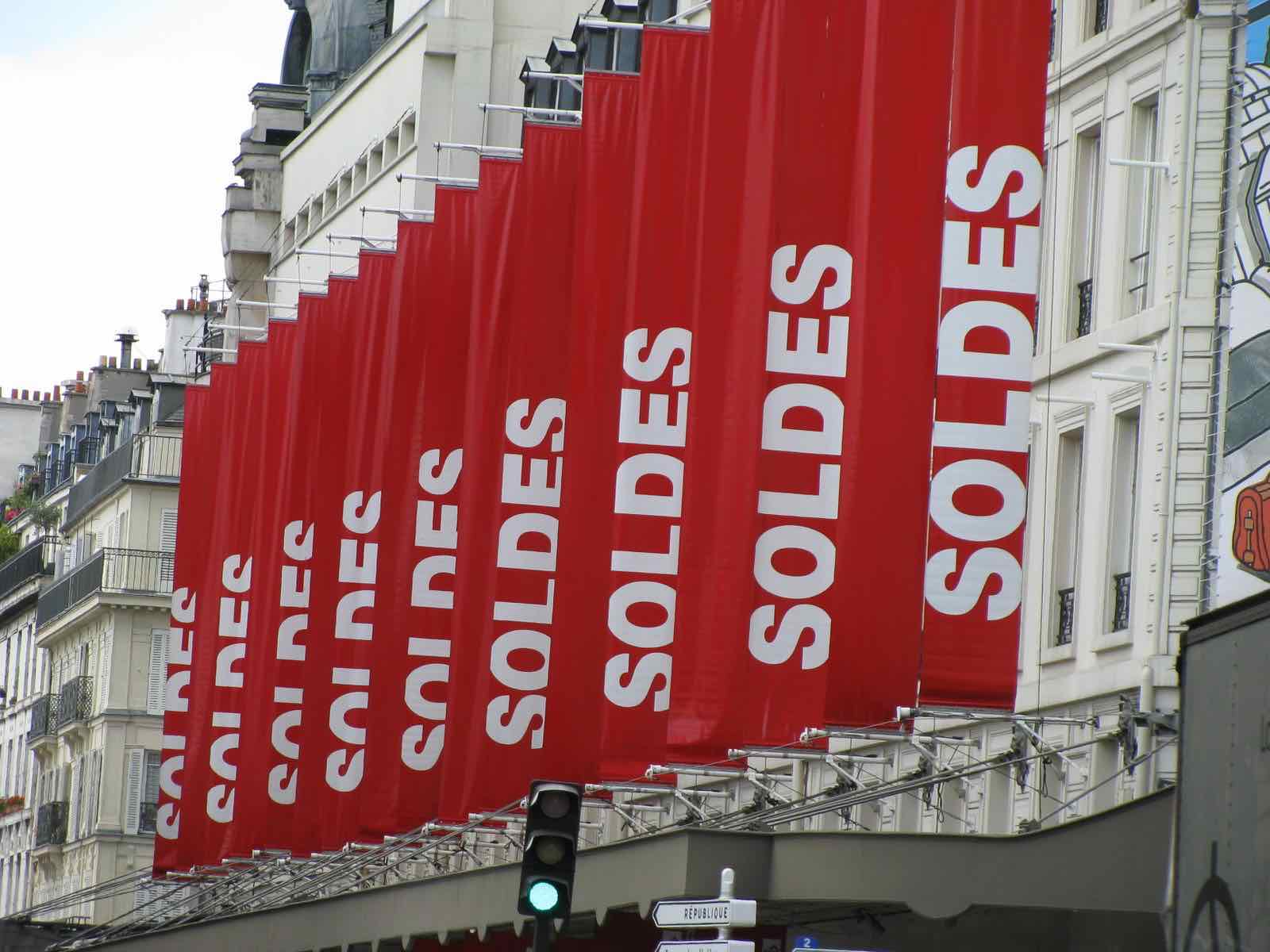 Yesterday, the banners went up throughout Paris: the sales have begun!!  Now is the perfect time to head to Paris – the weather is warming up, there's some great festivals being held throughout the city and the sales have begun!
Wednesday marked the beginning of "Les Soldes", the summer sales in France that see department stores, boutiques, designer outlets, and even hardware stores slashing the price of last season's stock.  The dates for the sales are set by the Government and this year's sales will run until Tuesday 26th July 2011.
Where to Grab a Bargain
If you prefer the convenience of buying everything under one roof, we recommend you start your assault on the sales at one of' Paris' major department stores.  Two of the largest stores, Galeries Lafayette and Printemps, are located next to each other along Boulevard Haussmann.
You'll also find sales at some of Paris' best consignment stores and at brand-name stores such as Gap and H&M.  And, if you're staying in a luxury Paris apartment rental in the 7th arrondissement, you can stroll to the Triangle d'Or, an area in Paris that is famous for some of the finest haute couture shops in the world.
Tips for Snagging the Best Buy & Surviving the Sales
Get there early for the best selection
As you would expect, you're best chance to grab the perfect item in your size is to go shopping at the start of the sales.  You'll find that many Parisians have already tried on their outfits before the sales so that they know exactly where to run when the doors open.
Get there late for the best prices
If you're after a fairly generic item and the store is likely to have a lot of stock, you could try waiting until the end of the sales as most stores apply further discounts.  I've found this works for homewares but isn't as good for clothing and shoes as my size seems to get snapped up quickly.
Try to avoid peak shopping times
Regardless of when you plan your attack on the sales, the shops will always be busy as many Parisians take time off work to scour for deals and tourists flock to the city for Summer.  I've always found that it's a little quieter in the morning and frantic mid-afternoon.

Wear Comfortable Clothes & Shoes
This is definitely NOT the time to dress-to-impress with complicated outfits and high heels!  You need to be in and out of change rooms as fast as possible and you don't want to have to cut your shopping trip short because of blistered feet.  Never underestimate just how large some of these stores are and how far you will have to walk.  I always wear a loose fitting dress and leggings that can be easily whipped off plus a pair of ballet flats – stylish but very, very comfortable!
Pack some snacks
If you're a serious shopper, you won't have time to eat.  Keep your energy levels up by packing a few easy-to-eat snacks such as muesli bars, nuts or a piece of fruit.  I'd also recommend taking a small bottle of water as hunting for bargains can be very thirsty work.
If you love it, buy it!
If you've been longing for a designer handbag that you saw in the window, now is the perfect time to rush back instore and see if it's been discounted.  Go on, spoil yourself, you won't regret it!
If you don't love it, you probably don't need it!
Ok, so I did say "probably".  Every year I promise myself that I won't buy something just because it's on sale, and every year I end up with another item of clothing stashed at the top of the wardrobe so my husband doesn't ask me why I haven't worn it.  Which leads me to the next point…….
Double-check the refund policy
Many stores won't allow you to return sale items so be sure to check the policy before you make a purchase.
Don't forget the VAT refund
If you live in a non-EU country, you are entitled to claim the VAT back when taking purchases home.  To obtain the refund, simply spend €150 in one store, present your receipt at the Tax Refund Office instore, and then submit your form to the Customs desk when you arrive at the airport.  Be sure to have your goods on you!  For more information, see the official VAT refund scheme website.
Good luck and happy shopping!