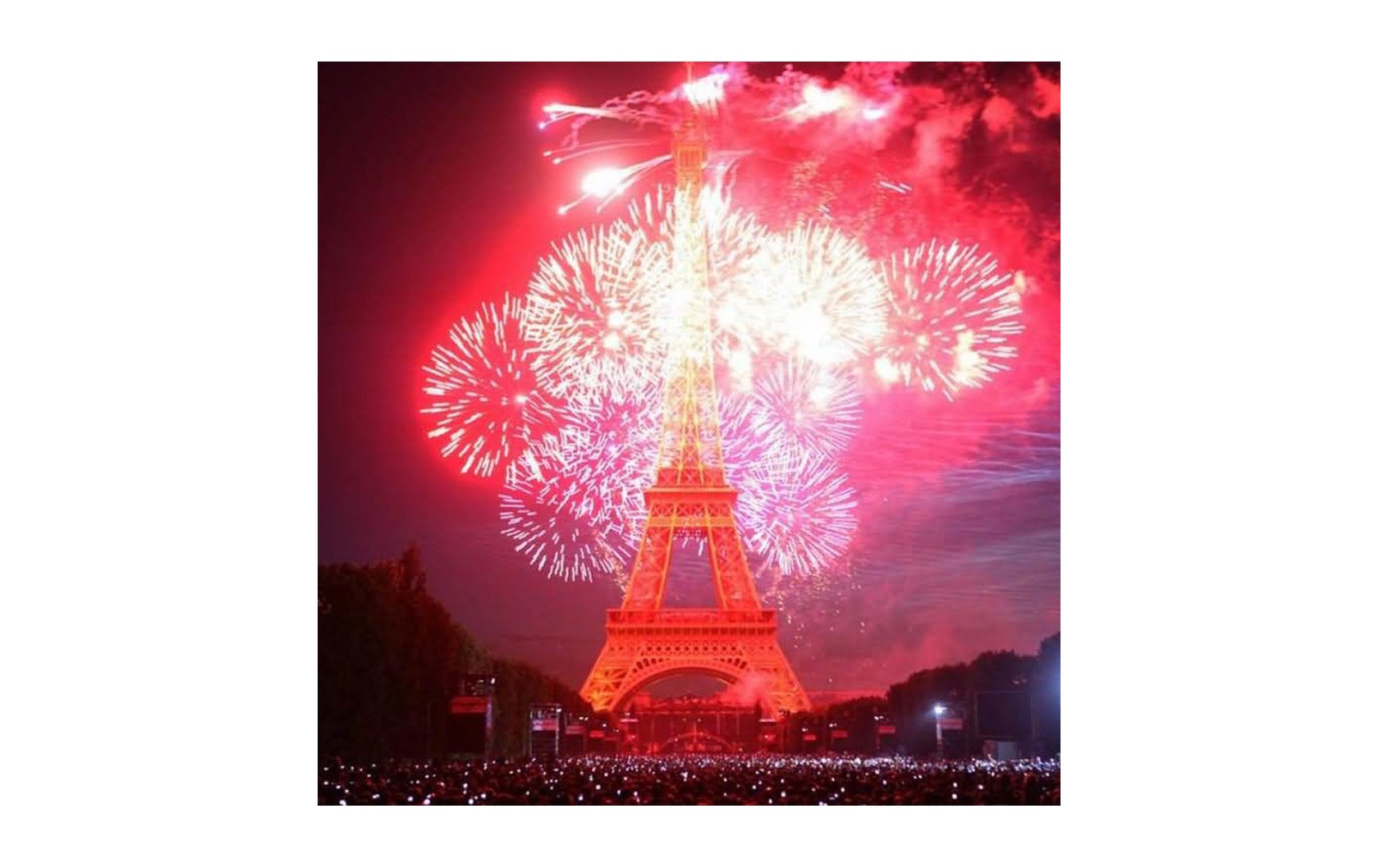 WATCH BASTILLE DAY FIREWORKS TODAY, EVEN IF YOU'RE NOT IN PARIS!!!
Tomorrow is Bastille Day, the most important national holiday in France.  It's a day of celebration, with French Air Force flyovers above the Champs Elysees , the Tour de France finish and… best of all….  spectacular fireworks over the Eiffel Tower!!
Thousands of people will flock to the Eiffel Tower and Champs de Mars Gardens in Paris to view the most spectacular firework show of the year!  The live concert begins at 5 pm.  Then at 11 pm the fireworks begin (yes, the sun sets late in Paris in the summer).  The theme is  Broadway Musicals, uplifting and fun.   Enjoy old favorites from Singin' in the Rain, An American in Paris, My Fair Lady, Evita, New York New York, West Side Story and more.  As I crossed the Champs de Mars yesterday, the stage had already been set up for the music and festivities tomorrow.
If you're not in Paris,  you can view the fireworks show from your computer!!  The countdown has already started; just click here: Watch the Bastille Day Fireworks and you can follow it live from wherever you are in the world.  The countdown for tomorrow has begun…
Many of our Paris Perfect apartment rentals have amazing front row views of the Eiffel Tower. We've asked the lucky guests to take pictures of their own celebration in their apartment.  Here are pictures that  taken from the apartments over the years for you to enjoy if you can't be there.
The view from the Chateau Latour Paris vacation rental apartment above…
From the dining table and balcony at the Sancerre apartment in Paris, just a block from the Eiffel Tower ….
A family who stayed at the St. Emilion Paris apartment rental shared this delightful picture… the children will never forget this special night.
The view from the balcony of the Cognac Paris vacation apartment….
If you're staying at the romantic Chablis apartment in Paris, here is where you'll be sitting tomorrow night…
Tips for Watching the Bastille Day Fireworks if You're in Paris: If you're in Paris, here are some tips for tomorrow:  get to the Eiffel Tower as early in the day as possible, bring a blanket and a picnic lunch and dinner; enjoy the atmosphere as the excitement starts to build.  It gets very crowded so be prepared to share your space as the sun starts to set. The weather is predicted to be sunny so fingers crossed!  It can get chilly, so bring jackets and sweaters. The show begins at 11pm.
Transportation advice:  these are the closest metro and RER stations for getting to the Champs de Mars.
– ligne 8 : La Motte-Piquet
– ligne 6 : Dupleix, Cambronne
– ligne 10 : Emile Zola, La Motte-Piquet, Ségur
– ligne 13 : St-François-Xavier, Varenne
– RER : Javel, Invalides et Austerlitz
Have a wonderful Bastille day tomorrow, wherever you are!