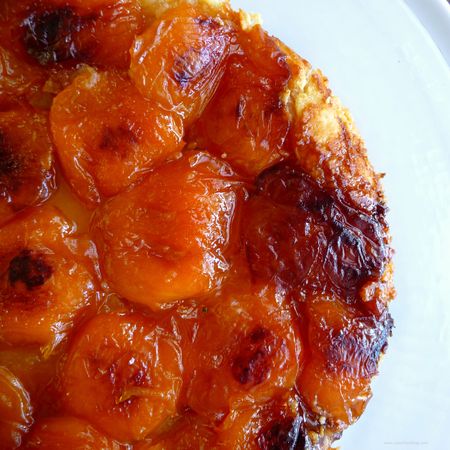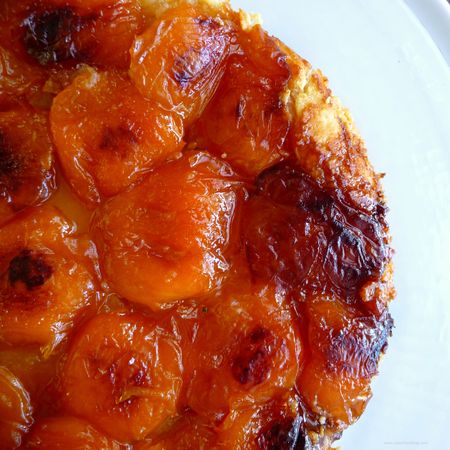 Delicious Peach Tarte Tatin!

I'd never tasted Pêches Blanches — White Peaches — until Philippe introduced me to them. They are the sweetest, juiciest peaches I've ever eaten, and now when I shop  at the fruit stands on rue Cler I only buy "Les blanches."
The Quatre Saisons stand on the corner of rue Cler and rue de Grenelle had a special on them this week so I bought three kilos and decided to make Peach Tarte Tatin. It's similar to the classic Apple Tarte Tatin, which you cook in a caramelized sauce and flip out of the pan when it's done. Here's a very easy, delicious recipe below.  Note: my peaches were very ripe, so I caramelized the sugar and put the peaches in the pan without cooking them, covered with pastry crust and baked.
Ingredients:
6 Tablespoons butter
1 tablespoon fresh lemon juice
10 medium (about 3 3/4 pounds) slightly ripe peaches: peel, remove pit and cut in half
Frozen puff pastry crust, thawed
• Heat the lemon juice, 1 cup sugar (I used ¾ C because the peaches were so sweet) and 6 tablespoons butter in a large skillet over medium-high heat until the mixture boils.
• Place the peaches in the skillet, pitted side down and cook for 10 minutes. Carefully turn peaches over; cook 8 to 12 minutes longer until syrup is caramelized and thickened. (If peaches are really ripe, reduce cooking time. I didn't cook the peaches at all because they were very ripe.)
• Preheat oven to 425 degrees F
• Pour syrup into casserole and place peaches pit side up. Place pastry on top of peaches, fold dough under to form a rim around edge of peaches. Cut 4 to 6 small slits in dough so steam can escape. Bake for approximately 25 minutes — until crust is golden.
• When tart is done, place large platter over top of tart. Quickly turn skillet upside down on the serving plate. Serve with vanilla ice cream!