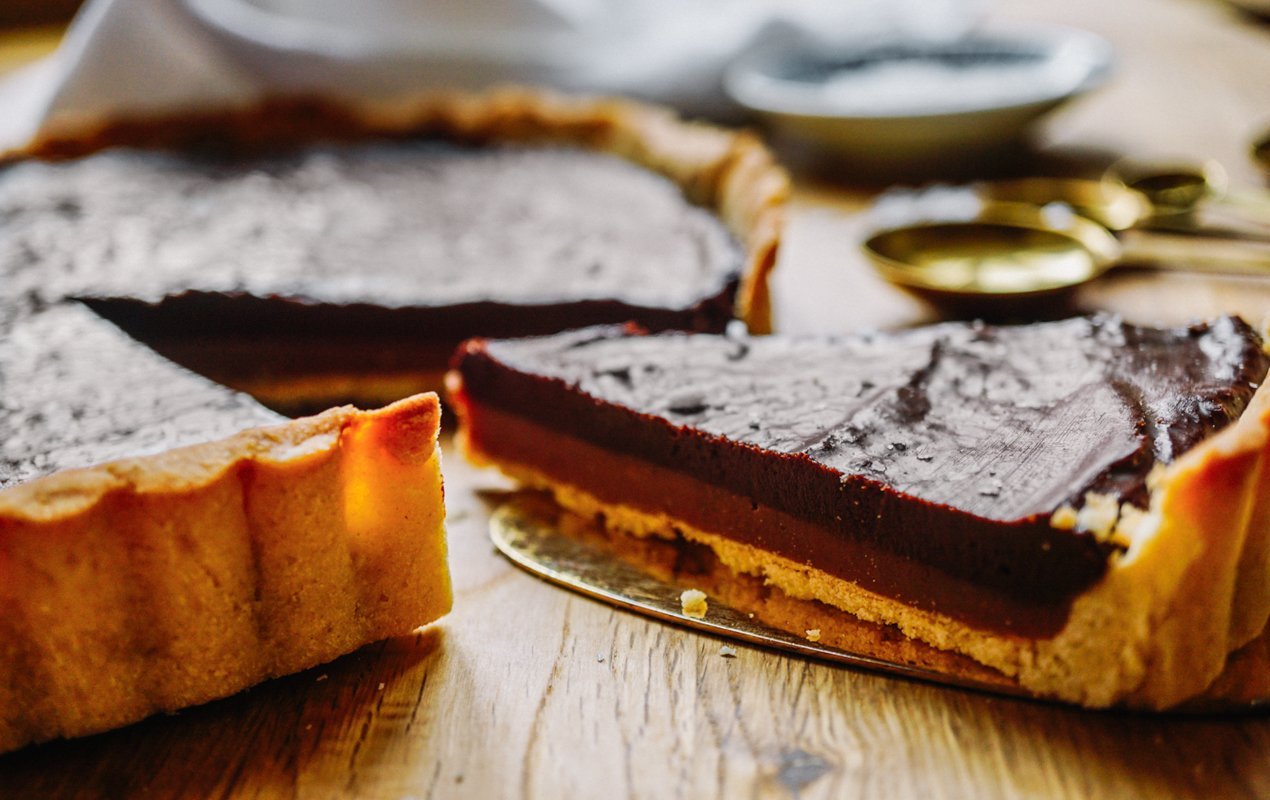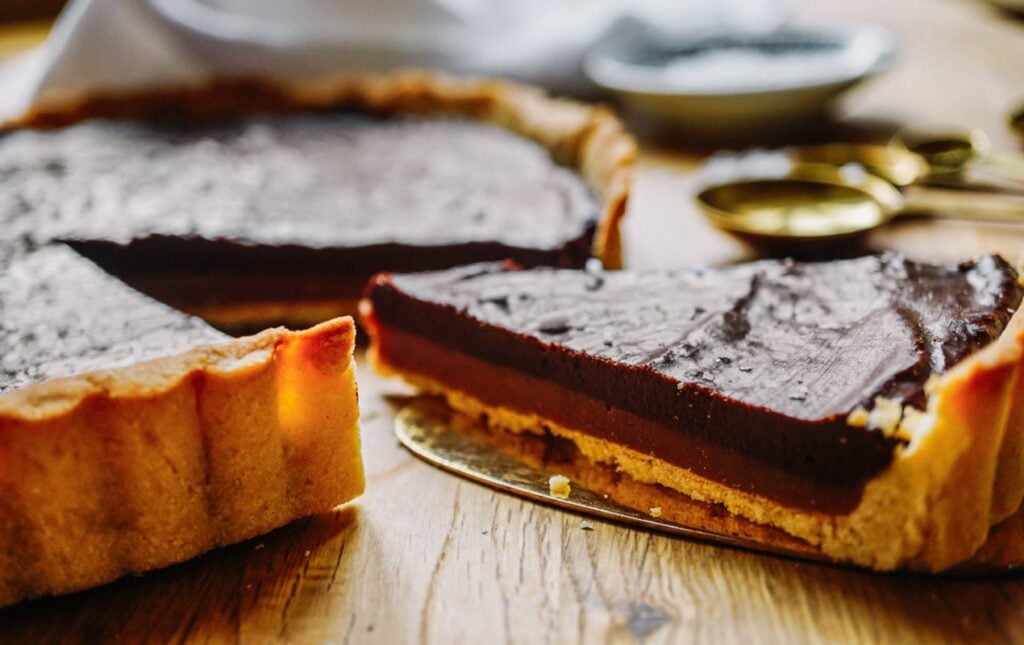 Most traditional French bistros have a classic tarte au chocolat on their menu. Basically a pie crust filled simply with chocolate ganache, this version has a secret salted caramel layer and a sprinkle of sea salt on the top. Not too much salt, just a hint to balance the sweetness. I call it the tarte au chocolat et caramel beurre salé – chocolate tart with salted butter caramel. If the name alone isn't enough to get you interested, I don't know what is!
This recipe is slightly more tricky than your average dessert, but if you follow the directions carefully and give yourself plenty of time, you'll be fine! I recommend making this a day or two before you wish to serve, since it requires lots of resting time in the fridge.
Tarte au Chocolat with Secret Salted Caramel
Prep Time: 35 min.
Cook Time: 55-65 min.
Rest Time: 6 hours
Total Time: 7.5 hours
This tart is rich and therefore enough for 6-8 people. The recipe is suitable for a loose-bottomed tart tin with a diameter of 23-26 cm (or 9 – 10 inch). A smaller tart tin will just mean you have more pastry dough left and the filling will be slightly thicker.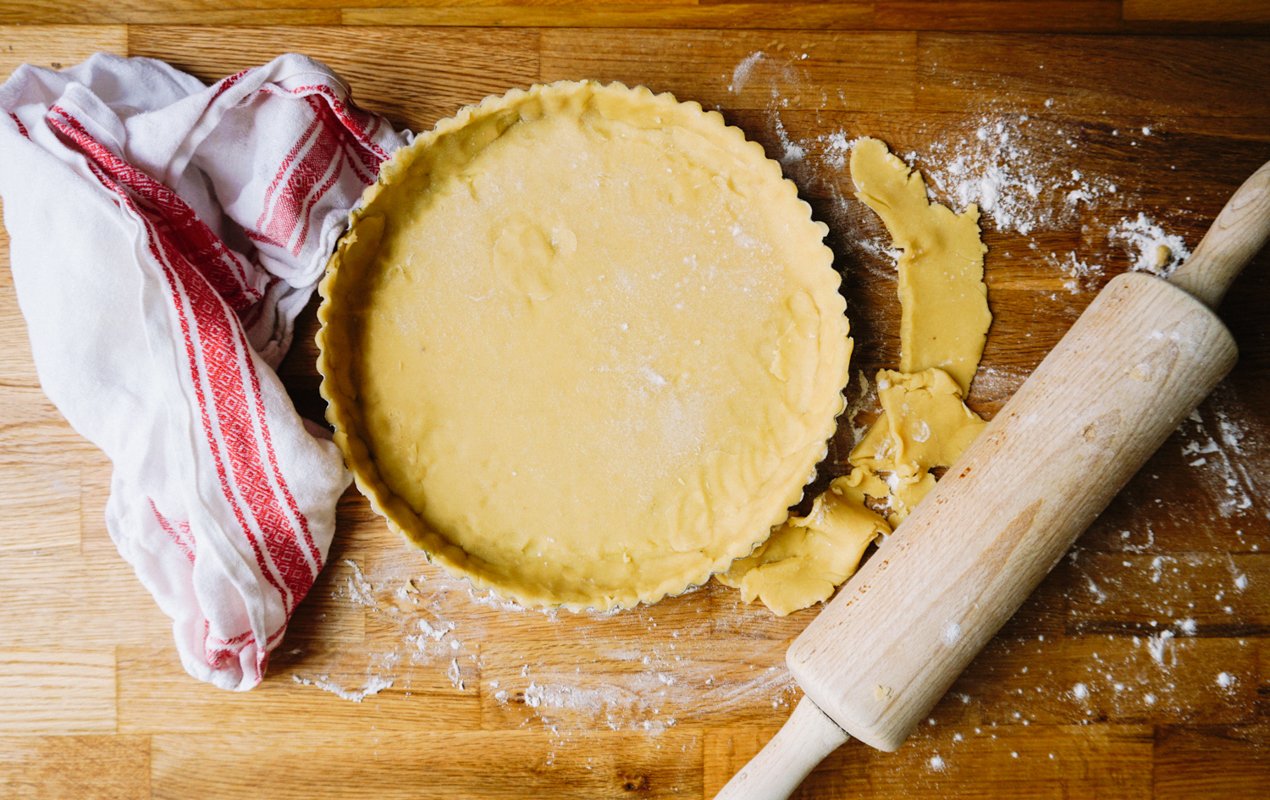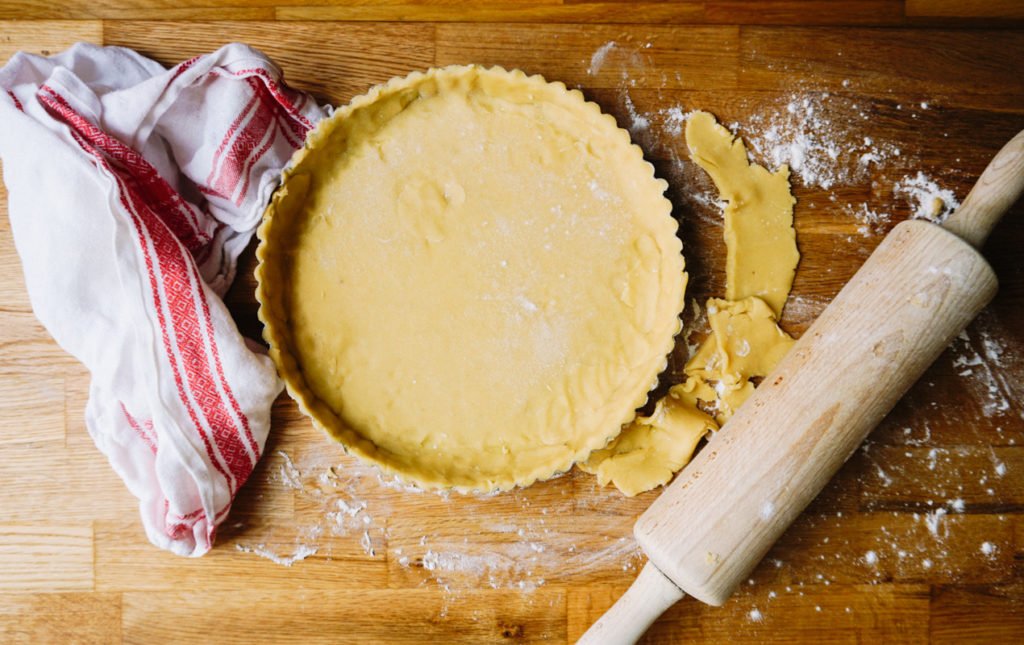 Ingredients
For the pastry:
1 1/4 of a stick of unsalted butter (150 g / 5.3 oz)
1 cup powdered sugar (125 g /4.4 oz)
1/3 cup ground almonds (30 g / 1 oz)
1 medium egg
2 cups plain flour (250 g / 8.8 oz) plus additional for rolling and flouring the tart tin
For the caramel filling:
1 1/3 cup white sugar (270 g / 9.5 oz)
1/2 cup water (100 ml / 3.4 fl oz)
1 cup heavy cream (250 ml / 8.5 fl oz)
2 tsp cocoa powder
3/4 stick of unsalted butter (70 g / 2.5 oz)
1/2 tsp salt
For the chocolate ganache:
150 gr / 5.3 oz / a bit less than 1 cup of dark chocolate (70 % cacao)
1/2 cup heavy cream (125 ml / 4.2 fl oz)
Additionally:
Sea salt
Whipped cream and berries (optional)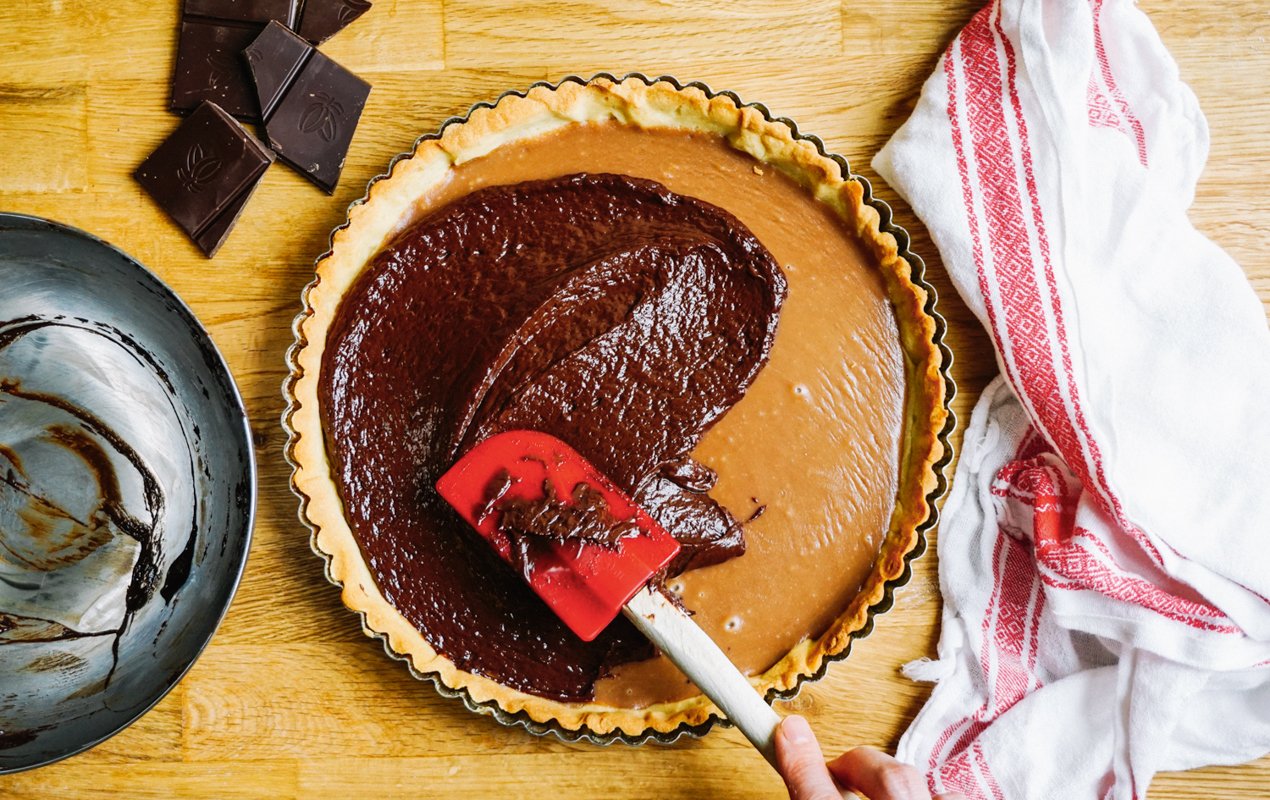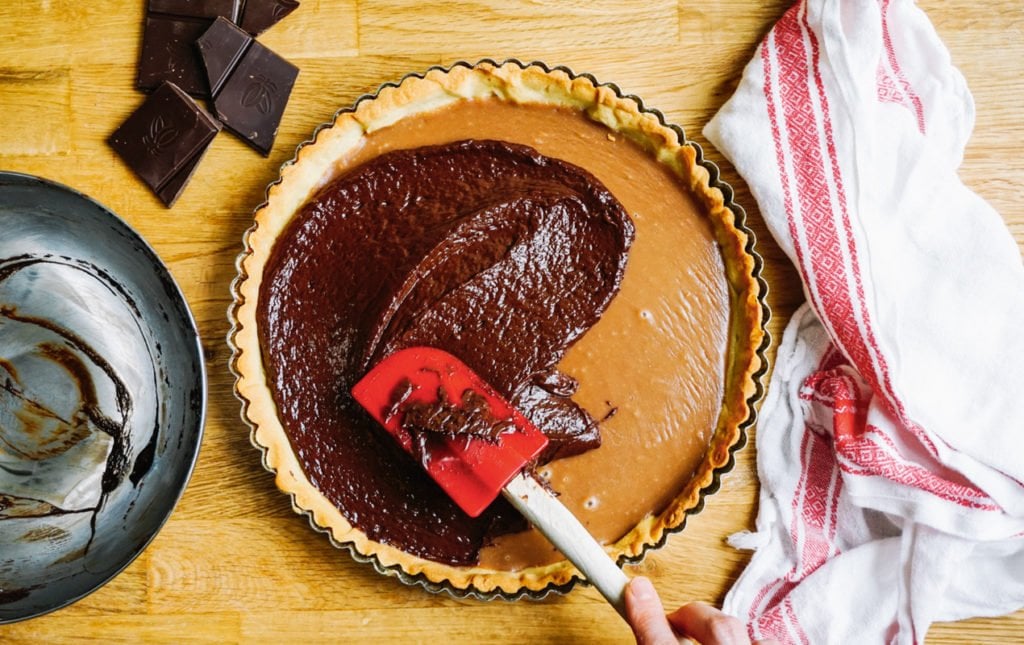 Instructions
Start by making the pastry. Dice the butter and cream it together with the sugar in a food processor until pale and slightly fluffy. Add the ground almonds and then the egg. Lastly, add the flour and blend until the mixture forms a sticky dough. Bring the dough together into a ball, wrap in clingfilm or put in a freezer bag, flatten to form a thick pancake and chill for at least 4 hours or overnight.
Preheat the oven to 375˚F (190˚C).  Butter and flour the tart tin.
On a lightly floured work surface, knead the pastry until pliable, then roll it out thinly (about
3mm or 1⁄8 in). Transfer the dough to the tart tin (draping it over the rolling pin might help). Press the dough gently in place and use the rolling pin to trim the excess dough by running it over the edges of the tin. (By the way, excess dough makes tasty cookies; preferably with a sprinkle of cinnamon and baked in the oven until lightly coloured.)
Take a sheet of baking paper and press it gently onto the dough. Fill the baking paper with baking beans (or uncooked rice, beans, couscous or whatever you have at home). Place the tin in the middle of the oven and bake for 15-18 minutes until the edges starts to get some colour. Remove the paper and its contents. Bake for a further 13-15 minutes until lightly coloured all over, but not too golden. Leave to cool.
While the pastry is baking in the oven, you can start with the caramel filling. Add the sugar and the water to a medium-sized pan, let it simmer for about 4-5 minutes. Add the cream and the cacao and let it boil gently until it reaches 251˚F (122˚C). This takes about 15 minutes but check regularly with a candy thermometer.
Remove from the heat and add the butter and salt and stir until combined. Let it cool a little, then pour it onto the pastry and put the tin in the freezer for about 1 hour (make sure the tin is put on a level surface).
Now it's time for the ganache. Melt the chocolate in a pan or bowl placed over boiling water. Remove from heat and pour in the cream. Stir until combined and smooth. Spread out over the caramel filling and put the tin back in the fridge for about 1 hour.
Before serving, sprinkle some sea salt on top. The tart can be eaten as is, but some whipped cream and a few berries make it even better. Will keep for several days in the fridge.
Bon appétit!
For more recipes and ideas, sign up for emails from Paris Perfect! For your next stay in Paris, our friendly reservations team are on hand to help you select one of our stunning family vacation rentals.
SaveSaveSaveSaveSaveSave
SaveSave
SaveSave
Summary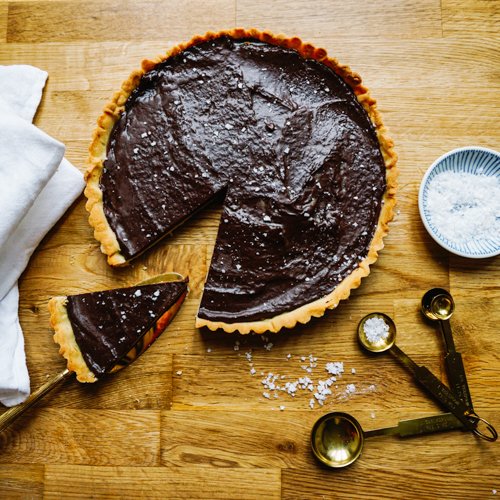 Recipe Name
Tarte au Chocolat with Salted Caramel
Author Name
Published On
Preparation Time
Cook Time
Total Time
Average Rating





Based on 41 Review(s)