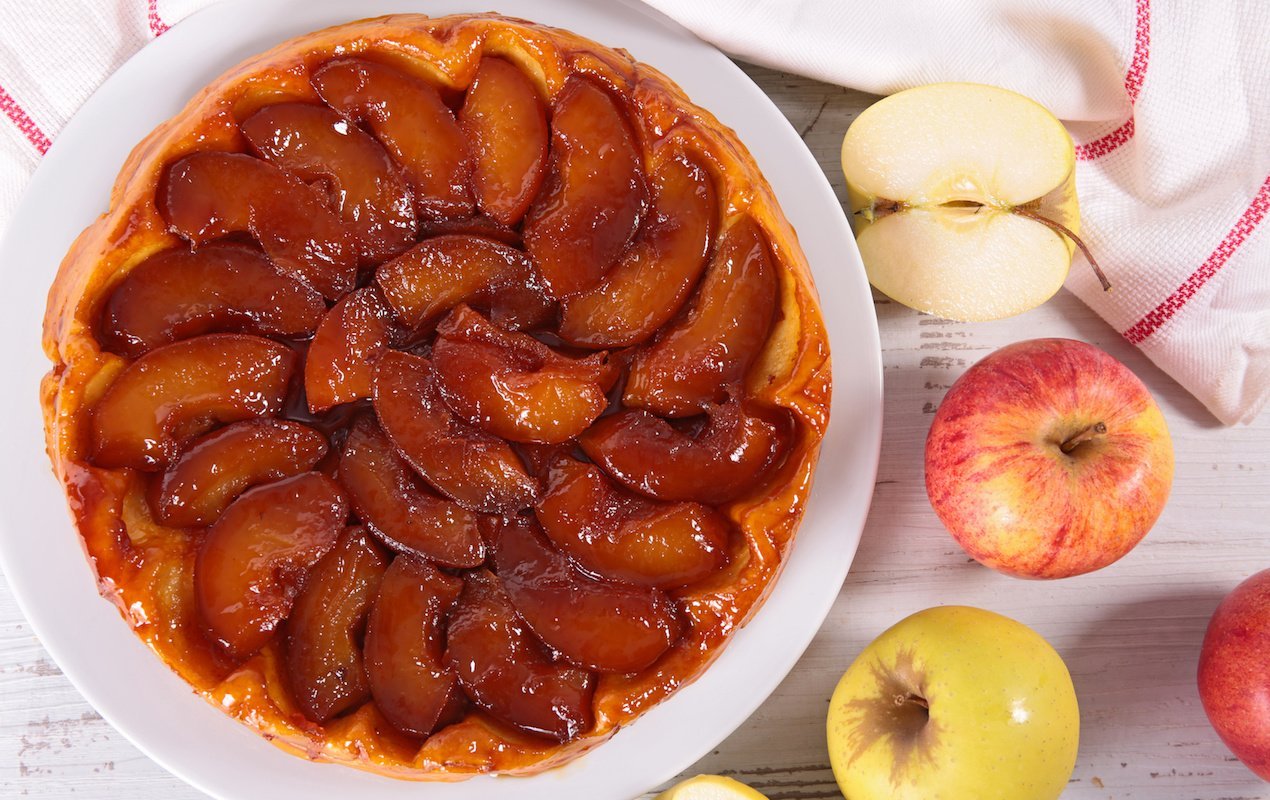 With the arrival of yellow-orange leaves covering the streets and a fresh chill in the air, I know that Fall has officially arrived in Paris! Along with it comes delicious apples in all the open air markets. I specifically love visiting the apple stands at the Marché Grenelle or the Marché Saxe-Breteuil because they offer a dozen different apple varieties, plus their home-made apple sauce, juice and cider.
The first time I tried Tarte Tatin in France is a food memory I'll never forget. It was so delicious and elegant that I thought my hostess had spent hours making it, but two years later I discovered just how easy it is to make! All you need is a little pre-made pastry crust and the rest falls into place.
Easy Tarte Tatin – Caramelized Upside-Down Apple Tart
Serves 4-6
Prep Time:  10 minutes
Cook Time:  50 minutes
Total Time:  60 minutes
Ingredients
8 golden apples, nice and yellow
1 box of pâte feuilletée (puff pastry)
1 tsp vanilla
Cinnamon to taste
½ Cup (100 g) butter
½ Cup sugar
Vanilla ice cream or crème fraiche (optional)
Instructions
Peel the apples. cut them in half and remove the core. You can leave as halves or can cut into smaller pieces. Preheat oven to 350 F (180 ° C).
In a heavy pan, melt the butter, then add the sugar and reduce heat until it starts to caramelize.
Add apples to the caramelized liquid, and stir gently, allowing them to poach slightly in the caramel. When caramel turns golden, remove from heat and mix in vanilla and cinnamon.
Transfer everything into a round cake pan. With a utensil, turn the apples so that round side is more-or-less facing the bottom of the pan. This will give it a smoother appearance later.
Cover the top of the apple-caramel mixture with puff pastry, pressing edges down firmly. Poke a few holes in the top
Place in oven for 35-40 minutes. When feuilletée (puff pastry) is golden, your tarte is done!
After it cools slightly, place a serving platter face-down on top of the pan, then carefully flip over so that the apples are on top. (Use an oven mitt if the pan is still hot!)
Serve warm with vanilla ice cream. Yum!
This Tarte Tatin goes extremely well with some vanilla bean ice cream and an extra sprinkle of cinnamon. People who have less of a sweet tooth may prefer a dollop of crème fraiche instead of ice cream. As for the beverage, a nice pink champagne or crisp white wine would pair well with the sweetness of the caramel and the spice of the cinnamon, but however you choose to enjoy your Tarte Tatin, it'll be delicious!