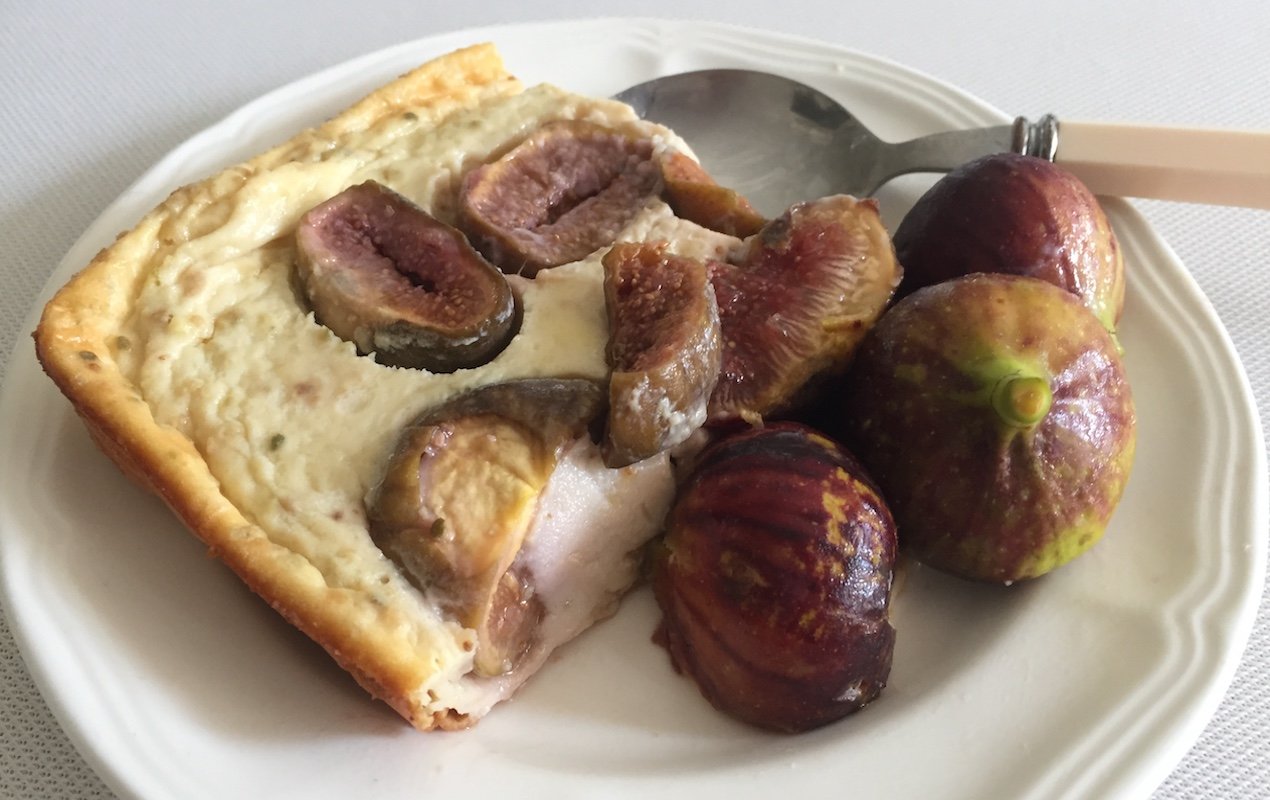 Our good friends have recently purchased a country home in Normandy: not far from Paris. They had loads of beautiful homegrown figs and they gave us a massive bag. I was thinking about our Paris Perfect cookery classes, so the first thing I did was make this divine apple and fig clafoutis. It's a fruity and delicious dessert originally made with morello cherries, but the apples and figs complement each other perfectly.
No one says clafoutis – patoutis – it's a rhyme I made up and am the only one in my family who finds it funny.  So just say, "clafoutis" in France. Clafoutis is a specialty of the Limousin area but it's a treat in any location; its plump and juicy base covered with a rich, creamy custard is delectable.
I used an brilliant recipe for fig and apple clafoutis and after I made it, we polished it off in two days. First for dessert, then for breakfast the following morning.  It's so easy to make and totally scrumptious.  What I personally savor in this special recipe is a tiny touch of rum in the custard – and most importantly – really good vanilla.
Here's the winning recipe:
CLAFOUTIS AUX POMMES ET FIGUES
INGREDIENTS
For the baking dish:
2 tablespoons of butter
2 teaspoons of grated lemon zest
For the caramelized apples:
4 tablespoons butter
2 tablespoons brown sugar or demerara sugar
3 to 4 big apples, peeled, cored and sliced (if organic, don't peel them)
For the custard:
3 large eggs
2/3 cup whole milk (room temperature)
1/3 cup sugar
2 tablespoons excellent vanilla (more below)
2 tablespoons rum or brandy
3/4 cup plain yoghurt (crème fraîche or sour cream works well too)
1/2 cup all purpose flour
1 teaspoon salt
6 to 10 figs, sliced in half (you can also use dried figs)
METHOD
Butter bottom of baking dish.
Combine two teaspoons brown or white sugar with lemon zest; sprinkle over butter.
To caramelize the apples:
Preheat oven to 450°F. Peel and slice apples. Bake with butter, sugar and pinch of salt.
Use a silicon mat or butter a cookie sheet. Melt the 4 tablespoons butter, combine 2 tablespoons sugar, zest of lemon. Arrange apples on silicon/cookie sheet and pour over the butter and sugar mixture.
After 12 or so minutes, turn them over, coat with sugar mix and cook for another 10 minutes until a pretty caramel color.
To make the custard:
Blend eggs in blender for a minute until really foamy. Then, pour in milk, rum and brandy.
Add yogurt (or crème fraîche/sour cream) and 1/3 cup of sugar, flour, a teaspoon of salt and vanilla.
Set oven to 375°F.
When cooked, arrange caramelized apple slices on the bottom of the baking dish – reserve a few for the top. Arrange the figs all around dish and reserve a few for decoration.
Pour custard mixture over and top with extra apples and figs.
Bake for 30 to 35 minutes.
I try to cut back on sugar wherever possible. So, I didn't sprinkle the bottom of baking dish with the sugar and lemon zest mixture.  Instead, I added the lemon zest to the custard mix and blended it together. It worked a charm!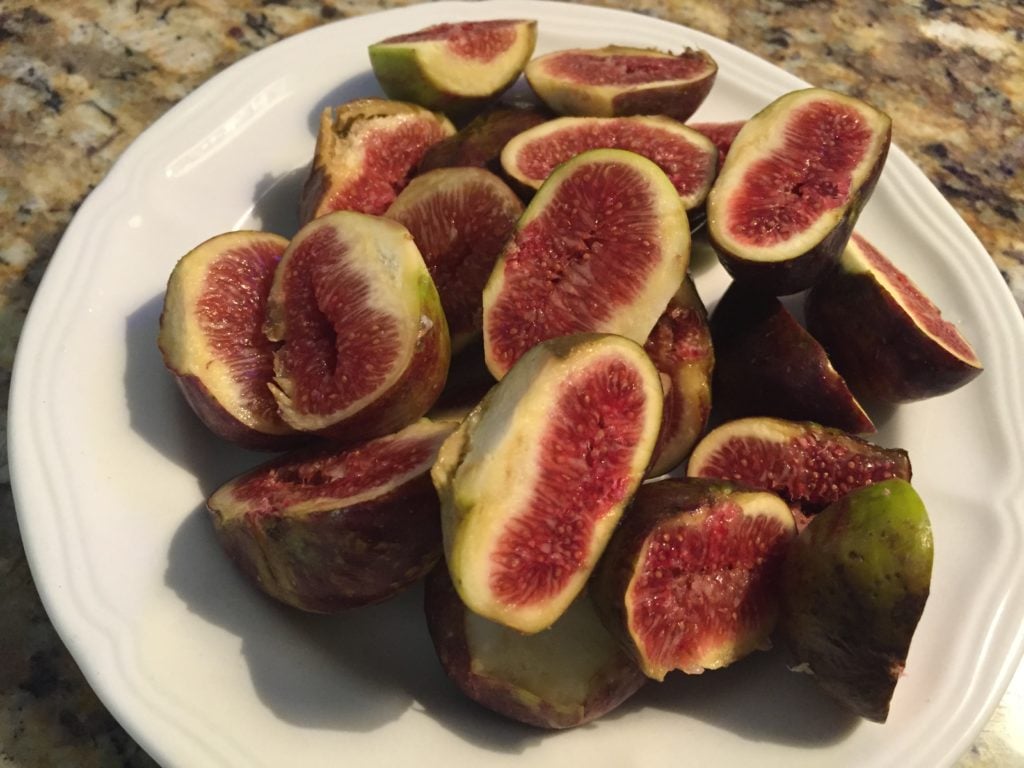 I used my delicious homemade vanilla syrup. See the recipe below: the seeds are blended with the vodka. Chef Christian is right, it adds to the flavor and doesn't waste anything.
THE VANILLA SYRUP
I took the advice of our expert macaron Chef Christof on Rue Amelie. He makes his own vanilla for his baking. Put 8 vanilla pods in a jam jar, and fill with vodka. Let sit for 3 to 6 months before using. When you need vanilla, remove a pod, cut off end and squeeze out the vanilla seeds (and surrounding goo). It will add so much flavor!
Hint: And you can start a second jar with the empty pod, also filled with vodka, and keep adding empty pods. Keep in refridgerator and after months you've got vanilla extract.  It's just amazing. Try it for yourself – you won't regret it.
For your next stay in Paris, our friendly reservations team are on hand to help you select one of our stunning family vacation rentals.
Photos: Madelyn