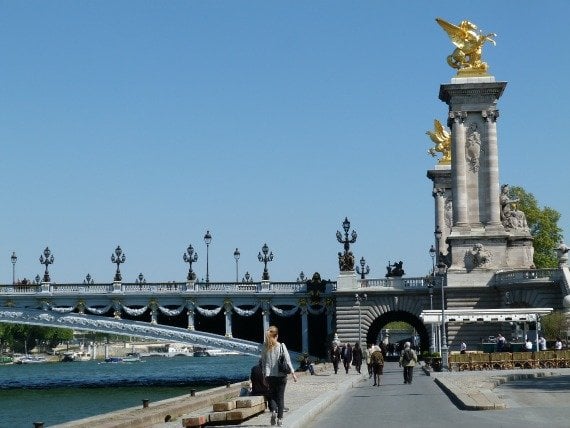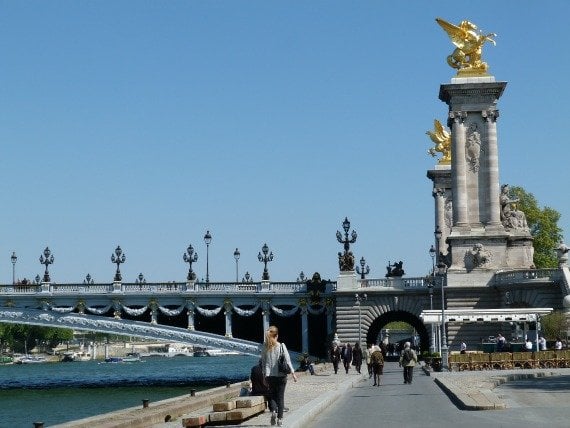 I have a confession to make. I was one of the millions of Parisian drivers who was vehemently against former Paris mayor Bertrand Delanoe's Les Berges de la Seine urban renewal project when it was in its planning stages. Rather than being thrilled at the idea of a new car-free zone along the Seine where locals and visitors could indulge in the 19th century art of la flânerie—a leisurely stroll–all I could focus on was how closing off 2.3 kilometers of this Left Bank urban expressway was going lengthen my daily commute.
But my displeasure turned to delight when I spent my first afternoon wandering through this impressive space. Inaugurated in June of 2013, Les Berges de la Seine was one of the last of Delanoe's ventures to "return Paris to the Parisians." Hoping to see the same success as he had had with Paris Plage, where each July since 2002 the riverbanks are turned into a beach complete with sand and palm trees, and the Vélib citywide bike rental program, Delanoë's final urban project sought to create a place where people would be out and about, whether walking through the floating gardens, snoozing in one of the rope hammocks, participating in a Sunday morning yoga class or sipping coffee in a gourmet plein air café.
The entrance on the south side of the Pont de l'Alma is easy to access especially for those lucky enough to reside in Paris' 7th arrondissement. When you descend from the Pont de l'Alma to the riverbanks, you will find yourself in the first of the Berges' unique environments:  five floating islands that are moored to the riverbank, bobbing gently with the water's movements. Each island has a different theme:  birds, meadows, mist, orchards or water.
Moving eastward, the next environment you'll encounter along the Berges is this urban orchard, built in partnership with Truffaut, a French seed company: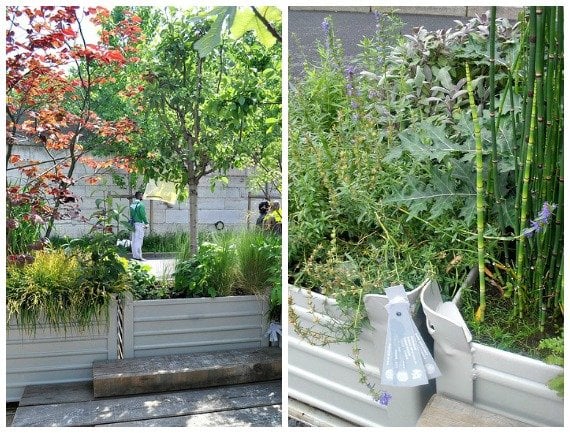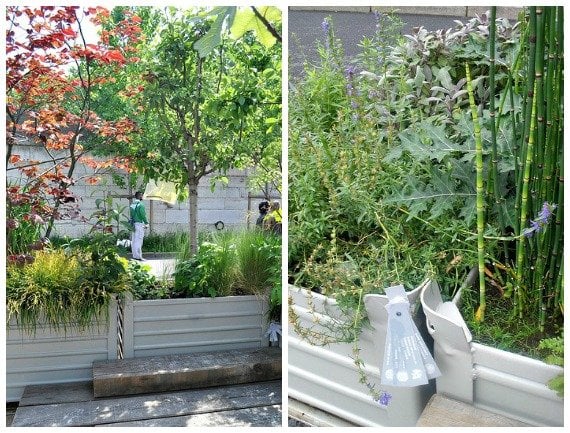 Feel free to pick your favorite plants from the many tagged species and make up a pot of herbal tea in the on site solar-powered kettle!
Looking for a free workout? Join one of the sports classes. Check the schedule to see what's on offer; the day I was here a yoga class was in session, followed by well-attended Zumba demonstration.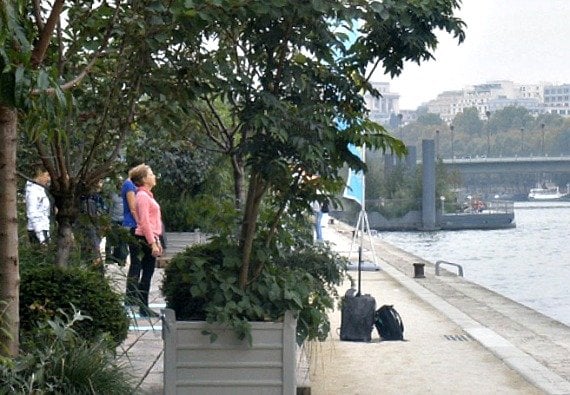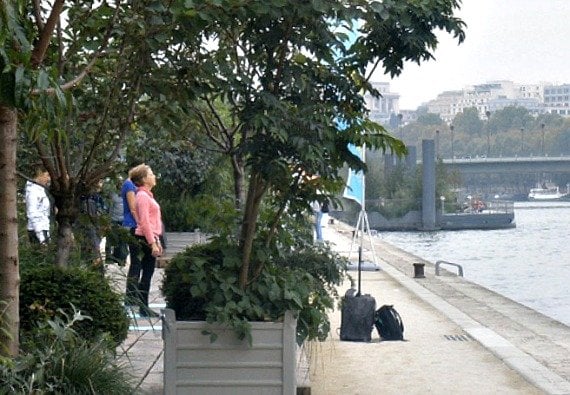 A little further on is a wonderful kids' space where the young ones can work off their afternoon pain au chocolat-fueled energy by climbing the rock wall…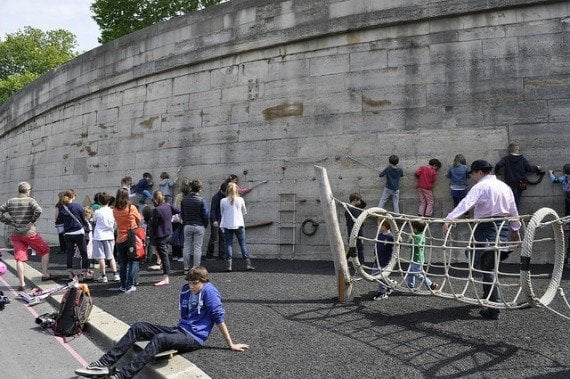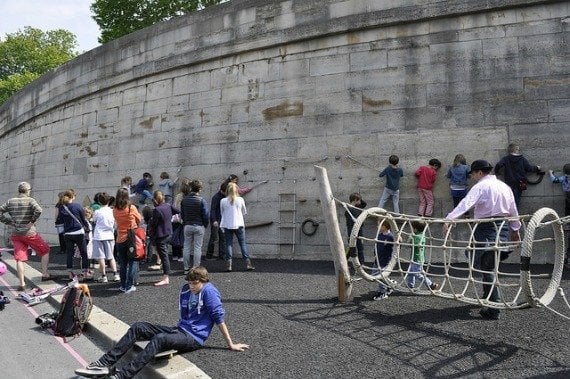 …or hanging on the bars of this structure made from wood reclaimed from the maritime containers that brought down some of Les Berges' installations from Le Havre where they were built.
Insider information:  Look closely and you will see fossils from the era before the roadway was constructed, when the river rose right up against these walls:
While the kids are playing, why not treat yourself to a café crème from the airstream trailer "Le Faust" café parked under the glorious Pont Alexandre III?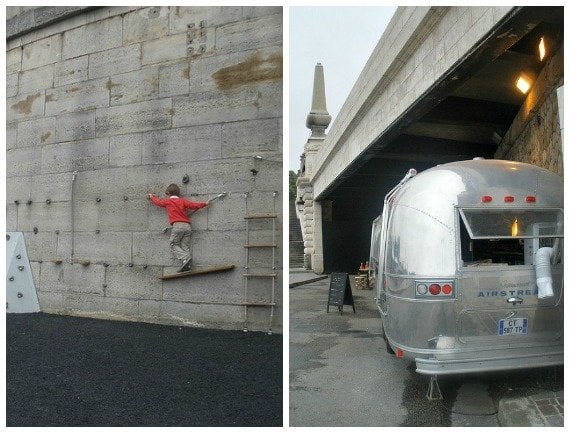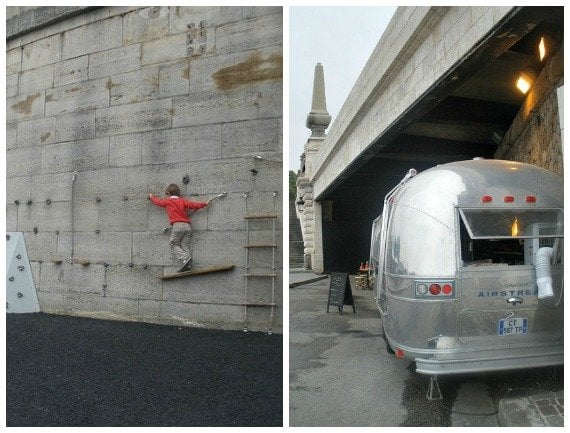 Or challenge a fellow river-gazer to backgammon in the Game area: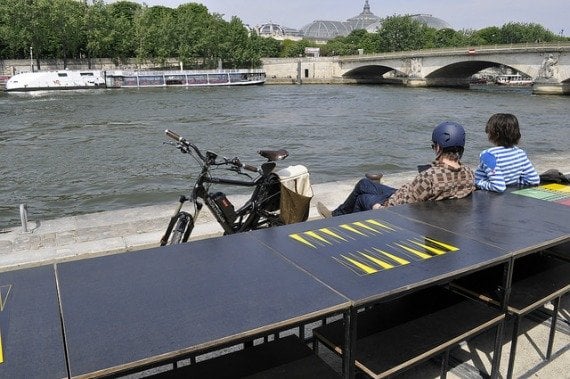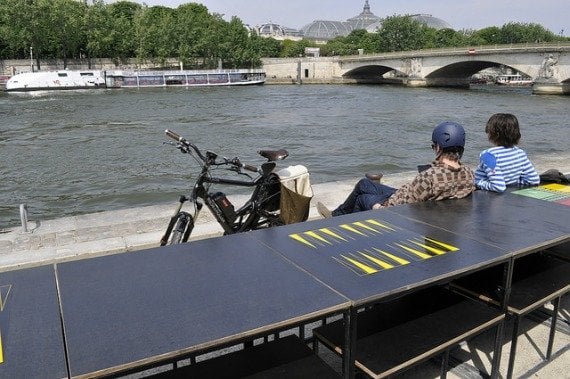 To help plan your day at the Berges, be sure to check the official website.  You just might get lucky and be there during the Open Air Jazz Festival or an exhibit of Street Art. Like Paris, les Berges de la Seine is in constant evolution, and merits being visited again and again.
The Berges de la Seine was Delanoë's most-contested urban development project during his 13-year mayorship. Those against it predicted massive traffic jams and an uptick in pollution once this section of the Left Bank expressway was closed off, not to mention the uproar over the cost (35 million euros to install this ambitious space; five million euros each year to maintain it). But it would appear that Les Berges has proven its cultural worth, and even the most fervent naysayers (myself included) have come to embrace this vibrant and attractive zone, set right in the heart of the city but seemingly far from the urban noise.
________________
Shelby Ocana is Californian by birth and Parisian by choice. She arrived in the City of Light for a six-month stay when she was 20, and three decades later she is still there, working in the field of study abroad and raising two bilingual, bicultural children. Paris is her favorite subject to write about. Even after living there for so many years, Shelby continues to find one new thing in the cityscape each and every day that thrills her heart and amazes her eyes.
(Image credits: PreteMoiParis, All other images by the Author)