Run, don't walk, to catch the last month of the retrospective exhibition winding down at the stunning Palais Galliera, Musée de la Mode de la Ville de Paris, "Les Années 50: La Mode en France." On display are 100 well-preserved dresses and accessories from the museum's private collection, many of which have never been shown to the public, as well as some terrifically-vintage Elle and Paris Match magazine covers from the same period. It's a gorgeous show and a perfect way to spend a fall afternoon in Paris.
The exhibit showcases iconic designers including Dior, Balenciaga, Chanel, Balmain, Givenchy and Grès. It traces the evolution of fashion from Dior's "New Look" through ready-to-wear, France's innovation during the latter part of the 1950s. The collections are grouped according to theme such as dresses for an afternoon tea, evening gowns, travel outfits, city wear, swimsuits and undergarments. The emphasis is on the garment as there are no conventional mannequins. Instead, the clothing is displayed on dressmakers' dummies or, in the case of the underpinnings, hung inside a frame like a picture.

Visite privée de l'exposition Les Années 50 par… by VOGUEPARIS
What struck me was how these fashions of the 50s have now come full circle, with many of the suits and dresses wearable today, thanks to the popularity of the vintage look. One Givenchy ball gown — in a deep navy silk — appeared to be the prototype for today's "bandage dress," so fashionable with its multitude of tiny pleats coming together to form a herringbone pattern in the front.
On display is the beauty of a superbly-cut dress, an intricately-embroidered skirt, or a bodice richly adorned with crystals. It's a clear homage to the designers that have, for a large part, been forgotten in today's trend towards buying cheap and disposable clothing.  Moving through the rooms you witness the transformation of the female silhouette, with Dior inventing the (at the time) scandalous lines that cinched in the waist and pushed up and out the breasts. Skirts went from pencil-thin to full and ample, ringing in what the French continue to call the golden age of Haute Couture, and bringing Paris back as the Fashion Capital of the world. Sadly, this era was not to last—Paris had 106 haute couture "houses" in 1947, but that number would be reduced to a mere 32 ten years later.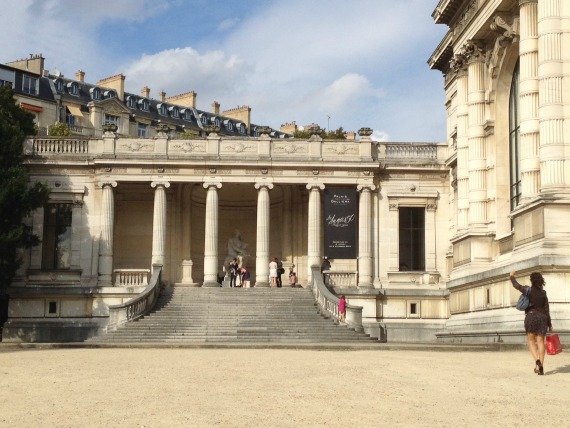 Visitors cannot take any photographs inside the exhibit, but there are plenty of art and fashion students sketching away in the various rooms. There is also, of course, an exhibit catalogue for sale in the entryway to the exhibit. Do be warned that the ticket line can be long; this is a very popular exhibit. But the wait is worth it once you are inside and surrounded by the amazing pieces the museum has culled from its archives, beautifully displayed in the hushed ambiance of this jewel box of a space.
The Palais Galliera houses only temporary exhibits and has no permanent collection. As such, it closes between exhibitions. The shows run for short periods due to the fragile nature of the clothing and the garments' sensitivity to light. (You will notice the rooms are somewhat dark and the museum's windows heavily draped.) Paris was thrilled when the museum reopened last year; it had been shuttered since 2009 by the city as it was brought up to code. Now that it has been refurbished to its former self, it is a must-see for anyone with an interest in fashion and the visual arts.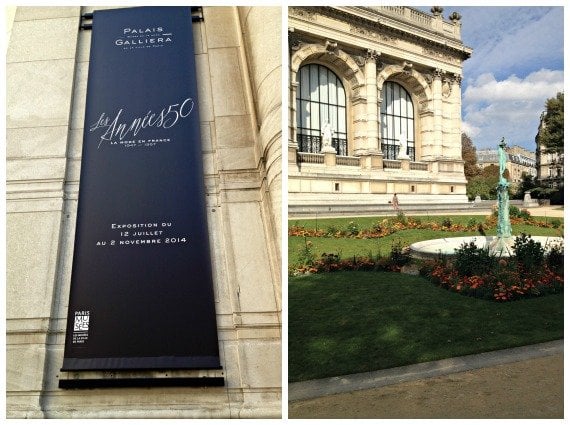 Palais Galliera, Musée de la Mode de la Ville de Paris
10, avenue Pierre 1er de Serbie
Paris 75116
Métro : Iéna
Buses 63, 92
Opening hours : Tuesday to Sunday 10 :00 am – 6:00 pm
Late hours on Thursday evenings until 9:00 pm
Closed on Monday and holidays
Admission: 8 € general, 6€ reduced, under 18 free
This show, "Les Années 50" will close on November 2, 2014.
__________________
Shelby Ocana is Californian by birth and Parisian by choice. She arrived in the City of Light for a six-month stay when she was 20 and three decades later she is still there, working in the field of study abroad and raising two bilingual, bicultural children. Paris is her favorite subject to write about. Even after living there for so many years, Shelby continues to find one new thing in the cityscape each and every day that thrills her heart and amazes her eyes.
(Image Credits: Photos by author)