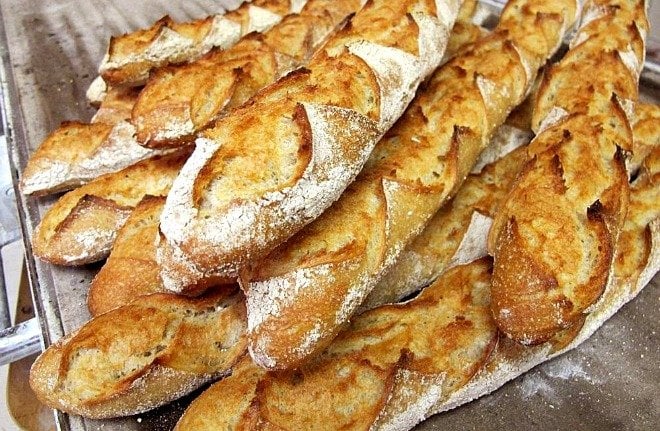 Recently over lunch with some of our wonderful Paris Perfect apartment owners, we launched onto the hotly debated subject of best boulangeries and best pâtisseries in the 7th arrondissement. (Folks, this is serious business in France.) The debate was sparked by the bread at the cafe, which was really good. One of our our Paris Perfect apartment owners asked if we knew which bakery their bread came from. Philippe always knows! (Please reference earlier aside RE: serious business.)
Turns out these particular baguettes were from the bakery a' l'ancien Le Champ des Delices at 145 rue St. Dominique, but their excellent brown bread comes from Sept (the former Secco) at 20 rue Jean Nicot.  They are among the best bread stores in Paris, not mass manufacturing, using only natural yeast and all breads are  handmade on site, starting at 4:00 am each morning.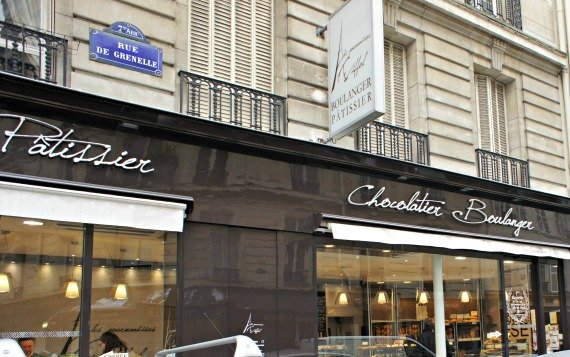 Owner Tom and his children have been purchasing the baguettes and croissants at the bakery and patisserie at 187 rue de Grenelle – Les Gourmandises, one of my recommendations.  I love that bakery — especially their hard rolls and rolls with walnuts, which are perfect for the cheese course.  And their desserts are to die for! But Philippe insists Le Champs de Delices is best for all baguettes. "If one of the best chefs in Paris buys their baguettes for his restaurants, you have to vote with him."  Fair point.
However,  I convinced Philippe to try Les Gourmandises and he grudgingly admitted Gourmandises croissants and pains au raisins were delicious —  "Mais seulement les croissants et pains au raisins!" — refusing to concede on the baguette battle.
Second choice:  Philippe and several other owners likes Le Bon'heur de Pain at 63 Ave Bosquet – a relatively new discovery for him.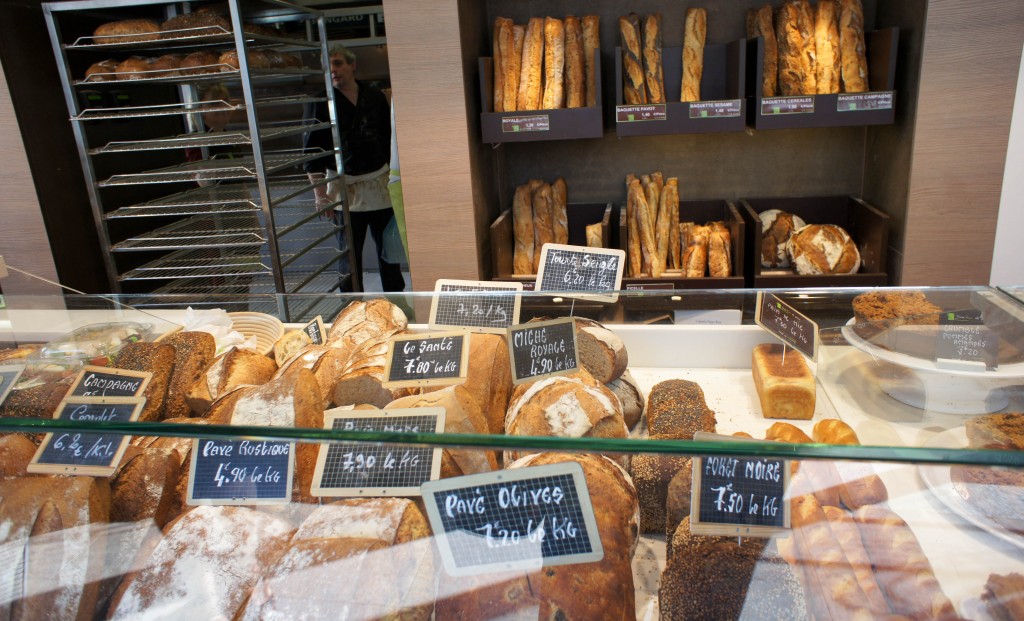 The hot discussion continued as Venezuelan  owners, Maria Cristina and husband Antonio contributed their favorite for baguettes (but not croissants)–  Le Moulin de la Vierge at 64 rue St. Dominique!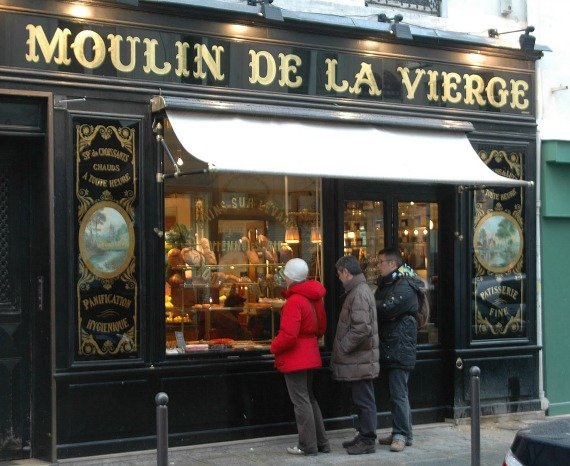 I prefer the croissants at the Patisserie de la Tour Eiffel on Ave de la Bourdonnais at rue du Monttessuy, but Philippe is adamant that the thin sugar coating I love … ruins them!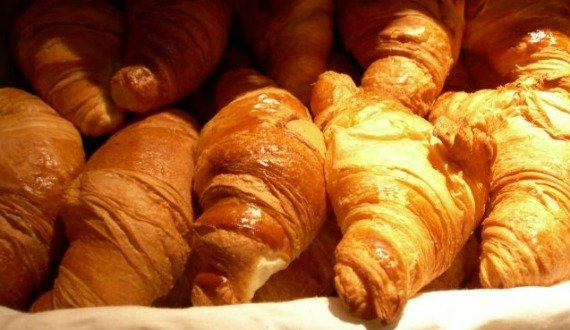 We all commented about the updated Lapelosa Boulangerie at 16 Ave Rapp may become baguette winners. On another subject but their sandwiches are excellent!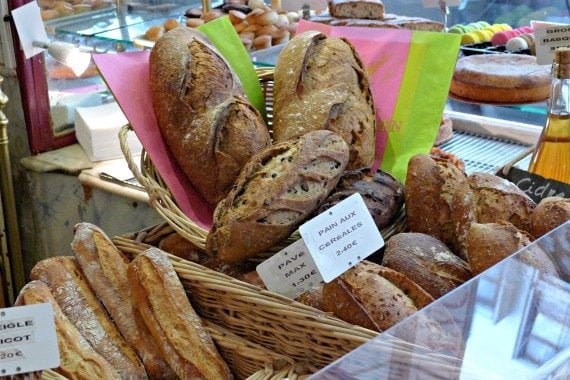 We discussed Paul, an omnipresent chain in Paris that has a good consistent croissant and baguette, but agreed that the natural yeast and non-industrial methods of bread making at Sept are a true art.
Philippe loves Pain au Levain for breakfast; a sourdough type bread that he smears with salted Beurre Au Sel de Guérande.  It's true, the mixture of fresh bread and grains of salt in the butter are addicting. Our daughter Alexia and I pour on Confiture Aux Abricots by Bonne Maman.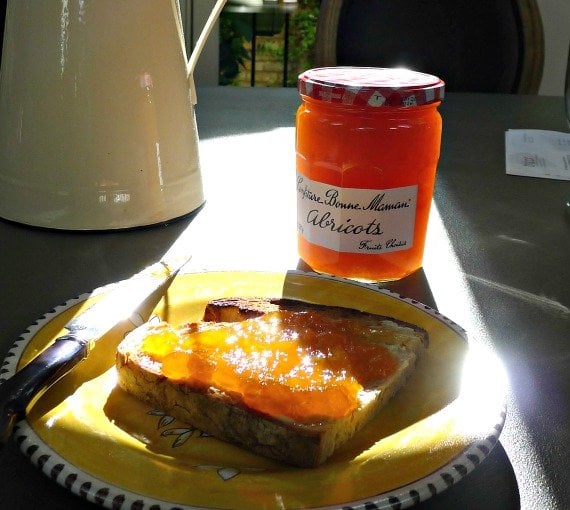 We started laughing — only in Paris could you launch heated, in depth conversations … about baguettes.  And what a joy! It's the reason we and our small family of Paris Perfect owners love owning an apartment in Paris and living like a Parisian.  We're getting together with more of our family of owners from Singapore and Hong Kong soon– and plan to share ideas for restaurants they've been reading about all year.
Try all the bakeries in the neighborhood and be sure to let us know which ones are your favorites, too!  Here's a look at all the boulangeries and pâtisseries mentioned in this blog post. Enjoy!
Le Champ des Delices
145 rue Saint-Dominique
Sept – PariSeven
20 rue Jean Nicot
Les Gourmandises
187 rue de Grenelle
Le Bon'heur de Pain
63 avenue Rapp
Le Moulin de la Vierge
64 rue Saint-Dominique
Patisserie de la Tour Eiffel
21 avenue de la Bourdonnais