You can tell Christmas is coming when the display cases at the grocery store swap out their yogurts and cheeses for the pretty log-style packages of foie gras. This delicacy is so symbolic of the season, and is but one of the traditional offerings at the French Christmas dinner.
French Christmas Dinner
What are some other typical foods that make a special appearance in French homes as the year draws to a close?
Kicking off the Meal
The holiday meal will typically start off with foie gras. This rich and onctuous slice of liver is lovely to pair with toasted brioche. Recently, we've seen grilled gingerbread slices (pain d'épices) accompanying this succulent spread, with a side of spicy chutney or preserved sweet onions. Sprinkle some kosher salt on each bite and you've got a taste sensation better than any Christmas present. Don't forget the chilled Sauterne!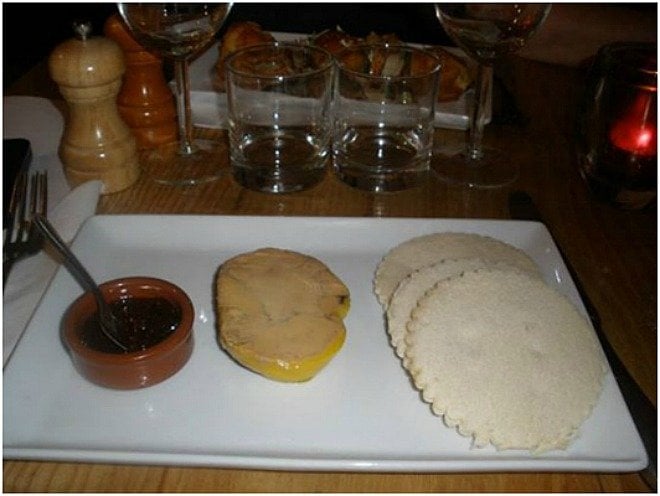 The French are also big fans of fish dishes as a first course. Smoked salmon with blinis, tarama spread on a crusty baguette or raw oysters on a bed of ice paired with rye bread are other common openers to this special meal.
The Main Course
Roast turkey or goose, or a special kind of castrated rooster, known as a chapon are traditional main dishes served at Christmas. The French stuffing is not bread-based, as the American one is, but relies on a mixture of gizzards, pork and other meats. Chestnuts are often added, and there is a lot of jus, or sauce, passed around in the gravy boat to add another layer of flavor to the plate.
Boudin blanc, a white sausage often embellished with truffles, is another traditional main dish, served with a side of pureed chestnuts. Side dishes are similar to what we find in the America: green beans, sautéed mushrooms, mashed potatoes or celery root, and of course you'll always find plenty of fresh baguette on the table to help soak up all the lovely sauces.
Dessert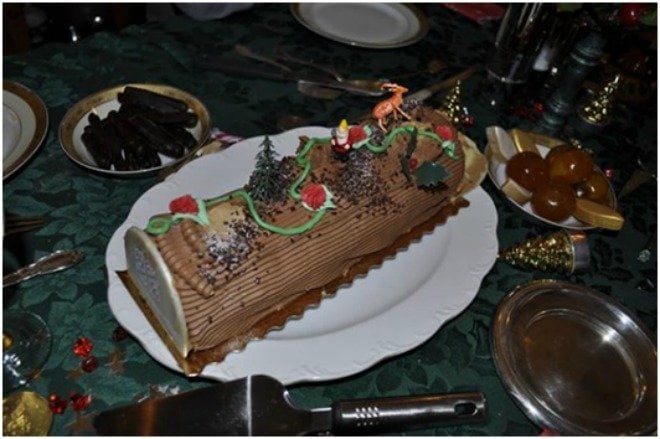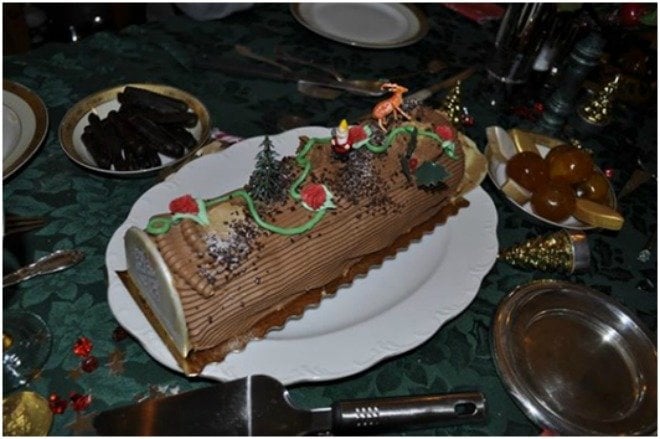 The bûche de Noël has a starring role at the holiday table, and each year it seems there are more variations of this rich cake to choose from. Long ago the traditional yule log was only available one way: a jelly roll cake filled with buttercream. The flavors were limited to chocolate, praline, vanilla and Grand Marnier for the adventuresome.
That's all changed today, with a fanciful bûche de Noël becoming the showcase piece for the finest and most creative pastry chefs. Flavors such as litchi, rose petal, gingerbread, dark cherry, coconut and pineapple…it's amazing what is now available at places such as La Grande Epicerie, Pierre Hermé and Ladurée. No longer content to shape this cake into a yule log, you can now find a bûche that looks like a quilted Chanel purse, a Champagne bottle, or a set of Louis Vuitton luggage! My favorite remains the traditional chocolate roll, with lots of little toys to pluck off the top and distribute to the small children at the table.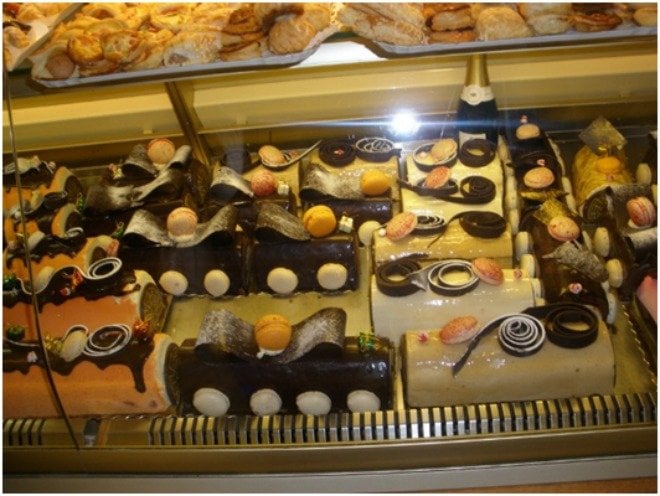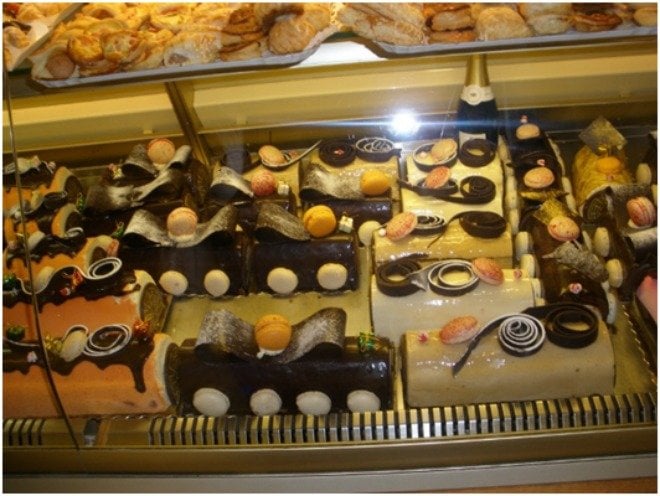 I know several French people who prefer the lighter ice cream or sorbet version to cap off their heavy holiday meal, but I'll stick with tradition. You can always eat the leftovers for breakfast!
Lastly, as the French Christmas dinner extends into the night, more sweets will make an appearance on the French table. Here are a couple of delights that come from the South of France: clementines confit, or preserved tangerines, and les calissons d'Aix, which are an almond-paste-based cookie from Aix en Provence.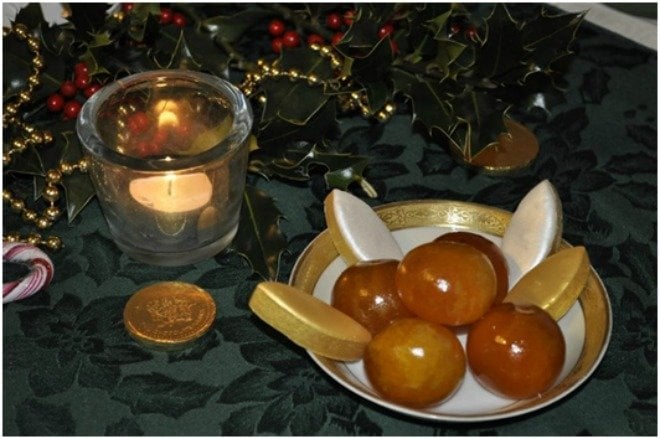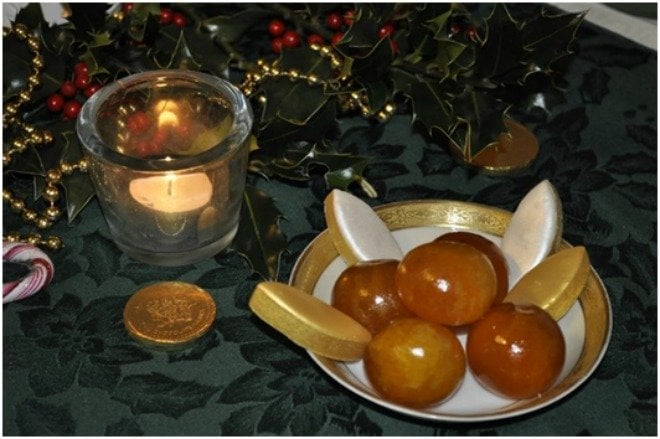 Bonnes fêtes de fin d'année! Happy holidays to all!
___________
Shelby Ocana is Californian by birth and Parisian by choice. She arrived in the City of Light for a six-month stay when she was 20 and three decades later she is still there, working in the field of study abroad and raising two bilingual, bicultural children. Paris is her favorite subject to write about. Even after living there for so many years, Shelby continues to find one new thing in the cityscape each and every day that thrills her heart and amazes her eyes.
(Image credits: Jenni Field, All other images by the Author)