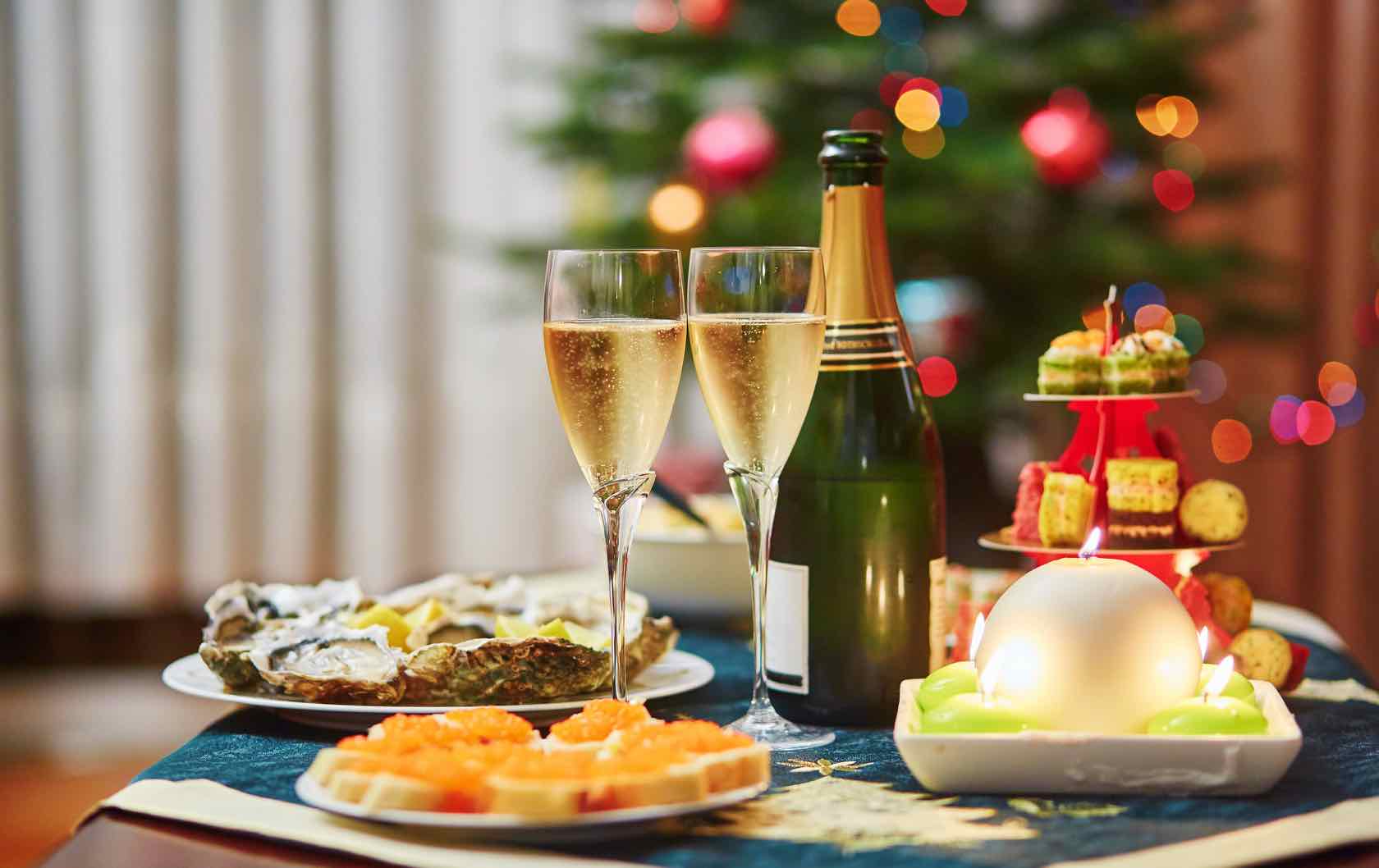 The holidays are quickly approaching, and it's the perfect time of year to gather around the table with loved ones and enjoy an end-of-year feast! Traditional Christmas food in France is delicious, no matter which holiday you're celebrating.
Christmas Food in France
Why not take some inspiration from the French this year and incorporate some of their holiday food traditions into your own celebrations? Keep reading to discover how to throw a Christmas party – the French way!
Pre-Dinner Drinks – L'Apéro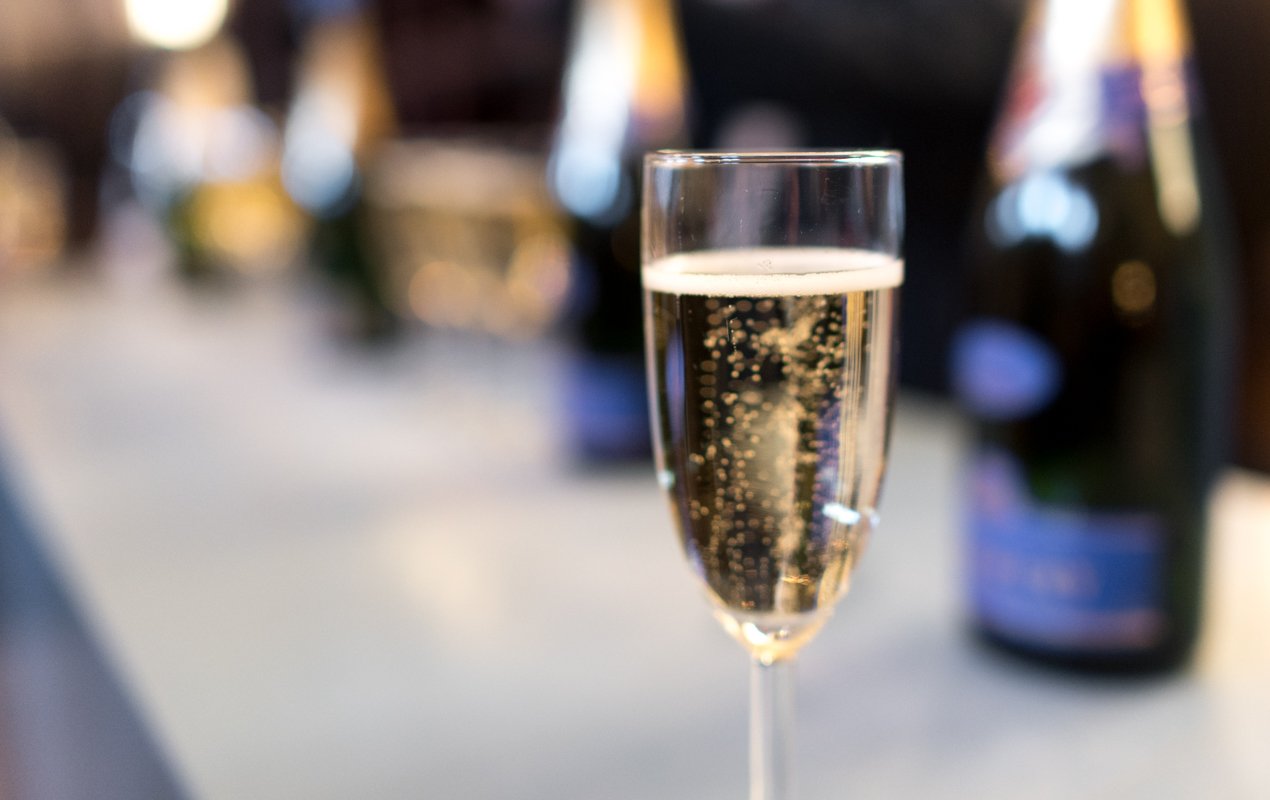 The French love a good pre-dinner drink, and nothing says "Holiday celebration" more than Champagne! Enjoy the bubbly by itself, or create a classic Kir Royal: Champagne plus a bit of crème de cassis (Blackcurrant liqueur), according to how sweet you like it. If you can't find crème de cassis where you live, many other types of fruit liqueurs will work just as well. If authentic Champagne is out of your budget, opt for a Crèmant, Prosecco or a domestically produced sparkling wine instead.
The Appetizers – Les Entrées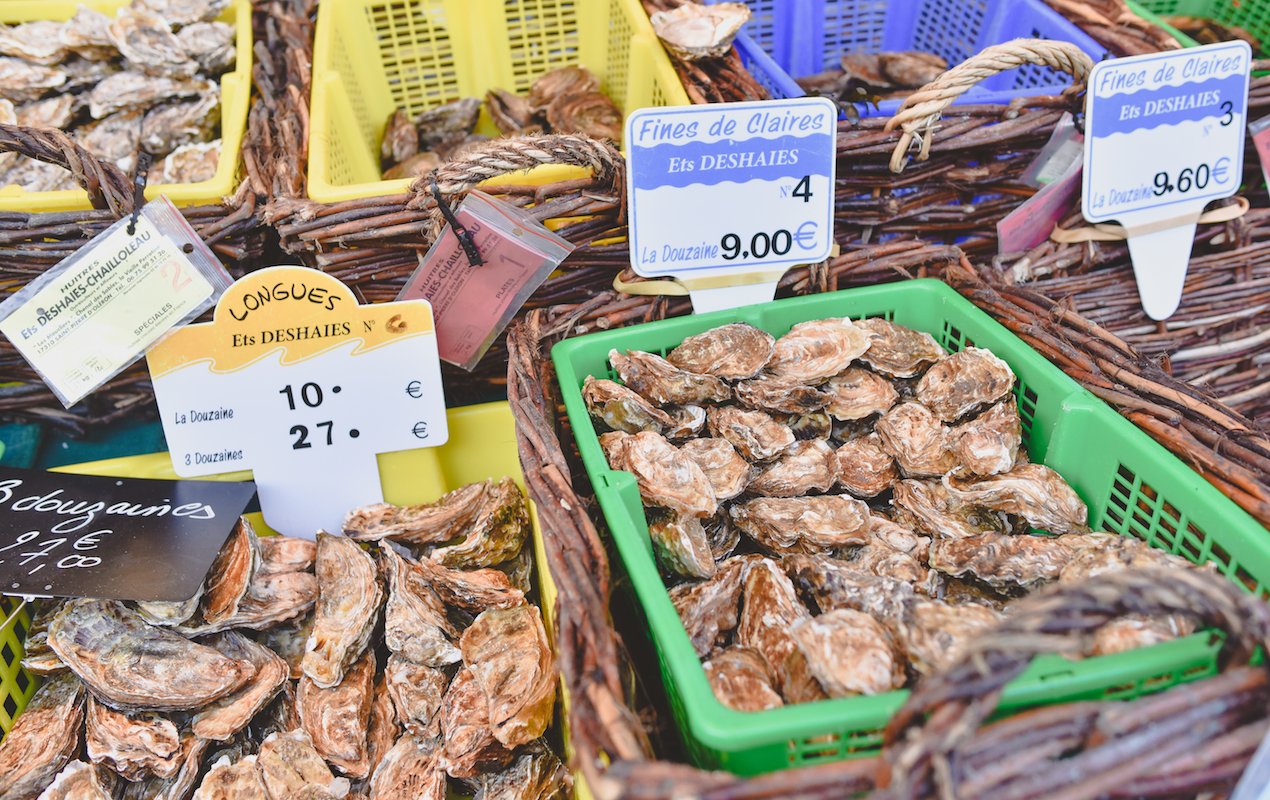 Another thing the French adore during their holiday feasts are appetizers, especially the expensive ones! Christmas and New Year's are the perfect opportunity to spend big bucks on the best delicacies such as oysters, foie gras and smoked salmon. Pair the fresh oysters with lemon wedges and the foie gras with some little pieces of toast; Champagne will pair wonderfully with these two appetizers, but you can also opt for a sweeter white wine, like a Vouvray, Sauternes or Riesling.
The Main Dish – Le Plat Principal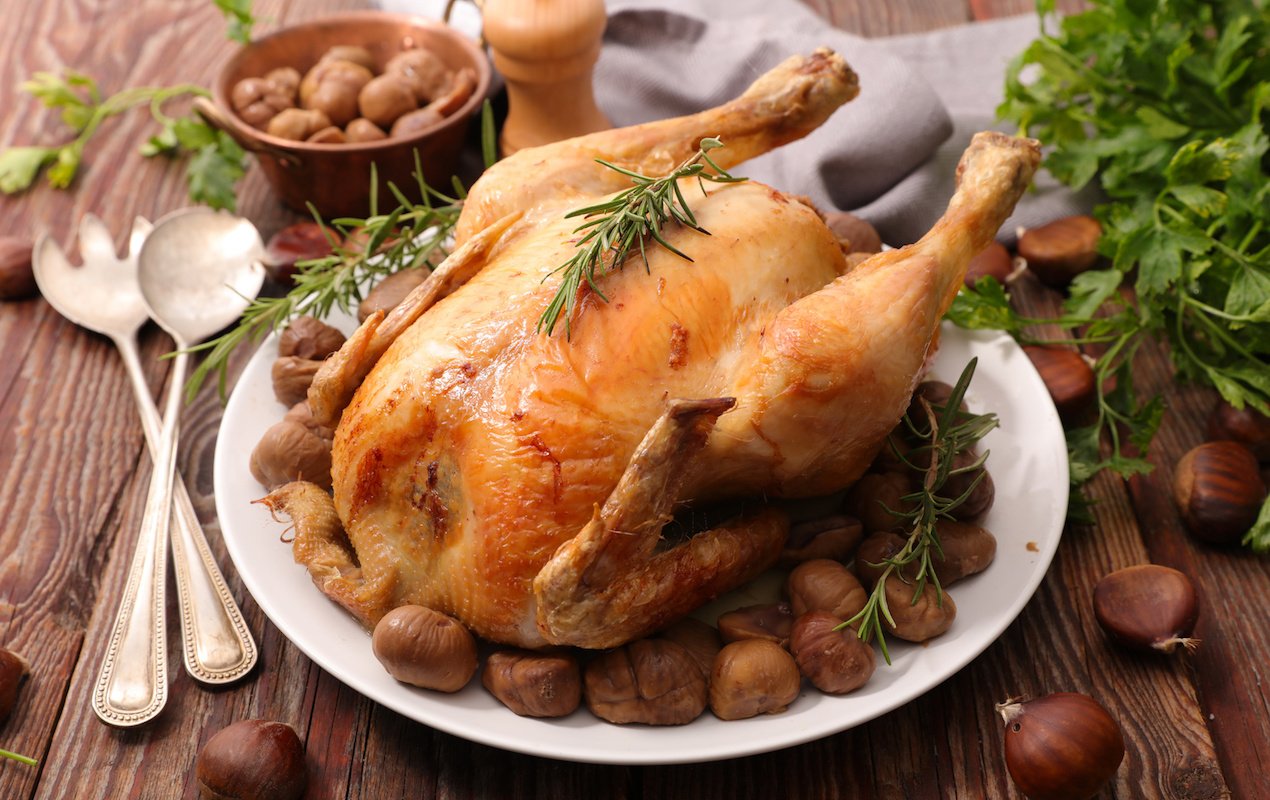 The preferred main dish varies greatly among different regions of France, but the most common choice is some kind of roasted bird (goose, turkey, duck or chicken) with a chestnut-based stuffing. Some families throughout France will opt for pricey seafood like lobster and crab. An easy way to give French flair to your main dish is to incorporate chestnuts in some way, either in stuffing or simply roasted as a side dish!
The Cheese Course – Les Fromages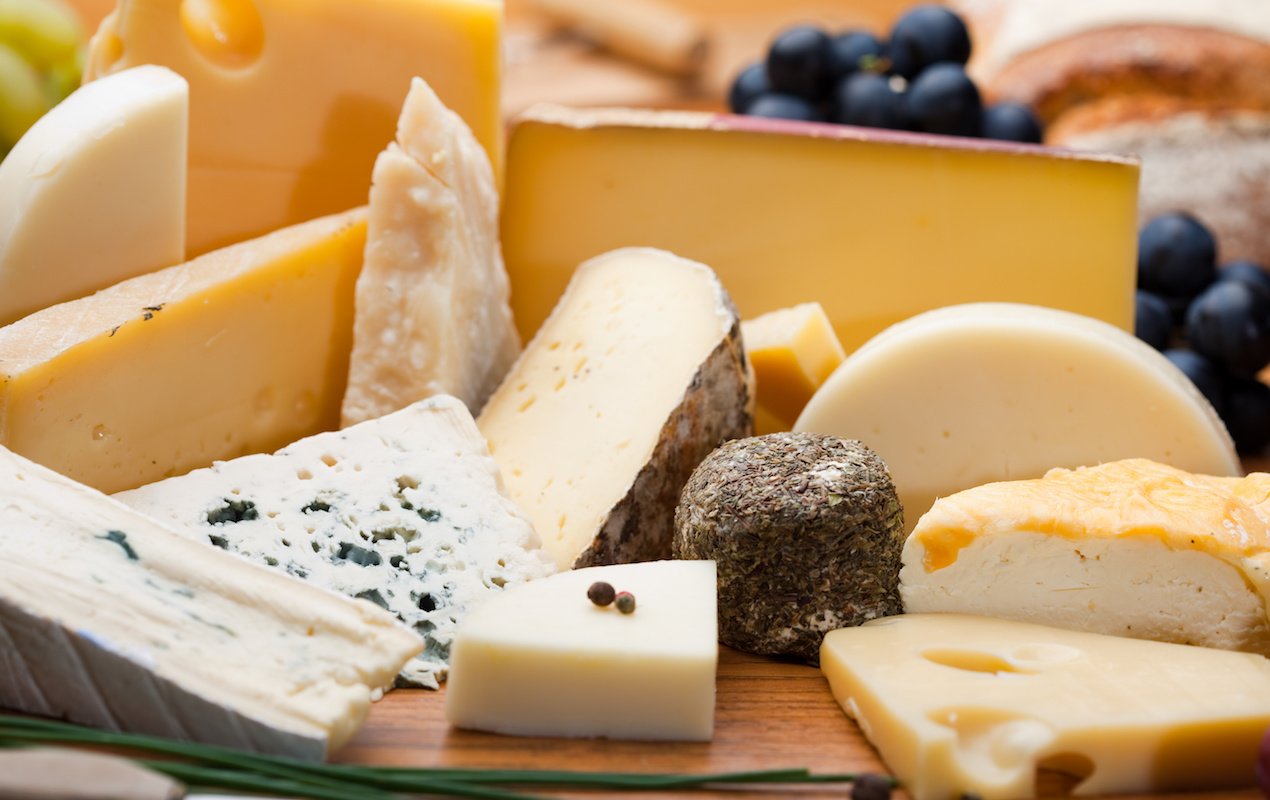 If you're looking to have a French-inspired holiday feast, you must include a cheese course! If you'll be in France for the holiday, make sure you pick up at least a couple of these wonderful winter cheeses:
Vacherin du Haut-Doubs
Beaufort d'Alpage
Comté de Noël
Brie de Meaux
However, since the majority of you reading this post won't be celebrating Christmas in France this year and authentic French cheese is basically impossible to find in countries like the United States, some great alternatives are: Brie, Gruyère, and Camembert. Keep in mind, however, that any cheese bought in the US will not be the same as cheese bought in France. The reason for that is the FDA's rules when it comes to milk pasteurization. You can find unpasteurized cheeses in the US, but it won't necessarily be easy to track down since most are produced by local farmers or small-batch producers.
The Dessert – Le Dessert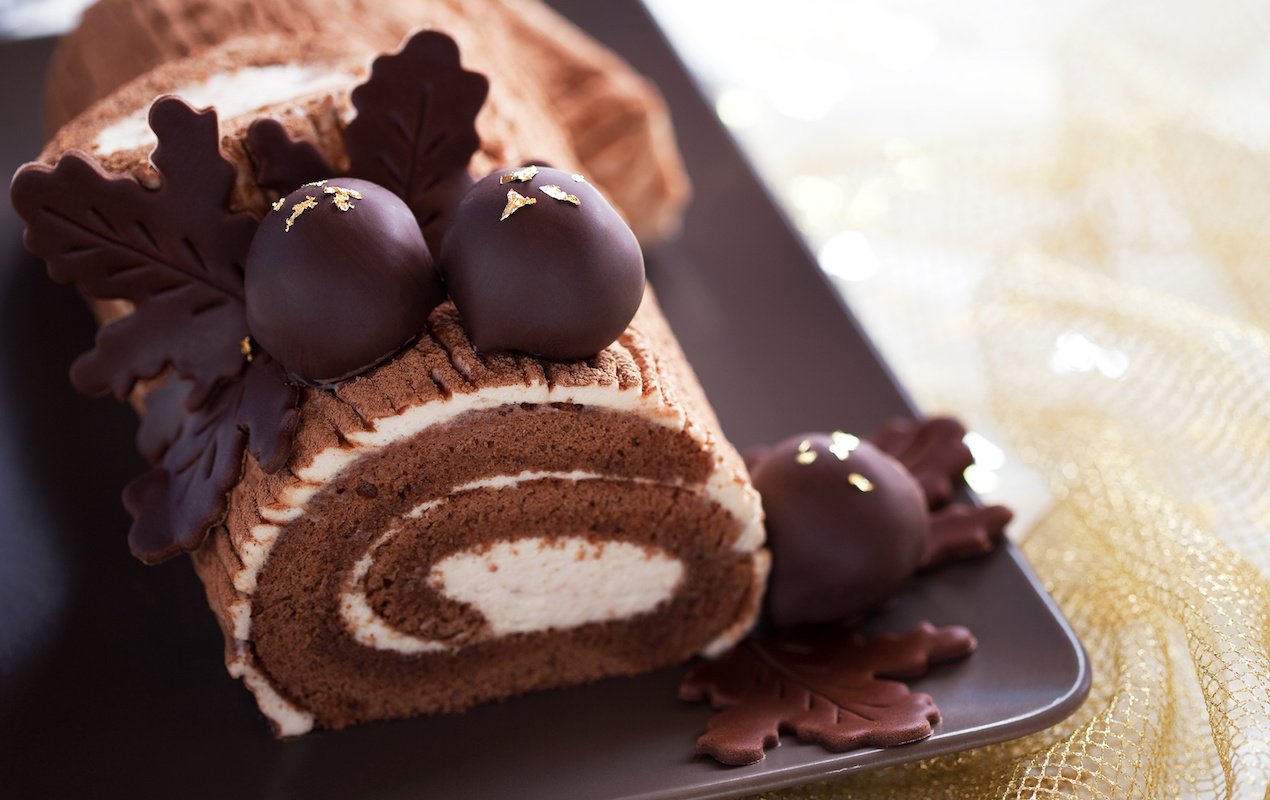 After the pre-dinner drink, the appetizers, the main dish and finally, the cheese course, you may not have enough room left in your stomach for dessert, but you simply can't miss the chance to enjoy the most traditional of all food items during Christmas in France – the bûche de noël, or yule log cake. Bûches come in all different flavors, but as long as the general shape is round and long, resembling a wood log to some degree, you can have complete creative freedom over the contents of the cake. For all the best bûches available in Paris this year, see this blog post!
Other yummy treats include: vin chaud, or hot mulled wine with orange zest, honey, cinnamon, cloves and other spices; or a pompe à l'huile, a favorite in the south of France, which is a type of sweet bread flavored with orange blossom and often star anise.
No matter where you celebrate the holidays this year, and no matter what ends up on your dinner table, all of us here at Paris Perfect wish you a very Merry Christmas and a Happy New Year!