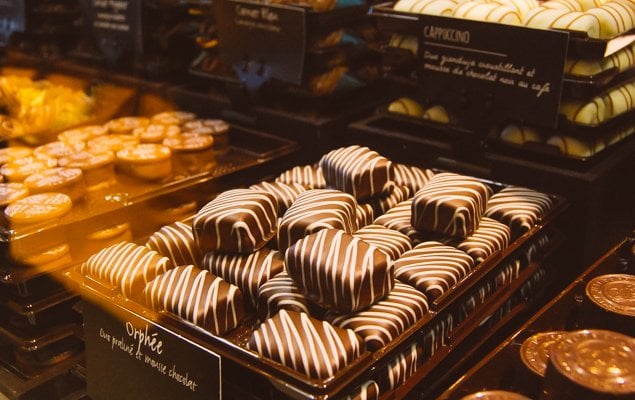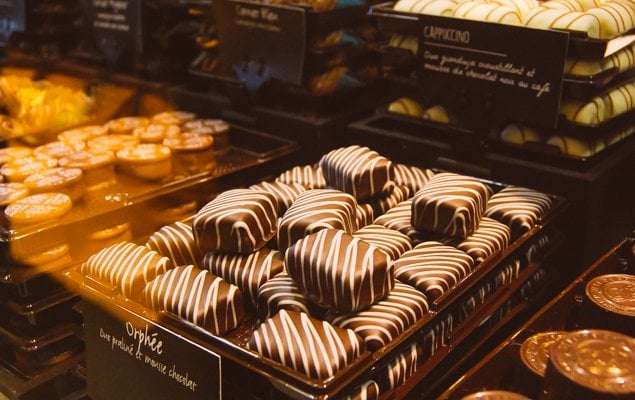 Chocolate-lovers, unite! Right now, in Paris, the world's best chocolatiers and thousands of chocolate adorers are assembling at the Salon du Chocolat – 21st edition. I was first on the scene to capture all the chocolately fun. Here's a run-down of everything that's happening at this year's Salon du Chocolat. The event, which started today, October 28th, will come to a close on November 1st, 2015, so hurry down to the convention center at Porte de Versailles to get your cocoa fix! All the practical details are listed below.
The amount of available activities and events is dizzying, from a Pastry Show, Chocolate Fashion Show, Chocolate Bookshop with author signings, Chocolate sculpture exhibition, hands-on workshops for both adults and children, demonstrations, conferences, and even diabetes-friendly chocolate workshops, it's hard to know where to begin.
To be honest, the very first thing on my mind was: "where's the chocolate that I can eat?" Thankfully, plenty of stalls were offering free samples of their goodies. If you're not careful, you'll walk out of there with a stomach ache! It was interesting to see the stylistic differences among the various chocolate producers. Some were more colorful and artistic, others more basic and simple. They all had one thing in common, however – they were all delicious!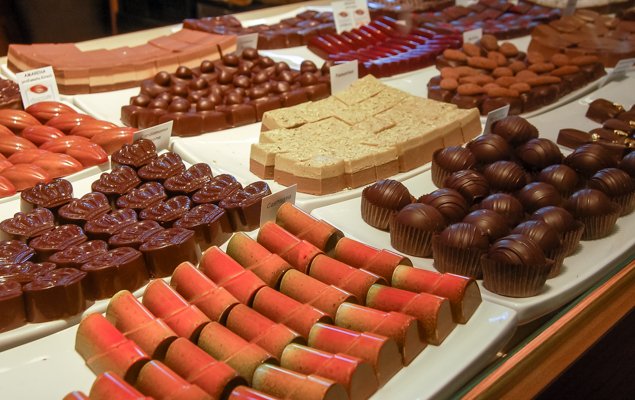 I then stopped to see a live performance at the Cocoa Show stage, where people from coffee-producing countries come to share their culture through song, dance and even ritual. "Delegates" from Columbia, Venezuela, Brazil, Madagascar, and more come together here. It's fascinating to remember that chocolate started, and in many ways still is, an exotic product. It takes a lot of people and many hours of work to transform raw cocoa beans into that beautiful bar of chocolate you see on the grocery store shelf.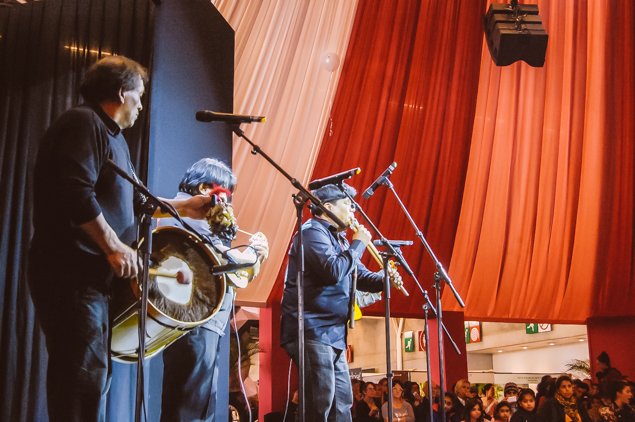 Many children were enjoying and dancing to the music, but for a more hands-on experience, head to Chocoland. In their own little "kitchen," they become mini pastry chefs, making and decorating their very own chocolatey creations. If you adults want in on the pastry-making action, there's also workshops for grown-ups at the Atelier des Sens. Check your program for locations, and make sure to sign up for a workshop once you arrive!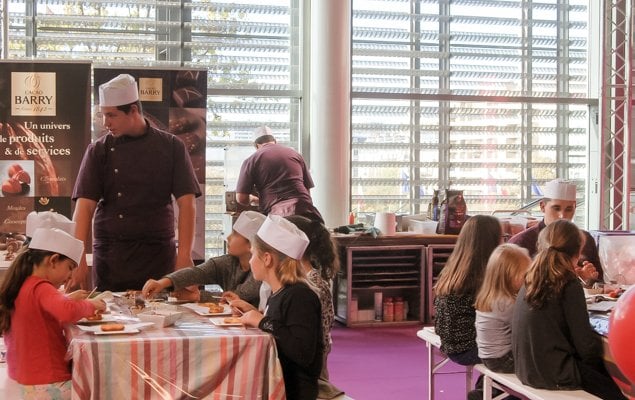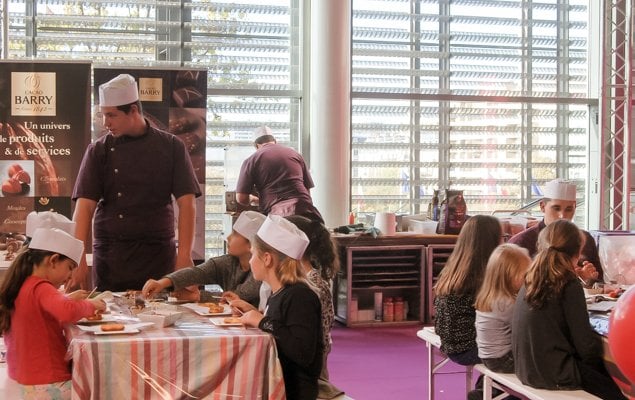 The major event of the Salon du Chocolat is the World Chocolate Master competition, which is normally closed to the public, but for the first time, anybody can join in! You can peek in at the foremost chocolatiers of the world, and watch their skilled hands craft the impossible. See them anytime in the day until October 30th. After the 30th, the space transforms into an exhibition area. You'll see the chocolatier's amazing creations on display in the area. This year's theme is "Inspiration from Nature"
Another major highlight of the Salon du Chocolat is the fashion show! Famous chocolatiers and fashion designers paired up to make creations using real chocolate! Every piece was a dress – for obvious reasons, since chocolate pants wouldn't end well on the runway. I was amazed that each garment didn't immediately fall off in pieces. If you come to the Salon du Chocolat, you have to see this, even if you're not normally interested in fashion, but grab a seat early because I wasn't the only one left standing on the sidelines!
The last things I had to check out were the chocolate sculptures. On display is a chocolate bear called Le Wild Choco Bear, by Richard Orlinski. It's 6 meters, or nearly 20 feet tall! that's impressive. The fashionable chocolate lady below was crafted by the famous Belgian chocolate brand Leonidas.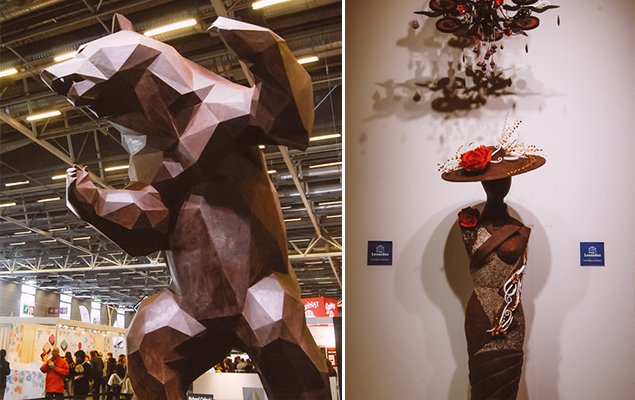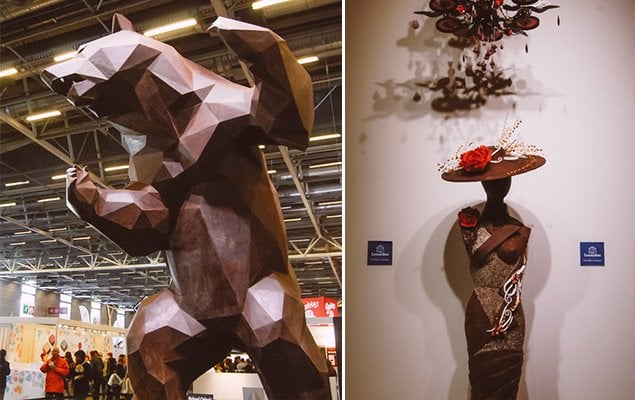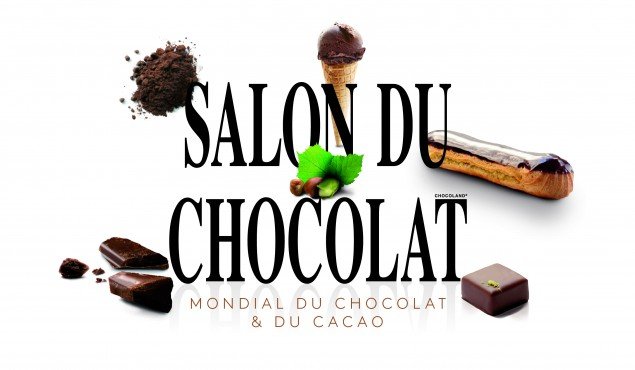 For all the details and scheduling, or to purchase tickets ahead of time, head to Salon du Chocolat's Website.
Salon du Chocolat
October 28th – November 1st, 2015
Address:
Viparis – Pavillion 5
1 Place de la Porte de Versailles
75015 Paris
Transport:
Porte de Versailles
Metro line 12 or tram lines 2 and 3a
Bus 80
Tickets:
Full price: € 14.00
Children from 3 to 12 years old: € 6.50
Free for children under 3