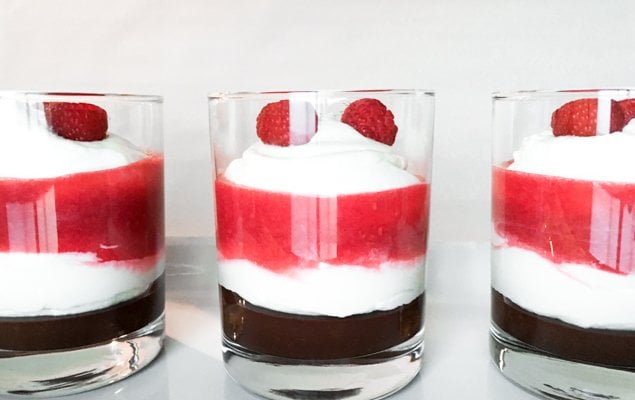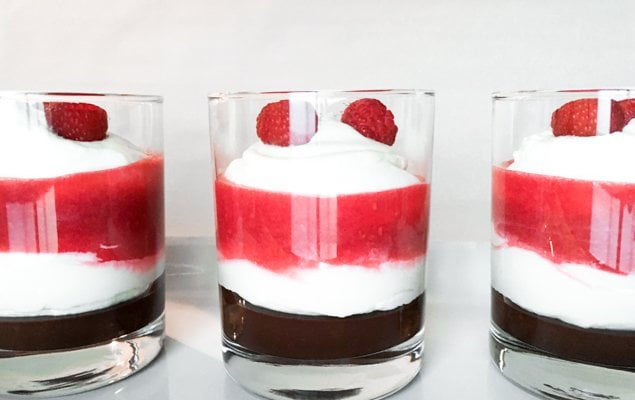 Chocolates and flowers are one thing, but I believe there's an even better way to show someone how much you care: by treating them to a hand-made dessert! Your love will surely shine through this 6-ingredient verrine, with its classically divine flavor combination of chocolate and raspberry. A verrine is any layered dish served in a small glass, and can be both sweet or savory. For Valentine's Day, of course, there's no question that sweet is the flavor of choice.
Ease without sacrificing elegance is the goal of any dessert – and as far as mousse goes, this recipe is one of the easiest and most sumptuous. You'll even get to stretch your culinary palette by incorporating French crème fraîche into the mix. This lightly cultured cream gives new life to the mousse, echoing the refreshing tartness that comes from the raspberry, and countering the deep richness of the chocolate.
Even if whipping up sweets isn't your forté, this seemingly complex recipe will walk you through the simple steps to create the perfect treat to share with your loved one on the Day of Love. It may look like a lot of steps, but you won't have to sacrifice much time away from your beloved to make it – or even any time at all, if you choose to make the gift of cooking together a part of your act of adoration.
Valentine's Day, of course, isn't limited to romantic love. As this recipe yields enough for four, you'll also be able to share its sweetness with the other cherished friends and family in your life.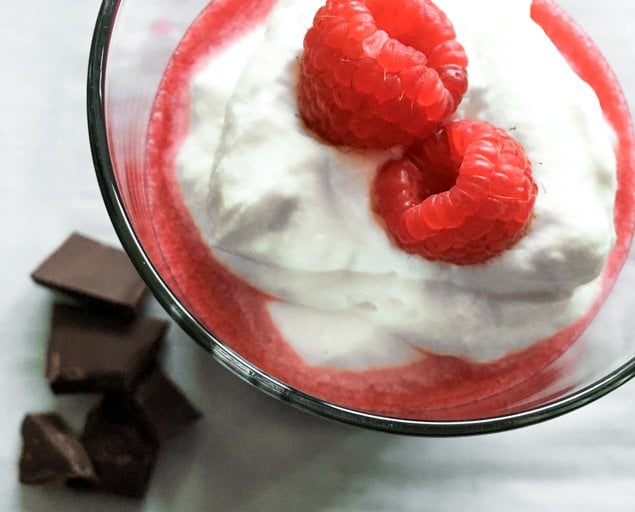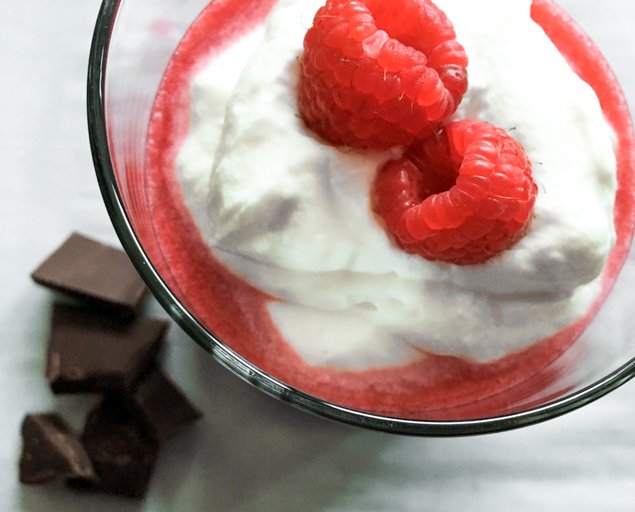 Chocolate Raspberry Verrines
Serves 4
Ingredients:
White and dark chocolate mousse:
2 oz white chocolate, roughly chopped
2 oz dark chocolate, roughly chopped
2 cups heavy whipping cream, divided
3/4 cup crème fraîche
3 tbsp confectioner's sugar
Raspberry sauce:
1 cup raspberries, fresh or frozen, reserving a few for topping
2 tbsp water
1 tbsp confectioner's sugar
Instructions:
Begin by creating two types of simple ganache: dark and white chocolate:
Set out two small bowls. Put a separate, large metal bowl (or the bowl of your stand mixer) in the freezer – this will be used later on. Place the chopped white chocolate in one of the small bowls, and the chopped dark chocolate in the other.
Pour 1/2 cup of heavy whipping cream into a small saucepan, heating gently on low heat. When cream barely reaches a boil, remove from heat and pour a 1/4 cup over each bowl of chocolate.
Whisk each mixture until the chocolate and cream are fully combined. They should be smooth and glossy. Place both bowls into the fridge to cool until ready for use, stirring occasionally to break the thin shell that will form on the top of each.
Then, make raspberry sauce:
Combine raspberries, water and sugar in a small saucepan. Simmer on medium heat for about 10 minutes, until broken down.
Take off heat and mash the berries into a sauce with a fork. Use a sieve over a small bowl to strain the seeds out of the sauce, if you dislike the seeds, then place sauce in the fridge to cool.
Whip the cream and add chocolate to create mousse:
Remove metal bowl from the freezer. With a whisk (or whisk attachment), mix remaining 1-1/2 cups of heavy whipping cream, 3/4 cup of crème fraîche, and 3 tbsp of confectioner's sugar in the bowl until combined. Continue to whisk until stiff peaks form, 1-2 minutes by mixer or 3-4 minutes by hand.
Divide whipped cream, transferring half to a separate bowl and placing that bowl in the fridge to stay cold.
Making sure your chocolate is cool (the temperature of the chocolate is important! too hot and the chocolate will separate, resulting in an inedible and unsalvageable mess, not to mention, it will also melt your cream), take a generous spoonful of whipped cream and mix into the dark chocolate. This will ensure that the temperatures are equalized. Then, pour the rest of that chocolate mixture into the bowl of whipped cream, mixing until chocolate and whipped cream are evenly combined. Be careful not to over-mix.
Repeat step 3 with the white chocolate and the second bowl of whipped cream.
At this point, all of the elements for your verrine are finished! You can choose to keep them chilled and assemble later, or assemble now and keep in the fridge until you're ready to serve. Either way, they should last in the fridge for up to a day. Making them in advance can allow you to more fully enjoy them later on!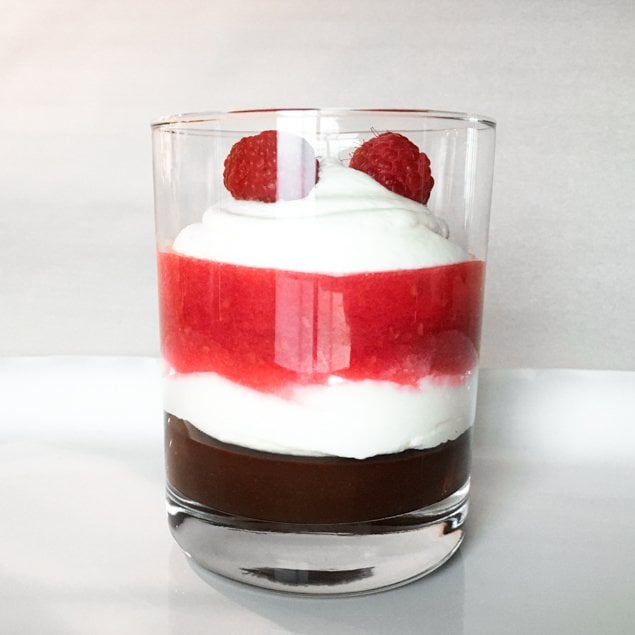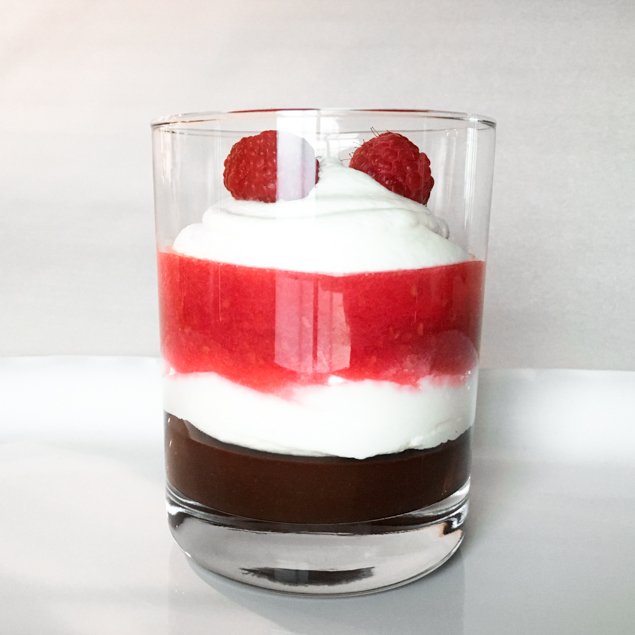 Assembly:
Spoon dark chocolate and white chocolate mousses into two large zip-top bags. Seal and snip the corner, creating an opening about 1 inch wide on each.
Pipe a layer of dark chocolate mousse into each of your cups.
Spoon raspberry sauce on top of the mousse, dividing it equally between the cups.
Lastly, pipe a layer of white chocolate mousse to create three distinct layers; dark chocolate, raspberry, white chocolate (the picture above has an extra white chocolate layer!)
Garnish with leftover fresh raspberries and chill until ready to serve.
Notes:
Make sure to use good quality chocolate when making this recipe. The dark chocolate should be around 70%, and the white chocolate should have real cocoa butter as the main ingredient.
After making and photographing my original recipe, I made a slight change to my original recipe in how the dark chocolate should be incorporated into the verrine, in order to be more cohesive with the rest of the elements. Therefore, the photos do not exactly represent what the final product will look like, there's just a minor switch in layering order! Refer to the assembly instructions above for the best layering method.
(All images by the Author.)