Dear Readers,
As you know, I love helping to transform apartments into warm and lovely living spaces. As a special treat, here is a unique Paris studio apartment we helped a client purchase a few months ago. Happily the client is decorator Ann Huff of Huff Harrington Home, and she is truly brilliant at design. Since we receive so many interested requests for decorating tips and help to locate the perfect apartments in Paris, we want to give you a little glimpse into the process.
When we first visited this apartment in the 7th arrondissement, we noticed that it had a few great things going for it. Yet it had just as many, and possibly more, negatives. I pointed out all of them when we walked through the property together. For anyone but a designer like Ann, I was sure the answer would be "No thank you, not for us."
Here's a look at the lists I made during our visit.
The Pros:
Ann wanted a small pied-à-terre in Paris when she takes her antique groups on their special Huff Harrington shopping and art trips to France.
This tiny space offered a beautiful view of Paris rooftops from the French doors in the living room – including elegant buildings, a charming street below … and a picture perfect view of the Eiffel Tower. To stand at the windows and savor Paris views — sunny blue skies, sunsets behind the Eiffel Tower and the bustling street life below — is simply unforgettable.
We both loved the fact it was on the 6th floor in a beautiful building
Nice elevator in the building, a must when you're on a high floor
Favorite Paris neighborhood — one block from rue Cler and near the bustling rue St. Dominique and rue de Grenelle
Nicely maintained building and new elevator
The apartment officially measures 235 square feet but as it's the top floor, the roof has a mansard. This means the walls slope outwards below the ceiling.  In Paris real estate, you don't count the floor space where ceiling height measures less than 1.8 meters (about 9.5 feet).  It's called 'hauteur sous plafond, loi carrez'.  If area isn't counted in the loi carrez, then you don't usually pay for that extra space — so about 3 square meters or 33 square feet were included 'for free'.
Good ceiling height; can be rare in some top floors
Original beams add an old world touch
Love the french doors that face south, so you have sunlight all day long.
The Cons — and Boy Were There Cons
It is smaller than Ann was looking for. This tiny apartment measures 235 square feet.  Ann's husband is over 6 feet tall, so a separate bed or bedroom area would have been a plus.
The right hand wall is difficult because of the hidden chimneys from all the apartments below.  It means awkward openings and sloped walls on either side of the original fireplace — which was removed at some point in the past two centuries.  We can't tear out the chimney stacks, but can we find the original opening for this apartment's own fireplace and re install an antique mantle?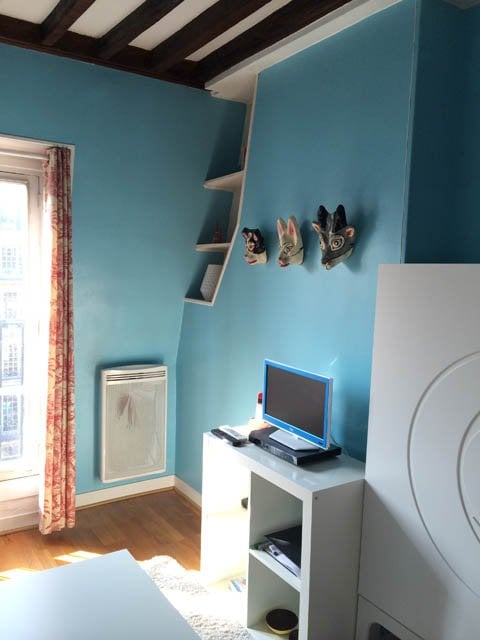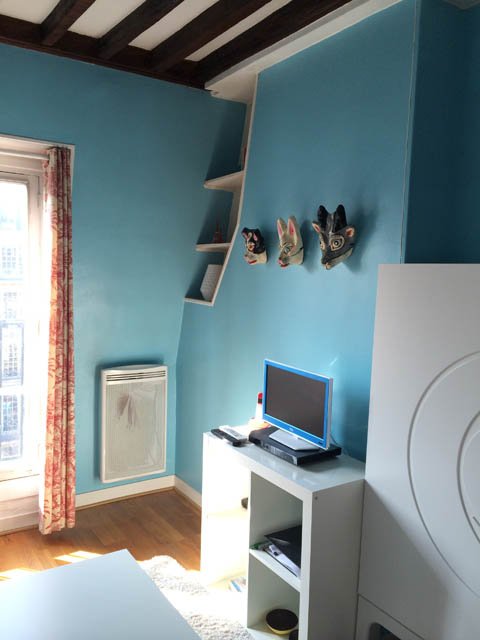 The kitchen/dining area is a mishmash of appliances and storage.  The only closet blocks a window — could it be re designed to feel more fluid. From the posters, definitely get the impression the owner prefers living in the South of France.
The mansard along the dining room and living room offer 'free' floor space of about 33 square feet. It's a nice plus — but it also means the long wall slopes outward so it's difficult to hang pictures or mirrors.  How was the gap behind the sofa going to look?
Did I mention it's  a really small apartment? Even the kitchen is tiny.
Don't think we can get more basic than small white tiles. Notice the tub of blue paint hidden behind kitchen counter that owner decided not to take with him. More chimney breasts from apartments below means this wall, too, has awkward openings.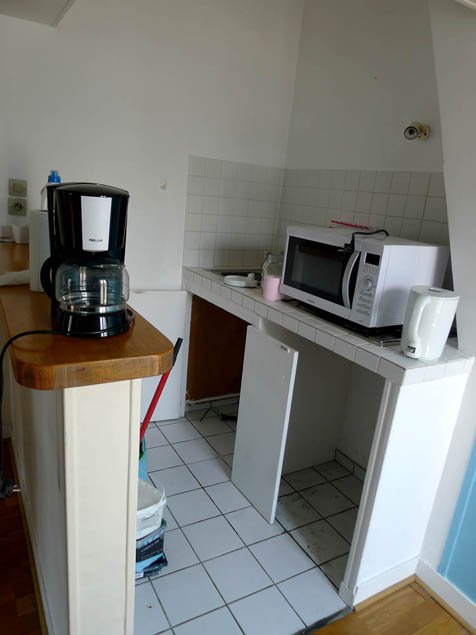 The original oak beams limit the layout.  You can't move or remove the vertical beams that divided kitchen/dining from living area, so options are limited to:

Covering them with plasterboard and paint to reinstall a dividing wall or
Leaving them exposed
I hope not to offend anyone, but the apartment décor was awful and it was difficult to see the potential. Can you guess the owner was male?  He liked blue, carved masks and miniature cacti. Oh, and red stripes.  (Hmmm, maybe he belongs in a warm climate…). He kindly left  the miniature cacti on the wall below — but not the masks.
The only built-in closet was located in the entryway.  It was so narrow that clothes must hang width-wise, one in front of the other.  The electrical meter is under-powered and not to code.  We see a lot of this kind of quick and dirty craftsmanship when we view apartments.  It will definitely be rebuilt to code.
The bathroom bothered me a lot.  Small apartments and small bathrooms in Paris mean that hot water heaters are often installed high on the wall, just below the ceiling.  You can be sure it's done securely — but having to walk under it on a daily basis makes me nervous. We'll fix that.
We're passionate about helping buyers find apartments they love.  What we've discovered over the years is our buyers share many common interests and become friends — whose apartments we manage for the long term.  For that reason we are clear to list all the positives and the negatives of every apartment and let the client decide without pressure.
Ann decided to purchase it, convinced she could overcome the negatives and take advantage of the most important aspect:  fabulous sunlight, fabulous views and location. So study the photos and I promise to share photos of the works in this Paris apartment shortly.  I was so excited to see it mid-works that I couldn't wait to post these before photos. Just wait until you see the floor plan Ann designed!
My family made fun of me when I showed them this blog,  not understanding how I could be so excited about the project and the surprise 2nd chapter.  But it feels like an old black and white serial movie to me, with the maiden tied to railroad tracks.
Can we create a chic and spacious feel?
Can we restore a fireplace and center it?
Can we create a charming kitchen?
Truly make it feel spacious but also practical?
Can Ann really add a bed area?
Can we find antiques with the correct proportions and feel to set off the best features?
Stay posted for the next episode next week!
Kindest regards,
Maddy
Read Part II: Can This Apartment Be Salvaged? – An Update!
Read Part III: The "Petit Bijou" is Finished! Can You Believe the Transformation?
We offered the Crémant apartment as a fractional through Paris Perfect Shared, but it is now sold out. This fully deeded ownership opportunity allows you a month in Paris each year, without all the hassle of full ownership. Take a look at all the details of fractional ownership, as well as the apartments we currently have available.