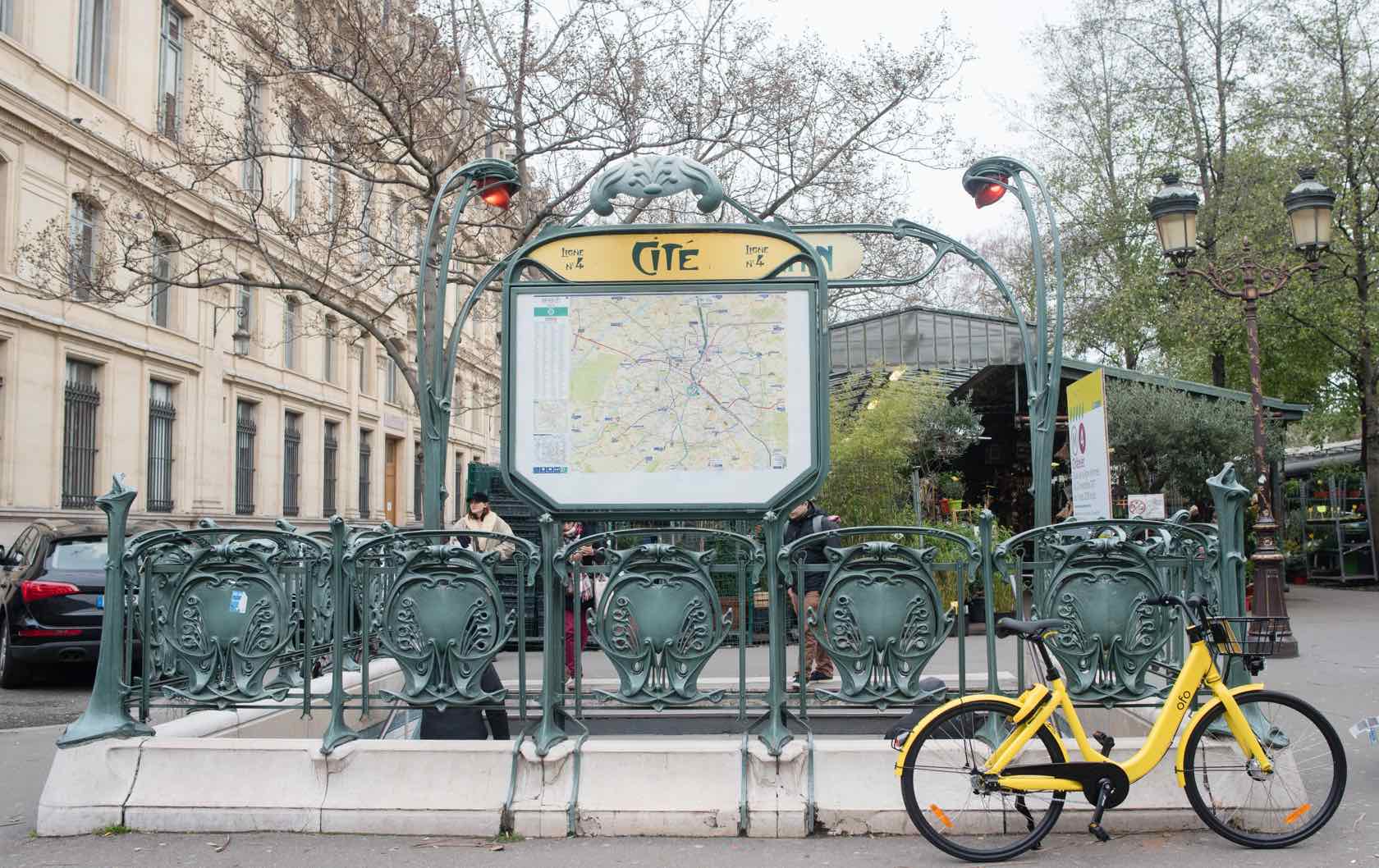 Paris is one of the most walkable cities in Europe, but you'll often need to turn to public transportation to get you from point A to point B. It can be quite overwhelming when traveling to try and understand an unfamiliar, complex system, so we've compiled everything you need to know about public transportation in Paris!
Public Transportation in Paris
Unfortunately, the English version of the RATP website (RATP is the government-run group in charge of public transport in Paris) only lists a very limited array of ticket types, but there are actually so many more. I'm here to tell you all the different types of tickets available to you, as a traveler, as well as some general basics on the system itself. These things will really take the stress out of a simple trip across the city!
The Basics
The Paris region is divided into 5 zones. Paris is shaped roughly like a circle, and the zones simply radiate out from the city in layers, a bit like an onion. As you might have guessed, Paris is considered zone 1, while everything else lives in zones 2-5. The zones are important to understand because traveling through these different zones requires special types of tickets. The most common destinations outside of zone 1 are: the two airports (Charles de Gaulle and Orly), the Château de Versailles and Disneyland Paris. I'll talk more about that later on.
But what about the types of transport systems? Well, there are three systems that you should know: Metro, RER and Bus. The metro consists of mostly underground trains that serve many stations, whereas the RER is a system with larger trains that serve less stops, yet cover more ground. The Metro is limited to zone 1 (minus a few minor exceptions), while the RER serves the entire Paris region, or all 5 zones. If you want to travel from the Eiffel Tower to the Latin Quarter, you'd use the metro or bus, but if you're going all the way to Versailles, you'll need to use the RER system. Because of the zones, regular metro tickets will not work on RER lines that leave city limits. Don't worry, I'll tell you all about different ticket types later on!
Every single type of transport is named according its last stops. For instance, Metro Line 6 goes from Charles de Gaulle Étoile in the north west (where you'll find the Arc of Triumph), all the way to Nation in the east. You figure out which direction to take by looking at a map and finding the end-points of the line you wish to take, in relation to your current location. The systems are also labelled by a color and number/letter. Busses and Metros are numbered while the RER lines have letters.
Maps will be your best friend in Paris. You can download the RATP app, which has some nice basic maps that you can view (data free), or you can simply download the PDF files below:
In Defense of the Bus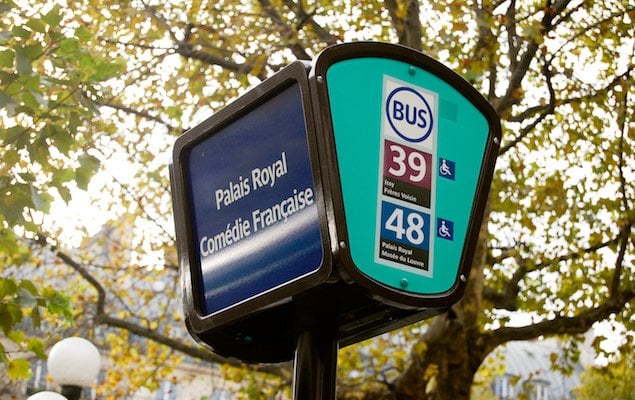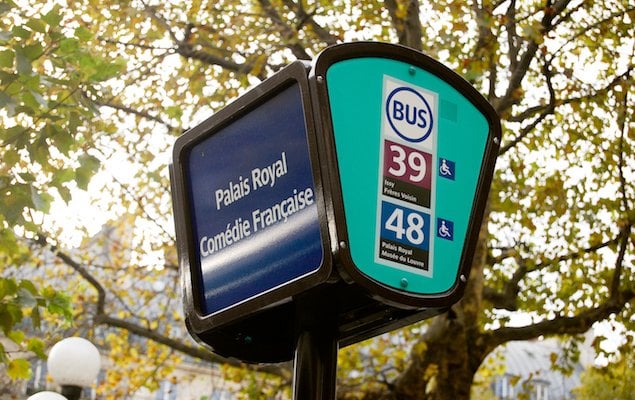 The Bus system is perhaps the most underrated thing in Paris, in my opinion. I think the main reason for that is because it appears to be more complicated than the metro. It's true that there are many more bus lines than metro lines, but the beauty of the bus is that you can see out the windows! The buses are lined with huge picture-windows, so you can see all the pretty architecture along the ride. Being able to actually see where you're going will also help you get your bearings in a new city. Other perks of the bus: more fresh air, because it's not buried underground like the metro, and it's so much easier to board. You won't have to climb up and down stairs, especially helpful when carrying heavy luggage! Don't be afraid of the bus, give it a try! Check out this blog post to see a tour of bus line 87.
Types of Tickets
Like I mentioned earlier, the English version of the RATP site only lists a few types of tickets, but there are more options! Before you buy the default carnet of 10 tickets or the 5-day Paris Visite pass that most tourists go for, take a look at all the options available to you. Depending on which day you arrive, how long you'll be staying, and which sites are on your itinerary, you could end up saving some money!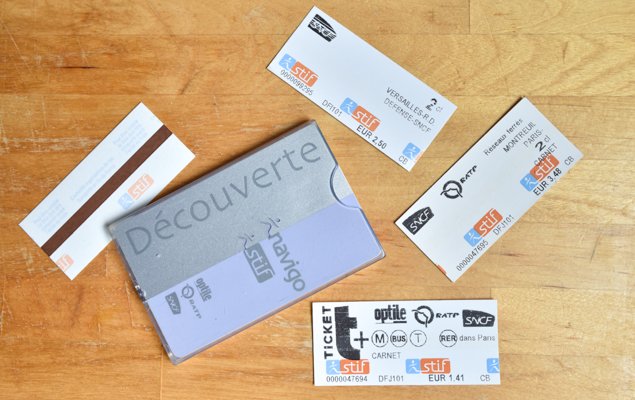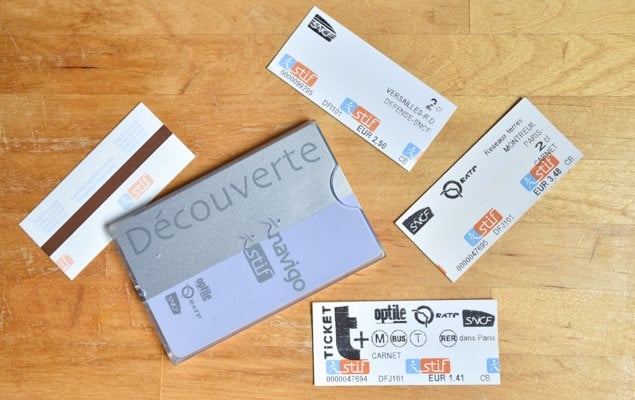 Below are all the types of tickets that a traveler (a non-resident) may purchase. You can find specific pricing and more detailed information here, but keep in mind the page is only available in French.
Basic t+ Ticket
This is the most basic ticket you can buy. It allows for a one-way journey within Paris on the Metro, RER or Bus. You can switch between metros and RER lines, as long as you stay within the station, but you cannot exit and transfer to a bus. You can, however, transfer between two busses. The transfer time allotment is 1.5 hours. These tickets are sold individually or in sets of 10. In French, the set of 10 is called a carnet, pronounced "car-nay." You save a little bit of money when you buy the carnet.
Paris Visite
This ticket is geared specifically toward tourists. It is a paper ticket that allows unlimited transport for 1, 2, 3 or 5 consecutive days and you choose whether you want zones 1-3 OR zones 1-5. Why they don't offer a 4-day ticket is beyond me! Regardless, this ticket is surely convenient, but might not be the best deal, depending on your situation. One potential perk is that the Paris Visite ticket includes discounts to select attractions and shops, but take a careful look at this breakdown to see if the discount offers are even things you're interested in. If you opt for the zone 1-5 Paris Visite ticket, it also includes access to airports, which is actually awesome, since airport fees can drive up ticket costs. And one last thing, they offer a greatly discounted Paris Visite ticket for children!
Airport Tickets
If you had been using a Paris Visite ticket for 5 days, but your flight back home leaves on the 6th day, you'll need to buy a new ticket to the airport. There are many ways to get to and from the airport (so many that we'd have to do a separate blog post about), but whether you're taking the RER or a special airport bus, you'll have to buy a specific airport ticket. These tickets are a bit more expensive than others because of airport fees, which is why a Mobilis and Ticket Jeune will not work. However, as mentioned above, a Paris Visite that is purchased for zones 1-5 WILL work, on the RER train!
Origin-Destination Tickets
These tickets are an option if you'll be using the RER to go outside of Paris – to Versailles or Disneyland, for instance. When you buy this type of ticket, you'll be prompted to choose your starting point and final destination, although with popular destinations, sometimes all you have to do is press "Versailles Chateau" or "Disneyland" and the automated machine will do the rest for you. If you're going to a more obscure station, you'll have to select the desired station from an alphabetical list, so find the name of the station you need on a map before you begin. An airport ticket is essentially an Origin-Destination ticket, just with a little extra fee tacked on.
Mobilis
This ticket allows unlimited travel in your chosen zones for an entire day. This can be great if your Paris Visite ticket has expired and you just have one more, action-packed day exploring the city. It's also a good choice if you'll be traveling multiple times both in and out of zone 1 – you won't have to use separate t+ tickets AND 2 Origin-Destination tickets, you'll just have one ticket to worry about for the entire day.
Ticket Jeune
This ticket is an incredible deal for people under the age of 26, although it's a shame that it's only valid on weekends and holidays. Just like the Mobilis, you choose a range of zones and the ticket is good for unlimited transport within those zones for an entire day. Young people in France can get so many great discounts, so keep an eye out for those everywhere you go!
Navigo Découverte Pass
For anybody staying in Paris for more than a week or even for a couple months, this is hands-down the best option for you. This is less of a ticket and more of a pass that allows you to swipe quickly through metro turnstiles without having to fumble with a tiny scrap of paper. The Navigo really makes you feel like a local. The other major benefit? It ends up being a fraction of the cost compared to all the other ticket types above, when you're staying in Paris for more than a week.
This is how it works: you go to an information office in a metro or train station, you ask them for a Navigo Découverte, then you use the machine (or ask the ticket office) to charge it with one week or one month at a time. The pass costs 5€ and you'll need to attach a passport sized photo to the back. You can bring one of these photos from home or use one of the many photobooths inside most metro stations. You can even save this pass for all your future trips to Paris, all you have to do is recharge it when you arrive. There's one slight drawback, however: weeks only start on Mondays and months can only begin on the 1st. That means you can't load a Navigo to start on a Wednesday, or on the 15th of the month, which is a big bummer in my book! However, it can work out wonderfully if you'll be staying in Paris for longer than one week.
In late 2015, they started this new, amazing thing where they "de-zoned" all Navigos, making all zones cost one flat rate! It used to be much more expensive to reload a navigo for zones 1-5 as opposed to just zones 1-2, but now its all pretty affordable. As of the publishing of this blog post, a week-long Navigo for all zones is only 21.25€! That's seven whole days for more than half the cost of a 5-day Paris Visite ticket, AND you can travel to and from the airport (via RER) with a Navigo!
How to Travel Outside of Zone 1
You may have figured this out by now, but just in case, I'll give you a further breakdown with scenario.
The only ticket you can't ever use to travel outside of zone 1 is the regular t+ ticket. All the other ticket options may allow you to exit zone 1, but only if you choose the correct zone range for the ticket. The Paris Visite, Mobilis, and Ticket Jeune all require you to choose zones. For example, if you want to go to Versailles, which is situated in zone 4, here are your ticket options:
Paris Visite ticket (zone 1-5),
Origin Destination Ticket, from your starting point in Paris to one of three train stations within the city of Versailles,
Mobilis ticket (zones 1-4) that you can also use for the rest of the day in Paris,
Ticket Jeune (zones 1-5, because they don't offer zones 1-4) on a Saturday, Sunday or holiday that you can also use for the rest of the day in Paris.
Navigo Pass, charged for all zones for one week or one month.
(For even more detailed tips on how to get to the Château of Versailles, see this blog post!)
_____________
I'm sure that was a lot of information to take in, but now you can feel more knowledgeable and prepared for any transportation-related situation in Paris! For any other questions, you may find it helpful to look through the resources on the official RATP site.