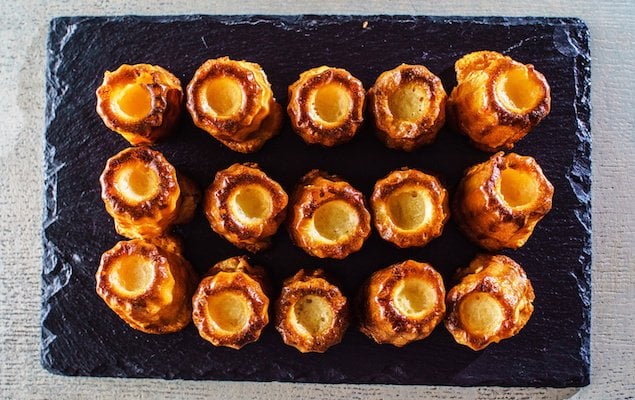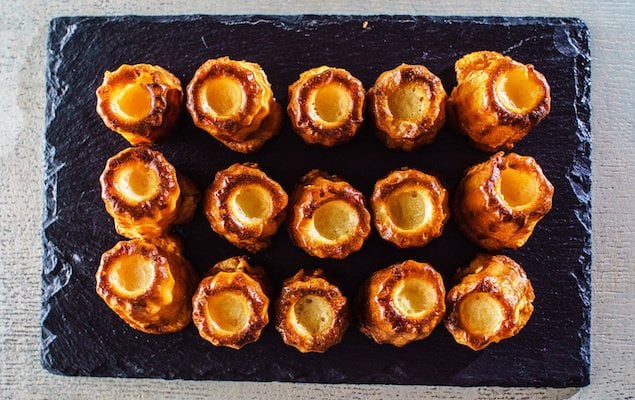 It's been cold and rainy in Paris lately, which means it's the perfect moment to bake French canelés. These divine pastries originated in Bordeaux in the 1600's; there was even a guild of canelé bakers!
My secret is to prepare the batter in advance then leave it in the fridge for a few days. Recipes recommend waiting 6 to 8 hours minimum, but the longer you leave it (up to 4 days) the better.
I decided to add a little maple syrup powder to the batter, so our apartment was filled with the smell of vanilla and maple! It's divine. These little canelés don't just smell good, they're also such a treat; imagine a soft custardy center with a beautiful caramelized crust. Yummmm! As I write this, there are only 3 left out of 8, and I ate them all – I have to go running tomorrow.
I started with a recipe I cut from a box of St. Louis sugar. It looked like a simple recipe that was easy to make.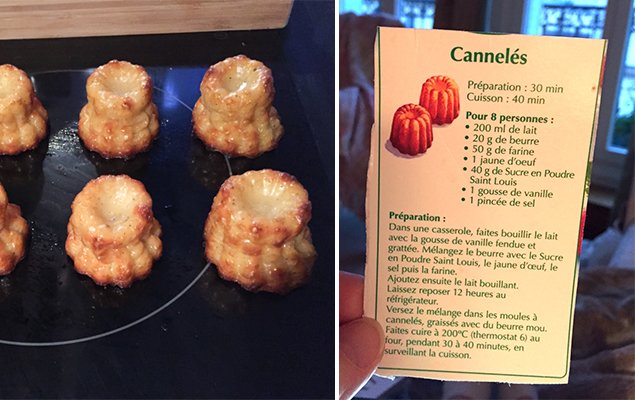 Then I made the mistake of researching canelés online and became overwhelmed – scared even. Maybe it was a fluke and they'll never be as good using the same techniques again, but from what I read, it's incredibly difficult to make them correctly each time. I spent hours reading all the secrets and tricks. Paula Wolfert is apparently an expert on canelés, and her blog about them was very interesting.
I decided to modify my recipe by using her blender method, but I didn't melt any beeswax or use copper molds. There's a funny and extremely detailed Chowhound blog called Canelé Misadventures, which had a sizable comment section where baking experts shared their tips and tricks. I loved their humor and mutual respect! We can't all be master pastry chefs, and mine didn't turn out perfectly, but I hope my easy recipe works for you!
Canelés
Makes 8 Individual canelés
Took me 20 minutes
Ingredients:
1 1/2 C milk (400 ml)
3 Tbsp butter (40 grams)
7/8 C flour (100 grams)
2 egg yolks
2/3 C sugar (80 grams)
1 whole vanilla bean
Large pinch of salt
Optional: ¼ C rum
Slit open the vanilla bean and scrape out the delicious stuff inside. Put it all into the milk including the bean stalks. Heat milk to scalding.
We're doing improvements in the kitchen so I could only find a plastic bowl, a fork and wooden spoon to mix everything, and I stored the batter in a large plastic cup for 3 days. Maybe that's the secret! My canele's were crisp on the outside and perfectly custardy inside!
But just in case it was dumb luck, here's what I gleaned from the queen of canelés, who has a 5-page recipe to make them. Using a food processor or blender, add the butter, flour and salt and whirl until combined. Pour in your sugar and whirl it again. Add egg yolks and process until the mixture is integrated. If you're using my method of spoon and fork, work the mixture with the fork to smooth things out, the best you can.
Then, pour the hot milk mixture over it and blend until smooth. I stirred and used my fork to push out the lumps. The canelé diva recommends straining the mixture through a sieve to catch any egg yolk that hasn't dissolved — but I simply placed the mixture in the fridge.
Wait between 24 hours to 3 days before cooking.
Heat oven to 400 degrees Fahrenheit.
Pour your batter into silicon canelé molds or small muffin molds. True aficionados recommend copper molds, and pouring beeswax into the bottom. Sorry, not me. That's just too much work! I used my silicon mold and it worked beautifully. I love silicon because its so easy to fold, store and wash.
Cook for about 35 minutes.
Canelés are best eaten fresh, yet slightly cooled, when the sugar crystalizes on the outside, but remains warm on the inside. Even though there aren't any apples, the taste reminds me of Mom's Apple Pie, but French style. Baked goods often carry lots of nostalgia.
The sugar/caramel outside turns spongy after 5 hours or so, which isn't ideal. You can refresh by heating the oven to 450 degrees and setting them in for 5 minutes. You can also freeze baked canelés. To serve, unwrap and bake while frozen at 500 degrees for 5 minutes, then turn the oven down to 400, and bake for 5 more minutes. Let cool until the sugar hardens on the outside.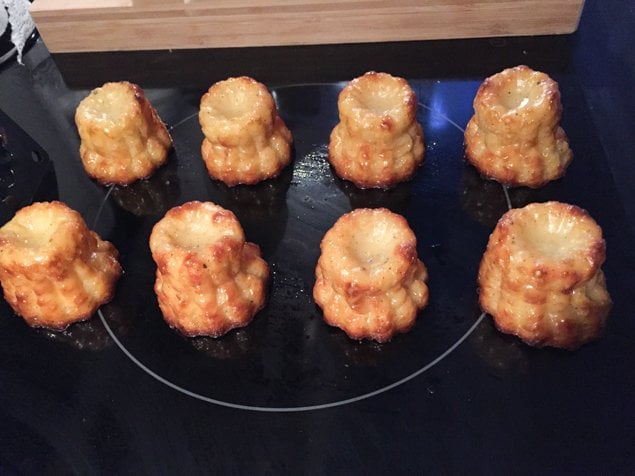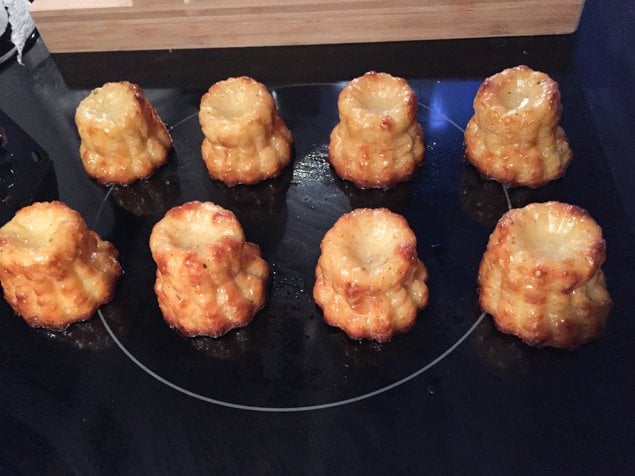 If you would like to buy some canelé molds of your own while in Paris, either the silicon or copper variety, we recommend visiting either E. Dehillerin or Mora, two fabulous cookware shops in the 1st arrondissement. Here are the addresses:
Mora
13 rue Montmartre
75001 PARIS
Metro Les Halles (Line 4)