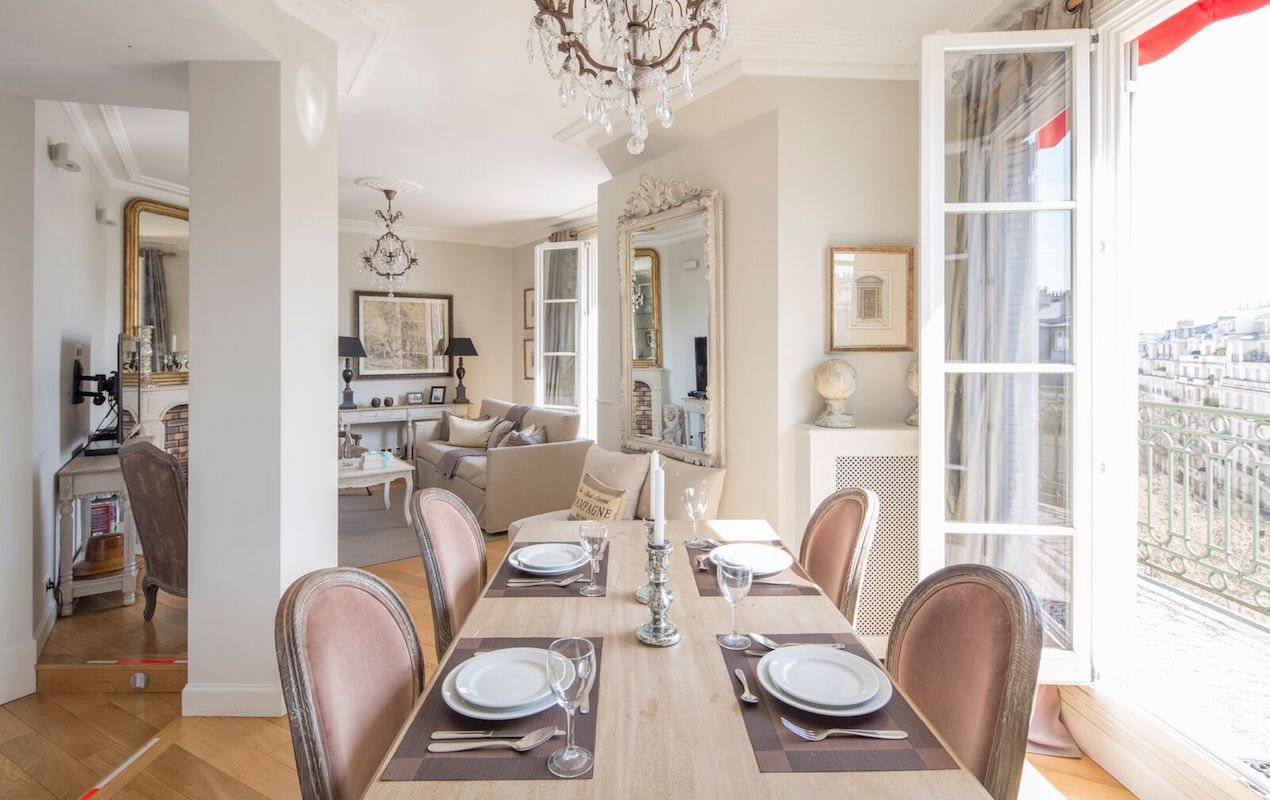 If you're a professional chef, amateur cook or lifelong foodie, then you know that Paris is one of the best places in the world to find top-of-the-line recipes and dishes. The only thing that would make your trip better than the restaurants and ingredients, is an apartment rental fit for culinary enthusiasts. Want to try your hand at recreating classic French dishes in your own Parisian kitchen? Here at Paris Perfect, we've got you covered with these six rentals!
Margaux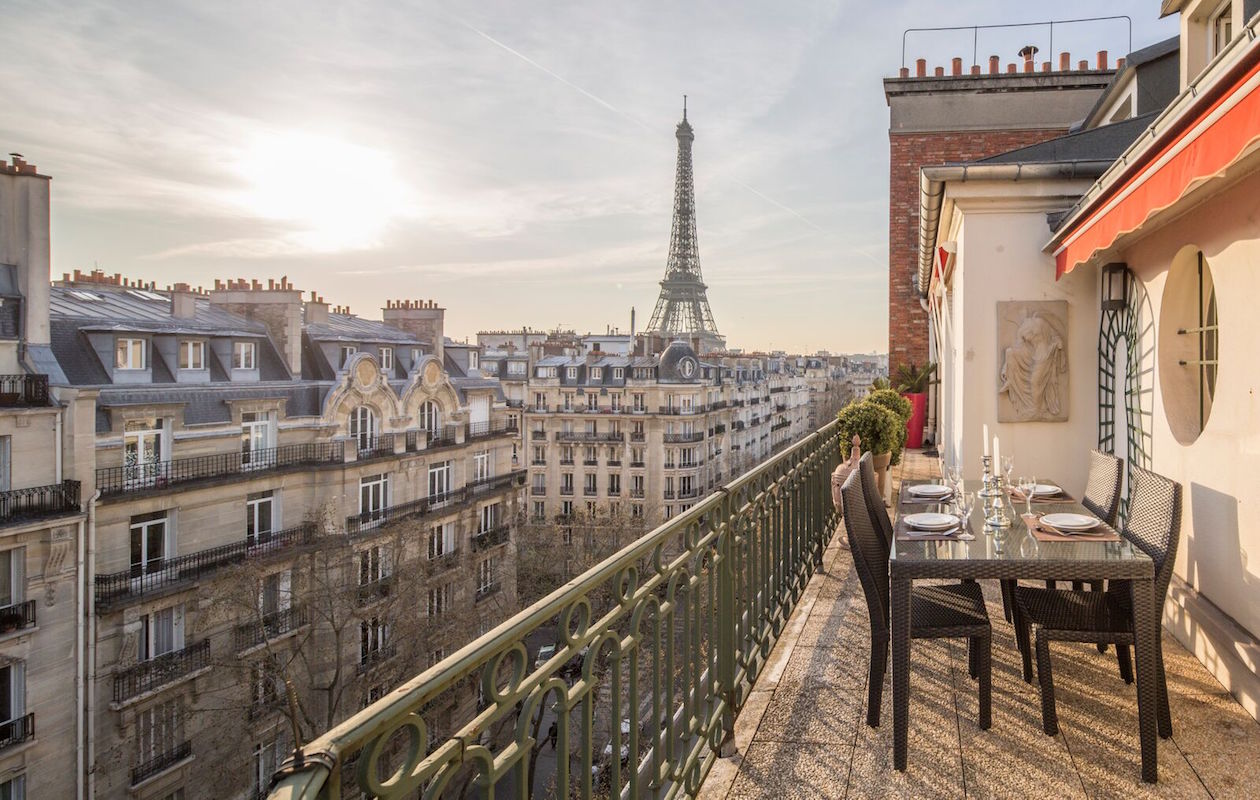 What can you do when you have an apartment with a surrounding terrace, panoramic views from almost every angle and beautiful dining arrangements both outside and in? The answer: Anything you want. From outdoor dinner parties with the Eiffel Tower as a special guest, to indoor meals with loved ones facing the Parisian architecture, our Margaux rental is perfect when it comes to having the ultimate French dining experience. While a meal is cooling in the beautiful kitchen, it only takes seconds to step onto the terrace and have a pre-dinner apéro amongst the Eiffel Tower and the surroundings of Avenue de la Bourdonnais. A true dream for any food lover!
Charmes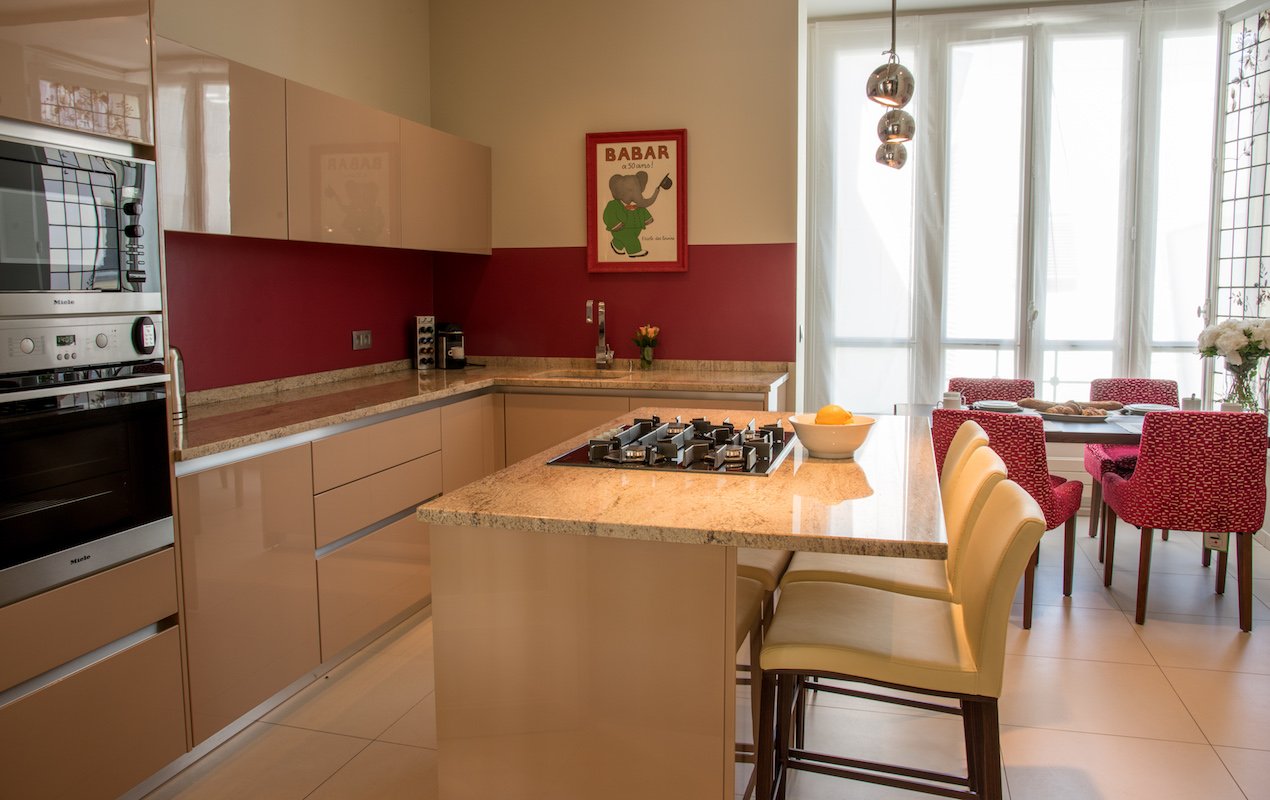 Along with its plush furniture and unbeatable views, our Charmes rental is a goldmine for the seasoned chef. Don't worry about what you've heard when it comes to "tiny" Parisian kitchens. Gas cooktop stove. Full-size refrigerator. Modern appliances by Miele. Fully equipped cabinets holding all matter of pots and pans. Anything you need, this kitchen has. There's even an island to give you that extra bit of counter space, and once you've put the finishing touches on your dish, the dining room is only a couple of steps away. So if you plan on doing some serious cooking while on your Paris vacation, the Charmes kitchen will help you make masterpieces.
La Musique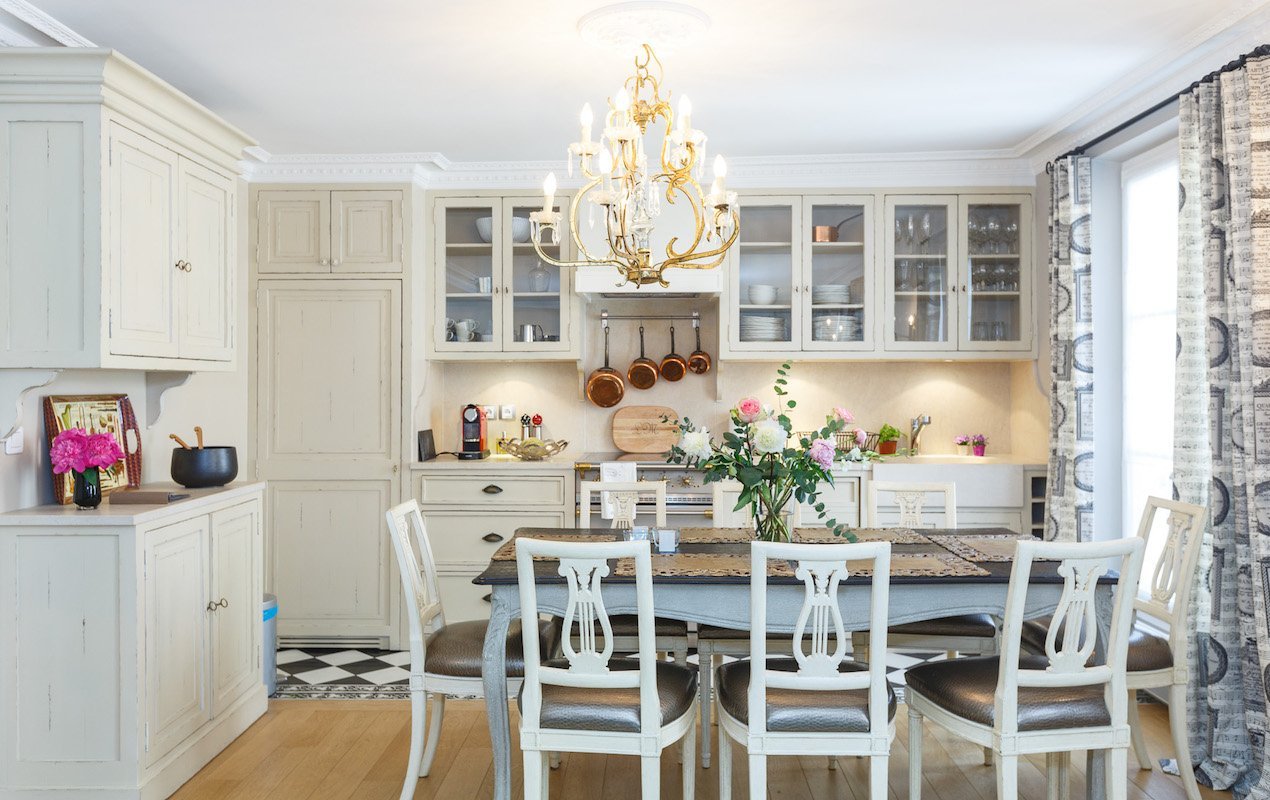 Our La Musique rental is the ideal space for chefs and gourmands alike who simply want to feel like they're in the comfort of their own home. Not only is it decorated with soft colors, antique furnishings and a Lacanche gourmet stove, the open floorplan will also allow you to create something delicious while having conversations with friends and family. The hanging copper pots above the stove add that extra French touch – you'll practically feel like Julia Child!
Saint Chinian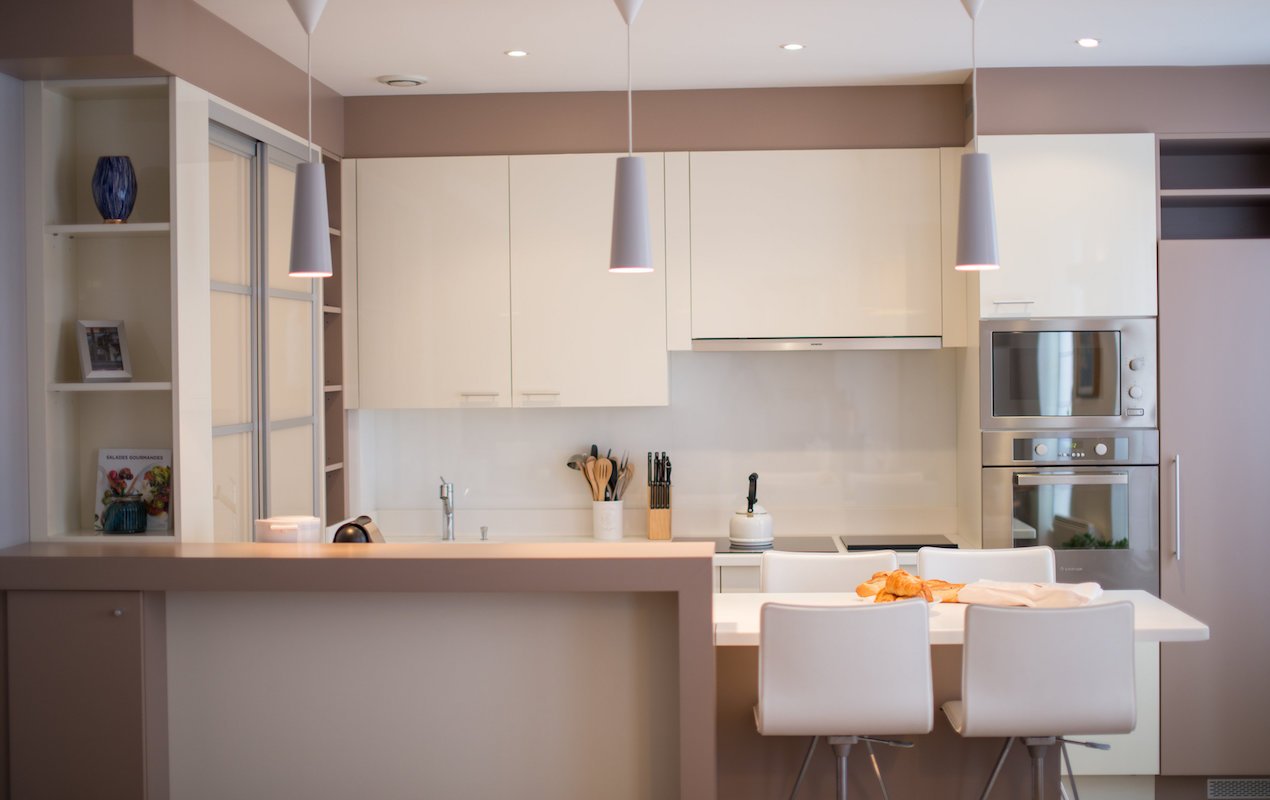 This kitchen is for the chef who wants a more modern space to cook in. At our Saint Chinian rental, you can truly have your cake and eat it too; French Provencal décor to help you relax and an edgy, top-of-the-line cooking space to keep you on your culinary toes. Induction stovetop, stainless steel appliances and streamlined cabinets make this space perfect for cooking either simple or intricate meals. The eat-in style of the kitchen also provides extra counter space for chopping, cutting and enjoying meals with loved ones. There's also a full size dining table in the open-plan living area for more formal affairs.
Rully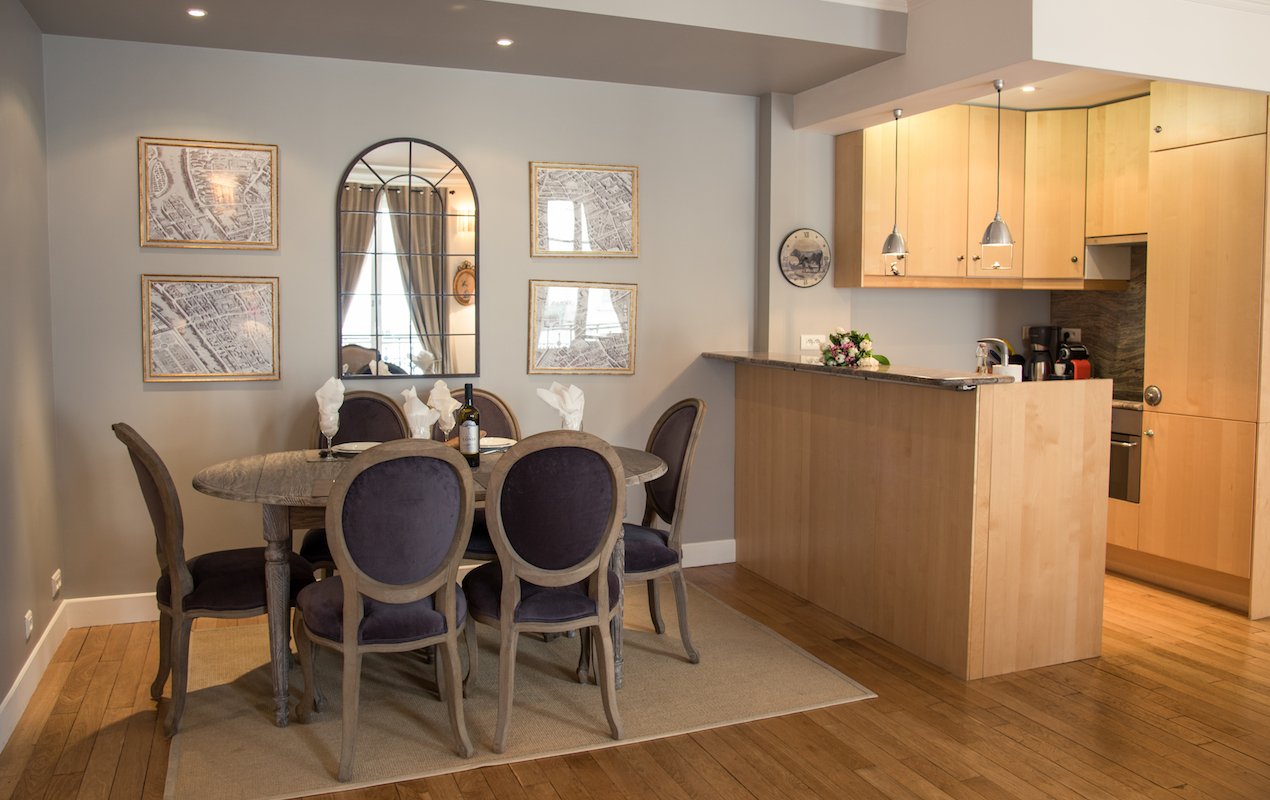 Located in the heart of the 7th arrondissement, our Rully apartment rental is surrounded by some of the best cafes, restaurants and open markets that Paris has to offer. But for the true foodie who wants to have a simple night in with a good meal, Rully has you covered. The kitchen is modest, sleek and easy to find your way around, while the dining room elegant enough for beautiful dinner parties, yet not so stuffy that your guests feel uncomfortable. No matter if you're preparing the meal underneath pendant lamps or devouring it over porcelain dishes, Rully gives you a relaxed ambiance that is sure to make your vacation as delicious as it is memorable.
_____________
If you're interested in booking a stay in any of these apartments, don't hesitate to contact us! You can email

[email protected]

, fill in this form or give us a call.