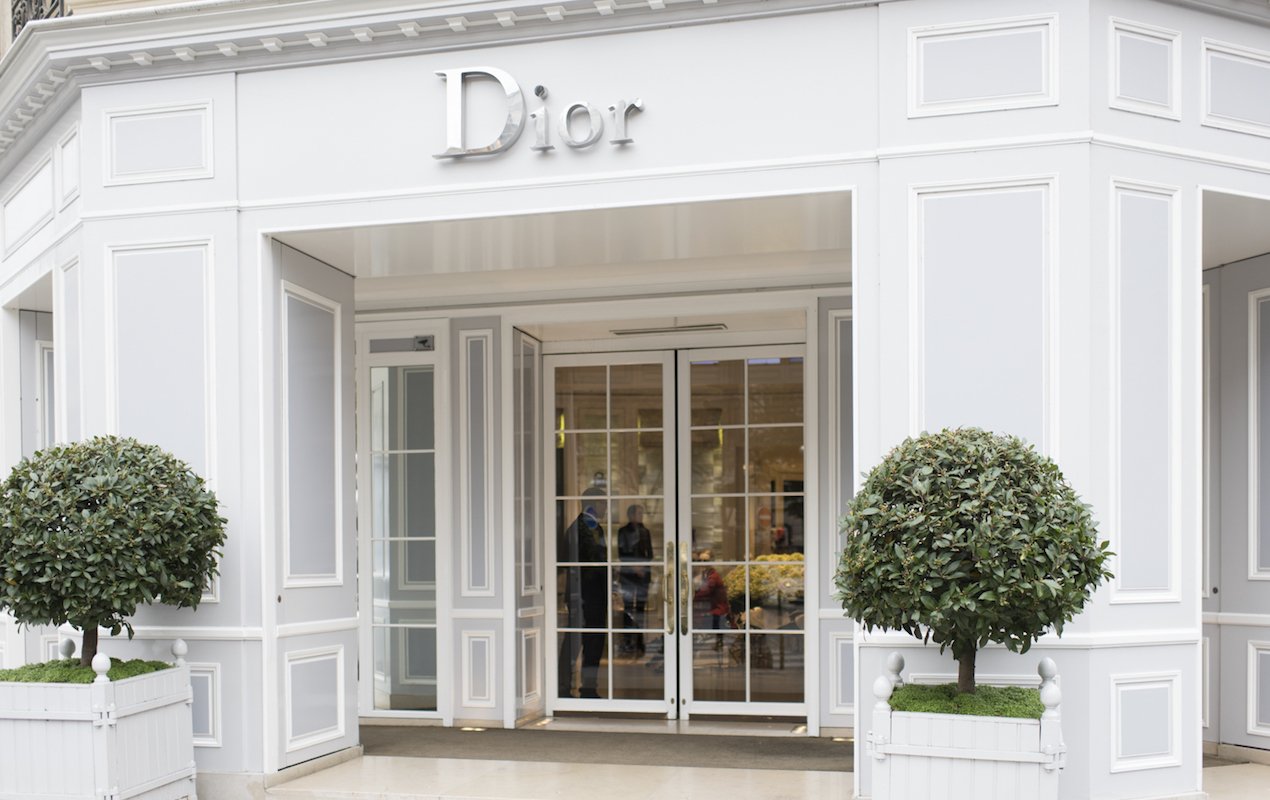 As a major fashion capital of the world, there's no better place than Paris to shop for designer duds. Whether you're more of a classic Chanel and Louis Vuitton lover or you're looking for more cutting-edge, young brands, designer shopping in Paris is beyond compare.
Designer Shopping in Paris
If you're planning to treat yourself to something extra special on your next trip to this fashionable city, then look no further than this comprehensive list!
Rue Saint Honoré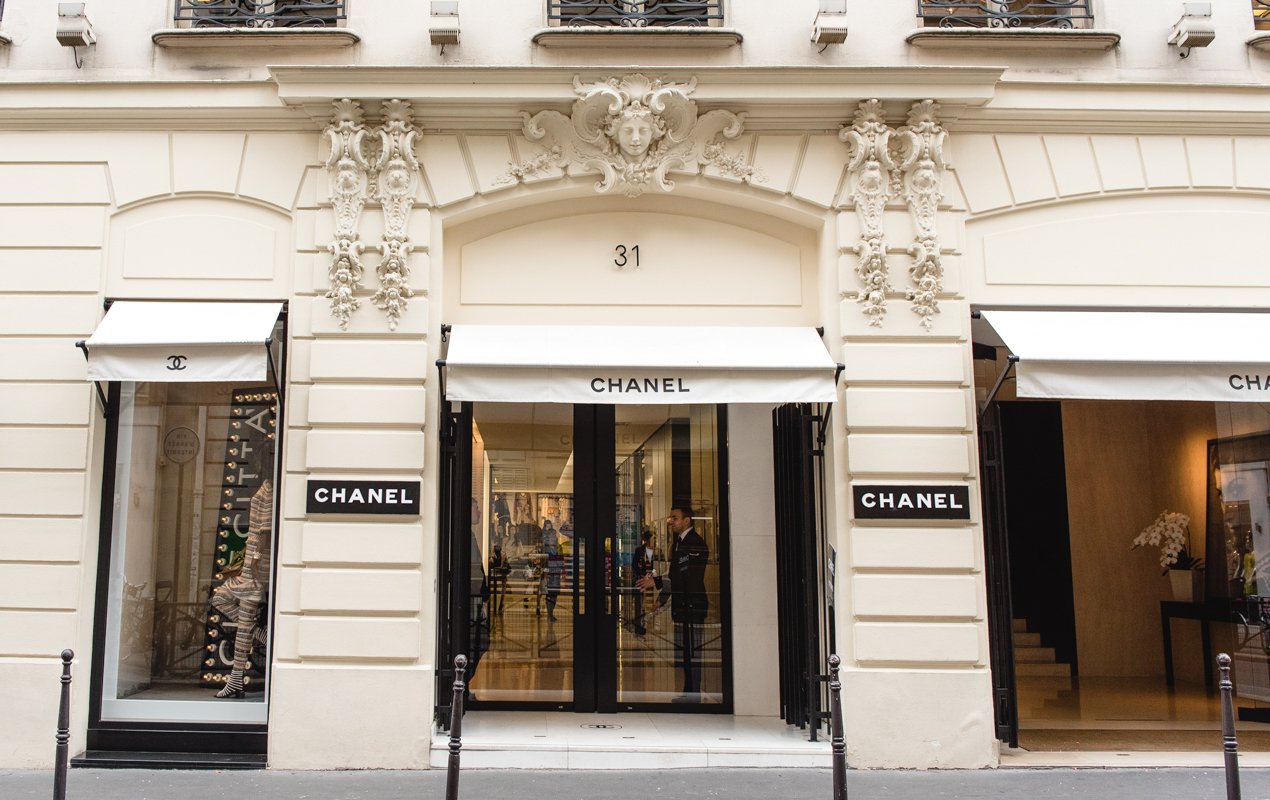 This street is technically split into two parts, Rue du Faubourg Saint Honoré, where you'll find all the major fashion houses like Dior, Givenchy and Hermès, and Rue Saint Honoré, where you'll find lots of well-known brands mixed in with more niche designers. This is where all the magazine editors and style bloggers do their shopping, since it's so centrally located and steps from the Jardin des Tuileries, where many fashion week runway shows take place. The original Chanel boutique is located just off the main thoroughfare on Rue Cambon, where you'll surely drool over the handbags. This area is definitely has some of the best designer shopping in Paris.
Notable Addresses:
Dior – 25 Rue Royale, 75008 Paris
Chanel – 31 Rue Cambon, 75001 Paris
Sèvres Babylone & Saint Germain des Prés
The area between the Saint Germain des Près Metro station and the Bon Marché department store is filled with lots of small luxury shops. You won't have to confront huge crowds of shopping tourists in most of this neighborhood, since it's slightly less well-known as a shopping hub, especially the smaller streets like Rue de Grenelle and the Rue des Saints-Pères. You could start at Saint Germain des Près to have un café at one of the famous literary cafés, then make your way towards the incredible Sonia Rykiel store which is lined with thousands of books. Continue exploring before stopping in at a large Hermès store, which doesn't look like much from the outside, but will surprise you once stepping inside, for it's housed in a former Art Deco swimming pool hall and includes a café and library! End the day with a perusal through le Bon Marché department store, then grab some tasty treats at its gastronomic counterpart, the Grande Épicerie.
Notable Addresses:
Hermès: 17 Rue de Sèvres, 75006 Paris
Sonia Rykiel – 175 Boulevard Saint-Germain, 75006 Paris
Le Bon Marché – 24 Rue de Sèvres, 75007 Paris
La Grande Épicerie – 38 Rue de Sèvres, 75007 Paris
Triangle d'Or & L'Avenue des Champs Élysées
We've all heard of the Champs Elysées with its massive flagship Louis Vuitton store, but you may not know that the rest of this grand boulevard is lined with lots of mid-range shops like Sephora, Zara and Abercrombie & Fitch, with the exception of a few stores like the gorgeous Guerlain boutique at number 68. If you're looking for a higher concentration of designer shopping in Paris head just off the beaten track towards Avenue Montaigne and Avenue Georges V, which together form the Triangle d'Or, or the Triangle of Gold. Avenue Montaigne is lined with all the big names: Dior, Chloé, Céline, Prada, Salvatore Ferragamo and Valentino, just to name a few. A gorgeous Hermès store with its original carved wooden storefront can be found on Avenue George V, and one of the most exclusive luxury hotels in the city, the Plaza Athénée isn't far from here, and you don't have to be a hotel guest to enjoy the 3 Michelin starred restaurant inside.
Notable Addresses:
Louis Vuitton – 101 Av. des Champs-Élysées, 75008 Paris
Guerlain – 68 Av. des Champs-Élysées, 75008 Paris
Hermès – 42 Avenue George V, 75008 Paris
Plaza Athénée – 25 Avenue Montaigne, 75008 Paris
Boulevard Haussmann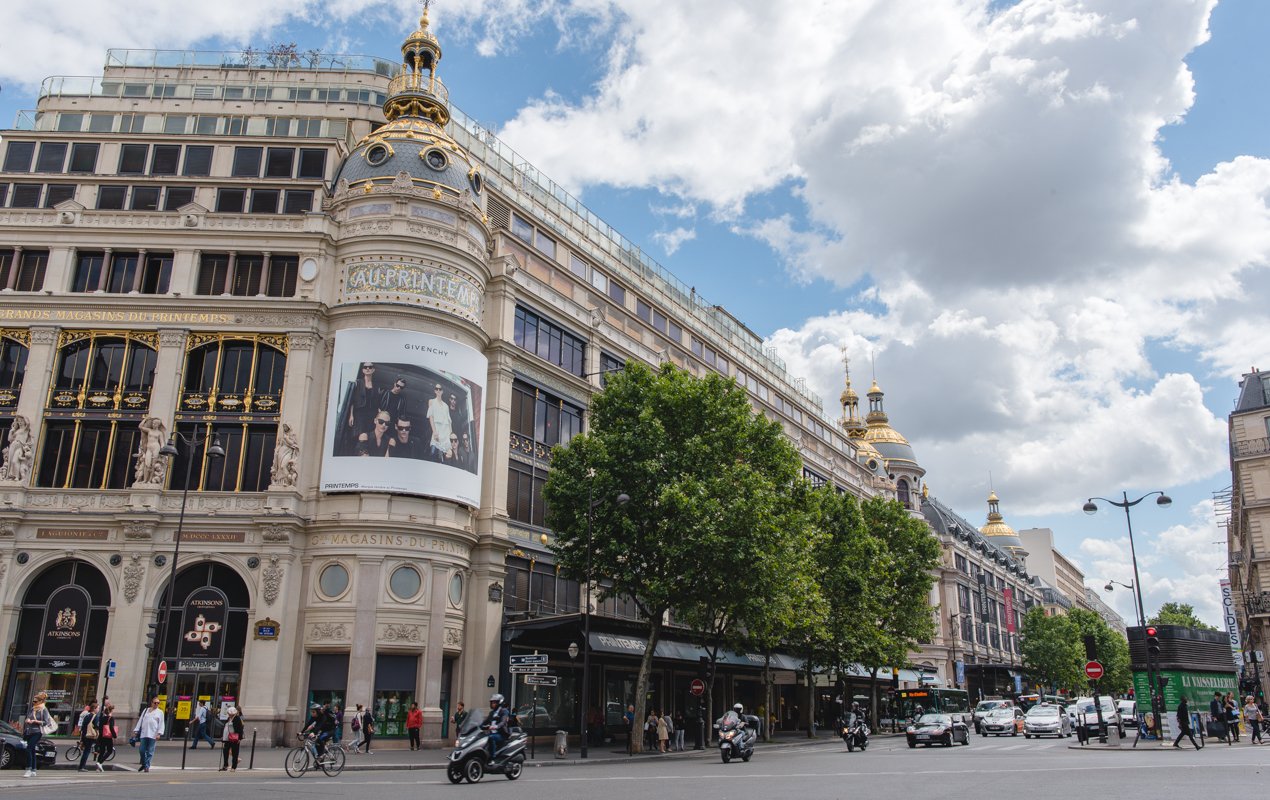 Paris was one of the first cities in the world to open up grand, elegant department stores after the industrial revolution. Those department stores are still going strong today, and can be found next to one another on the wide Boulevard Haussmann, just a couple blocks from the lavish Opera Garnier. Although they offer largely the same stock, Galeries Lafayette takes home the award for best interior due to its gilded central foyer, topped with a jaw-dropping stained glass dome. Even if you don't buy anything, it's worth stepping inside just to get a peek at the incredible décor.
Notable Addresses:
Galeries Lafayette – 40 Boulevard Haussmann
Printemps – 64 Boulevard Haussmann, 75009 Paris
Palais Garnier Opera House – 8 Rue Scribe, 75009 Paris
We hope this list will make your fashion itinerary in Paris out of this world! For even more valuable information about shopping in Paris, see this page.
This article contains affiliate links. When you make a purchase through our affiliate partner sites, we earn a small commission at no additional cost to you.