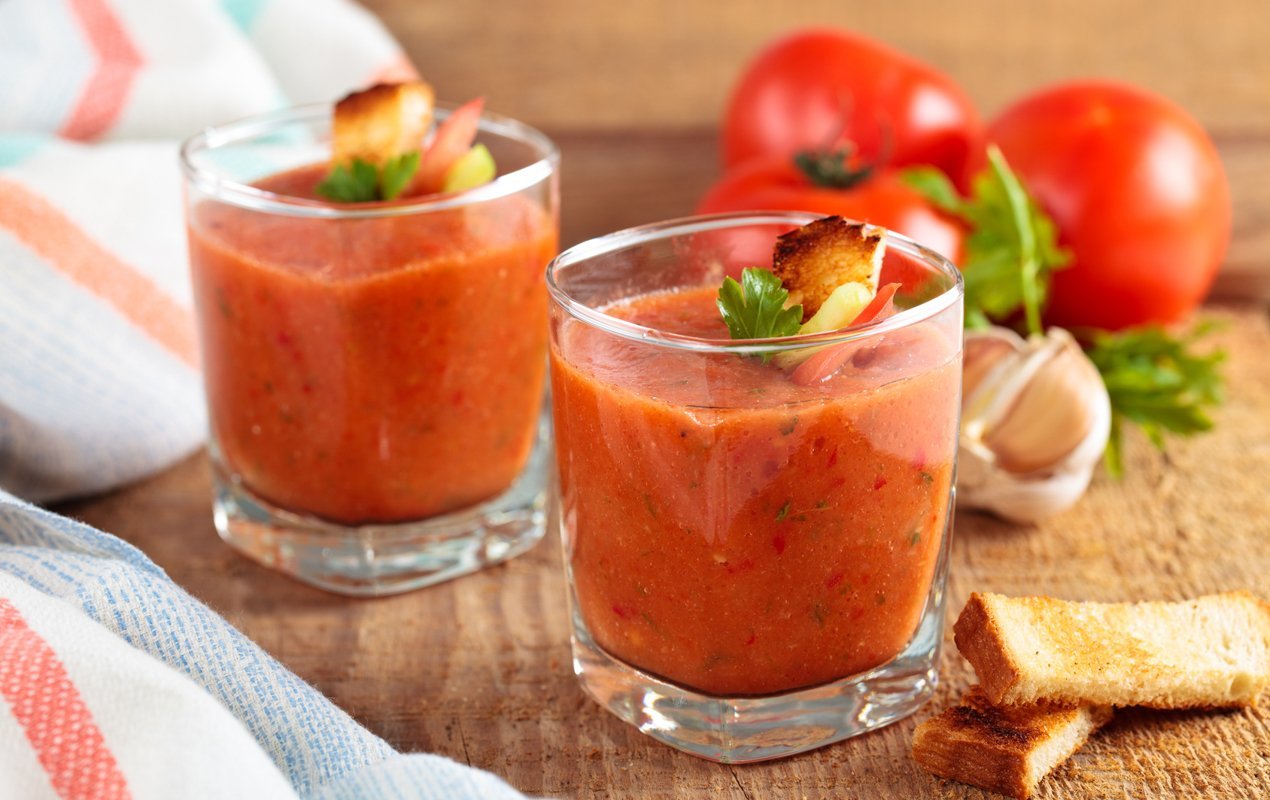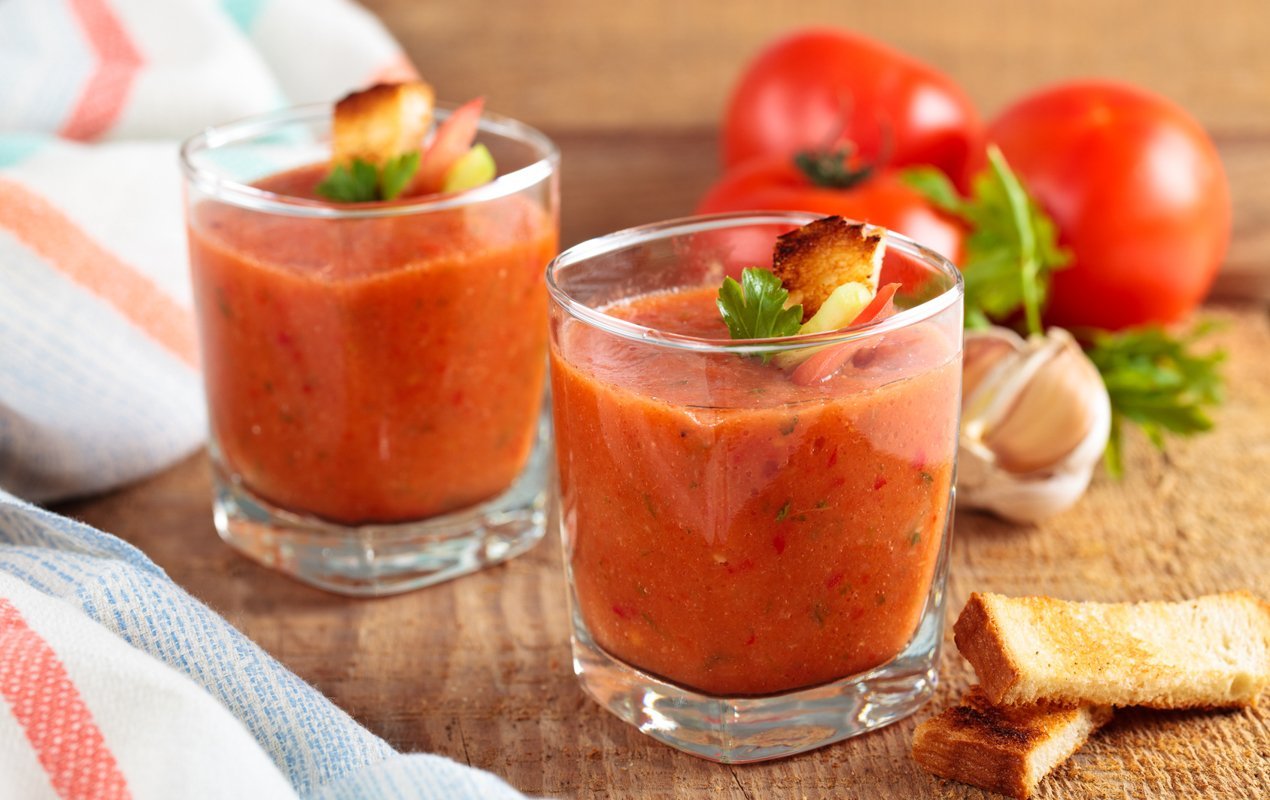 I love gazpacho soup so much that I could eat it all year round. But there's something extra delicious about a cold gazpacho when the weather is warm. It's savory and full of flavor, but still refreshing. Whether you're French, English, Italian or other — this Spanish soup is a favourite throughout Europe.
Over the years I've experimented quite a lot to try and perfect my recipe, and I think I've finally found the right balance of flavors. The tartness of the tomatoes combines nicely with the subtle sweetness of the peppers and the savory flavor from roasting them both. Finally, I top it all off with homemade toasted baguette slices or croutons for the perfect finishing touch!
Since the last days of summer are fading away, now's your last chance to fully enjoy this cold Gazpacho soup!
Maddy's Favorite Gazpacho Soup
Makes 8 Servings
Prep Time: 25 minutes
Cook Time: 30 minutes
Total Time: 55 minutes
Ingredients: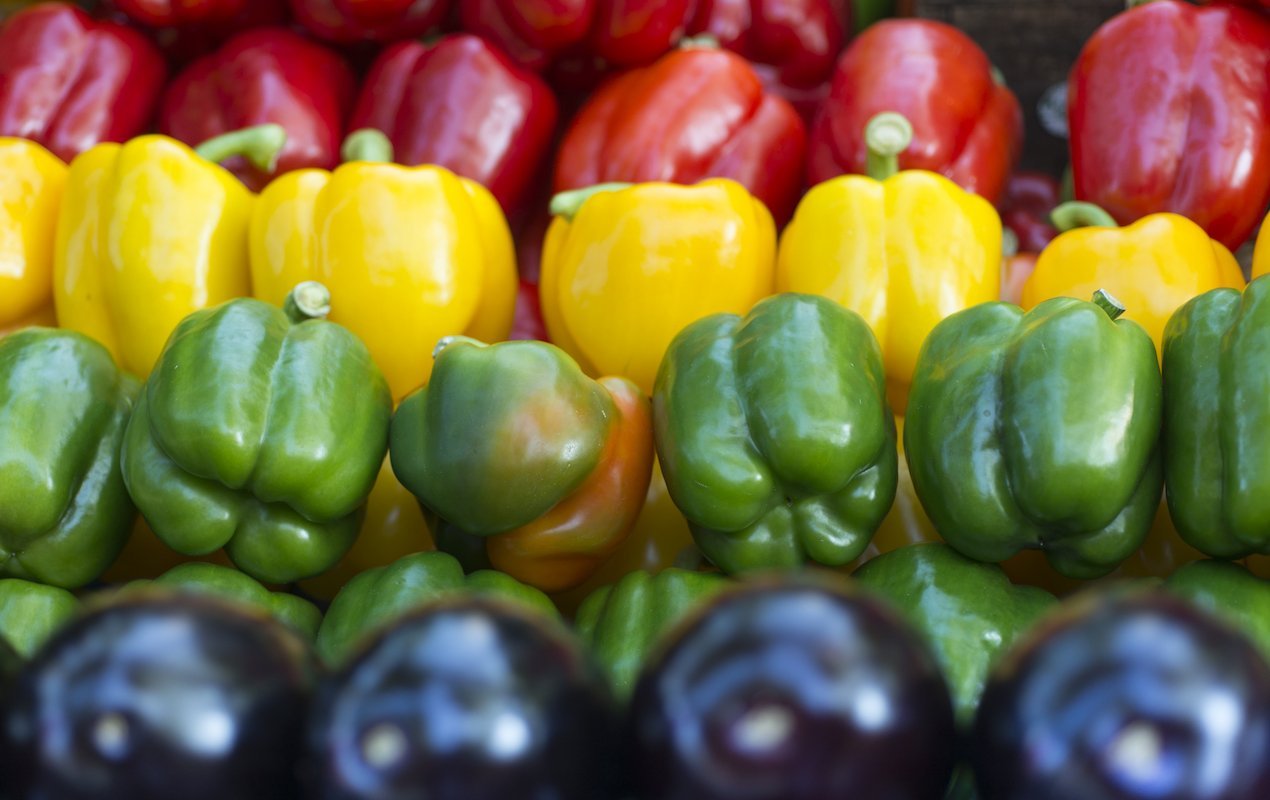 1 kg (about 2.5 pounds) tomatoes, cut in halves
2 red, orange or yellow bell peppers, de-seeded and cut in half
2 garlic cloves
1 onion, cut in half and peeled
2 tablespoons (3 g) lemon juice
1 to 2 tablespoons (15 – 30g) honey or maple syrup
¼ cup (50 g) olive oil
50 g tomato paste
300 g vegetable broth
30 ml sherry or balsamic vinegar
Salt & pepper
5 basil leaves
Crème fraiche or sour cream to top it off with a few croutons and springs of basil
Instructions:
Place the halved tomatoes, peppers and onions face-down on oiled pans, drizzle olive oil over the tops, then roast for about 20-30 minutes in a 400 degree oven. If you have limited oven space, do the peppers first.
Keep watch as the peppers roast. Take them out when the skin is wrinkly and they start to blister and burn slightly around the edges.
Stick the peppers inside a plastic bag after cooking to loosen the skins for later peeling, let the tomatoes and onions continue to cook if needed.
After they "steam" for a while in the plastic bag (15-20 minutes), peel the skins off the peppers.
Now, simply add all the ingredients into your blender (or use a handheld blender) and whizz until smooth! I really like the tartness of the tomatoes mixed with a little bit of maple syrup or honey and the rich taste of balsamic vinegar. That came about by accident because I was out of sherry vinegar — I now prefer balsamic!
If the ingredients were still warm when blending, place the soup into the fridge until chilled.
To serve, add a dollop of crème fraiche or sour cream on each serving with toasted old baguettes or croutons on top.
To Make Your Own "Croutons:"
Slice a baguette into thin slices on a diagonal
Brush with olive oil and sprinkle with garlic salt
Bake in the oven at 350 degrees for about 10-12 minutes, or until they look nice and browned.
My Secret to Success:
My new favorite appliance is a Thermomix! My French and Italian friends have used them for years, and I finally jumped onto the bandwagon. This magical appliance basically replaces everything in the kitchen except the oven. They can weigh, chop, blend, emulsify and so much more! They're pretty amazing and I use one for almost everything now!
Even though this recipe only calls for 1 or 2 roasted peppers, I always bake more than needed. Philippe really loves them, so I keep the extras on-hand for a delicious side-dish for another meal! All you need to add after removing the skins is a bit more olive oil, and some salt & pepper!
Summary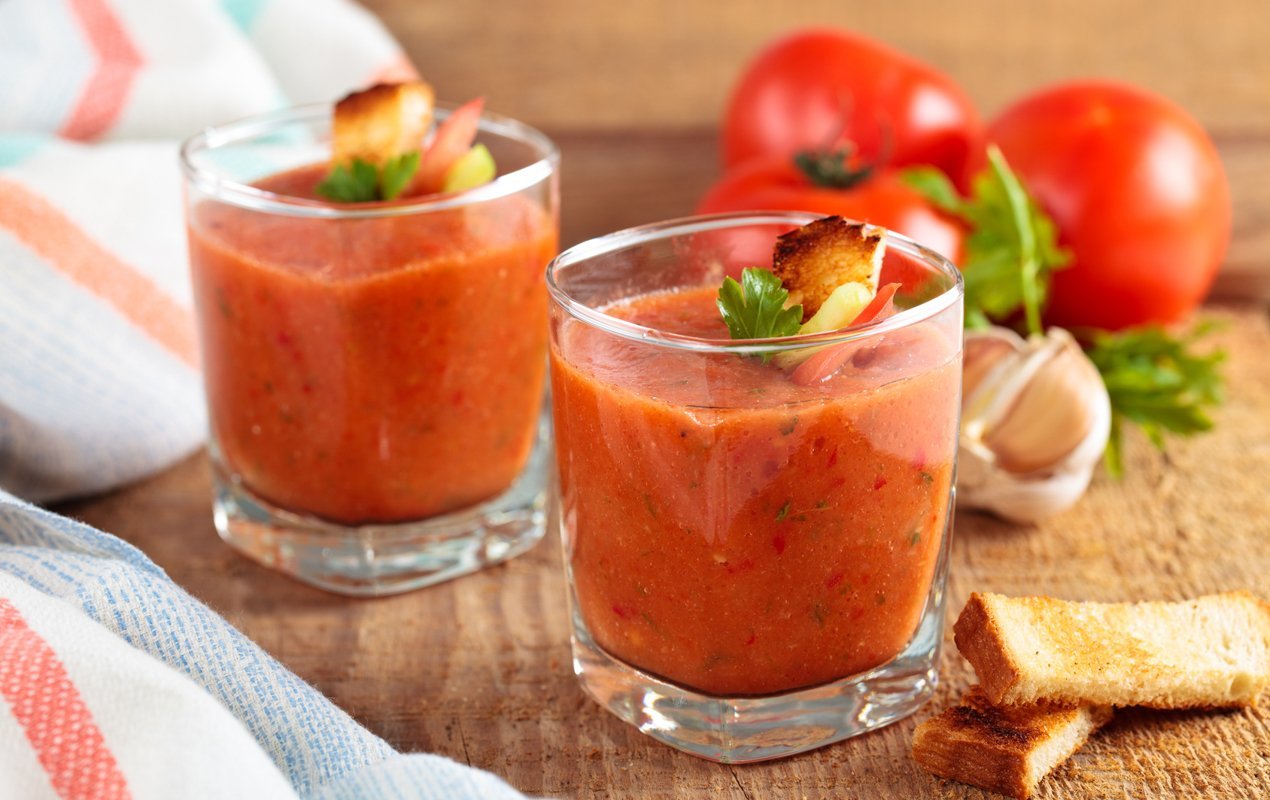 Recipe Name
Maddie's Favorite Gazpacho Recipe
Published On
Preparation Time
Cook Time
Total Time
Average Rating





Based on 211 Review(s)