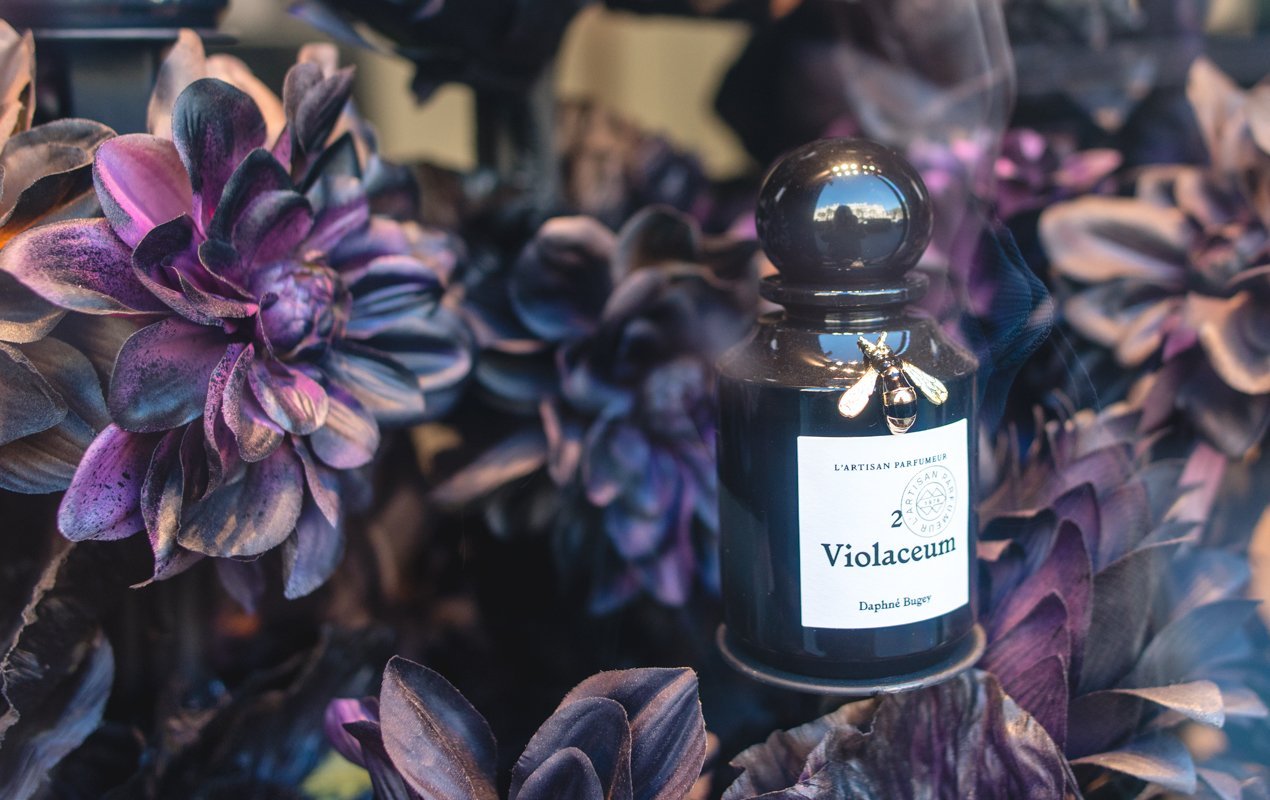 Perfume is an art and a science – chemistry and style, capable of evoking memories, changing moods and completely altering sense of self. From ancient Egypt and the Roman Empire, to Medieval Europe and the British Edwardians, people have always gravitated towards the sensuous smells that make us feel like our best selves. Whether you're looking for a fun and flirty scent, something masculine and crisp, or natural and woodsy, you deserve to find a scent catered to your individual tastes. And, perfume shops in Paris are some of the very best in the world!
Perfume Shops in Paris
Considering France's extensive history of perfume making, la ville lumière is the perfect city for your fragrance adventure. Here are six unique perfumeries in Paris, from traditional to more cutting edge, all with their own character and personality.
Fragonard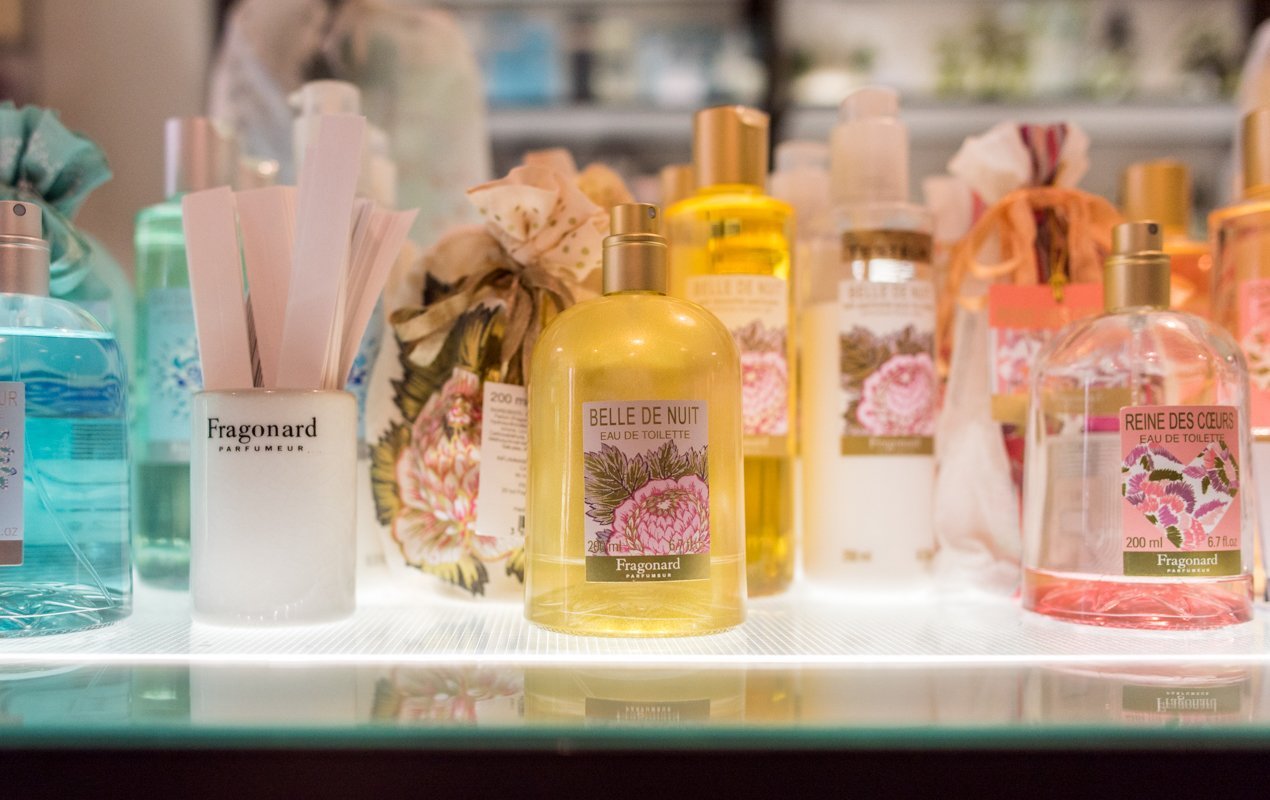 Named after the Rococo painter Jean-Honoré Fragonard, this historic shop opened its doors in 1926, and has been dedicated to creating traditional signature scents ever since. Along with their collection of shops in Paris, you can tour the Musée du Parfum near the Garnier opera house, where you can learn about the ancient art of perfume-making, an "industry as old as man-kind." They have a wide variety of scents in every olfactory family, from pure vanilla or lavender to more complex blends, and most are also sold as bar soaps and lotions. Fragonard boutiques aren't limited to scents, however. They also offer breezy bohemian blouses, silk scarves, quirky cosmetics cases and some unique home décor pieces. This is a great shop to gather a variety of different types of gifts or souvenirs!
Fragonard Perfume Museum
9 Rue Scribe
75009 Paris
Website
Guerlain
The Guerlain family created this legendary perfumerie in 1828, and the brand has maintained a loyal following ever since. In fact, it's among the oldest cosmetics brands in the world! Their creations have often shifted trends in the perfume industry, but gems such as Jicky, created in 1889, are still sold today. Shalimar is another iconic scent of theirs, still sold in a 1920's style bottle. One could go so far as to claim that Guerlain has the most exquisite perfume bottles in Paris! Their flagship boutique on the Champs Elysées is a impressive sight to behold – sparkly, shiny and the epitome of Parisian luxury.
Guerlain
68 Av. des Champs-Élysées
75008 Paris
Website
Diptyque
During its founding in 1961, Diptyque was wholly unique and cutting-edge in Paris. Its three founders were an interior designer, a painter and a theater set designer, respectively, before opening their flagship store in the Latin Quarter. They had a vision of a stylish bazaar, representing their widespread travels, where they sold wallpaper and other homewares. In 1968, a 16th-century potpourri recipe and the scent of pomanders inspired Diptyque's first eau de toilette, which they simply named L'Eau. Today, hundreds of equally delectable scents for both body and home are sold in shops all over Paris, but their original boutique on Boulevard Saint Germain is oh-so charming! Their scented candles are wildly popular, especially Baies and Figuier, two of their best-sellers.
Diptyque
34 Boulevard Saint Germain
75005 Paris
Website
Nose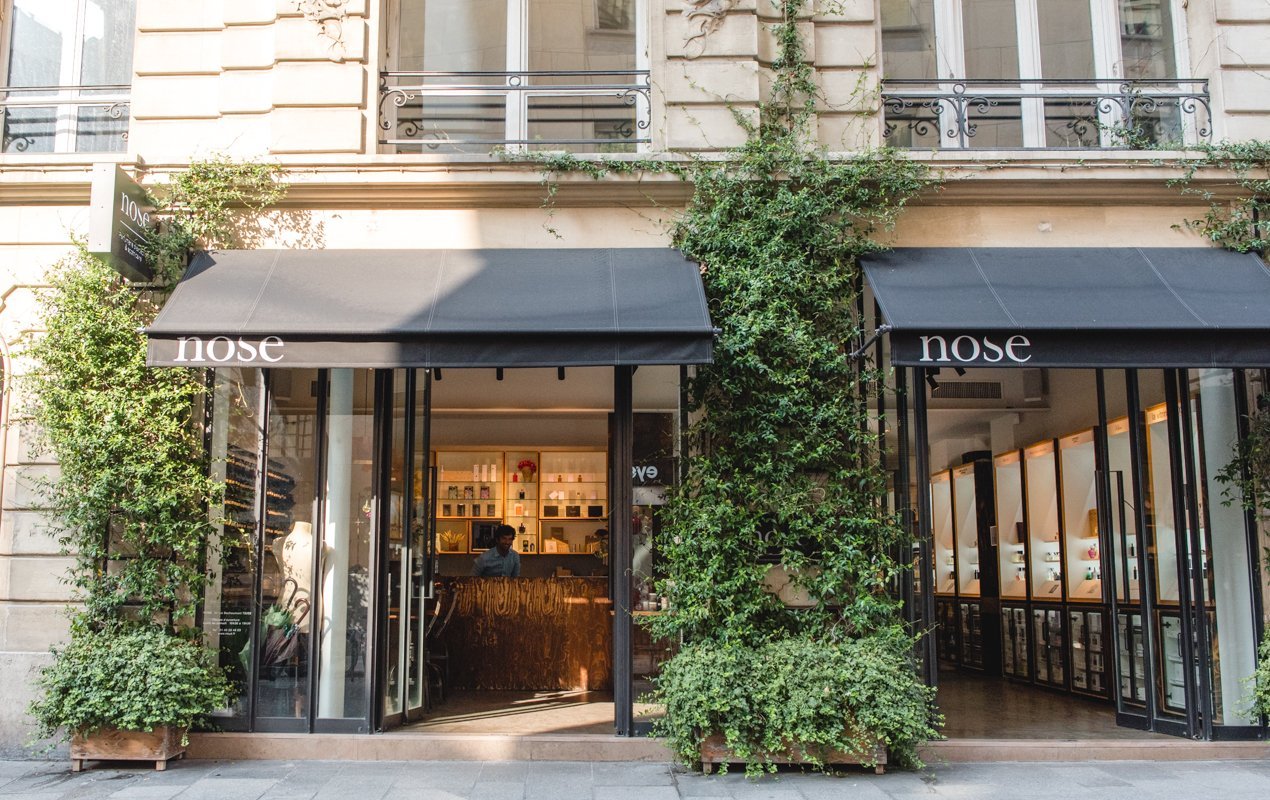 Although less well-known than the previous perfumeries, Nose is not to be missed! They carry various perfume brands, and many that are more limited production or harder to get a hold of. Their online Nose diagnosis helps you discover a scent specific to your tastes. Based on the results, you're given five recommended perfumes, which you can order as samples before making a decision. However, we highly recommend heading directly into their store near Rue Montorgeuil to undergo the full scent diagnostic experience. Over the span of about 30 minutes, you'll be given various perfume samples that you will then rate on a scale of 1-10, slowly narrowing down your preferences. You'll learn how a perfume changes over time, and experience the head, heart and base notes of a perfume. This is the perfect way to find your signature scent, and they even offer you coffee or wine while you discover your favorite aromas!
Nose
20 rue Bachaumont
75002 Paris
Website
L'Artisan Perfumer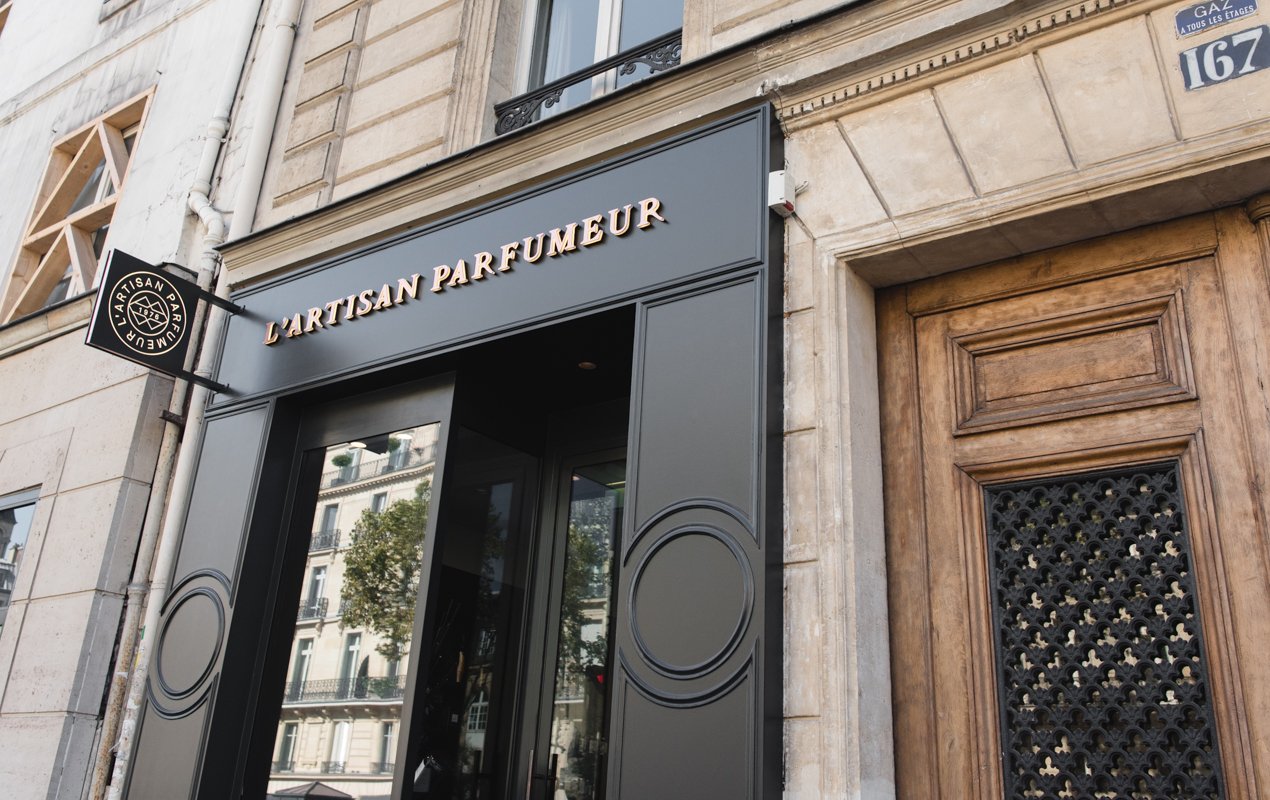 Perhaps the most original founding story belongs to l'Artisan Parfumeur, whose founder was a chemist asked by a friend to create a banana scent for a banana costume at a Folies Bergères gala. Jean Laporte obliged, and continued with grapefruit and vanilla fragrances, until perfume enthusiasts dubbed him l'Artisan Parfumeur (the perfume artisan). His brand's classic, fresh concoctions continue to delight perfume lovers today. The four boutiques throughout Paris have a sultry, mysterious vibe, and their signature bottle is black with a golden bumble bee, as pictured at the very top of this blog post.
L'Artisan Parfumeur
167 Boulevard Saint Germain
75006 Paris
Website
Annick Goutal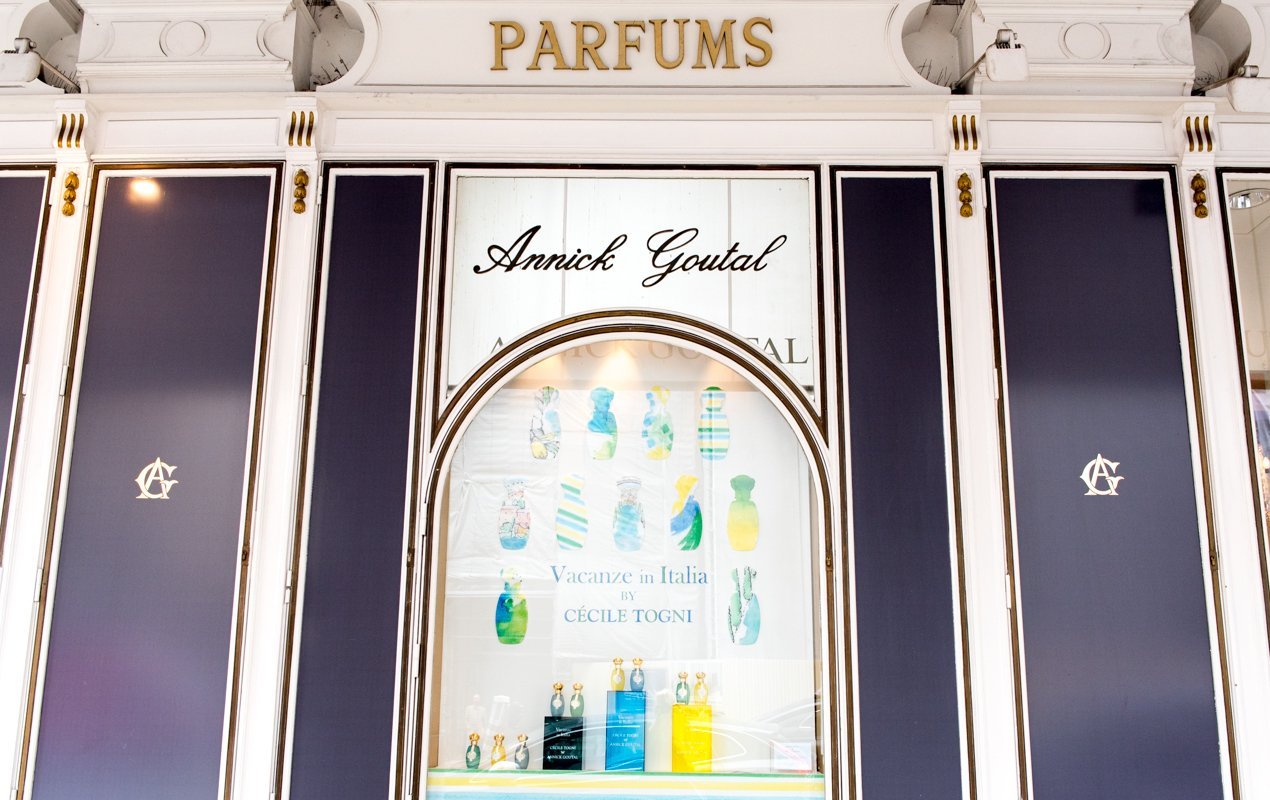 Annick Goutal founded her perfumeries in 1981, determined to create original perfumes in a "rétro-chic" atmosphere. She believed, "le luxe est dans le detail," or luxury is in the details – a principle still evident today with their delightful perfumes. She blends rare raw ingredients such as Sicilian Lemon or Damascus Rose to create scents that are oftentimes inspired by her fondest personal memories. Each bottle is handmade in France and all have a very old-world, feminine quality ; any one of them would look absolutely gorgeous on a vanity table.
Annick Goutal
16 rue de Bellechasse
75007 Paris
Website
Nothing quite compares to Paris when it comes to discovering the universe of perfume, whether you want to indulge in a sultry scent for a nighttime walk along the Seine, or a casual day fragrance to add an extra spark to your ensemble. No matter the reason, allow yourself to indulge in a scent perfect for you – the perfumeries in Paris never disappoint.