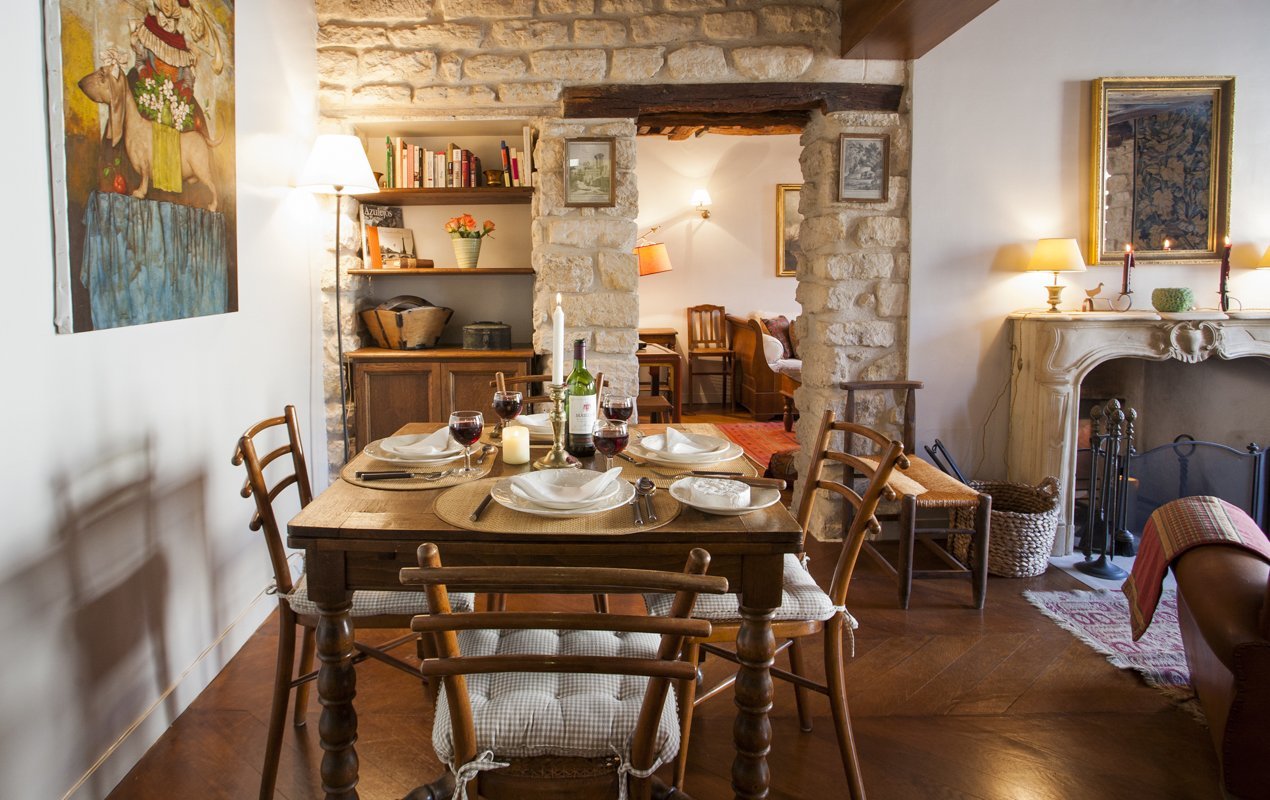 Regardless of where you actually live, the Parisian home décor look is surprisingly simple to recreate. Admittedly, the 400-year old ceiling beams, wood floors and stone walls are a bit more difficult to replicate, but there are so many décor touches you can add that won't require a large-scale renovation.
In a previous blog post, we shared with you How to Easily Make Your Home Feel Parisian, through curtains, gold frames, flowers and other simple design choices, but today we want to share with you how to create a more specific look: Bohemian Parisian.
There are many different definitions of "Bohemian," but the one we're going to share today is romantic, artistic, richly textured and a little bit eclectic. Our version of Parisian Bohemian style is inspired by the artist's studios in Montmartre, with views over quaint orange chimney pots, a gallery wall of mismatched old paintings, elegant furniture that's a little rough around the edges, candlesticks that are dripping with wax, mismatched oriental rugs and patterned wallpaper; This is the Paris of Amélie Poulain, Henri Toulouse-Lautrec and Maurice Utrillo. A perfect mix of city elegance and village charm.
Here are 5 things you can add to your home to get that Montmartre-inspired, Bohemian Parisian vibe!
Rich Vintage Textures
Nothing screams bohemian more than mismatched oriental rugs, and extra bonus points if they're vintage. Stick to the same color family and don't be afraid to throw multiple rugs into a single room! If you're nervous to invest in a large area rug in a bold color like red, consider bringing the same patterns into your throw pillows or a floor pouf. Further texture can be added through natural linen duvet covers, curtains and tablecloths. Linen adds a beautiful old-world richness to any space, even if you live in a modern-built white-box of a home.
Lots of Artwork
The easiest way to capture the bohemian spirit of Belle-Époque Montmartre is to start collecting old paintings. At any flea market in Paris, you can find tons of forgotten canvases from amateur artists that are extremely affordable. The art itself doesn't have to be spectacular or created by a famous painter, in fact, the more quirky, the better! Nothing beats the look and feel of real oil paints on canvas. A charming way to display them is hung on a single wall in an asymmetrical pattern.
Eclectic Accessories
Any look you're trying to achieve really comes together in the accessories. Imagine a collection of antique candle holders arranged artfully in the middle of the dining table, all at different heights, with dried wax drippings hanging of the edges. Or imagine little sculptures and trinkets from your travels scattered throughout the home – a rough woven basket in one corner, a shiny mercury mirrored jewelry box on the vanity and a Balinese statue on the bookshelf. Mixing the ethnic origins as well as the textures of accessories makes a room feel beautifully curated and gives it a unique personality.
Hanging Fabrics
Windows aren't the only place you can make use of hanging fabric. Consider creating a faux canopy over the bed. It can really turn it into a major focal point for the room. Also consider wall hangings and tapestries. Draping the room in fabric and adding piles of varied cushions is reminiscent of the artistic, somewhat nomadic lifestyle that was romanticized in the 19th century. It's a lifestyle that is less formal and more relaxed, with a touch of whimsy and magic. Children would especially love a canopy over their bed – it can act as a kind of "fort" under which to play imaginative games before bedtime!
Elegant Statement Furniture
You can't have Parisian style without a few elegant furniture pieces. Although the apartment featured in this photo is far from Bohemian in style, it has some gorgeous antique furniture pieces that can elevate your bohemian space from a bit shabby to perfectly balanced. Invest in a beautiful tufted sofa, chaise longue, or armchair and mix it in with your more casual pieces for an elegant yet eclectic look, which is the ultimate goal of Parisian Bohemian style.
_____________
If you take note of these simple home décor tips, you'll be living la vie bohème in no time!