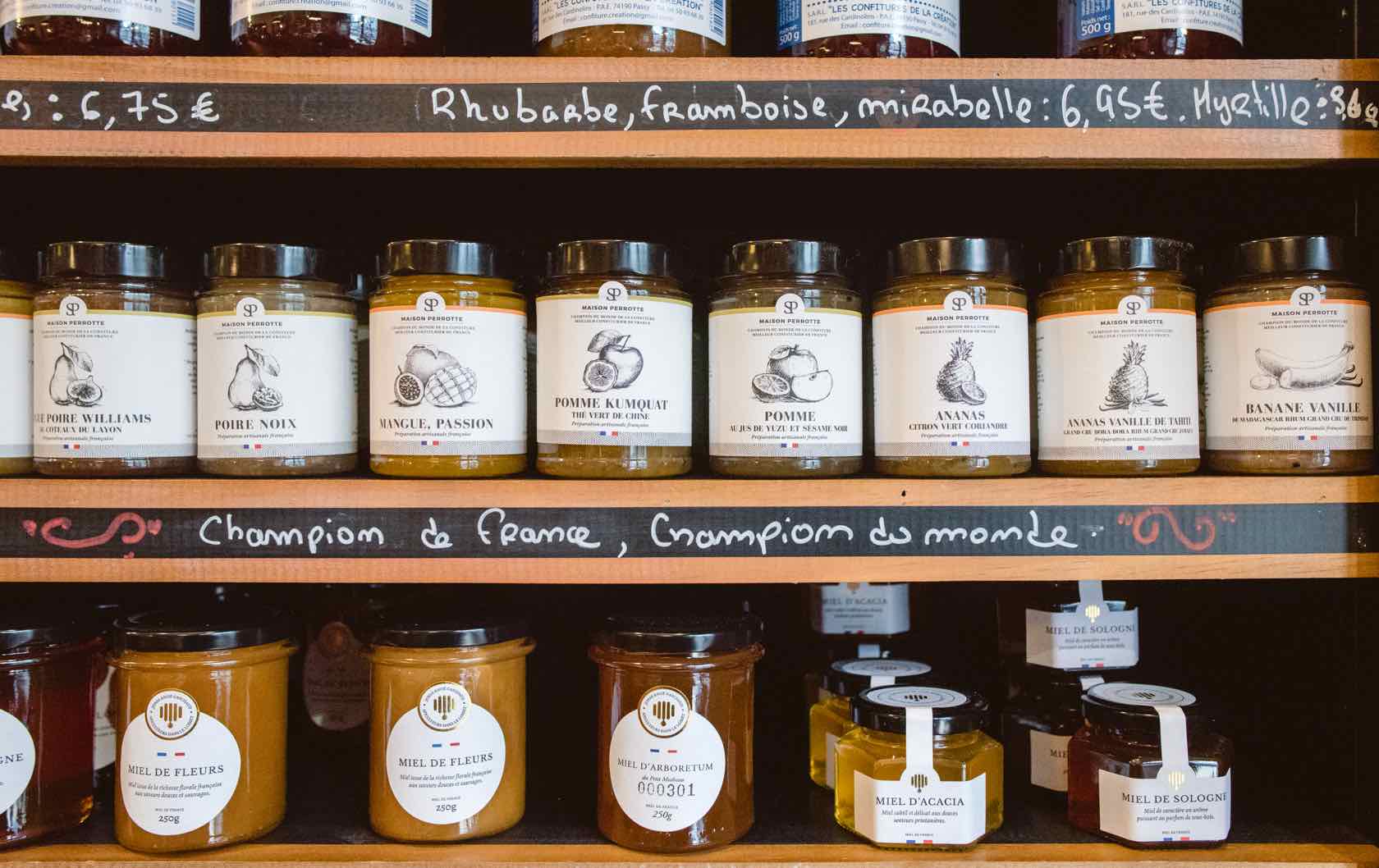 One of the main reasons people travel to France is, of course, the food. While we'd all love to bring home a personal French chef (though we can organize this in your Paris Perfect apartment!) to recreate all our favorite French dishes, fortunately we can at least bring home some of the ingredients they'd use to stock our own kitchens. Want to keep the taste of France in your home cooked meals after you've bid au revoir to the City of Light? Here are the best stores to buy French food souvenirs in Paris.
What to bring back? The list of options is exhaustive, but many enjoy having special delicacies that are difficult to find or very expensive back home. Some of the best food souvenirs in Paris are fleur de sel de Guérande (Guérande salt), farine de Sarrasin (naturally gluten-free buckweat flour, used in crepes), specialty mustard, lentilles de Puy (Puy lentils), Breton butter, cheese and anything truffle.
Of course, it's important to know what kind of foods you can and can't bring back into your home country. For Americans, usually if it's unopened and commercially packed, it will pass, but there can be more specific rules for things like fruits, vegetables and meat products (such as foie gras). You'll find more information by clicking here.
Buying Food Souvenirs in Paris
Monoprix
This is what one might consider the "standard" grocery store in Paris, but for lovers of French food, it's far from standard. If you want to stock up on local favorites rubbing elbows with the locals themselves, this may just be the best place to get your food souvenirs in Paris.
The Monoprix at 24 rue du Commerce is the closest to the Paris Perfect apartments in the 7th arrondissement. Though, there are Monoprix stores located throughout Paris. All that French goodness is just a quick walk away, making it simple to create delicious meals in the kitchen of your own Paris Perfect apartment!
Monoprix – Multiple locations throughout Paris
Galeries Lafayette Gourmet
Situated across the street from the iconic department store, it's easy to do all your clothes and food shopping in one go! They even have a spice counter which sells all your favorite spices in bulk. Refuel at one of their many restaurants, then head to the bottom floor to pick up all of the best food souvenirs in Paris.
Galeries Lafayette Gourmet– 35 boulevard Haussmann, 75009
La Grande Epicerie
This store is the grande dame of all the gourmet groceries in Paris, and for good reason–the selection here is like nowhere else. Parisians flock to La Grand Epicerie for local and imported goods alike. Two floors are filled to the brim with fresh and packaged goods, as well as wonderful selection of wines and liquors. Bring your finds back in your suitcase and stock the kitchen shelves of your Paris Perfect apartment.
La Grande Epicerie– 38 rue de Sèvres, 75007
Charles de Gaulle Airport
Yes, even the airport is a great place to pick up any last minute food souvenirs on the way home! This is actually the best place to buy your macarons if you'd like to bring some home. They need to be refrigerated, so it's best to purchase them at the last minute, which can be done thanks to the Ladurées located in Terminals 1, 2A, 2D, 2E, 2F and 2G. There's also a Maison du Chocolat, Maison de la Truffe and plenty of French champagne to be purchased at the duty free stores in each terminal.
Printemps du Gout
The newly renovated food section of the Printemps department store can be found on the 7th floor of the men's store. Once you've finished admiring the panoramic view over Paris and eating in the restaurant on the 8th floor, head down one floor and stock up on your favorite gourmet goodies.
Printemps du Gout– 64 boulevard Haussmann, 7th & 8th floors, 75009
Smaller Specialty Shops
Maison Plisson
Though smaller than the other stores on this list, Maison Plisson is no less well stocked, often by smaller local producers that can't  sell through the bigger stores. The grocery store also has a connecting restaurant, where they minimize their food waste by using food from the store.
Maison Plisson– 93 boulevard Beaumarchais, 75003
Mariage Frères
This tea brand is a favorite among Parisians. They use the adorable little metal tea infusers to steep the loose tea in the mornings, which is drunk from a bowl (not a mug!). Plus, the pretty metal containers are reusable once the tea is gone.
Mariage Frères– 56 rue Cler, 75007 (plus other locations in Paris)

Meert
This specialty store sells thin waffles, which actually come from the city of Lille, in the north of France. However, if you're looking for a light, sweet treat to bring home, these can't be missed! Buy a packet of them to put in your suitcase and buy yourself a fresh one to munch on while you look around the store. Meert is also included in our Sweet Side of Paris tour.
Meert– 3 rue Jacques Callot, 75006 (plus other locations in Paris)

Maison de la Truffe
If you're a lover of all things truffle, you'll be right at home in Maison de la Truffe. Their products range from truffle salt to truffle mustard to truffle olive oil, meaning that as long as you ration them, you can enjoy truffle-y goodness at home for months to come.
Maison de la Truffe- 19 place de la Madeleine, 75008 (plus other locations in Paris)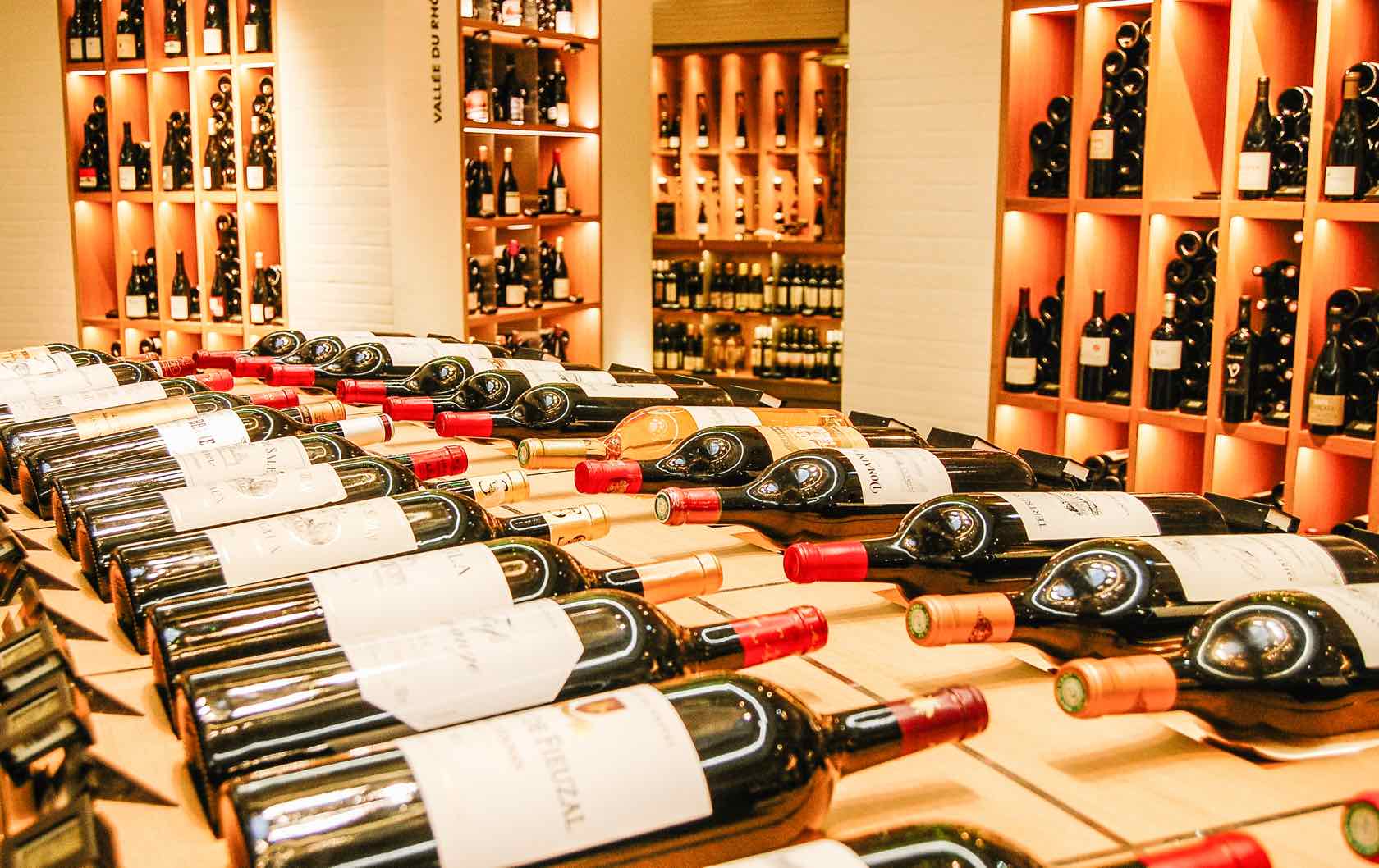 Whether your taste in French food is savory, sweet or just all things wine, there's a store to buy your food souvenirs in Paris. What's your favorite thing to bring back to your kitchen from the City of Light? Tell us in the comments below! And for your vacation home in Paris, contact our reservations team at [email protected] or call us at 1-888-520-2087.