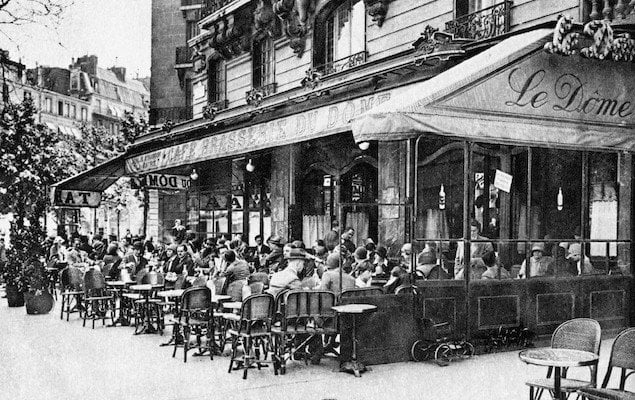 Paris has been a beautiful, bustling, historical metropolis for hundreds of years, and the video below reveals rare footage of Paris in the 1920s. Film cameras were very uncommon to see in everyday life, especially on the street. In fact, movies were only invented in the very late 1800s, and you would never see the Average Joe with a camera in their hands! The Parisians being filmed in the video often look towards the camera with faces of either concern, interest, or amusement – it's fascinating to get a glimpse into the world of 100 years ago!
The film showcases many iconic sites throughout Paris, all of which still exist. In fact, most of them look practially identical today! Let's take a look at some of the things featured in the video, and compare them to how they look in the 21st century.
Opéra Garnier
The film begins at the Grand Boulevards in front of the Opéra Garnier, and aside from the styles of people's clothing and the vintage automobiles, it looks startlingly similar. The entrance to the underground metro system is still there, the streets are buzzing with activity, and the opera house is as grand and opulent as ever.
Parc Monceau
Later in the video we see the Parc Monceau, claimed to be the most beautiful park in Paris. Designed in the romantic English style, the park has no geometric lines or pruned hedges, instead it has curving pathways and themed areas, interspersed with "ruins" and sculptures. It still exudes the same feeling of whimsical romance that it did when it was first created.
Parisian Cafés
Next, the video turns its focus to life unfolding on café terraces. Every seat is filled, each chair turned outward toward the street, all the better to see and be seen. Men in dapper suits, elegant and stylish women, as well as waiters in long white aprons that are still worn in the same way today, as you can see in the photo above. The Parisian café lifestyle has been around for a long time!
_____________
Whether you're strolling around the city by foot, or zooming through the streets by car, Paris is a gorgeous, well preserved city that has been captured on film countless times! The next time you're admiring a street or a landmark, take a moment to imagine the scene 100 years ago, it's not hard to do!
(Image Credits: Hannah Wilson and Paris Perfect.)