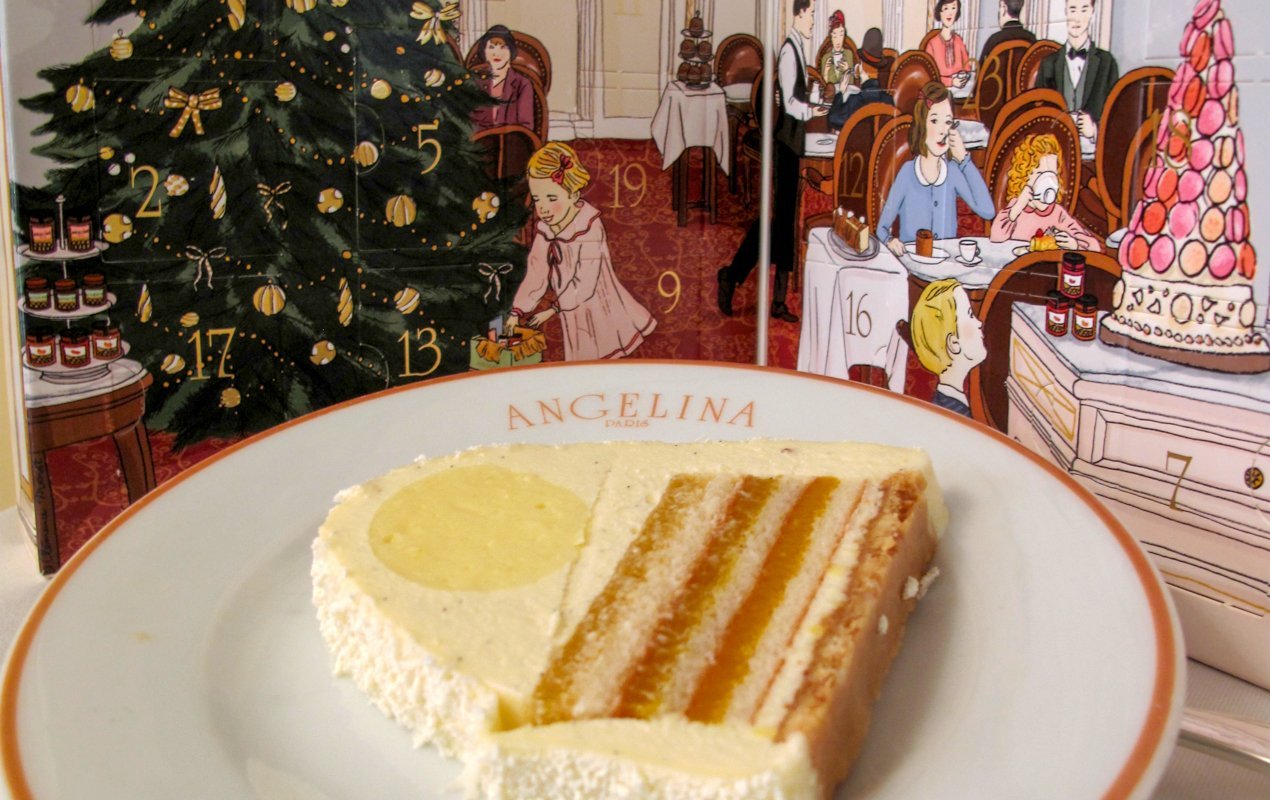 Every year the top French pâtisseries in and around Paris renew their pastry collections and, when it comes to the end of year holiday season, their traditional Bûches de Noël (Yule Logs) take center stage. Luckily, I was able to taste many of them in advance, so here is my top selection of new festive bûches for December 2016 and New Year 2017.
Angelina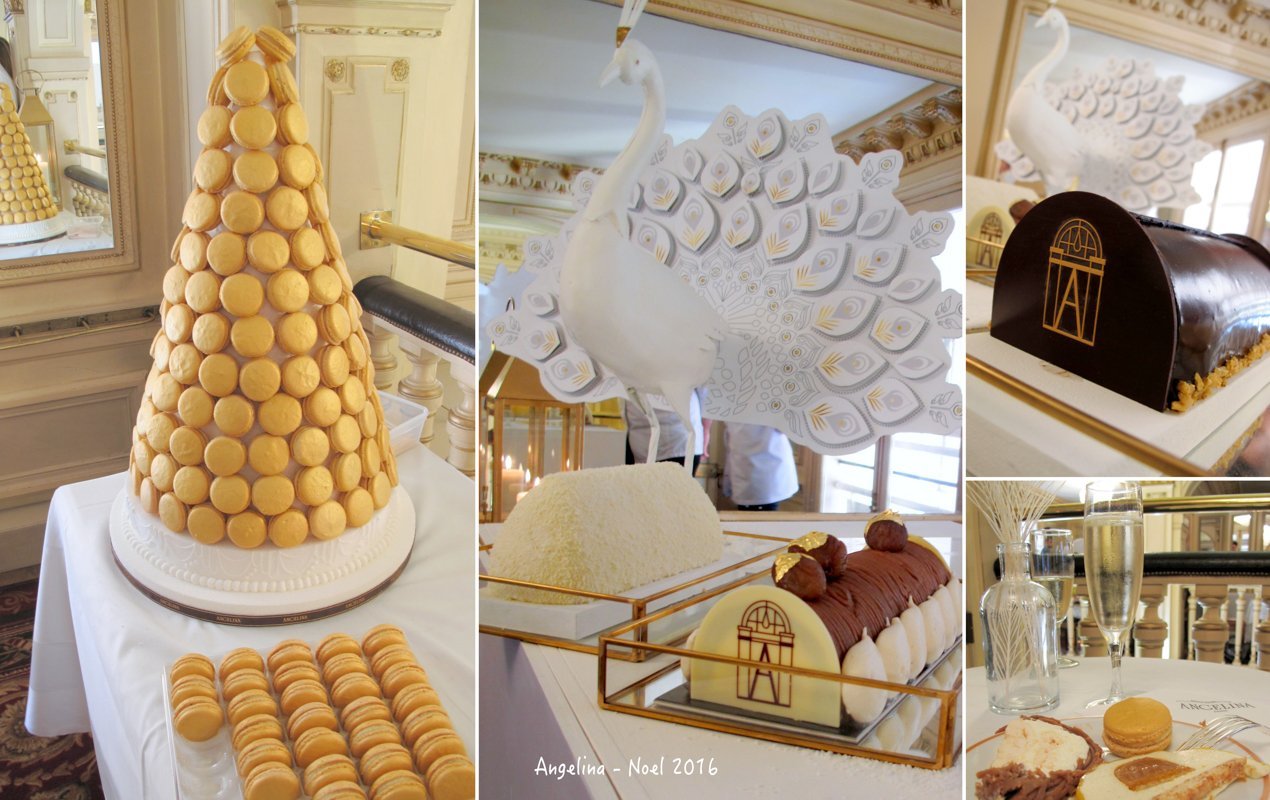 Created for Angelina by head pastry chef, Christophe Appert, the Paon Blanc (white peacock) takes pride of place for this year's festive centerpiece. The rare and beautiful white peacock was particularly chosen as an artistic symbol of the Belle Èpoque era, echoing the style of the famous tearoom in Rue de Rivoli since 1903.
The Paon Blanc is sheer elegance on a plate, fanning out delicate notes of the exotic with passion fruit, mango and orange between layers of joconde sponge, with a light coating of white chocolate and coconut. My favourite touch is the addition of a lemon-lime cream, which gives a surprising zing alongside the surrounding airy vanilla mousse. It's as light as the peacock's feathers – always appreciated after a festive meal – and its restrained use of pure sugar encourages the delicate fruity notes and white chocolate to shine through.
Three more of their classic yule logs are also available, including their iconic Mont-Blanc, Choco Intense, and the Tentation Passion. Fans of Angelina's famous African Hot Chocolate will love the new festive spiced edition with cinnamon.
For macaron lovers, enjoy far-from-plain vanilla, covered in powdered gold. And, keeping with tradition, a lovely touch is their advent calendar filled with various chocolate treats.
All these holiday specials are available now at Angelina.
Angelina
Rue de Rivoli, 75001 Paris
Metro Tuileries (line 1) and Concorde (line 1, 8 & 12)
Pascal Caffet
Known amongst his peers as the King of Praline, Pascal Caffet (Meilleur Ouvrier de France, or MOF) has spoiled us this holiday season since his festive collection is entirely based on his winning praline theme.
The new sublime Bûche Féérique (Enchanting Yule Log) is indeed magical with layered waves of intense praline, a perfectly balanced compote of blackcurrant from Burgundy and smooth chestnut from Naples, topped with a Madagascan vanilla mousse then glazed with blackcurrant. Personally, this was one of my favourites, as the play of textures with the chestnut and fruit are all harmoniously dosed so that every layer's flavors shine through; the blackcurrant gives that acidic depth, and the whole sensation is surprisingly light.
Four of his other classic yule logs feature 70% dark chocolate: from Venezuela (Etincellante, Merveilleuse), Guatemala (Splendide), and 40% milk chocolate with lime, caramel, and hazelnut praline (Lumineuse). The cherry on top of it all is Caffet's Spiced Christmas cake; It's syrupy and moist with star anise, cinnamon, orange and candied Corsican clementines.
The Pascal Caffet Christmas collection is available now.
Pascal Caffet
13 Rue Duban, 75016 Paris
Metro: La Muette (line 9)
Jean-Paul Hévin
Thank Hévin for chocolate! This year Jean-Paul Hévin's festive collection is created around the French Touch theme with not one but FOUR new bûches which represent creativity, joie de vivre, fashion and style.
Creativity is given to his personal favourite Bûche Rêve – with dreams of a child being able to reach for the moon at Christmas. It's the most complex: an orange crème brûlée is subtle but just enough to distinguish some balancing acidity and I love the texture with the crunchy almond chocolate base. Although candied ginger is in there, it's just a suggestive hint, all billowing around a Brazilian Grand Cru chocolate mousse.
The festive Bûche Cancan represents the French Joie de Vivre party spirit. Like the Cancan dancers, the Tonka base has an exciting crunch, topped with frilly layers of chocolate and almond sponge, with a gutsy Peruvian Grand Cru chocolate mousse. A suggestive dark cherry jelly adds a subtle lingering aftertaste.
Hévin (also a MOF) has always had an element of la mode in his chocolate and this Bûche Fashion firmly puts it in the bag, as the saying goes (same in French: "l'affaire est dans le sac"). Not quite a "trunk", this is a compact handbag for any chocoholic who appreciates a pure intense Venezuelan chocolate sensation.
Be transported to the regal gardens of Versailles with the Bûche Grand Style, especially designed to be easily transportable abroad for any stylish party, even if it's next day to the USA. Based around a chocolate mousse (Grand Cru from the Equator), its subtle aftertaste brings out the pistachio in the chocolate gianduja base.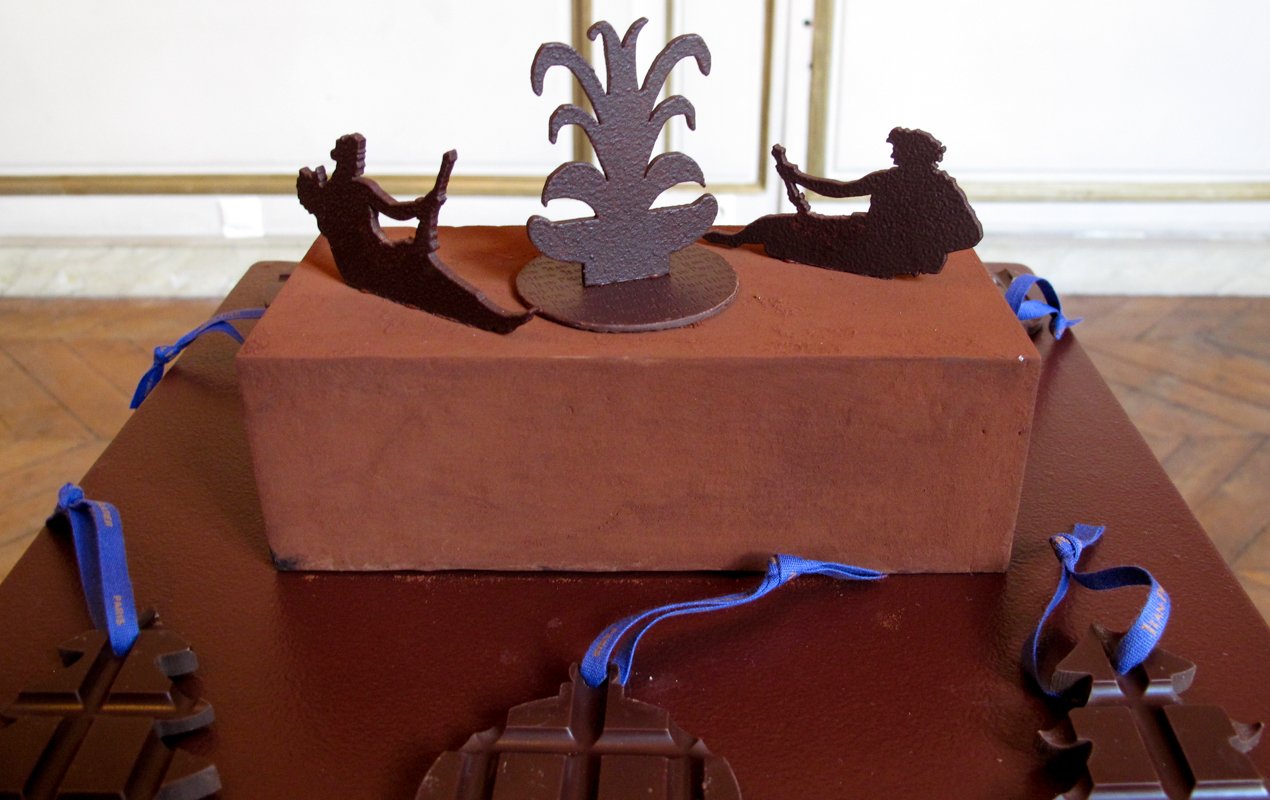 His French Touch continues with humour, demonstrated by a table centre-piece chocolate candle; Bordeaux chocolates showing off le terroir (soil, climate etc. that distinguishes chocolate like wine) with a Grand Cru from the Equator plus the same chocolate is highlighted in a new festive macaron range around the French tradition of the sporting cockerel mascot, known as Cocorico – Cock-a-doodle-do!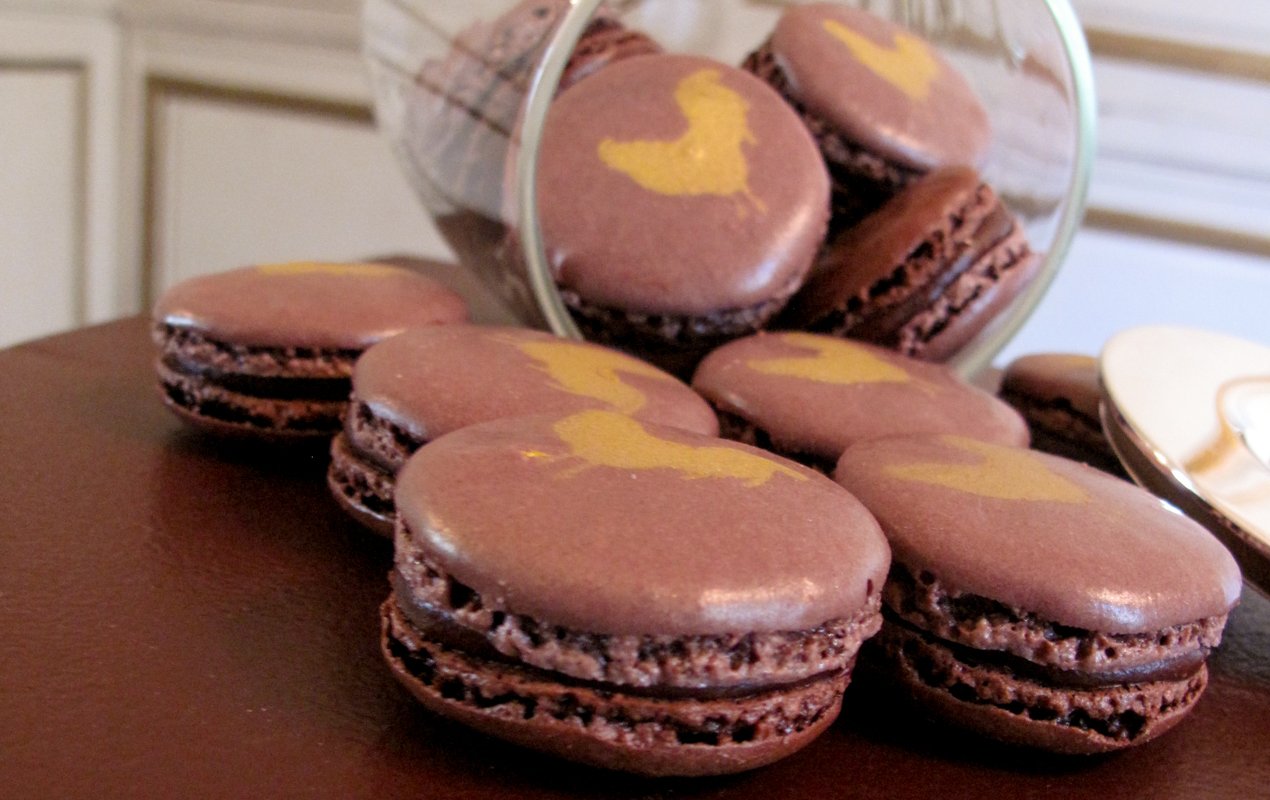 The festive French Touch collection is available from 6 December.
Jean-Paul Hévin
231 rue Saint-Honoré 75001 Paris
Metro Tuileries (line 1) and Concorde (line 1, 8 & 12)
Foucade Paris (Gluten Free)
Clients at le Bristol in Paris will no doubt see Foucade's founder, Marjorie Fourcade's propositions on the dessert menu for a gourmet take on "positive pastries." Both Marjorie and her pastry chef, Saori Odoi (previously from Fauchon and Angelina) are on a positive mission to create pâtisseries that are not just gluten free, but are also low in sugar (unrefined) or dairy free (sans lactose). Gourmets with food allergies will appreciate corresponding ingredient cards to reveal the ingredients behind each pastry plus bonus information such as vitamin intake and calorie count.
Two new yule logs are in the spotlight this season, particularly low in sugar and perfect for anyone watching their diet and refuses to forego gourmet sensations over the holiday season:
The Raw Chocolate Bûche packs a natural dark chocolate punch for the chocolate lover and a generous filling of poached pear is infused with a most subtle hint of Canadian pine.
La Bûche Coco Exotique will delight anyone who is looking for that fresh and zingy fruity finale. Mandarin is the star of the show here along with passion fruit and mango, encased in an airy coconut mousse.
The festive collection – including gingerbread men and other Foucadises – is available as of 15 December. Gingerbread and chestnut cakes (dairy free) are available now.
Foucade Salon de Thé
17 rue Duphot, 75001 Paris
Tel: 01-42 36 11 81
Metro Madeleine (lines 8, 12 & 14)
Christophe Roussel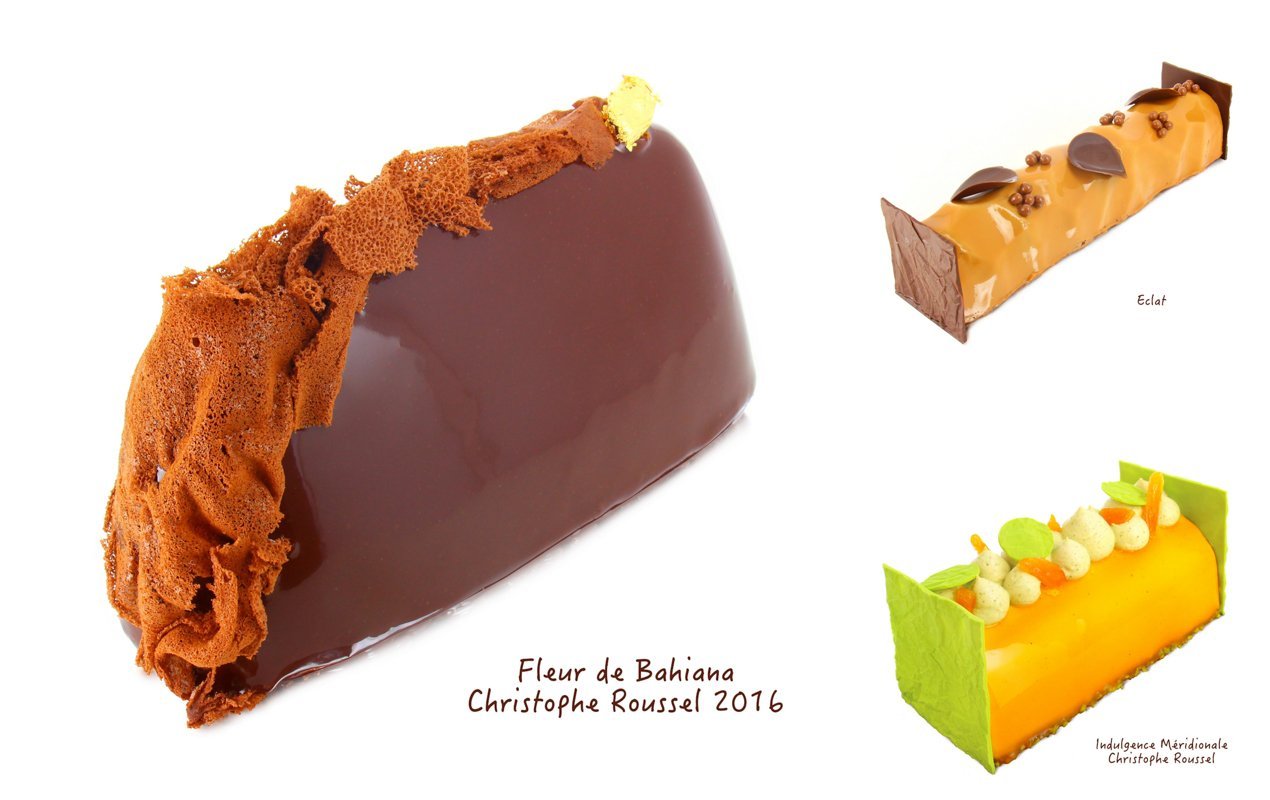 Presented as part of the prestigious Relais & Desserts group, Christophe Roussel again demonstrates why he's classed as one the Top Five French chocolatiers by Gault Millau with his new signature bûche for 2016. The Fleur de Bahiana features his new exclusive 69% dark chocolate, Bahiana® from the Pétrolina cacao family plantation in Brazil. Intense in chocolate with floral and fruity notes, it's comfortably warm, almost like tasting a chocolate-vanilla pastry version of a velvety hot chocolate, with added playful textures. To top it, it isn't overly rich.
Other exquisite yule logs feature alongside, such as his Exotic Iceberg (mango, Tahitian vanilla); Meridional Indulgence (nougat, apricot, pistachio with local honey from La Baule by Alain Rey); and Éclat (for serious salted caramel and chocolate fans) which comes with a decorating kit complete with a salted caramel sauce.
Various chocolate Christmas figurines also present his exclusive Bahiana® chocolate – choose from festive sleighs, Christmas trees, raindeer, penguins, and his famous innovative "kisses".
Although based in La Baule in western France, yule logs can be ordered via the Paris boutique in Montmartre and are available as of 23 December.
Christophe Roussel – duo Créatif avec Julie
5 Rue Tardieu, 75018 Paris
Tel: 01 42 58 91 01
Metro Abbesses (line 12)
(Image Credits: Jill Colonna.)