We hope you enjoyed an excellent holiday season, just as our family did! We had a wonderful time in New York visiting our kids Olivier and Alexia who are both living on the east coast. Getting together with family provides wonderful opportunities to take on fun little projects: some people like to do jigsaw puzzles or play board games, but considering my love of food and desserts, I prefer to bake!
My son Olivier loves gingerbread, so I made a few batches of those without any baking mishaps. Alexia on the other hand, was dying for the taste of Pierre Hermé's famous Mogador macaron flavor: an incredible mixture of passion fruit and milk chocolate ganache. The problem was that French macarons are notoriously difficult to get right, especially if you're accuracy-challenged like me! I often can't be bothered with precise measurements, and sometimes if I can't find the exact ingredient, I just wing it and hope for the best!
Well, I'm here to tell you, that you can't "wing it" with French macarons, or else you'll end up with something like this:
Years ago, Alexia was my partner in a hilarious attempt at making macarons the first time, and we still hear about it from readers! Check out the blog post here. She was much calmer then I was at managing the complex steps.
I was hoping this second time around would be better, but … I'll let you be the judge. All I can say is that I really tried my hardest! Here are the results, my flat macarons vs. Alexia's almost perfect ones.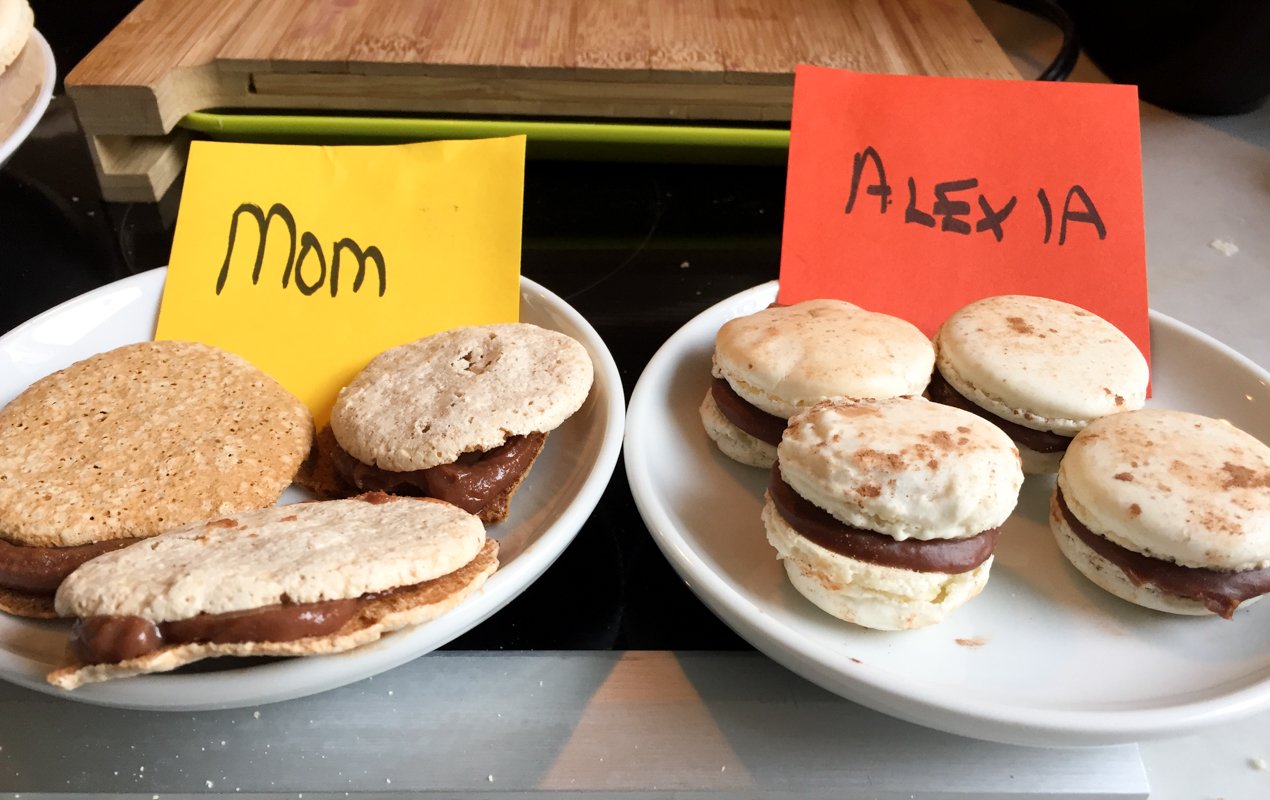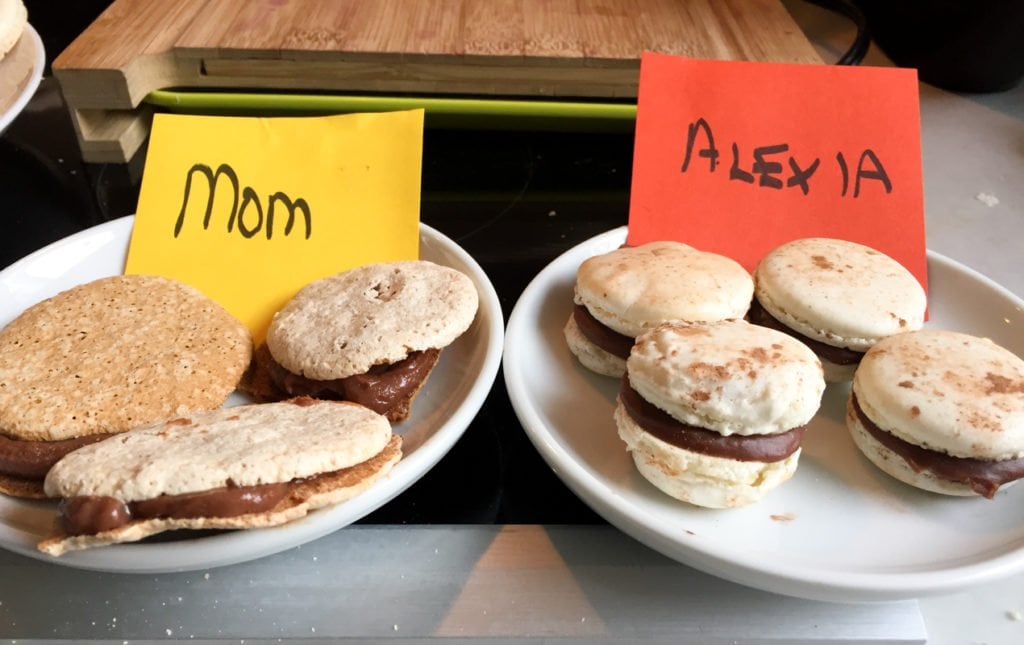 Here's What I Learned:
You cannot use less sugar than the recipe states in order to lower the calorie count.
You must use an electric mixer or whisk to whip egg whites, NOT a blender or Thermomix (more on the Thermomix later).
I've learned that the Italian method of making meringue, which Pierre Hermé recommends, is the only way to go.
I learned you must sift the almond powder-sugar mixture to truly incorporate them, not just whip in a blender.
Go get a real pastry bag and icing tip to shape the macaron shells. DON'T try to be inventive by cutting off the corner of a ziplock bag!!
Even if your macarons are misshapen or too flat, they still taste good!
Making macarons is exacting beyond belief; no wonder people call macarons the most precise baking project ever!
After seeing my disappointing flat macaron shells, I felt like I would never get it right, like I was endlessly climbing Mount Everest, but would never reach the Hillary Steps or the Summit! To make matters worse, I threw out two entire batches of beaten eggwhites because they were too runny, not just one, but two.
This was a first for me, growing up in an Air Force family with 6 girls and military pay, Mom taught us to NEVER waste ingredients. My first cooking lesson was her showing me how to use a spatula to wipe every millimeter of cake batter from the bowl. Well, one chef wrote the egg whites had to be so stiff that you can turn the bowl upside down over your head, and they won't fall out. See my first results below; I thought I'd never get there!
One good thing about us Americans is our persistent optimism, and I truly believe it's one of our most important qualities! We want to learn from our failures and try again. This is not at all like the French way of learning and we see it time and time again: The French – including husband Philippe – are taught that failure is simply unacceptable, in school and business. To take risks and fail is a way of life here in the US, but for the French, failing is worse than never trying at all.
To be fair, Philippe is genetically predisposed to doing things right the first time, which is what made him an excellent surgeon, handpicked for Dr. Alain Carpentier's surgical team, a world-renowned cardiac surgeon.
I gave it the old American try: conducted heavy research, poured over dozens of blogs, tips and information on what can go wrong when you climb the Everest of Macaron baking. I researched why the eggwhites failed in our French Thermomix and I ordered ready-made almond powder rather than making my own. I then found a real kit of icing bag and tips for a bargain price on Amazon and I ordered a thermometer so we could get the Italian meringue sugar mixture to the exact 118 degrees Celsius!
Well friends, after many adjustments, we succeeded! The trick was simple: let 21-year-old Alexia take over and demote me to sous-chef and dish washer. She measured to the actual gram, she insisted on store-bought powdered sugar and almond flour, not my thermomix/blender attempts to grind my own almonds. Much to my chagrin, she threw out any meringues that did not conform perfectly to the instructions. Whew, did we go through tons of egg whites! But you know what? Some wasted egg whites are a small price to pay for the feeling of accomplishment we had after we were done!
Look at this beautiful meringue! Finally some stiff peaks! Look at the amazing satin ribbon texture as the merignue is poured!
And finally, check out these fabulously shaped macarons. They even had the famous "feet"—not all of them, but enough to call it a victory climb!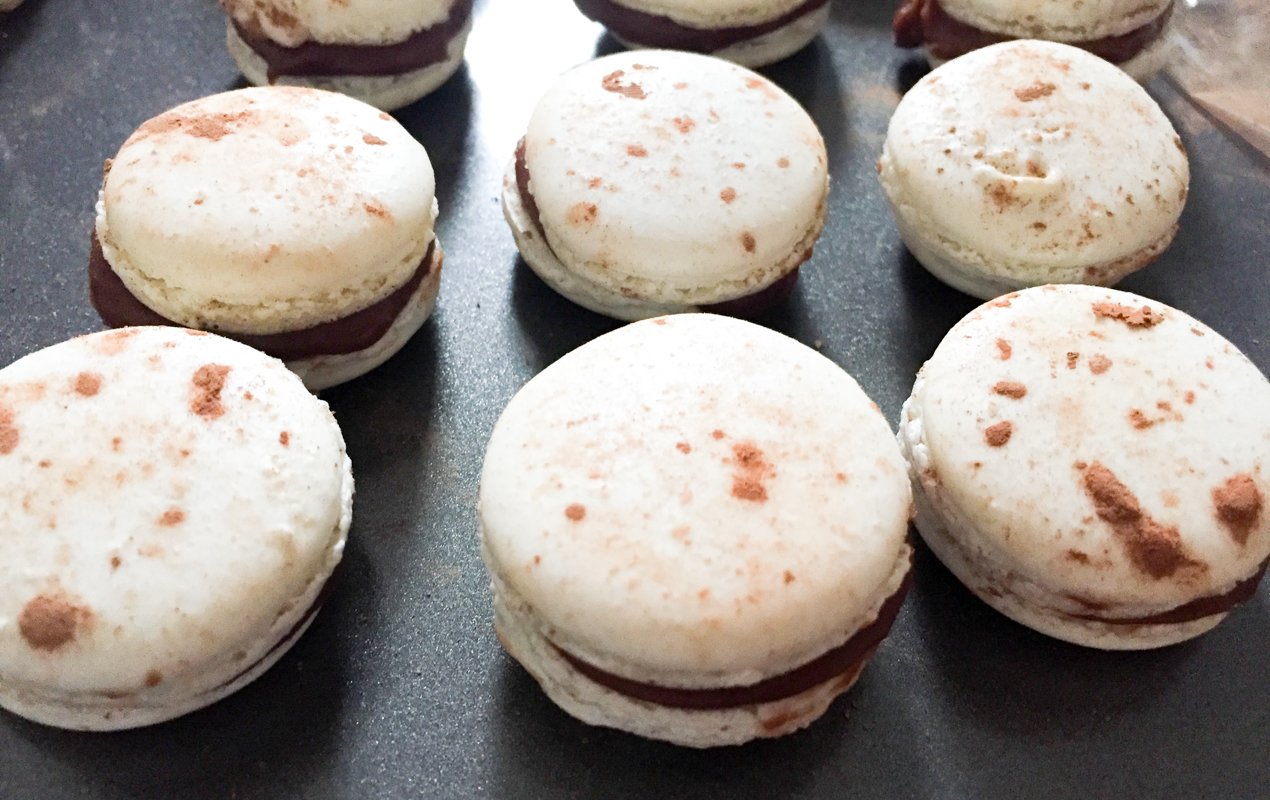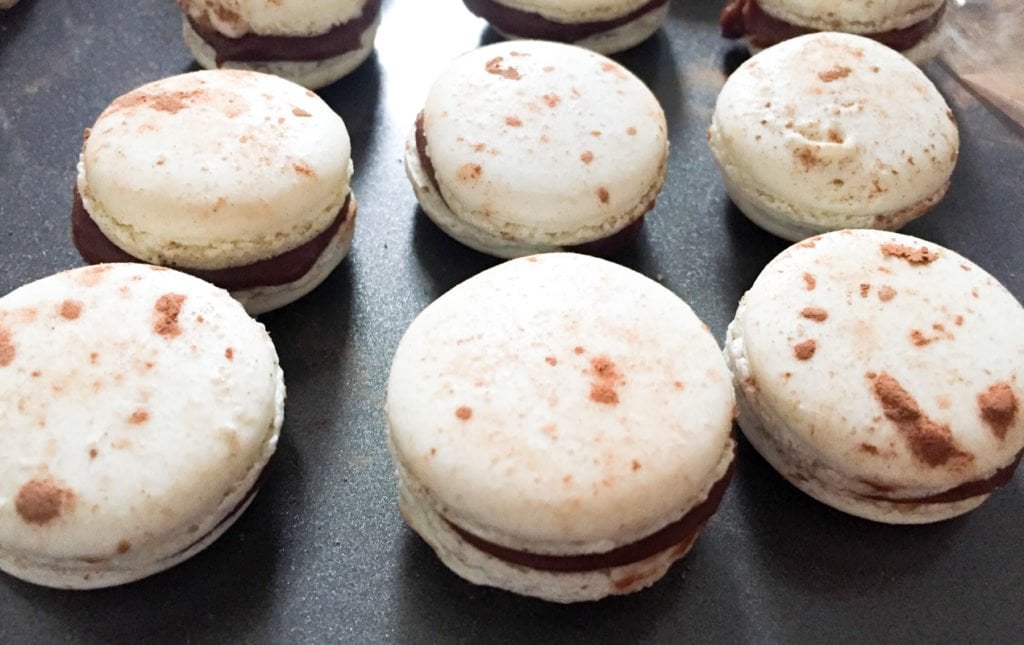 The last thing was the ganache, and comparatively, it was a piece of cake, and I've got a great tip. Passion fruit is hard to find in NYC and if you do manage to, it is expensive! So I ordered concentrated passion fruit juice on Amazon and it was excellent. My family loves the really tart taste blended with milk chocolate so we didn't even dilute the juice when we added it to the mix.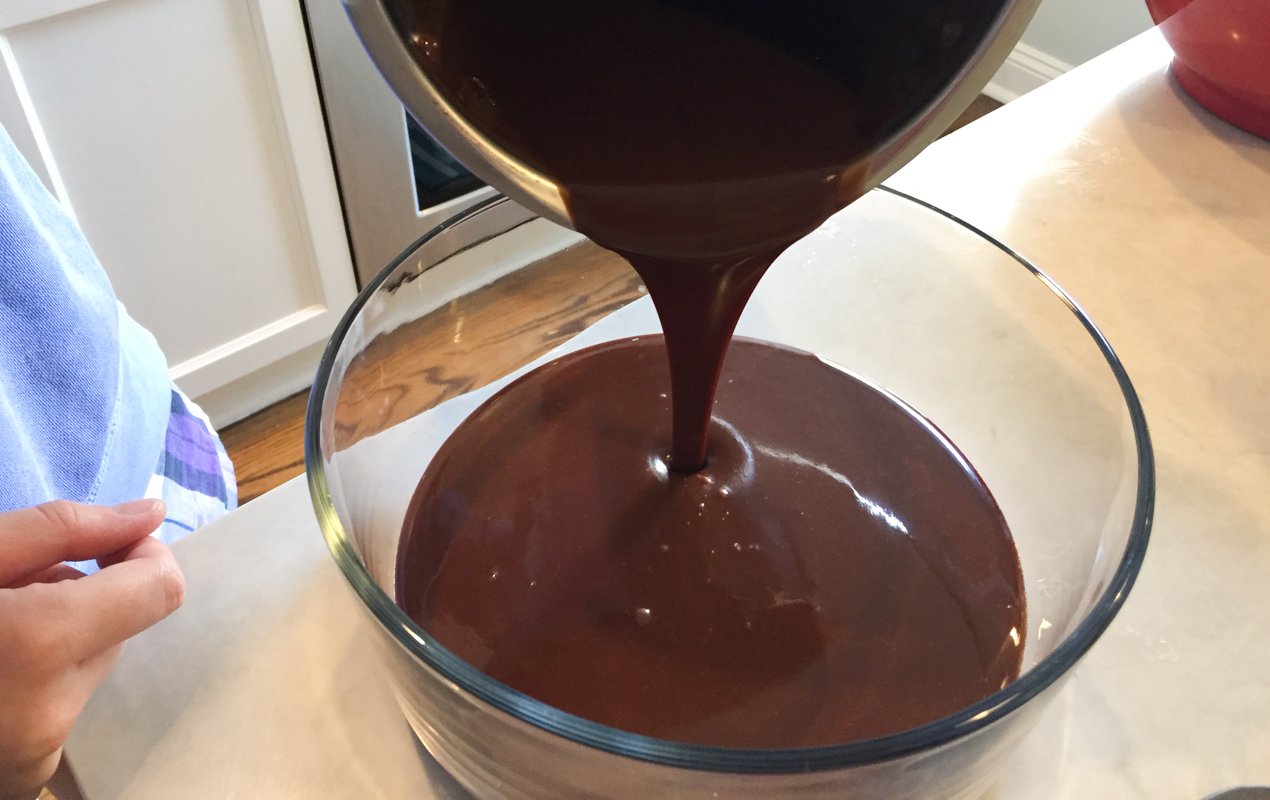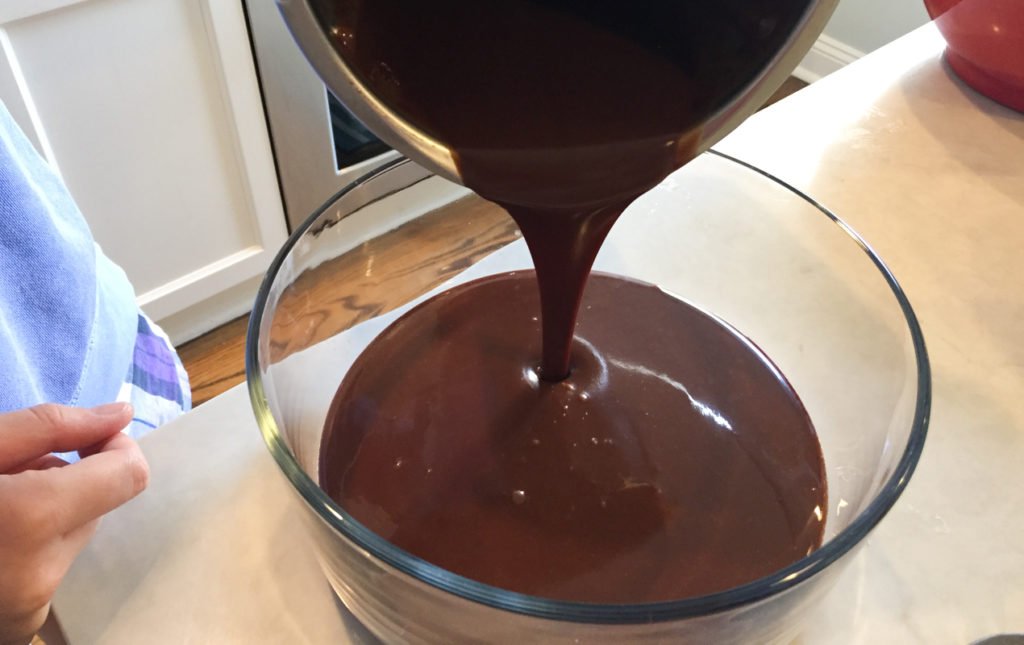 Have you ever tried to make French macarons from scratch? Unless you're a baking God or Goddess, you probably made at least one mistake, but as long as you remember that the the climb is just as valuable as the summit, then you can call it a win!
If you'd like to recreate your own Pierre Hermé inspired Mogador macarons, here are some links to three of the recipes we consulted as we were baking:
Mogador Macaron Recipe from Honest Cooking – Easy-to-print and follow recipe for the famous Mogador filling
Guide to French Macarons by Sally's Baking Addiction – Great ingredient approximations in cups and teaspoons if you don't have a scale.