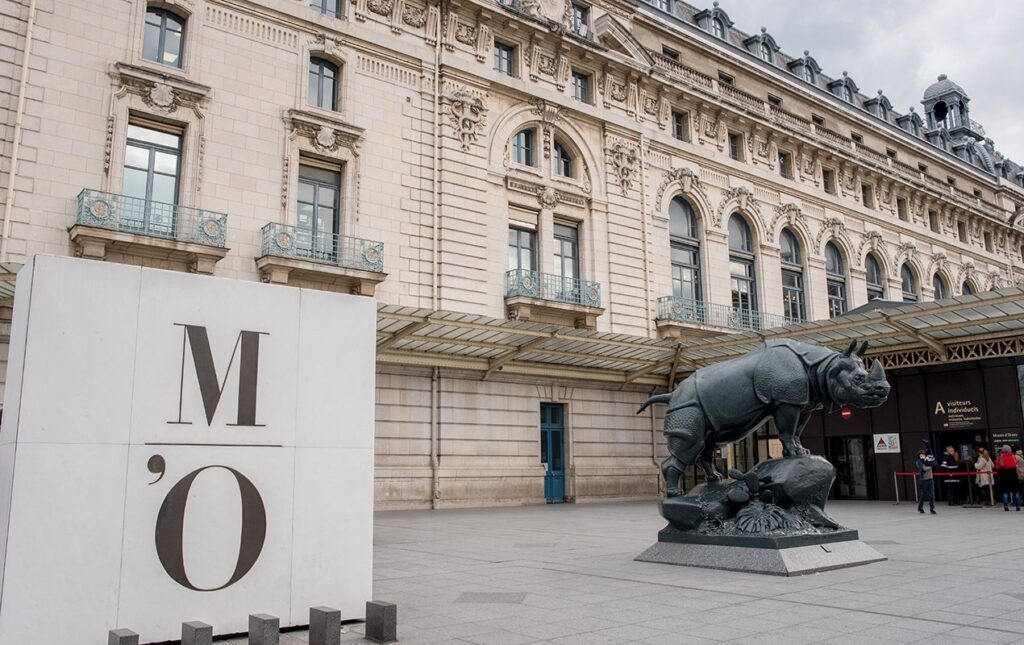 With the new year, a whole new batch of inspiring art exhibitions opens up in Paris. From fascinating, in-depth investigations into mirrors and royal parties, to never-before-seen showings of exclusive private collections, as well as major artist retrospectives, here are 10 current and upcoming art exhibitions to see in Paris this Winter and Spring, 2017.
At the Musée d'Orsay:
Frédéric Bazille (1841-1870). The Youth of Impressionism.
Showing now – 5 March 2017

Frédéric Bazille's name is often overshadowed by Art History superstars such as Monet, Renoir and Degas, but within the short span of his life (he died in the Franco-Prussian war at the age of 28), he managed to make a unique and valuable contribution to the Impressionist movement. The Musée d'Orsay already has an outstanding collection of Impressionist paintings, so this exhibition is the cherry on top—you get to get a more in-depth view of a single artist.
Beyond Stars. The Mystical Landscape
Showing from 14 March – 25 June 2017
While the Bazille exhibit focuses on a particular artist, Beyond Stars focuses on a particular theme: mystical landscapes in Symbolist painting. Unlike other subjects, landscape has always allowed artists to explore bigger ideas: the sublime beauty and power of nature, the contrast between the little man and the infinite universe, etc. Think of Van Gogh's Starry Night, for instance. It isn't just a painting of the night sky, it's a representation of real human emotion and a certain outlook on the world. This exhibition explores mystical landscapes from Gauguin, Klimt, Munch, Van Gogh and others.
Ticket Price: €12 regular / €9 reduced for ages 18-25 / free for children under 18 (includes entrance to permanent collections and temporary exhibition)
Musée d'Orsay
1 rue de la Legion d'Honneur, 75007 Paris
RER C Musée d'Orsay and metro Solférino (line 12)
Website
At the Louvre:
The Body in Movement, Dance and the Museum
Showing Now – July 3, 2017
This exhibition is being held in the Petite Galerie du Louvre, which is a gallery made with children in mind. It presents artworks in an easier-to-understand way. This collection of works was curated by a dance choreographer, so all works show the ways in which artists tried to capture movement from the ancient world all the way to modern times. I recommend downloading the free app that goes with the exhibition space (simply search for Petite Galerie du Louvre in the App store), for a complete guide to the exhibition, including images with commentary (in English) and a couple of cool 3D models.
Mirrors
Showing now – September 18, 2017
Mirrors are an intriguing subject when it comes to art. They reflect the real world, yet could be seen as containing a kind of parallel universe. They show what's real, but also what's imagined, relfecting a person's appearance but also encouraging self-relection in a psychological sense. This exhibition brings together various works from the 16th century to the present day, all of which feature mirrors in some way.
Ticket Price: €15 (Includes permanent collections and temporary exhibitions)
Le Musée du Louvre
75001 Paris
Palais-Royal Musée du Louvre (lines 1 & 7)
Website
At the Château de Versailles:
Festivities and Entertainment at Court
Showing now – 26 March 2017
Life in the Palace of Versailles was nothing short of opulent, and that included the entertainment. The monarchs of France didn't hesitate to put on the biggest, most lavish events in all of Europe, including dinner parties, balls, musical and theatre performances, light shows and fireworks, to name just a few types of celebration. Using real historical clothing, paintings, drawings and immersive graphics, the exhibition aims to give viewers a real sense of the atmosphere at one of these spectacles, and nowhere could be more appropriate than in the incredible royal Palace of Versailles itself.
Ticket Price:  €15 for the exhibition alone (allows skip-the-line access), or access is included in the price of a regular Château ticket or Passport ticket.
Château de Versailles
Place d'Armes, 78000 Versailles, France
RER C, station Versailles Rive Gauche (detailed directions here)
Website
At the Musée Jacquemart-André:
From Zurbarán to Rothko. Alicia Koplowitz Collection
Showing now – 26 March 2017
Priceless artworks exist in two places: in the hands of museums, where the public can come to admire, or in the hands of private collectors, whose collections are protected and shielded from public view. For the first time ever, one of the most extraordinary private collections will be put on display at the 19th century mansion now known as the Musée Jacquemart André. This collection is owned by a Spanish businesswoman named Alicia Koplowitz, and in the 53 works being shown, you can sense a hint of her sensibilities through the collection she has assembled over the past 30 years. There is a definite focus on portraits of women, and there are lesser-known works by many well known artists (such as Van Gogh, Goya and and Rothko) that have never been shown publicly before. This is an amazing opportunity to lay eyes upon artwork that few people will ever see in their lifetime.
Ticket Price: €13.50, €3 for audioguide
Musée Jacquemart-André
158 Boulevard Haussmann, 75008 Paris
Metro Miromesnil (line 9 & 13)
Website
At the Musée des Arts Décoratifs:
Tenue Correcte Exigée: Quant le Vetement Fait Scandale
Showing now until 23 April 2017
Ticket Price: €11 – €19 (Depending on which ticket bundle you prefer)
Throughout the history of fashion, there have been a number of definitive "moments" that shocked people's sense of what is "proper" or "normal" when it comes to clothing. That includes women in trousers, baggy jeans, men wearing skirts, and even the bikini. This exhibition takes a closer look at the garments that affronted the morals of the day in three themes: Dress Codes, Girl or Boy?, and Provocative Excess. It will make you question the dress codes of today and wonder what the next groundbreaking fashion invention will be.
Musée des Arts décoratifs
107, rue de Rivoli, 75001 Paris
Metro
Website
At the Centre Pompidou:
Cy Twombly
Showing now until 24 April 2017
Cy Twombly is regarded by many Art Historians as one of the most important artists of the second half of the 20th century. This exhibition is a chronological retrospective, showing works from the start of his career in the 1950s, all the way until his last paintings in the 2000s. As an artist, he was very interested in mythology, poetry and ancient history, and many of those themes are referenced in his works. For the average person who hasn't studied art, his works may be seen as completely incomprehensible – just abstract scribbles. But diving deeper into his works and inspirations reveals layers of metaphor and meaning.
Ticket Price: €14 (includes permanent collection)
Centre Pompidou
Place Georges-Pompidou, 75004 Paris
Metro Rambuteau (Line 11) or Hôtel de Ville (Lines 1 & 11)
Website
At the Petit Palais:
From Watteau to David – The Horvitz Collection
Showing from 21 March – 9 July 2017
This exhibition offers viewers the chance to get a behind-the-scenes look at 18th century French painting, focusing primarily on drawings by Watteau, Boucher, Fragonard and David, all huge names in the history of art. During that time, every painting first began with drawn studies, from landscapes to nudes and even fancy decorative ornaments and baby cupids, but this exhibition also features completed paintings so you can see what the drawings eventually transformed into.
Baroque During the Englightenment
Showing from 21 March – 16 July 2017
This exhibition focuses on a rarely-showcased aspect of Baroque painting – works commissioned by churches. If you've ever had the opportunity to visit Baroque cathedrals around Paris, you may have noticed that there's actually a lot of artwork inside, either on the ceilings or in the chapels in the form of canvases or sculptures. Churches were one of the top commissioners of great art, and since the public at large would see these works, not just the extreme upper class, artists took great care to produce high quality work. In conjunction with this exhibition, many artworks that are still inside Baroque churches of Paris have been restored, so you can actually go see them in context.
Ticket Price: €10
Le Petit Palais
Avenue Winston Churchill, 75008 Paris
Metro Champs-Elysées Clemenceau (line 1 & 13)
Website
(Image credits: Top image by Hannah Wilson, others credited in the caption.)