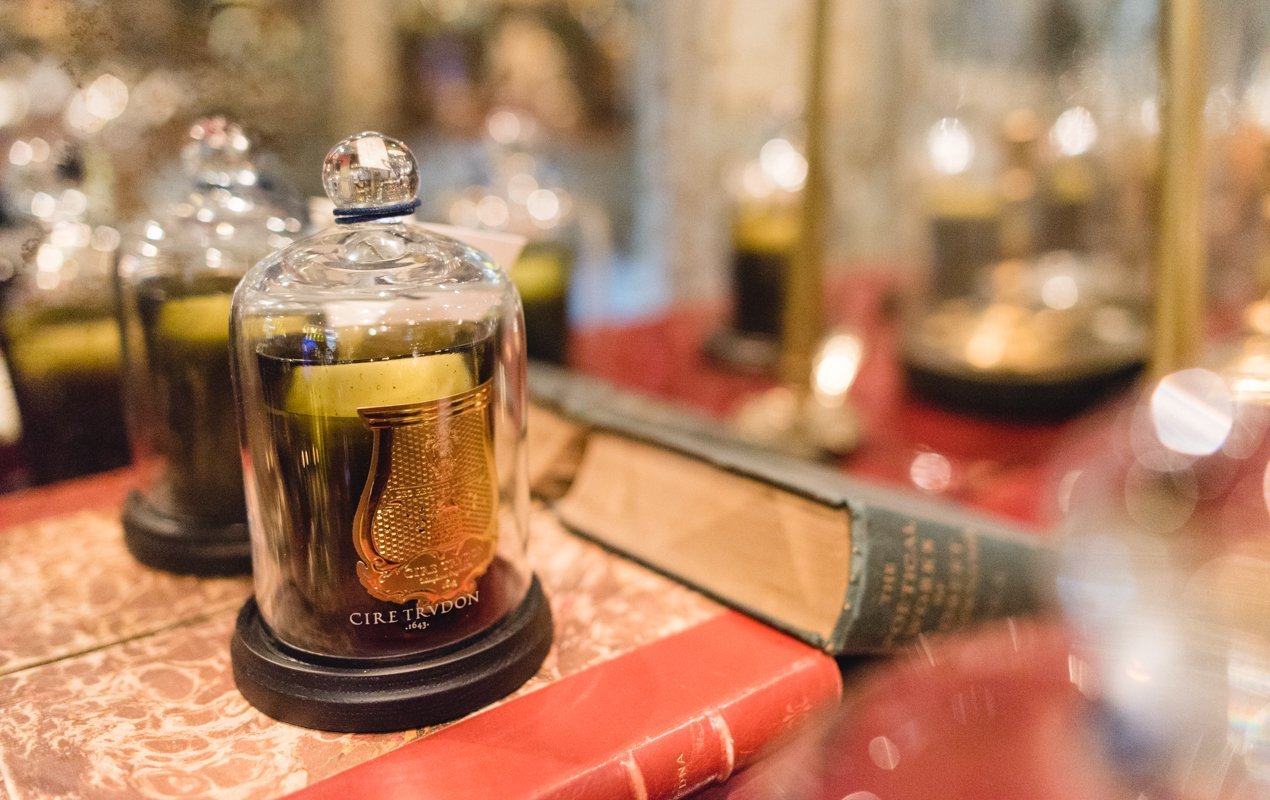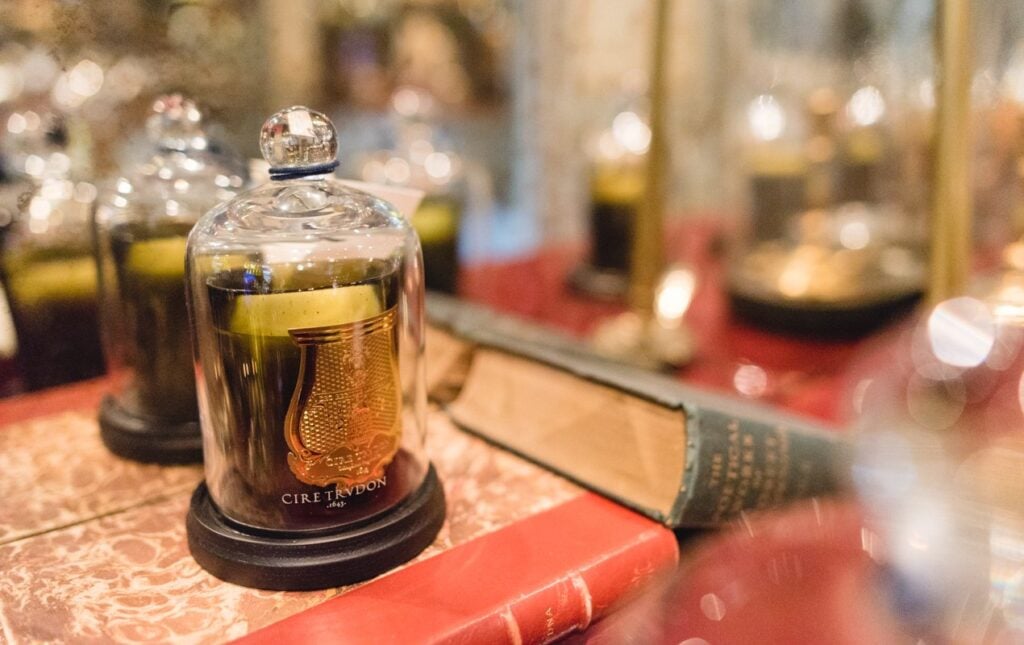 Said to be the oldest surviving candlemaker in France – perhaps even the world – Cire Trudon has survived through the ups and downs of history and lives on to tell the tales of colorful characters who shaped the past. From the products and packaging, to the hand-poured techniques and expressive scents, each candle has its own story to tell.
Cire Trudon began with one man in the year 1643; his name was Claude Trudon and from his boutique on rue Saint Honoré, he operated a grocery and candle business, supplying local homes and parishes with candles during the rein of Louis XIV. A generation later, Trudon's reputation had flourished, supplying candles to the largest cathedrals in Paris as well as to the royal court.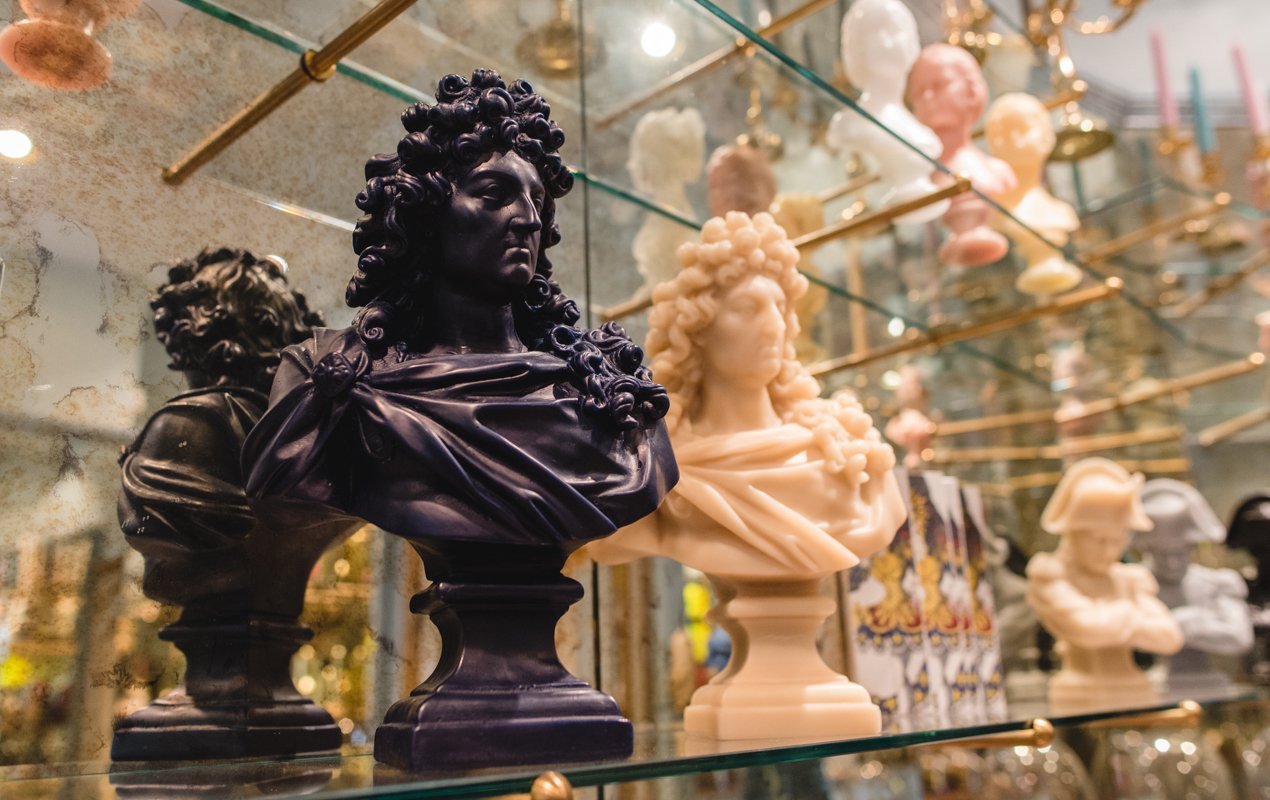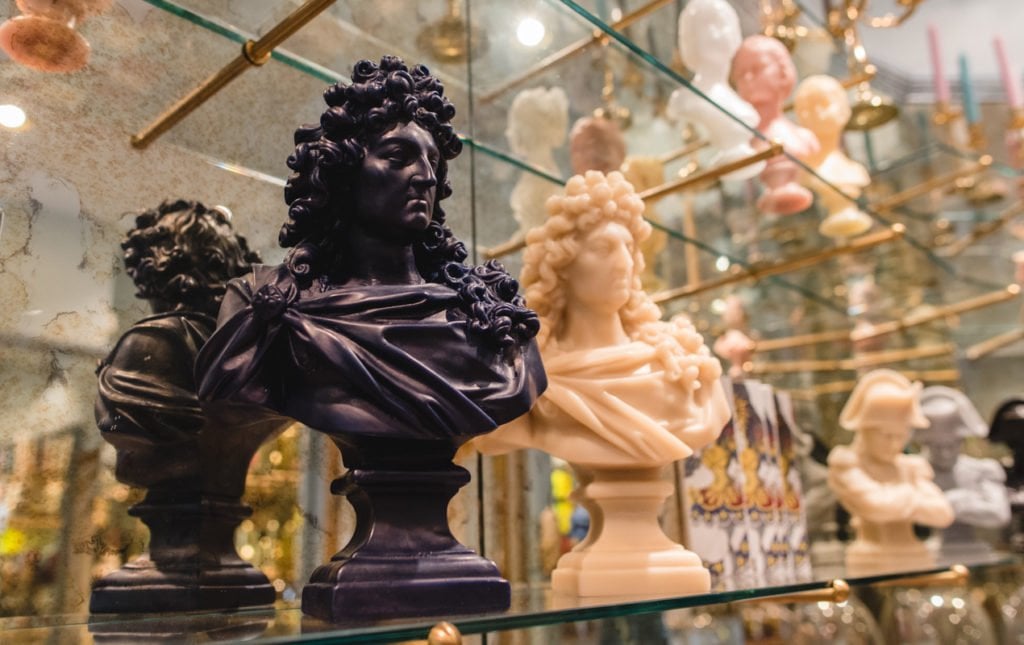 Somewhat surprisingly, Cire Trudon survived the tumultuous French Revolution and continued serving the Imperial court of Napoleon I. In fact, as a birthday gift, the Emperor gave his newborn son a pillar candle adorned with a gold profile medallion, and similar candles are still made by Cire Trudon today. They also make wax busts of famous French figures, Napoleon, Marie Antoinette and Benjamin Franklin, to name a few.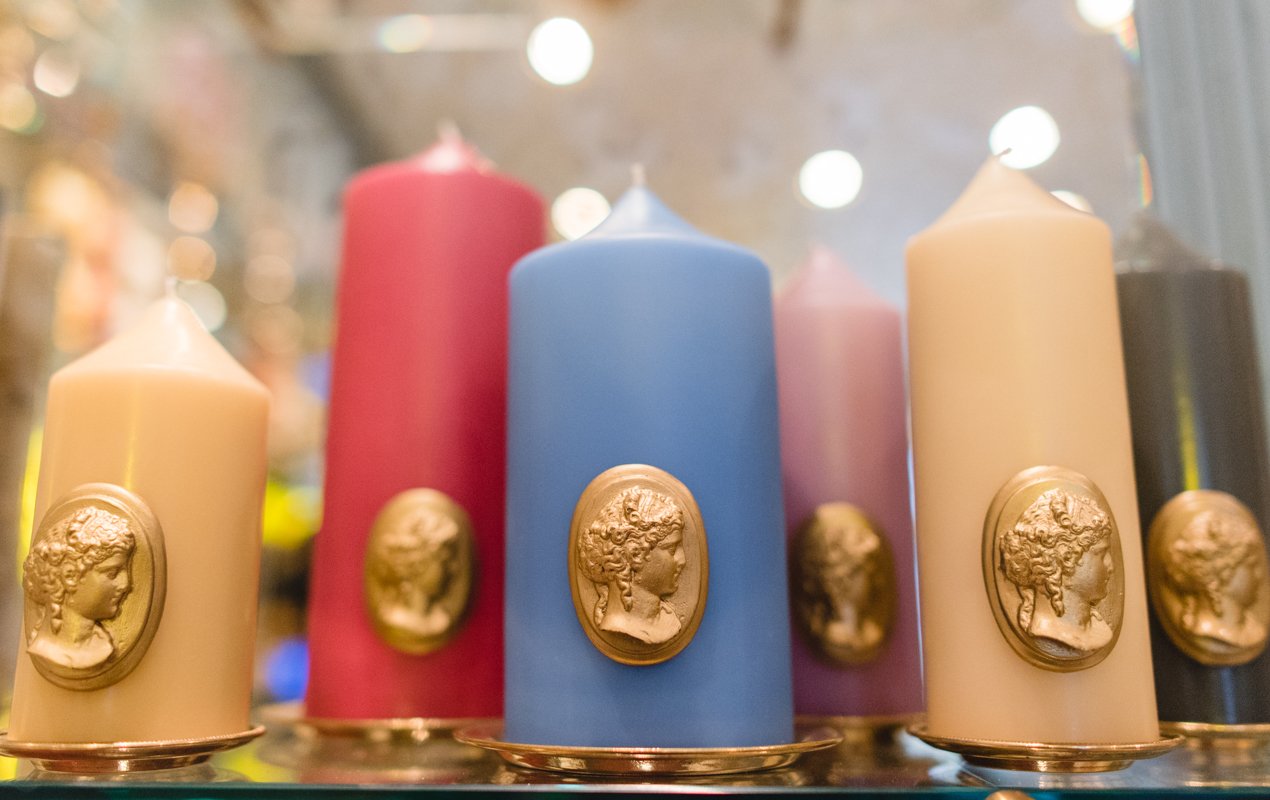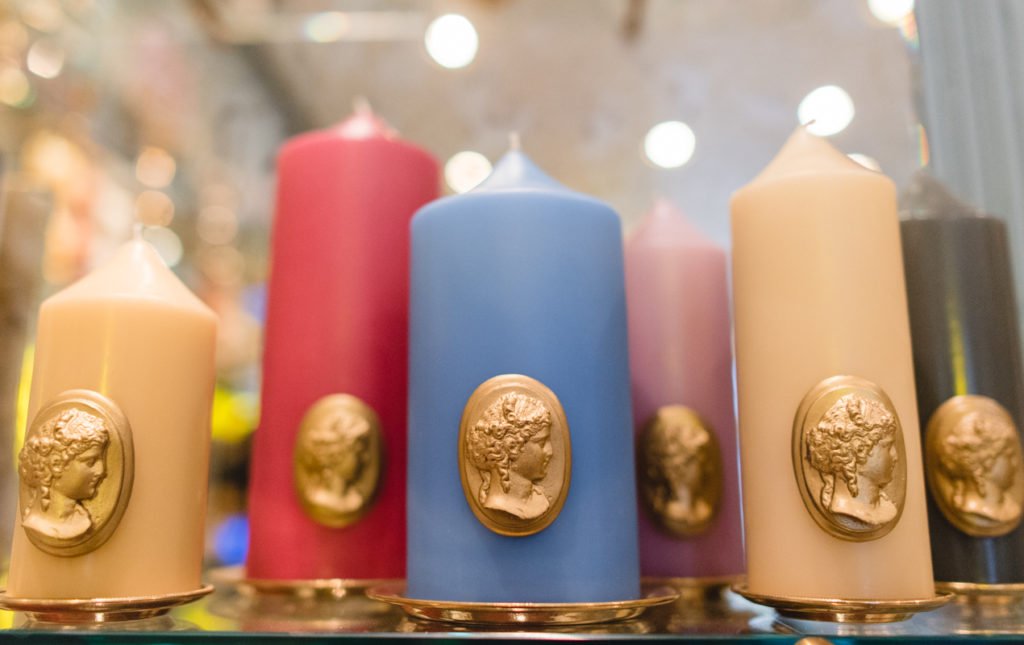 These candles must have been truly special if they managed to stick around through everything the 18th and 19th centuries threw at them: political, economic, moral and industrial revolutions couldn't tear this company down. One reason for that is their superb quality.
Trudon candles are made with the finest quality beeswax that has been filtered, washed and bleached in the sunlight to obtain the clearest white possible. The wax was so pure and the wicks so perfect that Trudon candles never sputtered or produced black smoke. This was very important in the time before electricity, since nobody wanted their rooms filled with smoke or stained with black soot. For massive churches this was especially important – they needed to use a huge number of candles to illuminate the dark, spacious interiors of gothic or baroque cathedrals. In fact, to this day, Cire Trudon's motto is, "Deo Regique Laborant," which means "They work for God and King," referring to the bees who make the wax.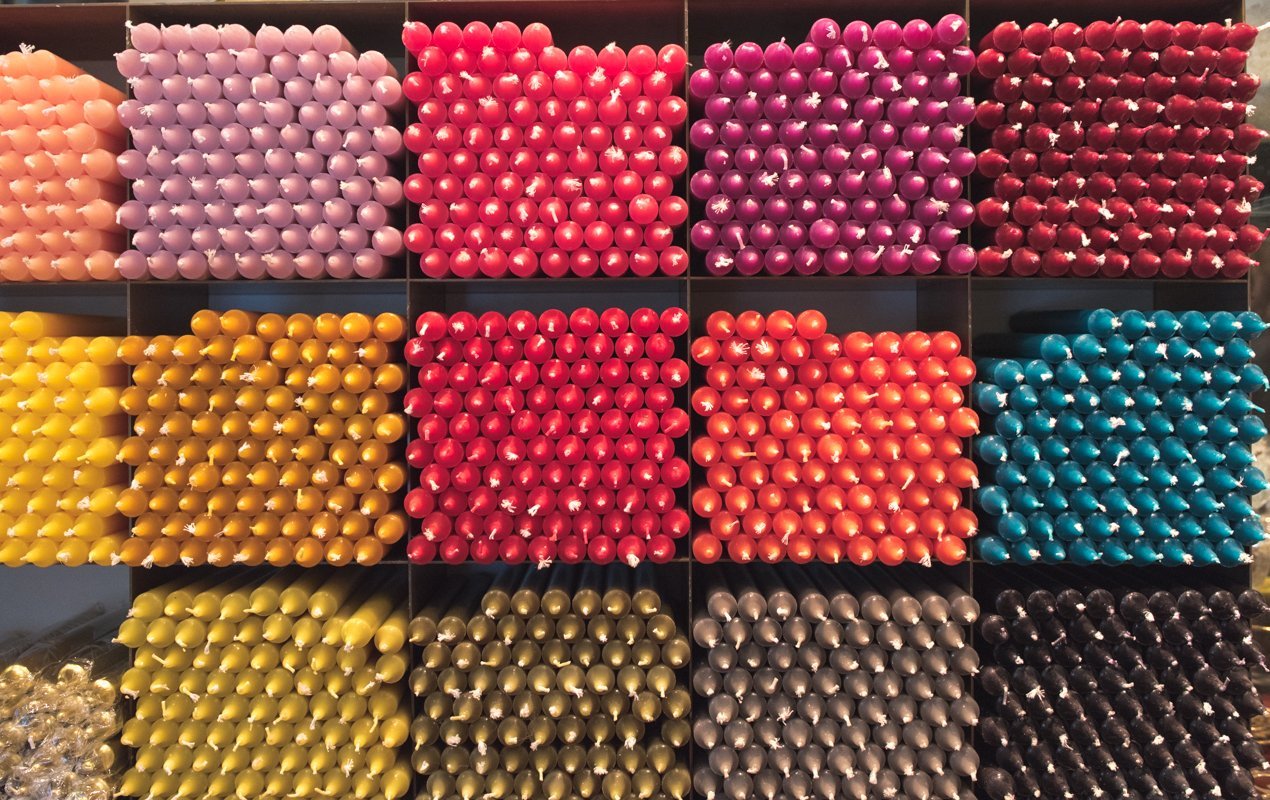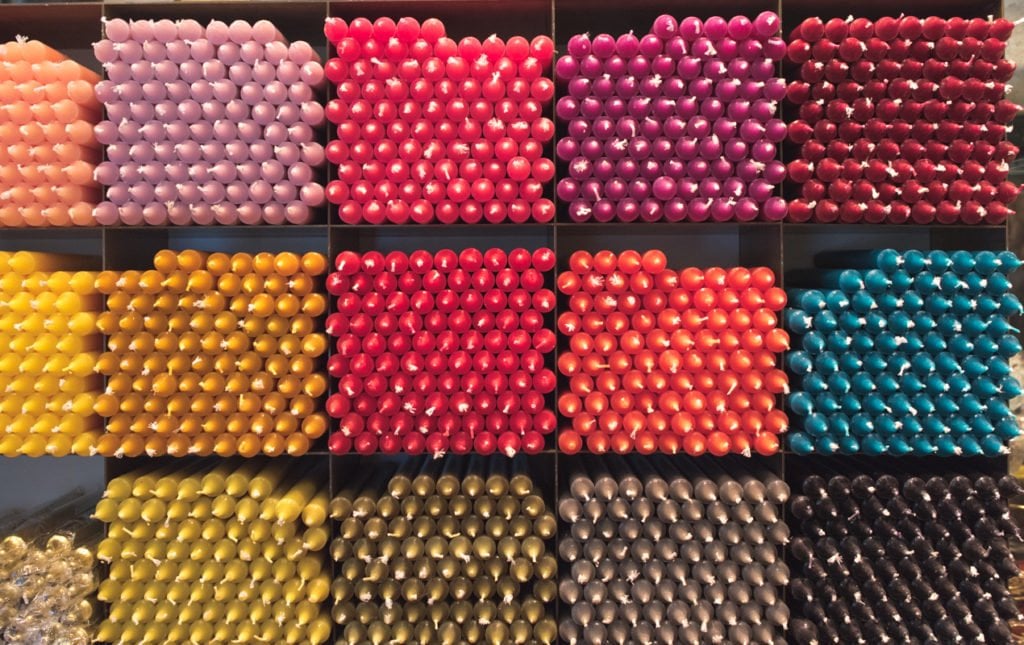 Fast-forward to the 21st century, and the company was officially re-branded as Cire Trudon, specializing in scented candles, or bougies parfumées, in French. Cire Trudon enlists the expertise of well-known "noses" to formulate scents that tell a story, and each candle is still hand-poured to maintain the quality that the company was originally known for back in Claude Trudon's day.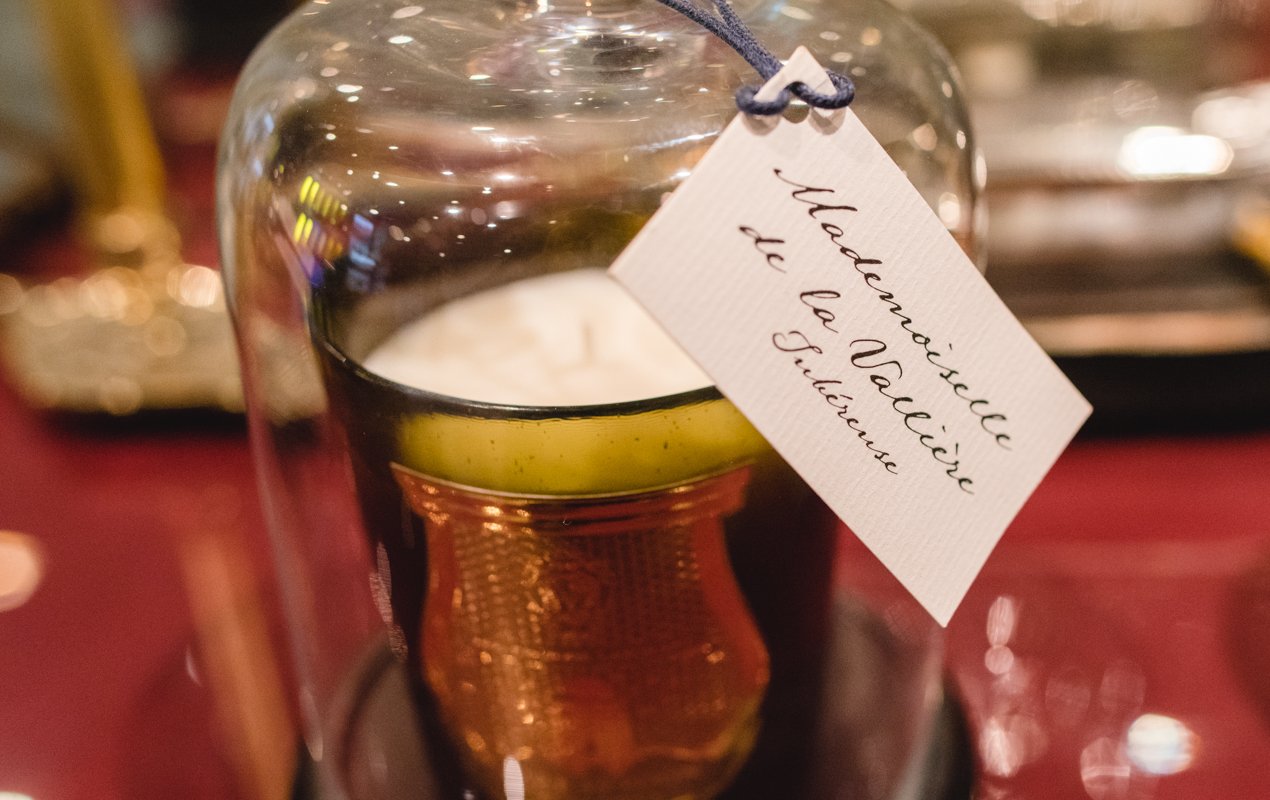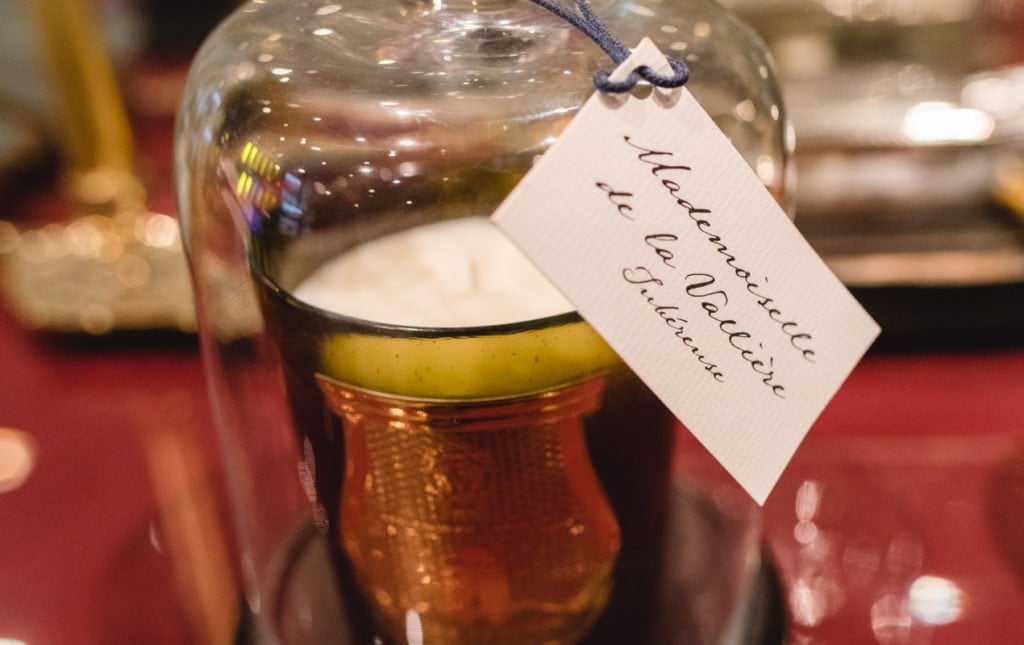 Walk into a Cire Trudon candle shop and you will be enveloped in a lovely scent and charmingly antique décor. The candles are arranged around the shop covered by glass cloche jars – simply lift the glass jar and enjoy the scent. The candle scents are so potent that they linger inside the glass covers.
Each scent is labeled with a hand-written note, and each one has a story to tell, named after famous places or people in history. The Trianon candle brings to life the memory of Marie Antoinette in her mini-palace, nestled in the grounds of Versailles – hyacinth, rose, wild herbs and white flowers mix with a hint of musky warmth like a summer night of rollicking that can only be described by a Rococo painting.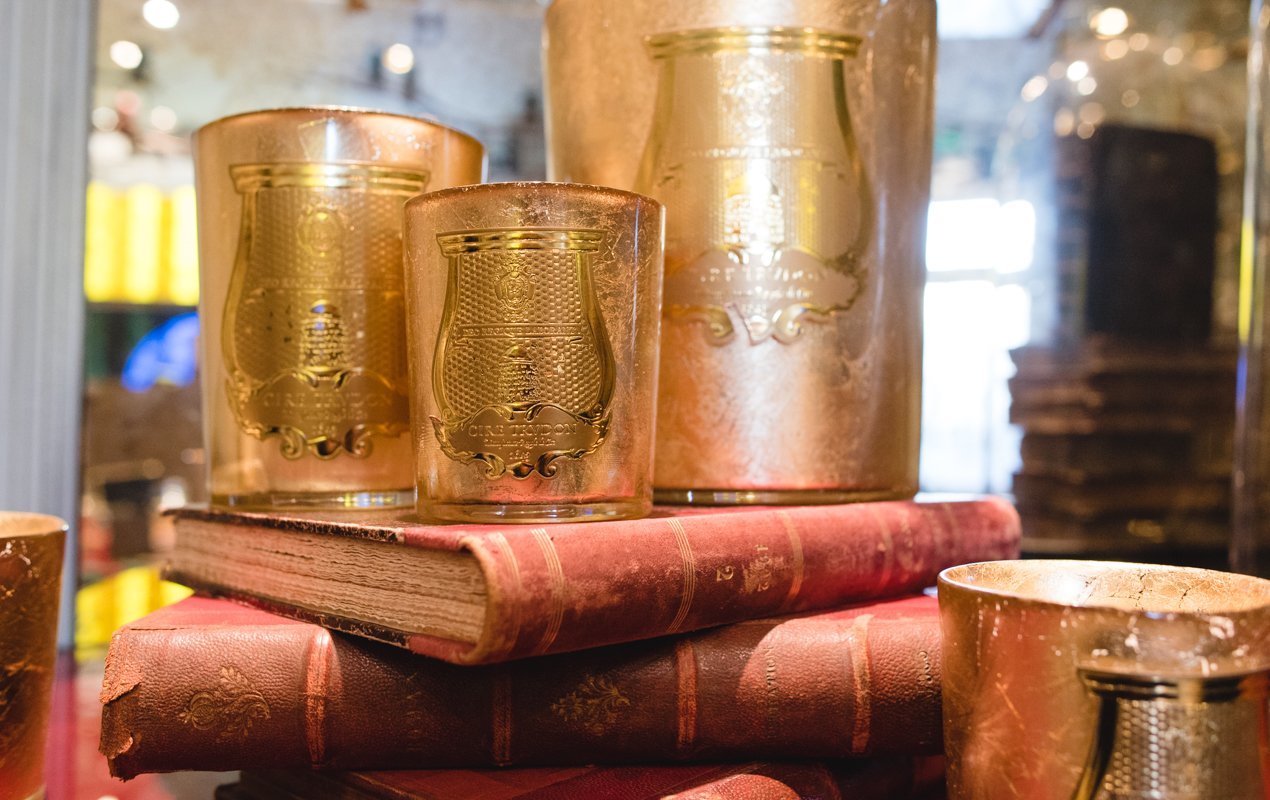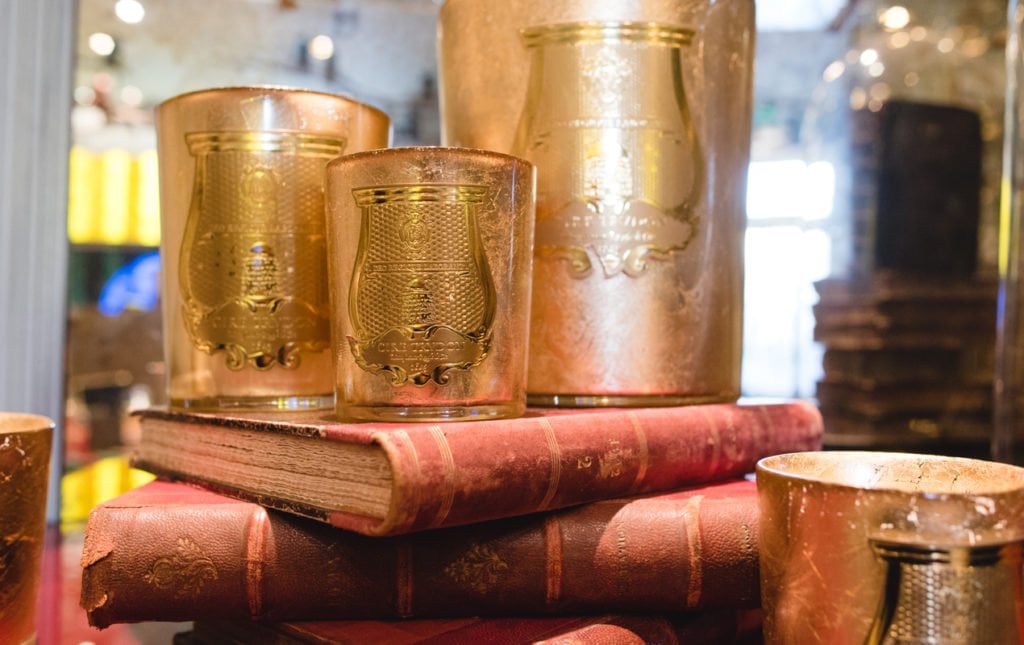 The Ernesto candle smells of tobacco and leather and is named after Ernesto Guevara, better known as Che, the cigar lover and revolutionary from Argentina. The Carmélite candle smells of "old mossy walls" and is dedicated to a 12th century order of nuns, known for contemplation and their teachings on prayer. The Dada candle is a "clever" scent of vetiver, tea and eucalyptus that "confuses the mind," just like the surrealist art movement it was named after.
Every single one of their 32 scents has a fascinating story to tell – you can instantly see the careful thought and attention to detail that was put into every single candle. I highly recommend requesting one of their illustrated catalogs from the shop, the drawings by famed English illustrator Lawrence Mynott are so charming!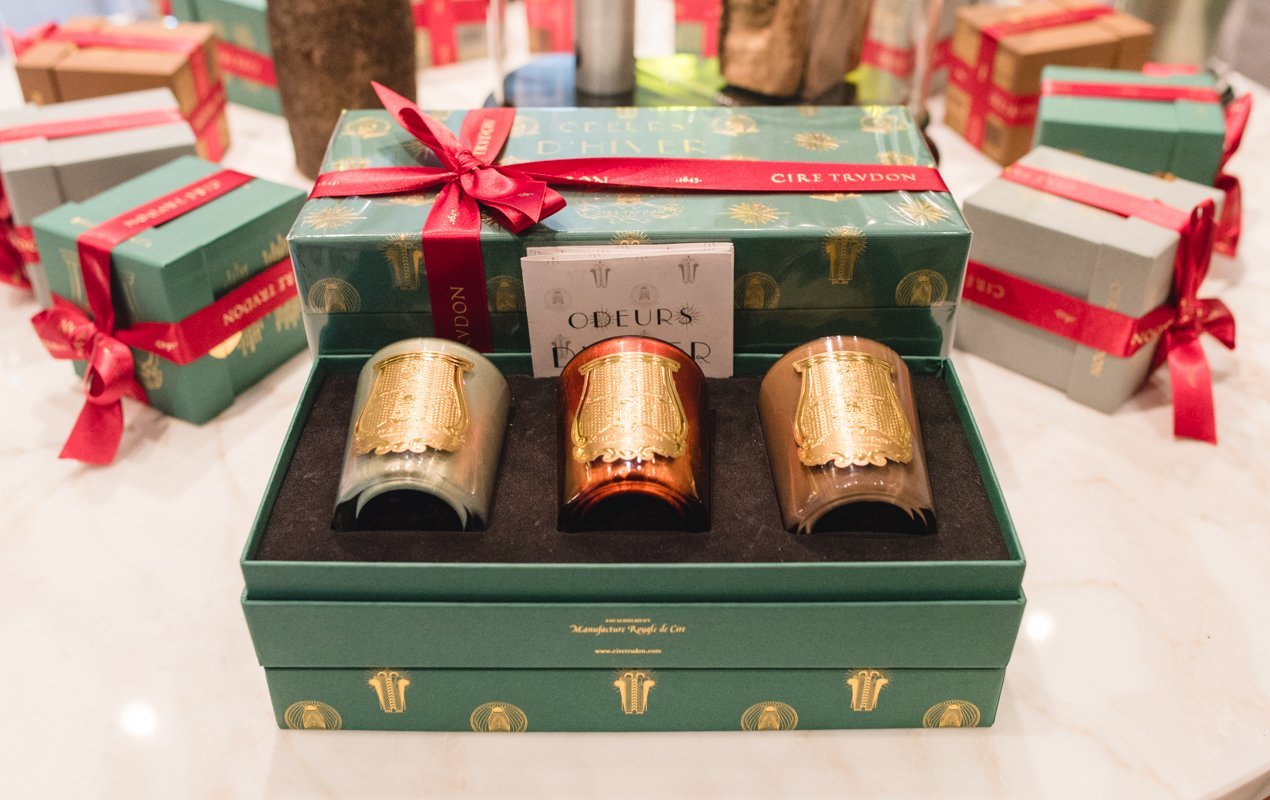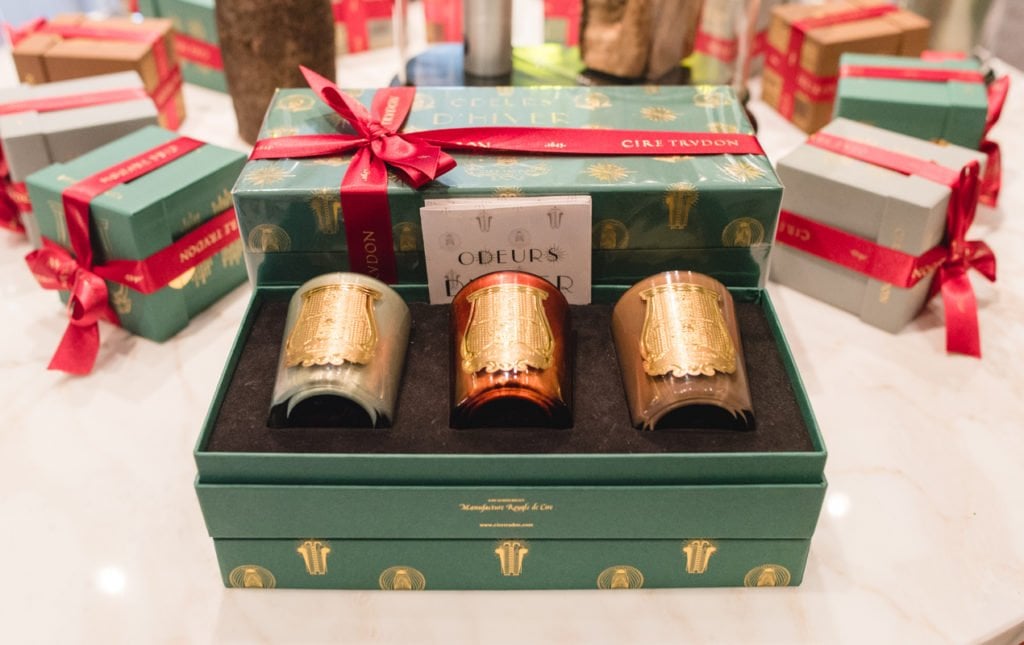 Cire Trudon has two boutiques in Paris, plus a corner in the Bon Marché department store. The boutique featured here is the Right Bank shop, in the heart of the Marais district. It has a very old-world, Versailles-inspired interior, with antique books, mercury mirrors covering all the walls, and a faded blue wall color that feels very French. The boutique near Saint Sulpice church is a bit sleeker and a hint more modern.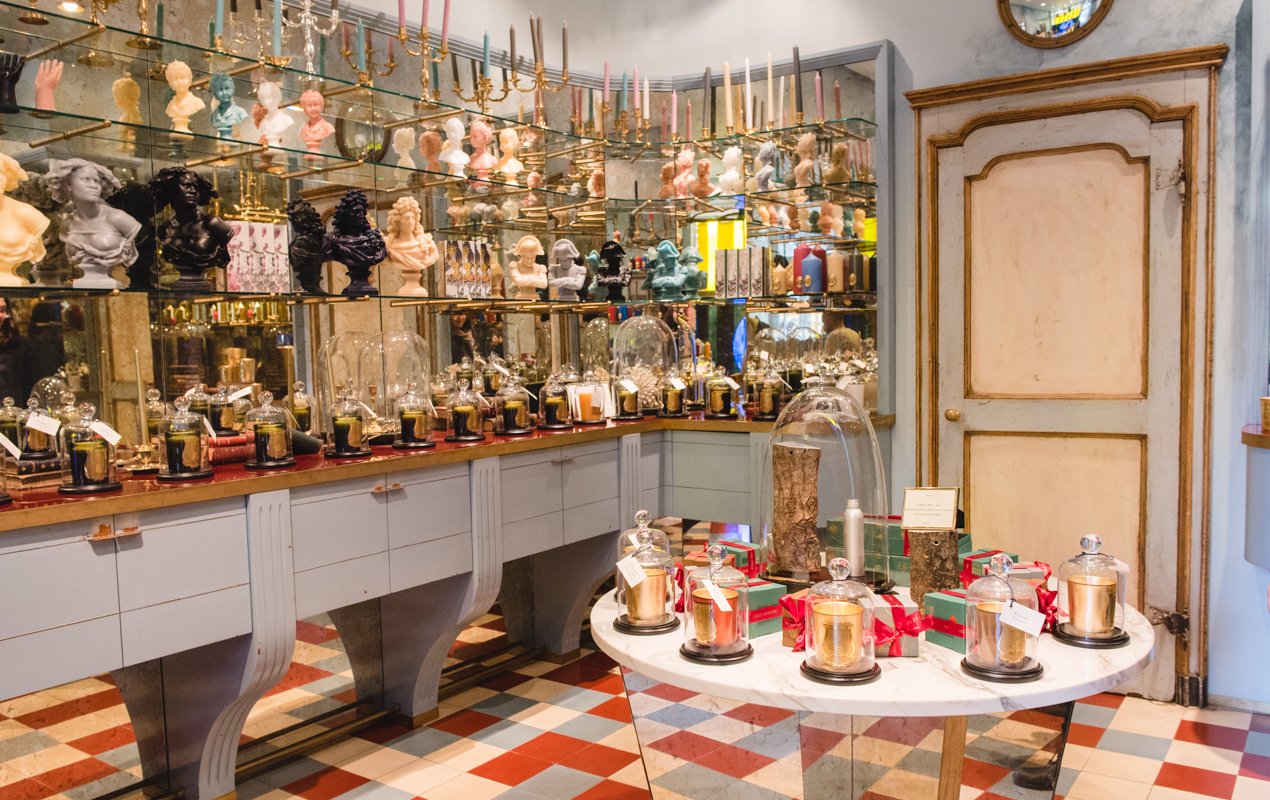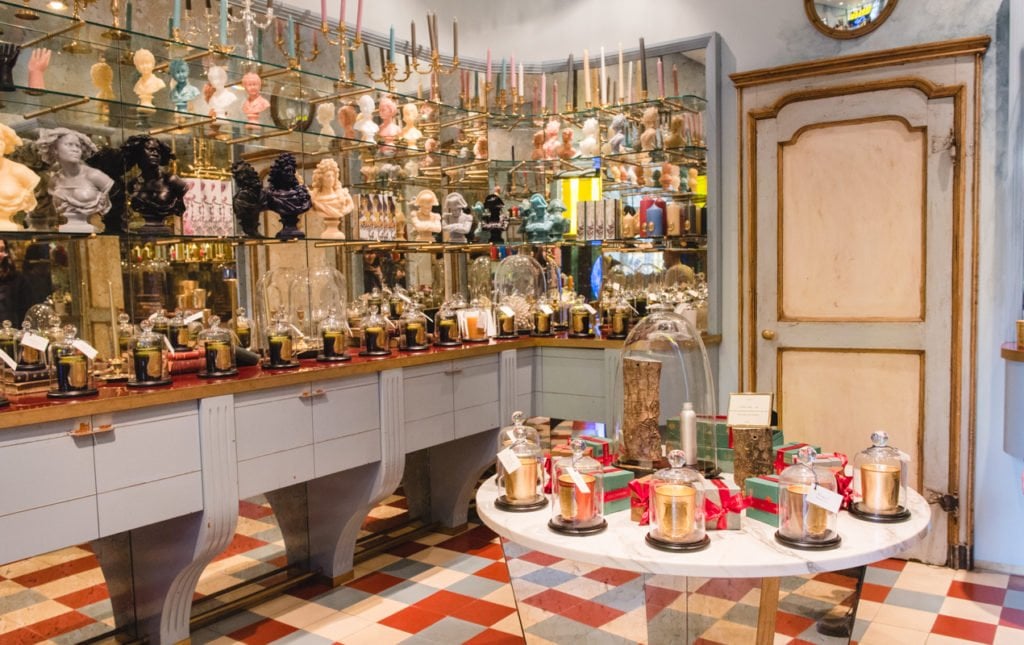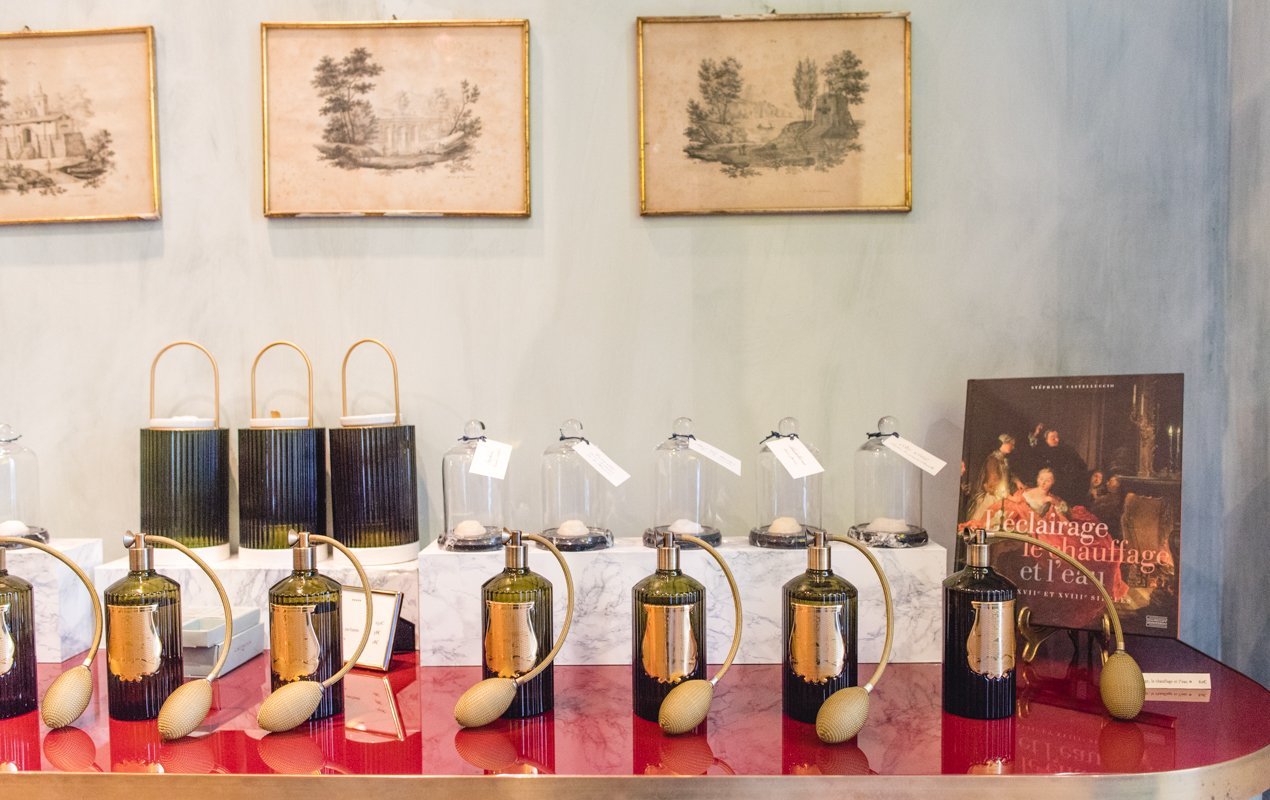 If you won't be in Paris anytime soon, you can always order from their online shop, but keep in  mind that prices are a bit lower if you buy domestically in France, so be sure to add Cire Trudon to your Paris shopping itinerary!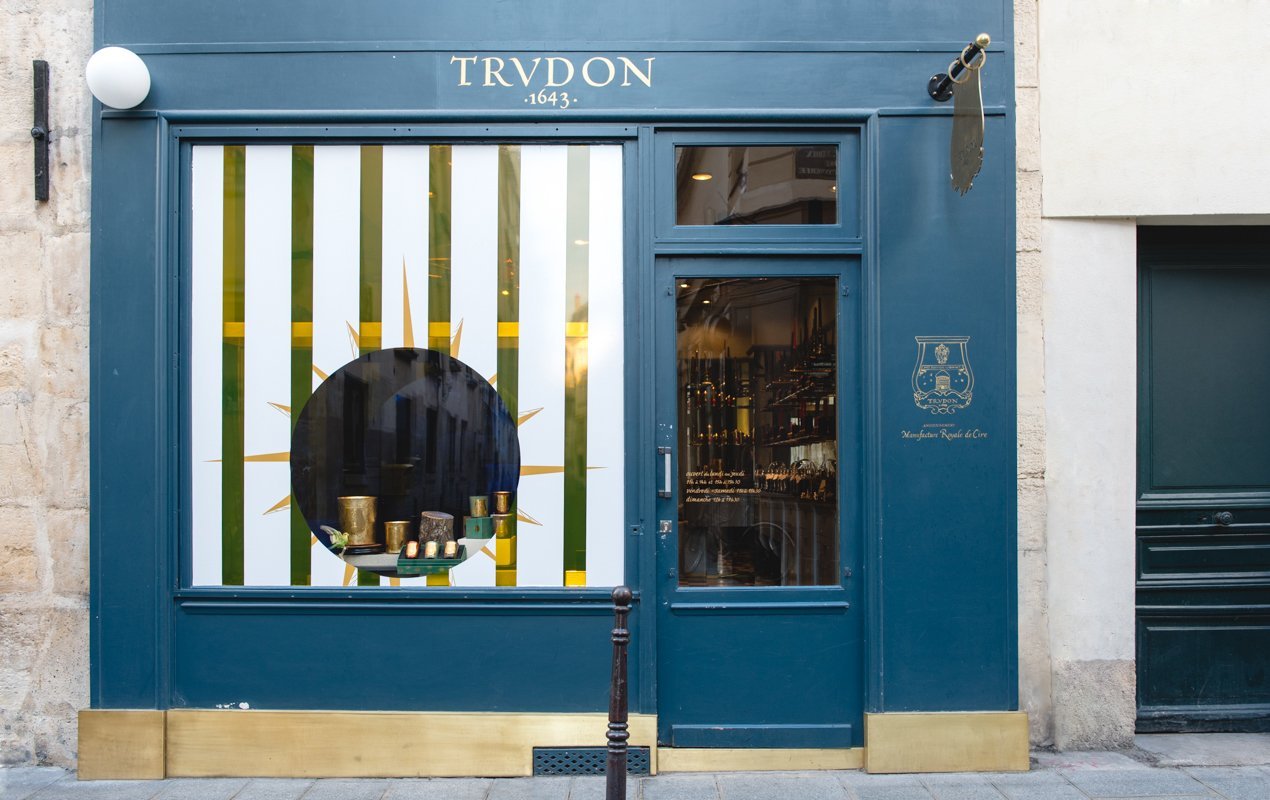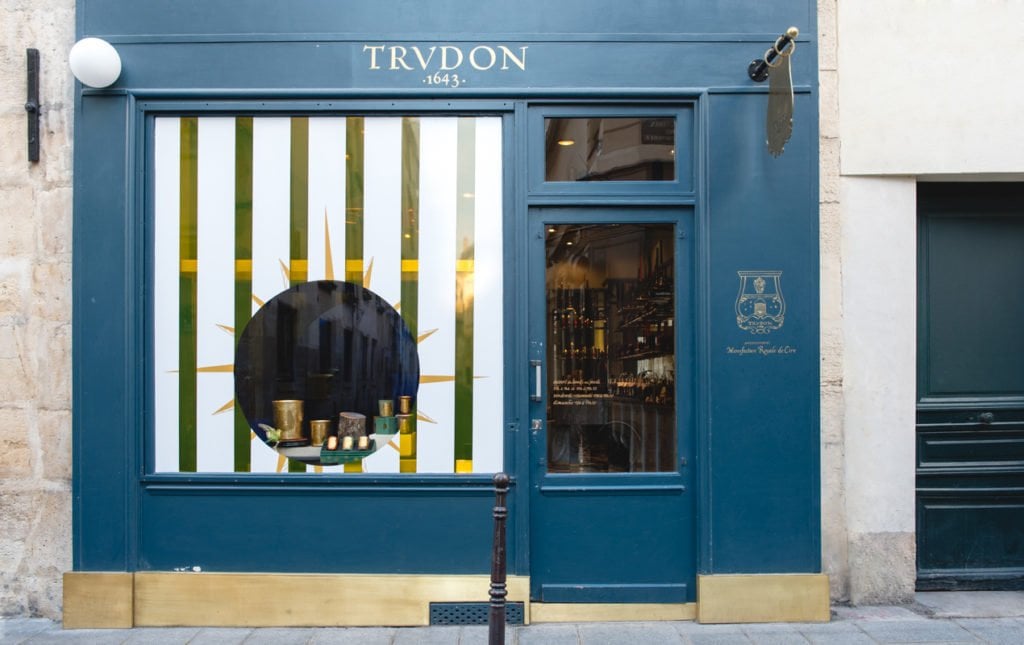 Cire Trudon
11 rue Sainte Croix de la Bretonnerie, 75004 Paris
Metro Hôtel de Ville (Lines 1 & 11)
and
78 rue de Seine, 75006 Paris
Metro Odéon (Lines 4 &10)
Website
(Image Credits: Hannah Wilson)