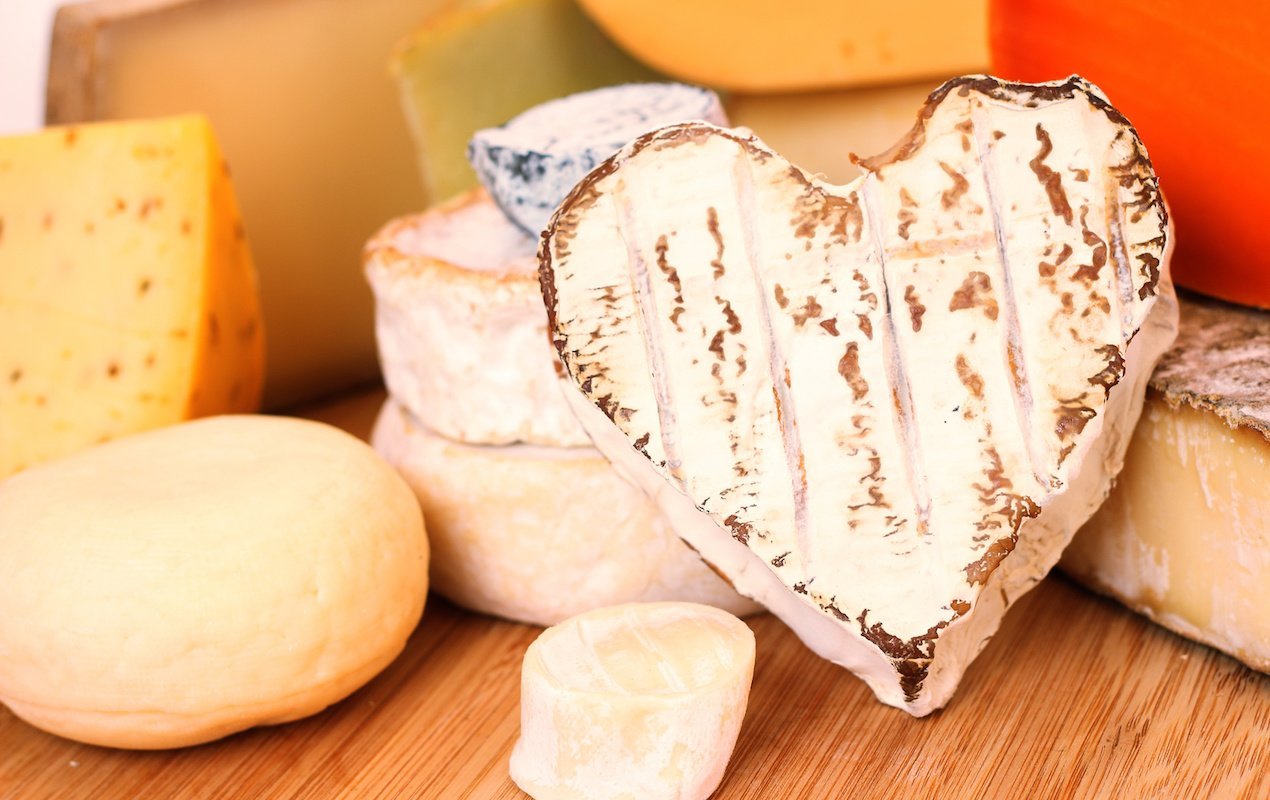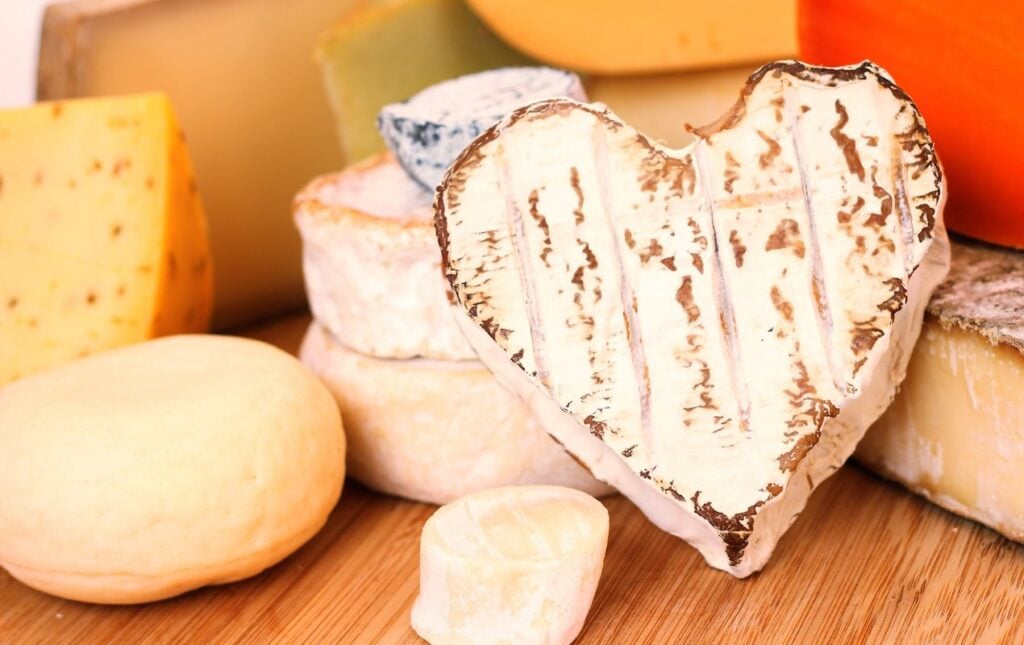 I'm always in the mood for French cheese, and we make sure to have at least a couple varieties available at all times in the kitchen. And when Philippe's cousin Pascal visits from Normandy, we stock up on tons cheese for his breakfast, or petit déjeuner in French, which translates as "little lunch." He's from Neufchâtel, a lesser known region in Normandy famous for delicious cheese, so when Pascal visits the cheese from that region has to be on top of the list. I can always find the cheeses I'm looking for at Fromagerie Griffon, open for only five years, but rising to become of the one of the very best cheese shops in the entire city! Check out this blog post for a peek into their incredible selection.
Neufchâtel originates from the eponymous town located in Haute Normandie near Dieppe, where Philippe's family is from. It earned its special AOC (appellation d'origine contrôlée – a government designation that protects locally made products) and can only be produced exclusively at farms near the town. With its distinctive heart shape, it tastes similar to Brie but slightly saltier. Philippe prefers Brie, a soft cheese from the northern region of France that it is named after, but his brother Thierry adores Neufchâtel just like cousin Pascal.
Another family favorite is Camembert, and my first memory buying cheese with Philippe was him instructing the shopkeeper to find one that would be perfect in exactly 3 days. That's part of the beauty of France, where good food is part of daily life.  The cheese maker must select one that is 'fait,' or exactly ripe for the day we plan to eat it.
I fell in love with this 'tarte' au camembert comes with toasted apples—more a dessert than just a cheese!
Waking up to a cold sunny start in Paris this morning, I craved toast and salted butter topped with cheese. I had already made my visit to Fromagerie Griffon, so the fridge was stocked. Below is my breakfast: mandarin oranges and a selction of delicious french cheese: in clockwise order: St. Felicien, that creamy cheese that ranks among our favorites; my favorite log of chevre or goat's cheese with a deeper taste (Yes you can eat the gray crust!); then bite-sized pieces of Comte; and finally a new goat's cheese with a deliciously strong and creamy flavour.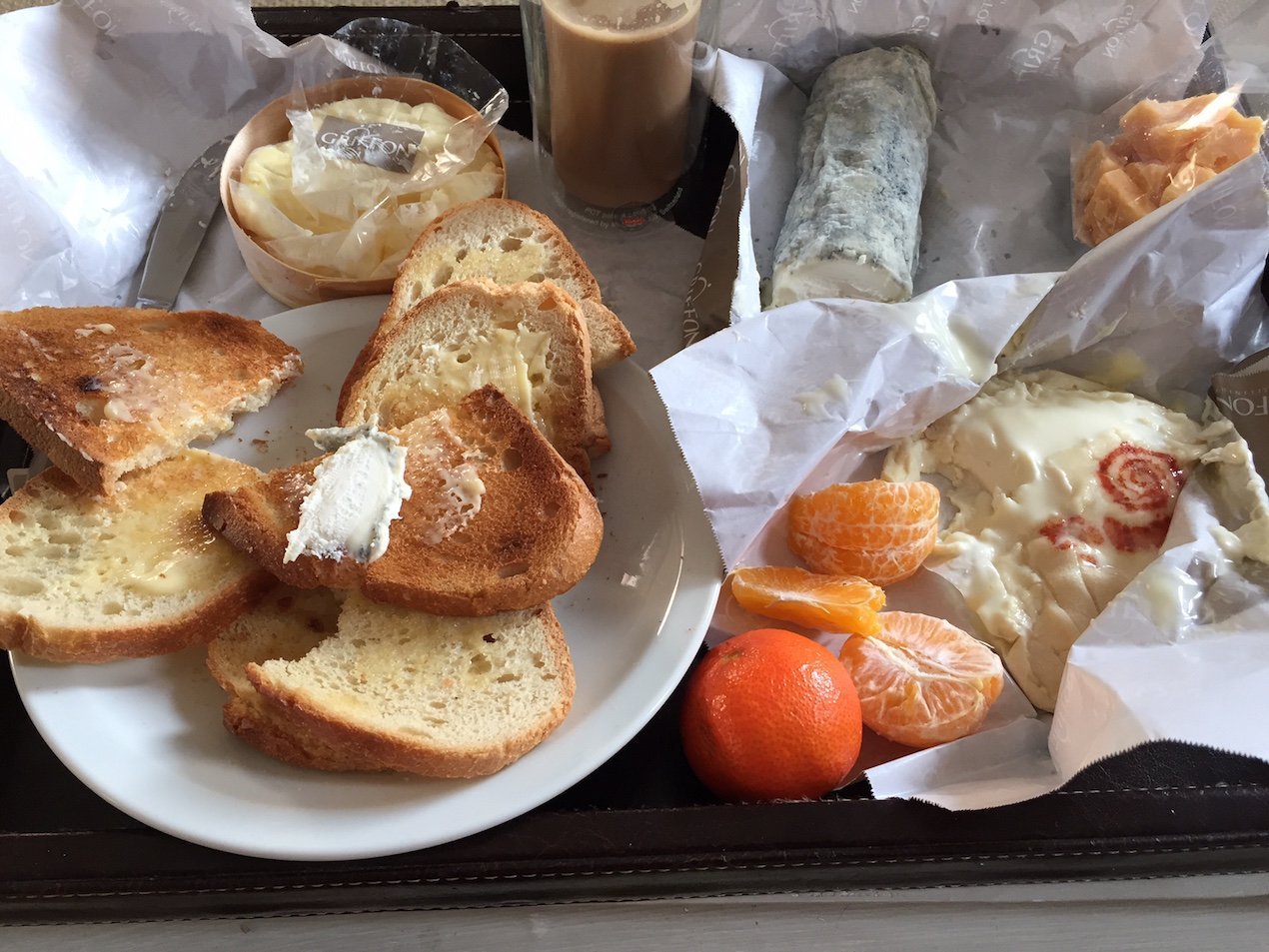 We enjoyed our cheesy breakfast from our Parisian balcony. It was a fantastic start to a wonderful day. The balcony below can be yours for your next Paris vacation! It's the Saumur rental on rue Cler—with three different cheese shops just a few steps away!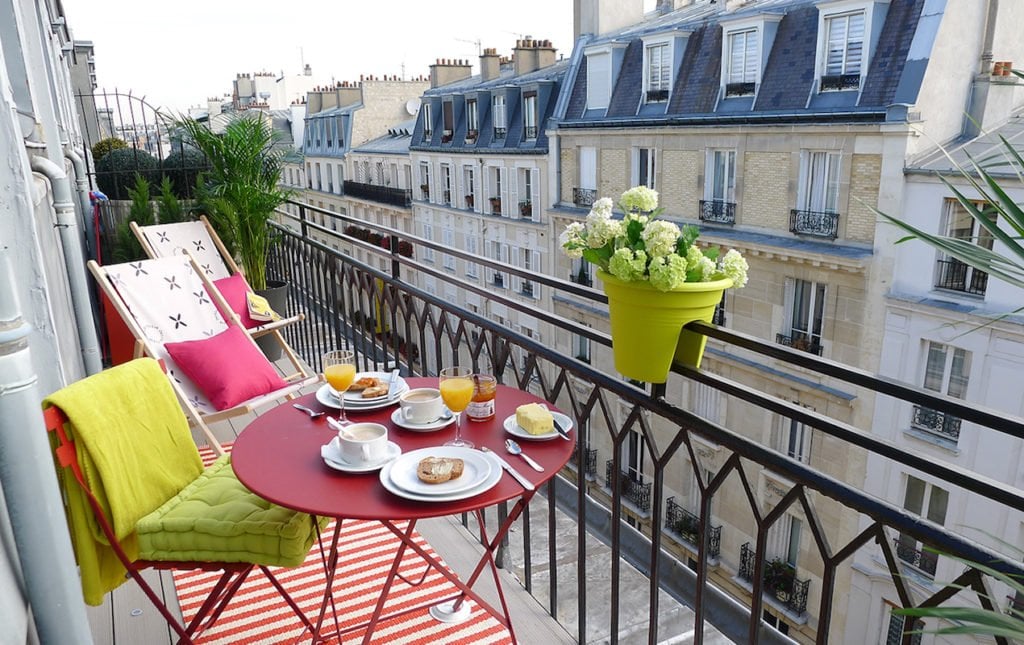 Hope your day is just as beautiful as mine and that your breakfast is just as delicious. Bon Appetit!