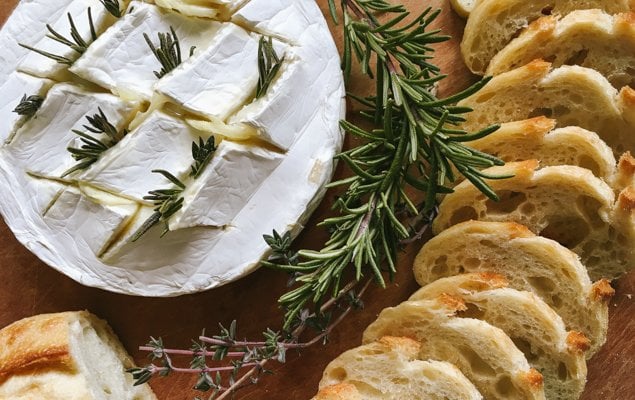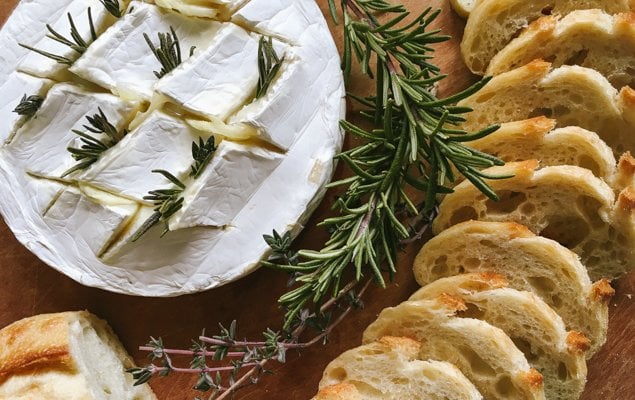 This decadent delight, made from a wheel of soft French cheese, will win over the affections of all. With a simple ingredient list and even simpler preparation method, this recipe is one of the easiest – yet most delicious – you'll ever make. Serve as an appetizer at your next dinner party, or as a mid-day snack to share with another turophile – the technical term for a cheese connoisseur!
Brie and Camembert are both soft ripened, cow's milk cheeses that originated in France. Brie is made with the addition of cream, which creates a lighter flavor, whereas Camembert has a stronger, earthier flavor. Because of its mildness, Brie often goes well with sweeter pairings. Camembert, on the other hand, can handle deeper, more complex flavor pairings. Camembert and Brie can be found at any cheese shop or market in Paris, but some countries, like the US, have outlawed cheeses made from unpasteurized milk. For this reason, these cheeses will be harder to find in the US, and the versions you do find will be made according to FDA-approved methods. Just one more reason to come to Paris – to enjoy all the unpasteurized cheeses in their truest forms!
Regardless of how they are produced, this recipe strikes a perfect balance between the flavor profiles of both cheeses. Even the most distinguished of palettes will appreciate that the subtle dignity of the cheese is kept intact, the garlic and herbs only serving to complement the richness of the cheese.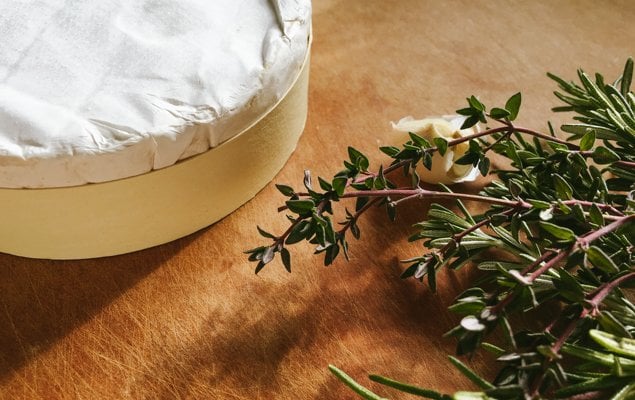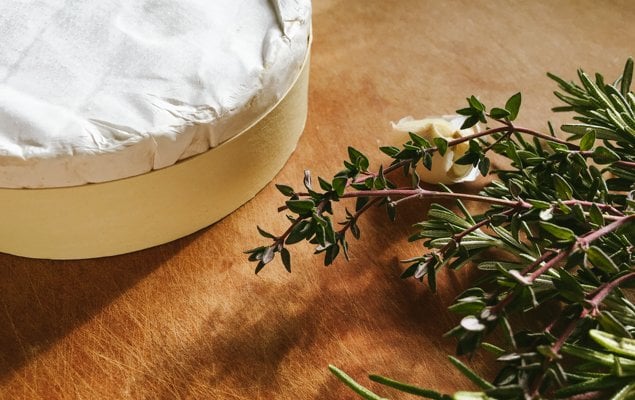 Baked Garlic & Herb Cheese
Ingredients:
1 wheel of soft cheese, such as Brie or Camembert
1 clove of garlic, thinly sliced
A sprig of fresh rosemary
A few fresh thyme leaves
Instructions:
Remove cheese from the refrigerator and let soften to room temperature for at least 30 minutes.
Preheat oven to 350 degrees F (180 degrees C).
Score a crosshatch pattern through top of the rind, being careful not to pierce through the opposite side with your knife. Tuck garlic slices and fresh herbs beneath the rind.
Place in an oven-safe dish and bake for 12-15 minutes.
Remove from oven and let cool for a few minutes before serving with your choice of accompaniments to dip into its warm gooey goodness.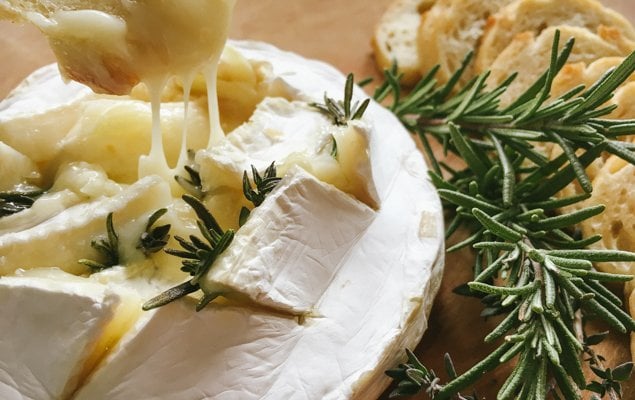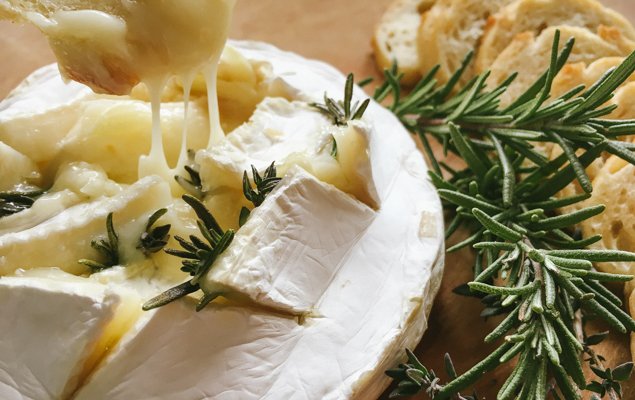 Baked cheese can be both sweet and savory, allowing for a large variety of possible flavors. Add to that the multitude of dipping options – bread, crackers, fruit, veggies, and more – and you have limitless combinations. Here are a few ideas to inspire you:
Spread a thick layer of fruit preserves (apricot, raspberry, or fig would be excellent) on top of cheese before baking.
Cook fresh berries with sugar and a bit of water in a saucepan until they break down and form a sauce. Use compote to top warm cheese.
Drizzle baked cheese with honey and crushed almonds.
Alternately, add honey to the herb and garlic recipe above.
Or, simply, just use honey! Chèvre goat cheese with honey is also a match made in heaven.
Top with pesto and sun-dried tomatoes before baking.
Caramelize sweet onions in butter until they turn a deep golden brown. Add thyme leaves to onions and place on top of baked cheese.
Before baking, fully remove the top rind of the cheese. Sprinkle on shaved black truffle. Replace rind and bake for a truly gourmet treat.
Baked Brie and Camembert are unquestionably one of les petits plaisirs de la vie. Bon appétit!
(All images by the Author.)