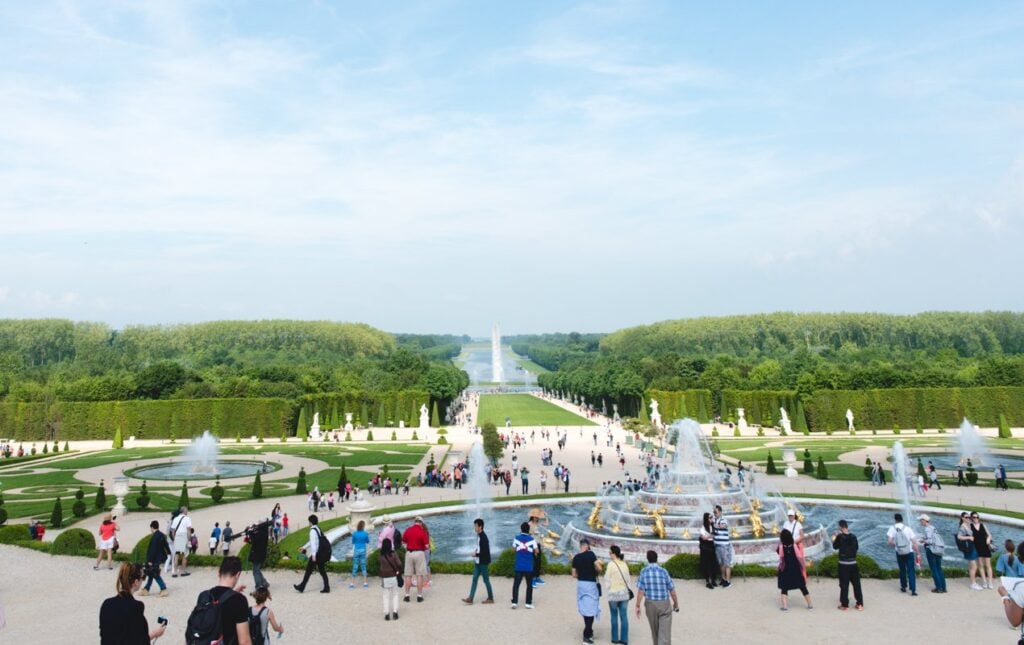 The gardens of Versailles are a magnificent sight to behold. They seem to stretch into infinity, and it's an incredible thought to imagine the monarchs of France strolling along those perfectly symmetrical, maze-like hedges. If you thought it couldn't get any more magnificent, then perhaps you haven't seen them on a Musical Fountain day!
Luckily, the Musical Fountain Shows are back on again this year, beginning April 1st and running through October 29th, 2017.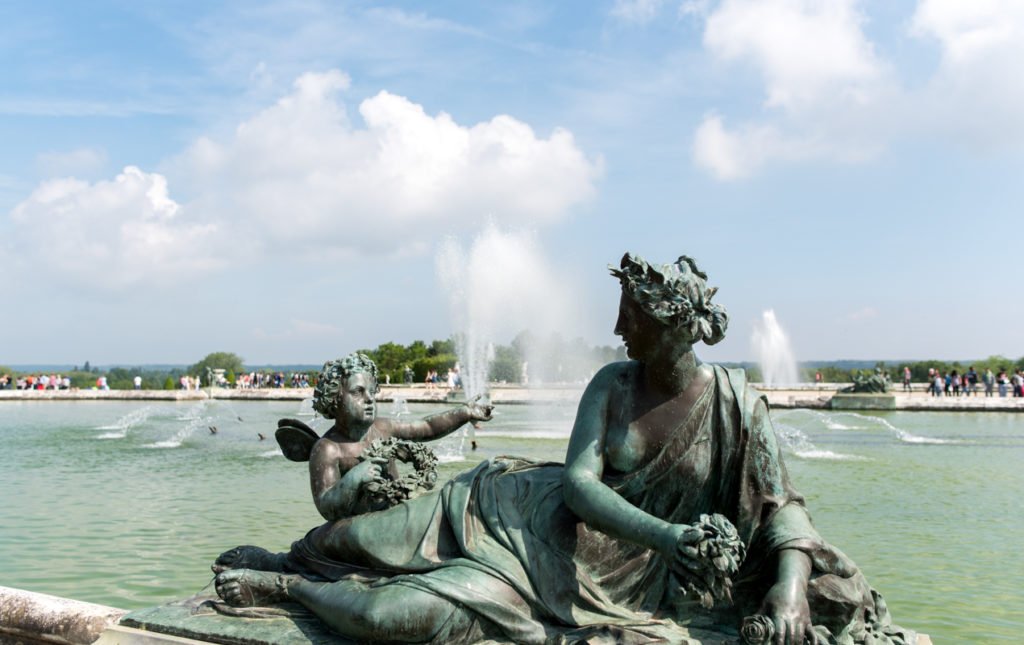 Due to conservation concerns, the dozens of fountains scattered throughout the gardens cannot be turned on 24/7. Instead, they are only turned on a few days per week during the warmer months of the year, and to add to the overall Baroque environment, period-specific music is played via speakers hidden throughout the garden hedges. It really brings the gardens to life! Just imagine yourself wearing an elaborate robe à la Française costume, or a gilded waistcoat, breeches and curly white wig, and you will be transported back in time.
In fact – it may excite you to know that every year, the palace throws a masked costume ball in the gardens, as well as a fancy dress evening in the hall of mirrors – anybody can attend as long as you buy a ticket and you arrange for a costume. More info on these types of events here.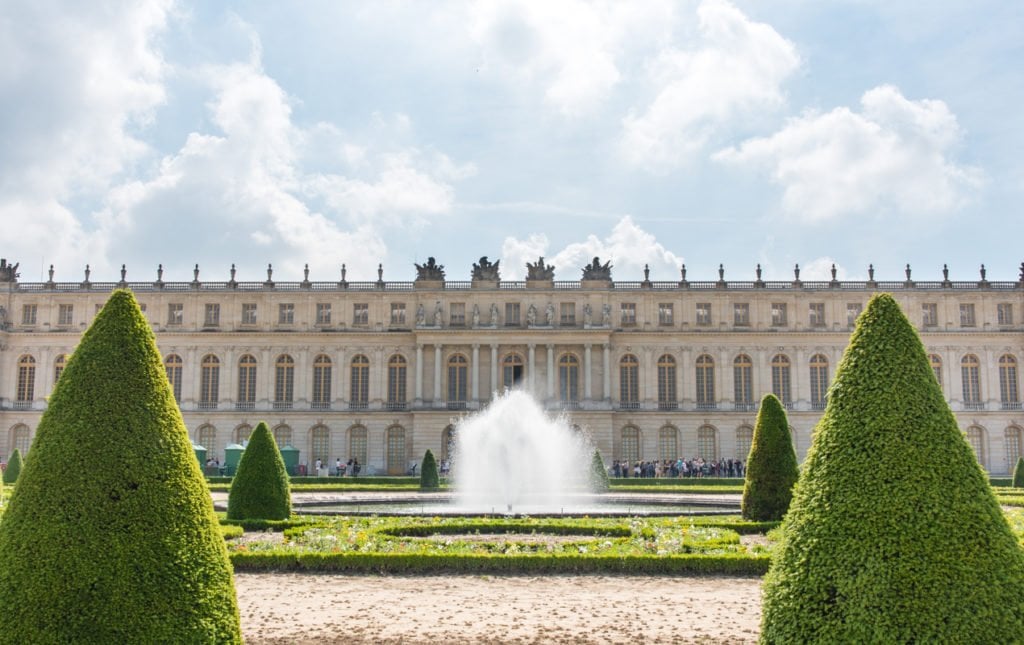 When to Go
If you want to see the Gardens of Versailles in their most exciting state, then plan to visit on a Musical Fountain day, that is:
Every Saturday and Sunday, from April 1st to October 29th, 2017
Every Tuesday from May 23rd to June 27th, 2017
As well as these dates:

Friday April 14th, 2017
Thursday May 25th, 2017
Friday July 14th, 2017
Tuesday August 15th, 2017
Be sure to pick up a Musical Fountain map at one of the ticket or information booths, because they include a suggested route that will allow you to make the most of the day, since the gardens are very large and tend to be quite overwhelming. Save your feet some unnecessary suffering and follow their suggested path! If you have mobility concerns, golf carts are available to rent, which come equipped with an audioguide!
Be sure to pay attention to the fountain times. On most fountain days, the water runs from 11am-noon, stops for a couple hours, then picks back up again at 2:30pm (Tuesdays) or 3:30pm (Weekends and public holidays). Most people visit the Palace in the morning, then head outdoors to see the fountains after having lunch. You could try to beat the crowds by doing the fountains first thing in the morning, but one hour isn't enough time to see them all on foot.
Which Fountains to See
Here are some of the most exciting water features that you should definitely try your best to see in action:
The Ballroom, an open "dance floor" surrounded by flowing terraces of water and the focal point of the film A Little Chaos with Kate Winslet.
The Colonnade Grove, which features a circular arrangement of pink, purple and Carrera marble columns, shooting water, and a sculpture in the center by Girardon.
The Enceladus Grove, with romantic covered arbors and water shooting powerfully from the mouth of a fallen Titan in the central pool
The Apollo Baths, which look like something out of a mythological Rococo painting of a magical grotto: man-made caves with group sculptures and water flowing throughout.
Leto's Fountain, situated right in the center near the top of the gardens. Leto's Fountain was wonderfully restored within the last couple years, the golden figurines truly shine next to the richly colored marble tiers!
For a fuller list of the groves, click here, and for the fountains click here.
Practical Info
You may want to consider purchasing a one or two-day Passport ticket that includes access to the entire estate (main palace, Trianon palaces, Marie Antoinette's Hamlet, the Musical Fountain show in the garden, as well as temporary exhibitions and the Coach Gallery, located across the street from the main entrance, and one of the newer additions to the Estate.)
An even better way to see Versailles is through one of our amazing tours! You can peruse all the Versailles tours by clicking here, or email our Travel Design Team at [email protected]. Just be sure to tell them if you're particularly interested in seeing the Musical Fountain Show so that we can select the right days and create the perfect Versailles experience for you!
Château de Versailles Musical Fountain Show
Place d'Armes, 78000 Versailles, France
Access via RER C train station called Versailles Rive Gauche
(Purchase round-trip tickets to save time when heading back to Paris!)
Fountain Website
General Info Website
(All images by the Author.)