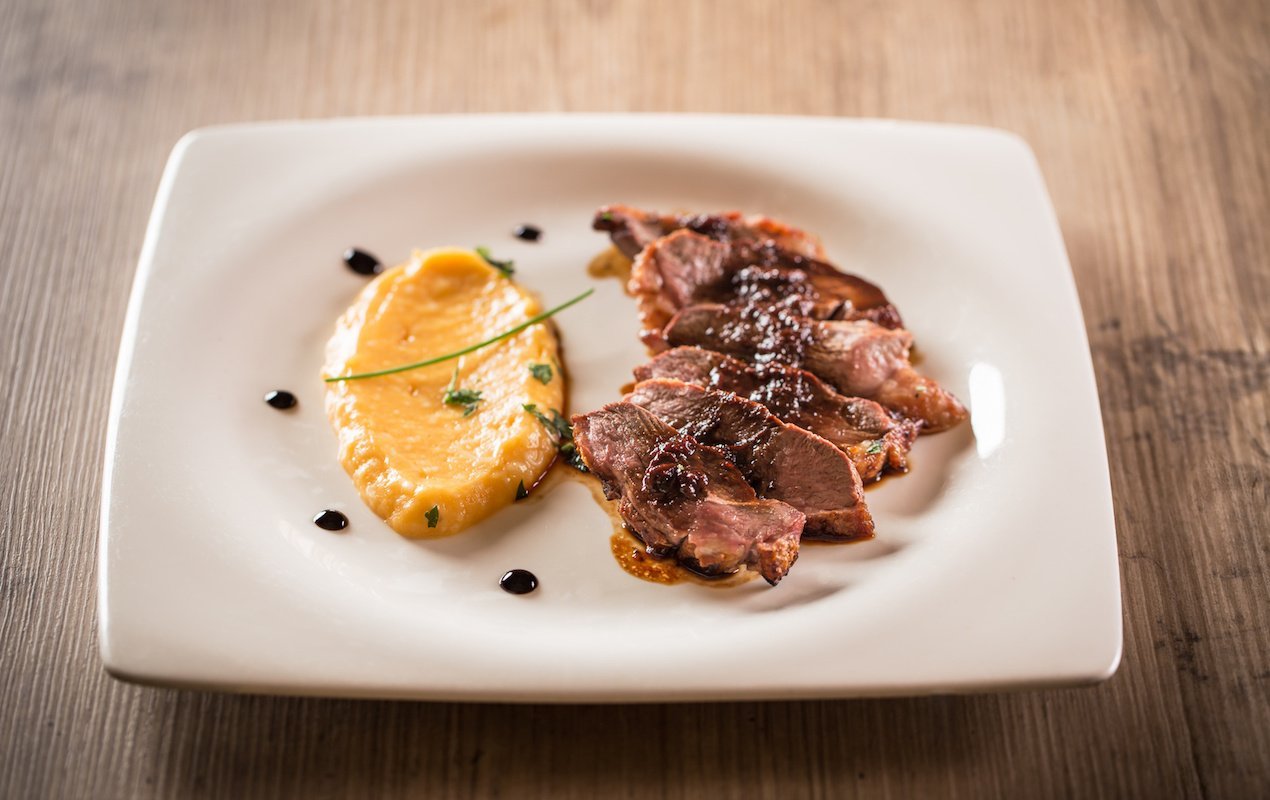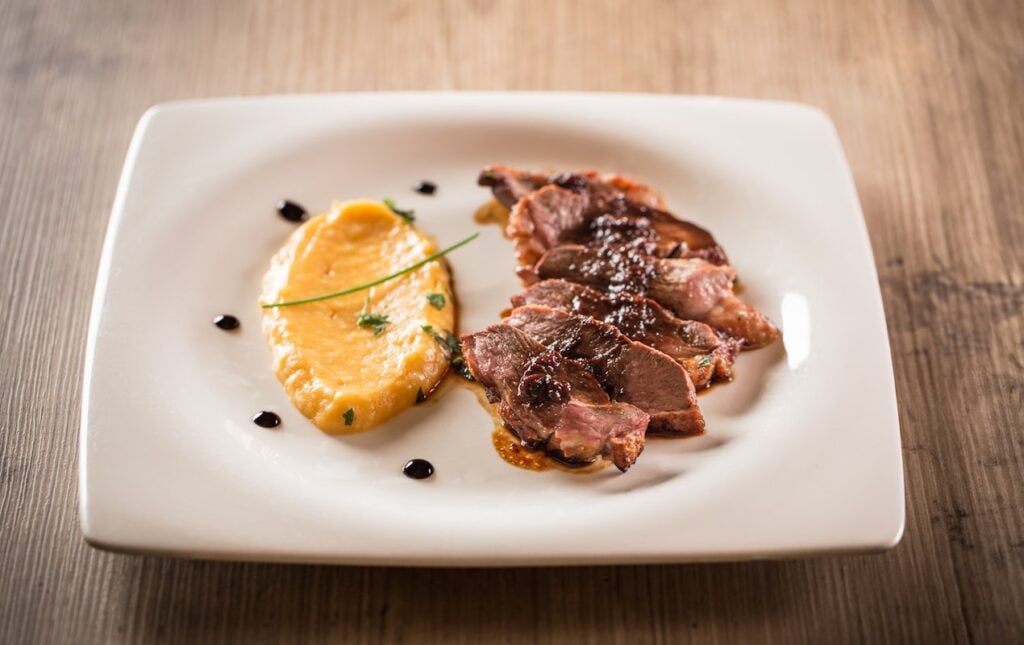 The French are very fond of roast duck – you can find it at nearly every restaurant in the country. Two very common dishes are confit de canard (duck confit) and magret de canard (seared duck breast often served with a sweet sauce). Duck is delicious, but also surprisingly healthy – the meat without skin is as lean as chicken, but contains more iron. The slightly less healthy part, the skin, melts in your mouth when roasted and is well worth the extra calories!
I'd like to share one of my favorite easy duck recipes, but first, let's talk about wine.
What is the best wine to pair with duck?
This is très important!
Answer: the classic pairing is a red wine that is both tannic and fruity, which perfectly compliments the richness of duck. This could be a wine from the Rhone Valley such as Côte-Rôtie.
Another great choice are Syrah wines with their peppery notes, which remind me of the spices used to cook some duck dishes. There are also notes of red and black berries.
If you're serving Confit of Duck – among Philippe's favourite dishes – then go for a red wine from the Southwest of France such as a good Gaillac or Bergerac. The wine can be a bit younger, fruitier and more lively to cut the fattiness of this dish.
I love talking about wines because that's part of how our company was founded, choosing our favorite wines that we felt described each apartment. We have the elegant yet lively Marcillac apartment, the Saint Romain with its views of wonderful rue Cler, or the Bergerac, even fruitier with red touches in the living room! It looks like we need to name our next apartment the Côte-Rôtie!
So now that you have a hearty list of wines to choose from, let's continue on to the recipe!
Seared Duck Breast with Balsamic Vinegar & Orange Zest
Prep Time: 5 min
Cook Time: 15 min
Total Time: 20 min
Ingredients:
400 g (just under 1 lb) sliced duck breast
5 Tbsp crème fraîche
2 Tbsp balsamic vinegar
4 teaspoons sugar
1 orange, for zesting
Vegetable Oil
Salt & pepper
Instructions:
Add a few tablespoons of cooking oil to your skillet, heat on high and sear the aiguillettes (duck breast slices) on each side for just a few minutes. Set aside but keep warm.
Add the cream fraiche, sugar and balsamic vinegar to skillet and cook on a low heat for a few minutes. Return the aiguillettes for 2 minutes to meld with the sauce. Remove duck and keep warm again.
Keep cooking the sauce until it thickens up nicely.
Arrange on a serving dish and decorate with zest of an orange or tangerine.
Serve immediately with mashed potatoes or rice. Bon Appétit!
---
More About Wine Pairings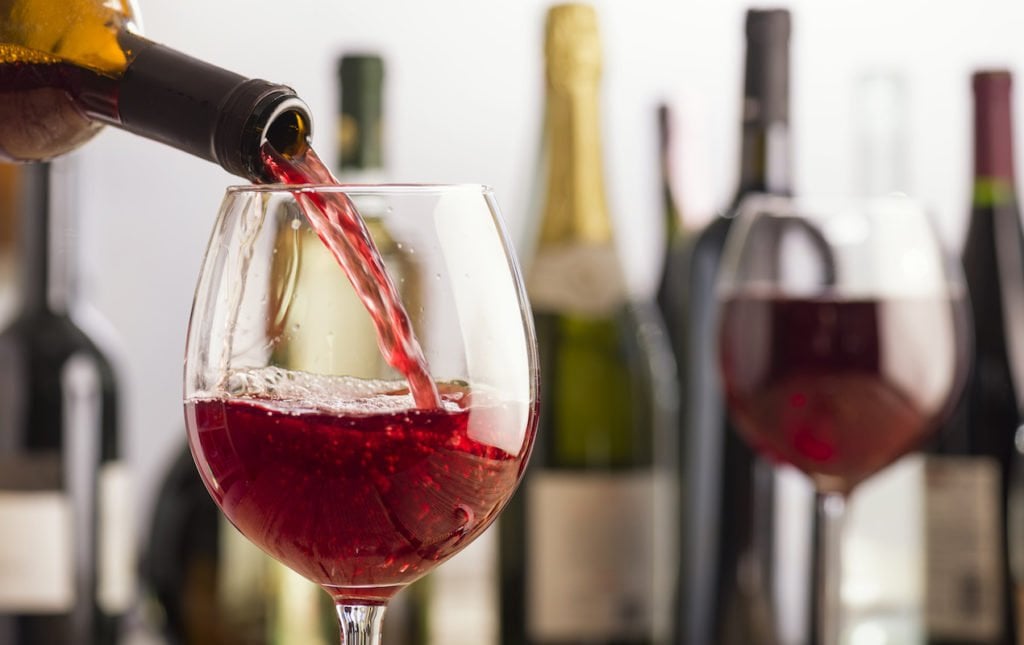 I found lots of good tips on which red wine to serve with duck or poultry from the French woman's classic magazine, Marie Claire Cuisine et Vins. I'll never be a true connoissuer, but I love how the French consider it a natural part of life to learn the subtelties of wine! Here are some of their descriptions translated:
Pinot Noir from Burgundy: Fruity and crisp, the Pinot Noir of Burgundy brings freshness to the duck. Choose a wine with lots of oak flavor; the woody notes prevent it from falling flat next to a grilled breast.
Saint Joseph: The Saint-Joseph is a wine from the Rhône Valley produced from syrah, a varietal with pepper notes. Its aromas of raspberry and blackcurrant also make it a delicate red that is best enjoyed with a roast duck.
Marsannay (one of my favourite Paris Perfect apartments): The tannins of most Marsannay make it a full-bodied wine best enjoyed with game but the younger bottles can also be enjoyed with duck confit, thanks to their supple and fruity flavor.
More Original Pairings: Do not hesitate to play the sweet card with a fruity duck. The naturally sweet wines of Roussillon, like a red Banyuls, have notes of raisins, roasted almonds and prunes that are revealed when paired with a duck with figs.
Maury: With its aromas of cocoa, cooked fruits and coffee, this wine fits very well with a cherry duck.