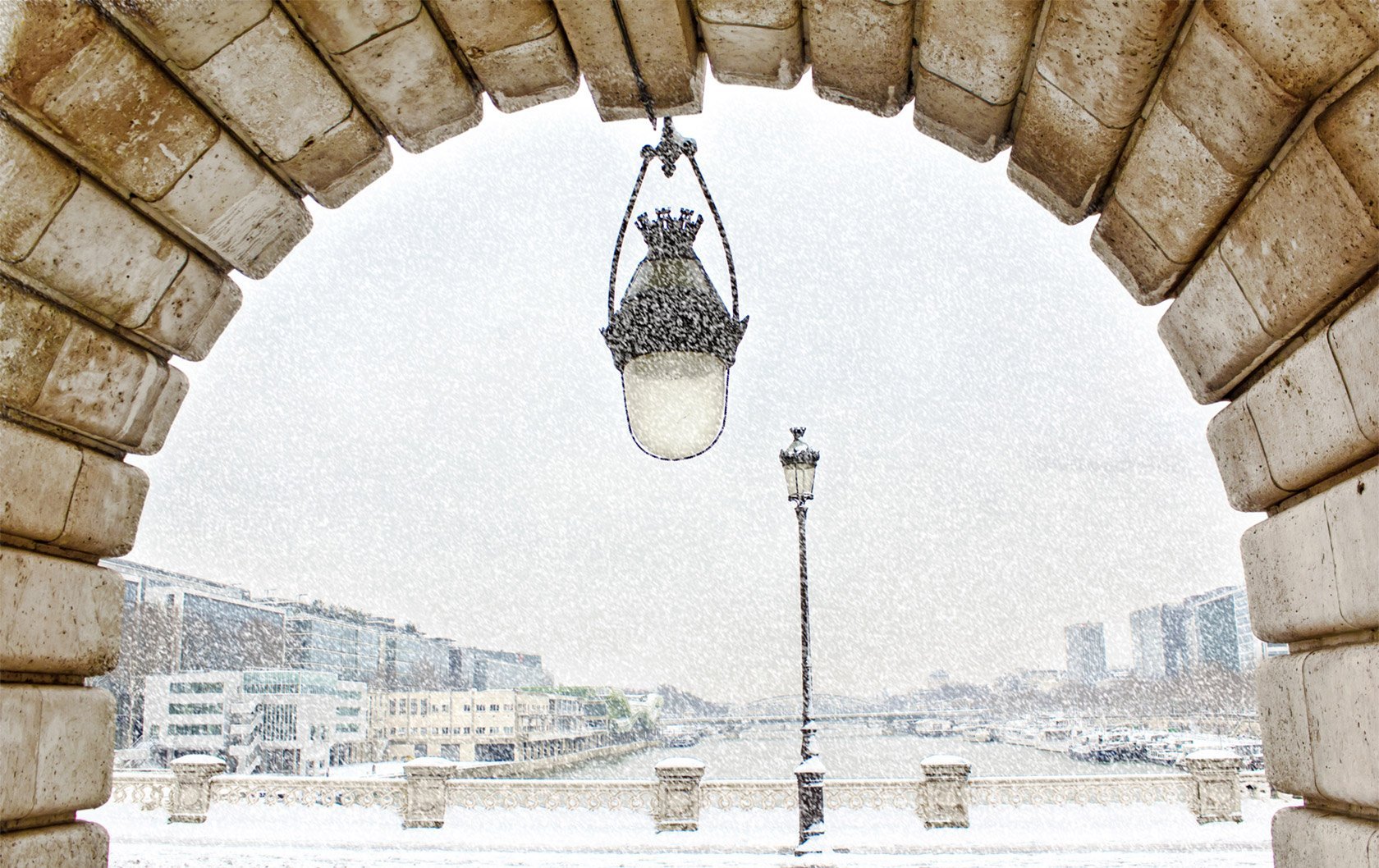 Winter in Paris can be surprisingly romantic, with crisp blue-sky days, magical illuminations at night and even a dusting of snow. Paris Perfect's beautiful rental apartments are an ideal base for exploring the city, combining indulgent interiors with dreamy views. For a wonderful winter getaway, one-bedroom apartment Clairette in the 7th sleeps up to four with elegant interiors and Eiffel Tower vistas.
Make the most of December's festive mood before the party starts for New Year's Eve. Free of the summer tourist crowds, the capital can be especially lovely at this time of year. Here are six tips for enjoying a winter romance in Paris…
1. Go Ice Skating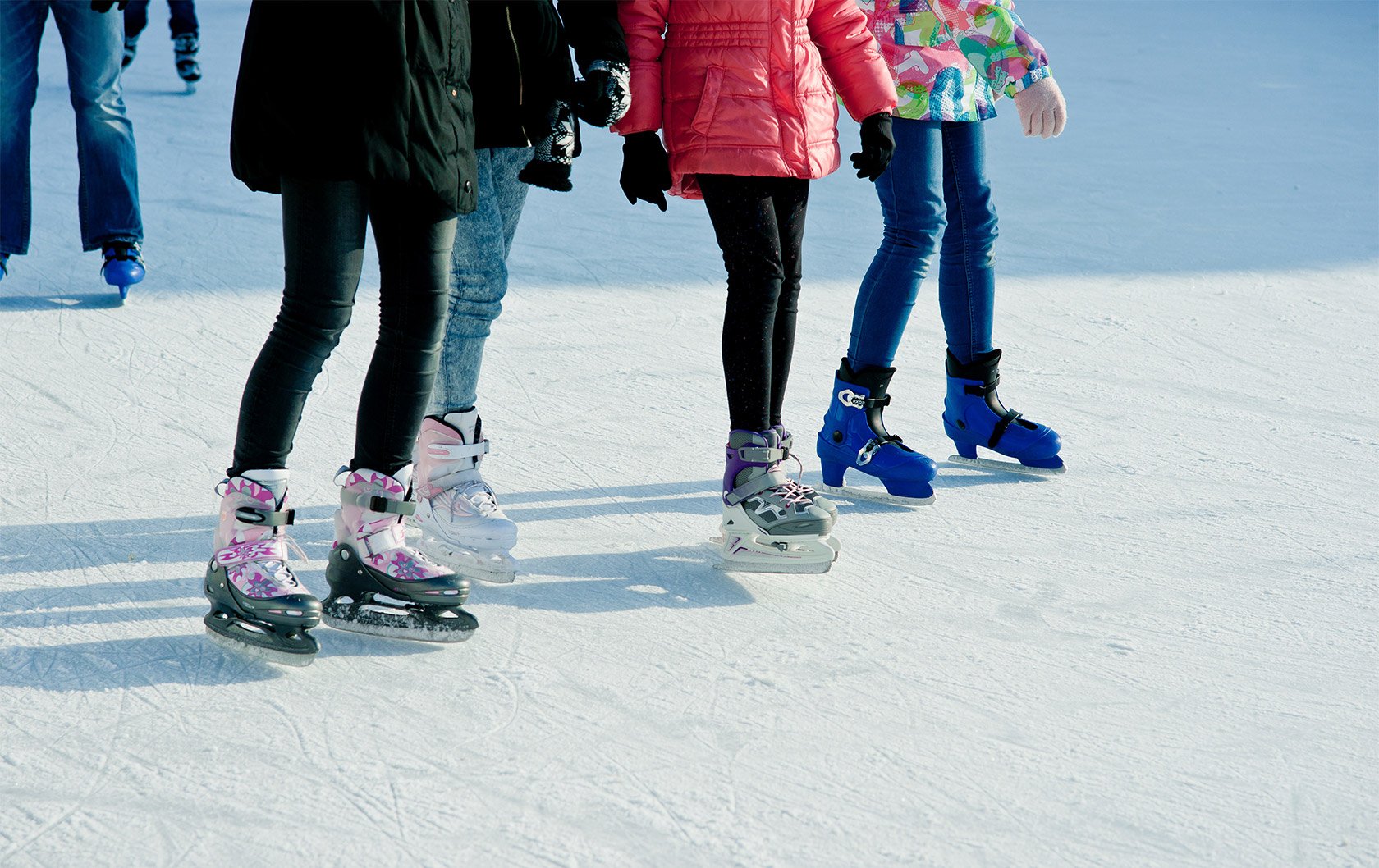 Don your mittens and skates and glide across the ice together at one of the city's seasonal skating rinks. Some traditional rinks aren't open this year, but there's a new rink atop the renovated Grande Arche at La Défense. Running from 15 December 2017 to 14 January 2018, it's perched 110 meters high, with panoramic views of Paris (daily 10am-9pm; until 10pm Tuesdays and Thursdays). More centrally located, Champs de Mars at the foot of the Eiffel Tower hosts a Christmas village with a pretty ice rink and festive craft and gift cabins. Open 21 December 2017 through 8 January 2018, it offers romantic views of the iconic tower as you skate hand in hand (daily 11am-9pm). Le Patinoire de Noël du Toit de la Grande Arche, 1 Place du Parvis de la Défense, 92053; Le Village de Noël du Champs de Mars, Quai Branly, Avenue de la Motte-Picquet, 75007
2. Pop to the Picasso Museum
If it's cold outside, enjoy a cozy date in Paris's atmospheric Picasso Museum in the Marais. Set in grand 17th-century private mansion Hôtel Salé, it's currently hosting the romantic exhibition "Picasso 1932" until 11 February 2018. Organised by London's Tate Modern, the show documents a year of the Paris-loving Spanish painter's work, dubbed the "Année Érotique". Don't miss "The Dream", a seductive oil painting of Picasso's younger mistress Marie-Thérèse Walter, in sensual pastels. Musée Nationale Picasso-Paris, 5 Rue de Thorigny, 75003 
3. Enjoy a 2CV Car Tour
Walking around Paris is always charming, but if it's chilly outside why not enjoy a romantic 2CV Citroën Car Tour? Paris Perfect can line you up with a tour in this classic little French car, known as the "Deux Chevaux". Sit back and relax as you're whisked around the sights, from major landmarks to backstreet secrets. Tours last one-and-a-half or three hours, with a friendly chauffeur/guide sharing insights as you go. It's a quintessentially Parisian experience that's perfect for snuggling up à deux. On warmer days, you can even roll the top down… Tours depart from your Paris Perfect vacation rental or Place de la Concorde near Tuileries Garden
4. Wander "Voyage d'Hiver" at Château de Versailles
Get an art and nature fix wandering "Voyage d'Hiver" ("Winter Journey"), a discovery trail in Château de Versailles's glorious gardens. Curated by Paris's edgy Palais de Tokyo gallery, the poetic promenade welcomes visitors until 7 January 2018. The Château's latest contemporary art show sees 17 of today's inspiring artists casting new light on the garden's wintry groves. Sculpture, sound installation, painting, textiles, and landscape art all bring Versailles's grounds to life, mingled with historic fountains and figurines. Established and emerging international artists are in the mix, including Ugo Rondinone, Sheila Hicks, Oliver Beer, and Rick Owens. Château de Versailles, Place d'Armes, 78000 Versailles
5. Take Tea at Mariage Frères
Reward yourselves with a warming tea at Mariage Frères. The elegant branch in Le Marais features an opulent tea salon (open from 3pm-7pm daily), alongside a restaurant and tea counter. Choose between 600 varieties of tea, which you can team with raisin scones, berry muffins, éclairs, and mille-feuilles. Special tea-inspired treats include madeleines frosted with Earl Grey, almond cakes with matcha green tea and raspberries, and pastries with Marco Polo tea. Tea-flavoured desserts, savoury treats, and even fruity tea cocktails are sure to tempt. Stacked from floor to ceiling, the signature black and gold tea canisters make for inspiring Instagram snaps. Mariage Frères, 30 Rue du Bourg-Tibourg, 75004
6. Swoon at the Ballet
A night out at the ballet is the perfect antidote to winter, radiating heart-warming romance. Catch "Don Quichotte" at Opéra Bastille (9 December 2017 to 6 January 2018), with choreography by the famed Rudolf Nureyev. Based on Cervantes's epic tale "Don Quixote", its joyful love story and flamboyant costumes are a feel-good hit. It's just one of several works in production this winter by Opéra National de Paris. For a powerful ballet about love and loss, book ahead for legendary "Le Lac des Cygnes" ("Swan Lake") by Tchaikovsky. On for just two days at La Seine Musicale (10-11 February 2018), it's performed by the Saint-Petersburg Ballet Theatre. Opéra Bastille, Place de la Bastille, 75012; La Seine Musicale, ÎIe Seguin, 92100 Boulogne-Billancourt
See our blog for more on the renovated Picasso Museum in Paris and the inside track on Mariage Frères's Rue Cler branch, opened last year near the Eiffel Tower. We've also got many more tours, including handy Skip-the-line Tours in Paris to save you from hanging around in the cold. Read our December events guide.