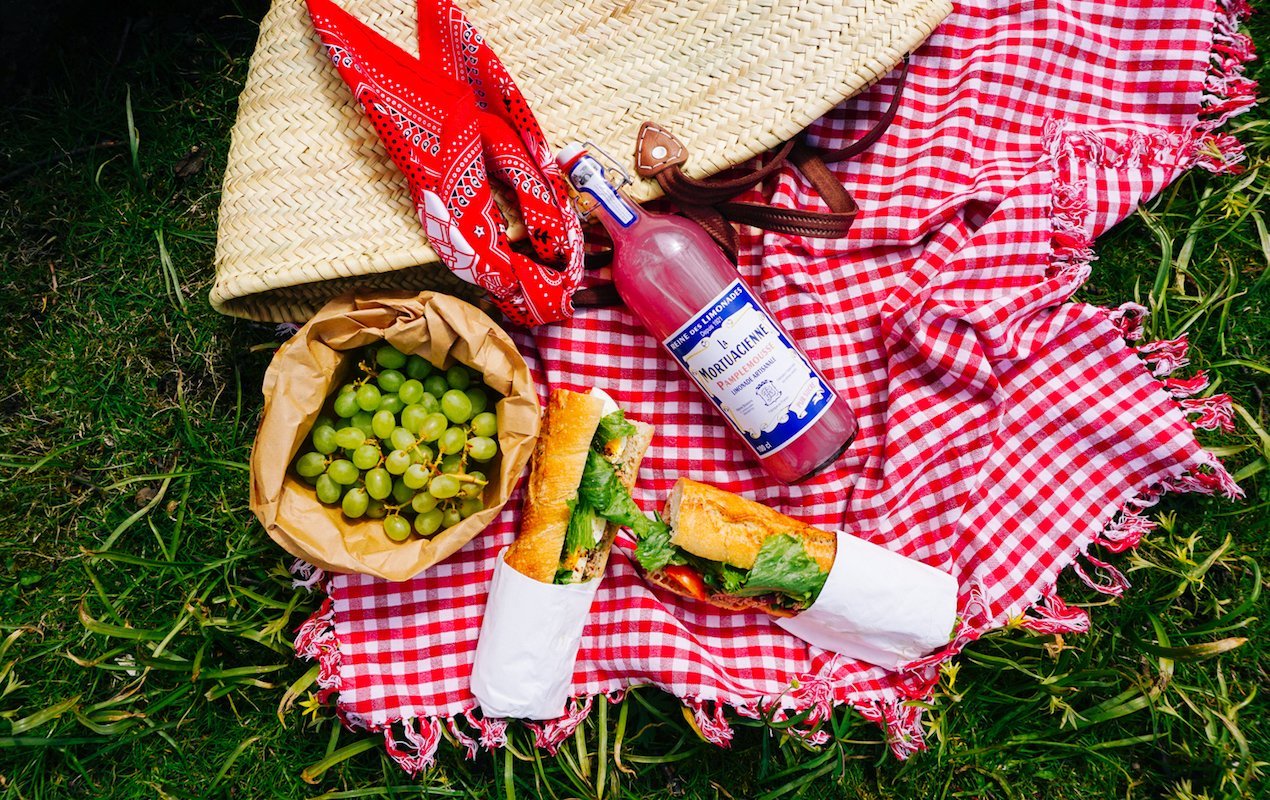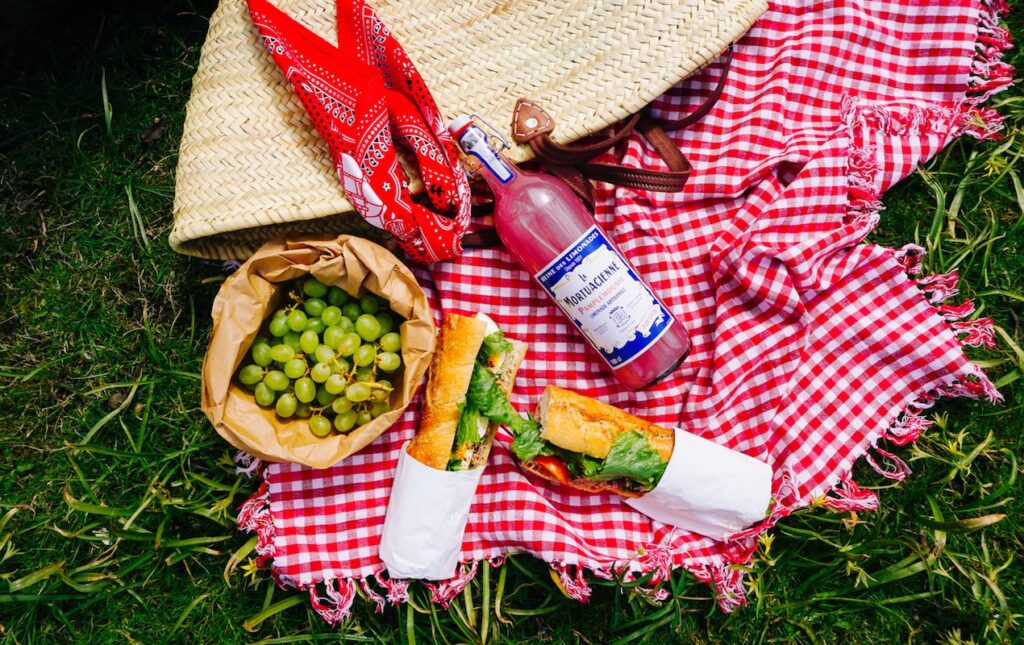 For me, a perfect Parisian day involves eating outdoors: at a café, on a park bench or – something I have yet to do – on the edge of the cobblestoned riverbank, my feet dangling above the water.
It comes as no surprise that the origin of the word "picnic" is French, because in this country, it's done to perfection. The paradox of French cuisine comes into its culmination with the pique-nique, because the very best ones are the simplest: cheese, baguette, some sliced cured meat, a few pieces of the ripest, seasonal fruit and a bottle of wine. Parfait!
Picnic, or pique-nique in French, comes from the verb "picorer" (to peck or nibble) and the old French noun "nique" (small thing). Now, granted, these baguettes are not what I would describe as "small things," but they're perfect for lunch or a simple dinner for four people. You can also cut them into smaller pieces and combine them with other delicious treats for your outdoor adventure. The fillings are inspired by a classic salade niçoise, which is made with canned tuna, boiled potatoes, eggs, olives, lettuce, haricots verts and tomatoes, dressed with a sardines and garlic vinaigrette.
Instead of the cooked potatoes though, the baguettes complete the dish with their starchy goodness. This recipe comes together quickly and easily. Add something refreshing to drink, some ripe fruit, perhaps some sweet goodies like macarons, and you are good to go!
Now, repeat after me: "Faisons un pique-nique!" (Let's have a picnic!)
Baguette Niçoise
Serves 4
Prep time: 20 minutes
Cook time: 10 minutes
Total time: 30 minutes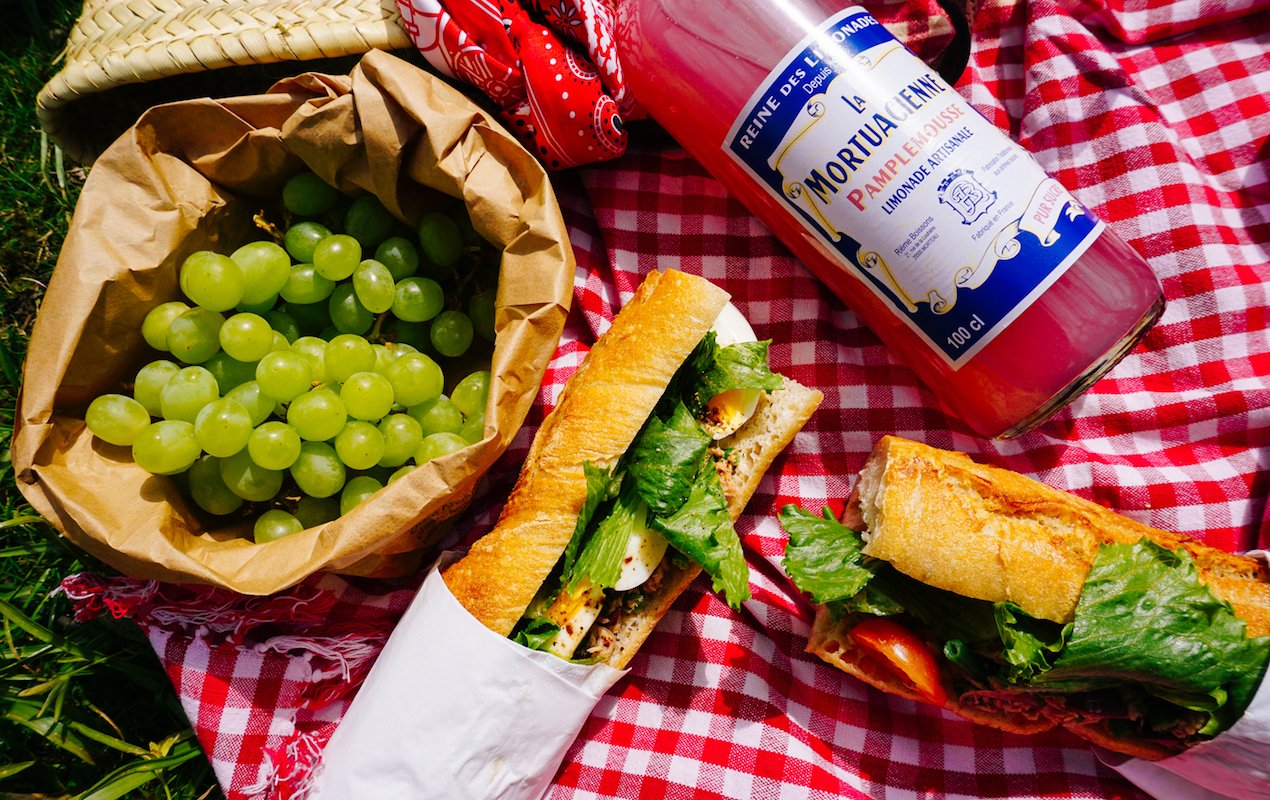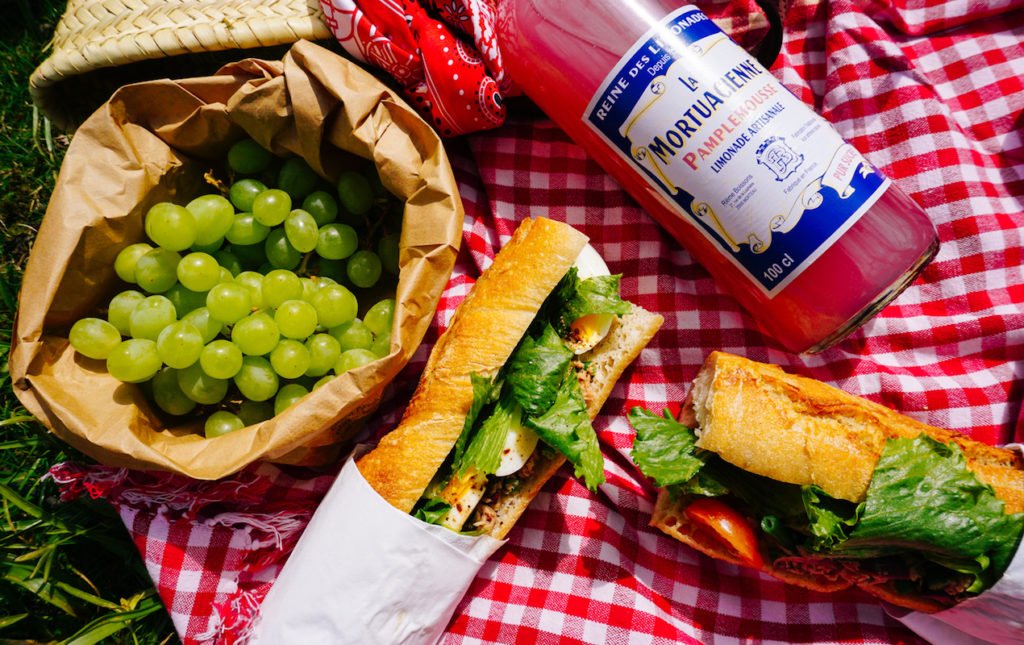 Ingredients
For the Sandwiches:
2 French baguettes
Mayonnaise as a spread (or butter, if preferred)
4 eggs
Handful of green beans (about 1 cup)
2 5-ounce cans of tuna in oil
6-10 cherry tomatoes
About 10 black olives, pitted
2 shallots (or 1 small red onion)
A few basil leaves
Lettuce, rinsed and torn into smaller pieces
For the vinaigrette:
2 Tsp fresh lemon juice
2 Tbsp olive oil, preferably a mild variety
2 Tsp red wine vinegar
3 sardines, canned (skip this ingredient if it grosses you out! Or use a combination of seaweed, capers and soy sauce for a similar flavor)
1 garlic clove
Some freshly ground black pepper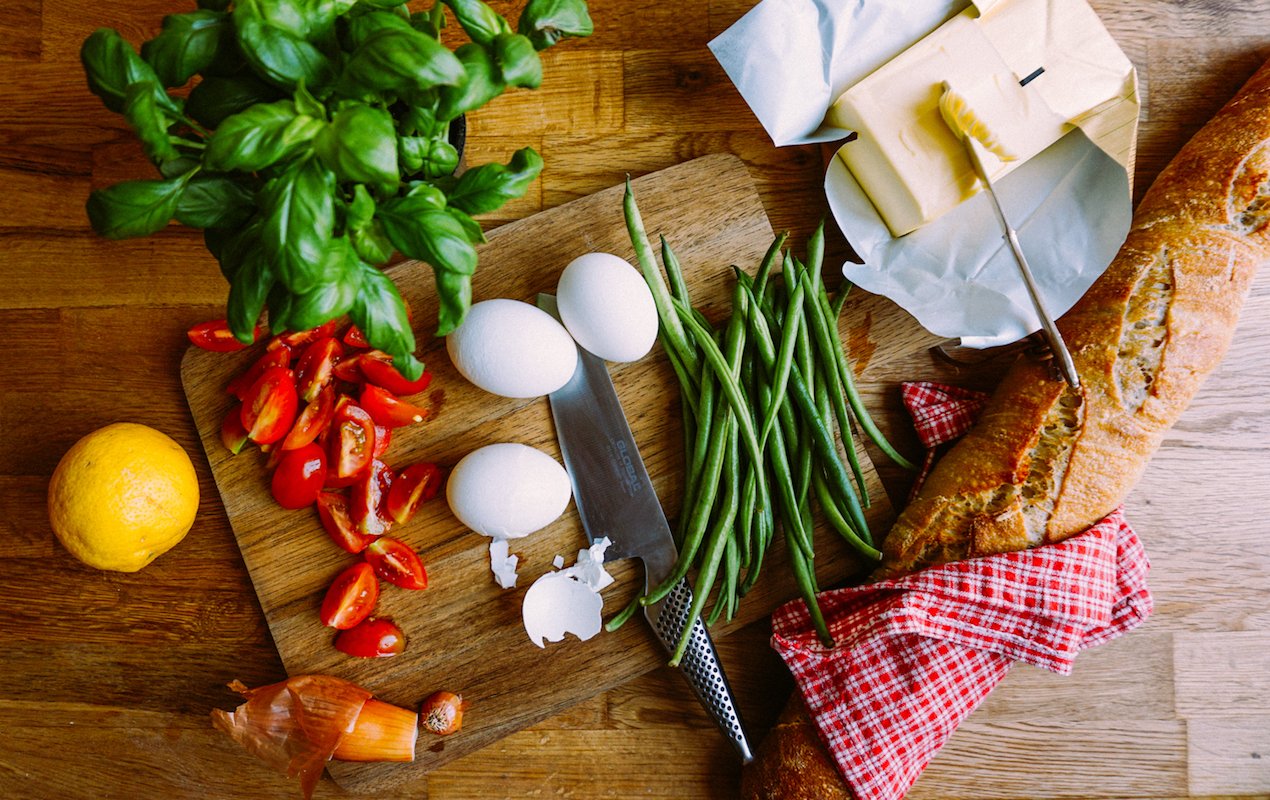 Instructions
Boil the eggs for 7-8 minutes and rinse them in cold water. Peel the shells off and cut them into quarters.
In the meantime, bring a medium sized pan filled with water and a little salt to a boil. Chop off the ends of the green beans and add them into the pan. Boil gently for 1 minute and then rinse with cold water. Cut into inch-long pieces.
In a small bowl, add the vinaigrette ingredients together. Mix until everything is well-combined. Taste and add more pepper, oil or lemon, if desired.
Rinse the tomatoes and cut into quarters. Peel the shallots and slice very thinly. Chop the olives into quarters. Place everything into a bowl and add the tuna (drained from its oil), the blanched green beans and the basil leaves. Pour in the vinaigrette and combine.
Now, assemble the sandwich. Cut the baguettes, first crosswise and then lengthwise, leaving one long side intact. Spread some mayonnaise (or butter) on the bottom of each baguette. Take a few spoons of the tuna mixture and put in the baguettes, add the lettuce leaves and then disperse four pieces of egg into each sandwich.
Wrap them up and go!
Bon appétit!
Come to Paris Perfect for more recipes like this, or join in one of our cooking classes!
Summary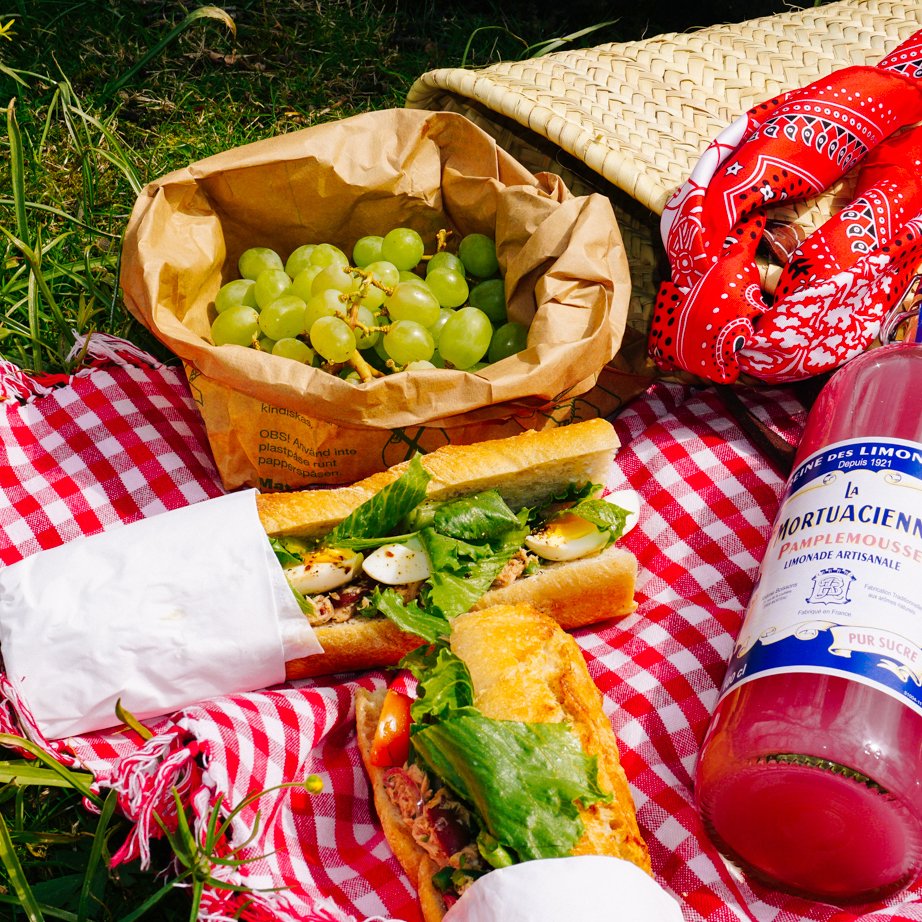 Recipe Name
Published On
Preparation Time
Cook Time
Total Time
Average Rating





Based on 452 Review(s)