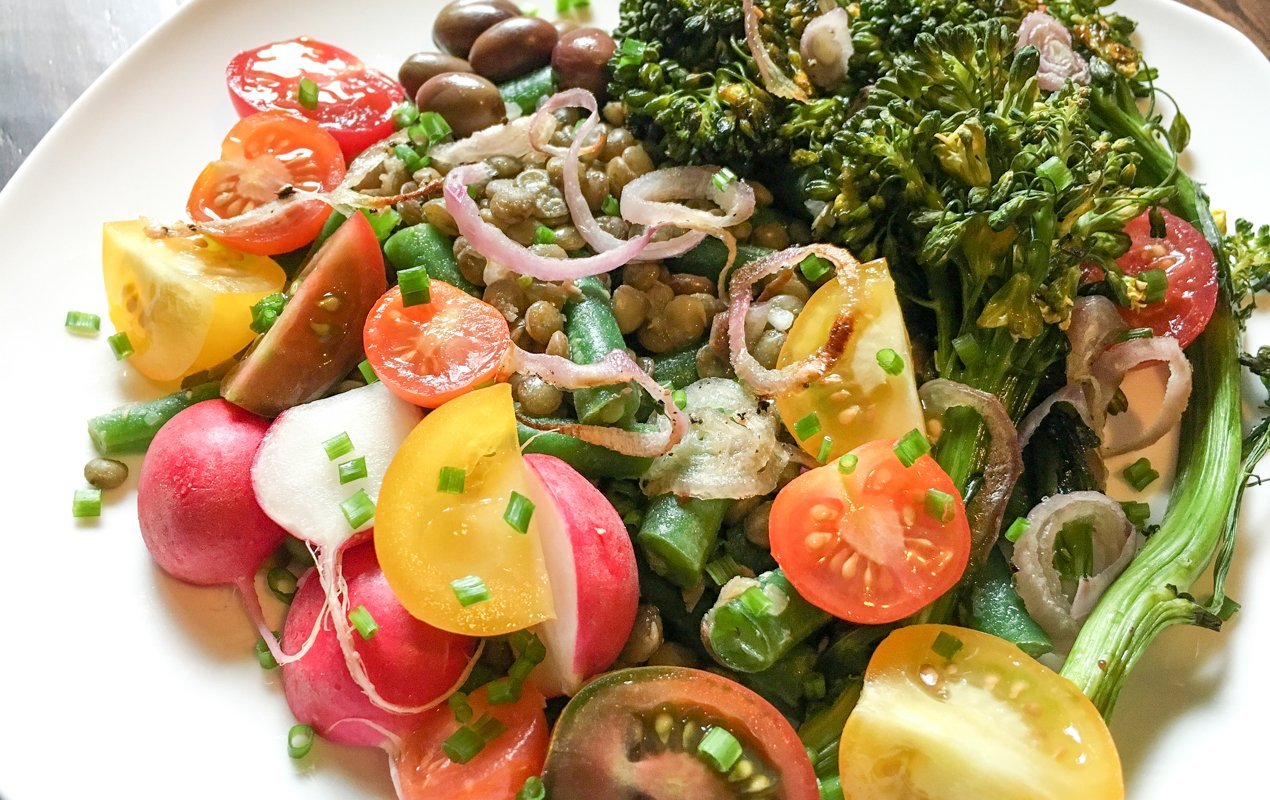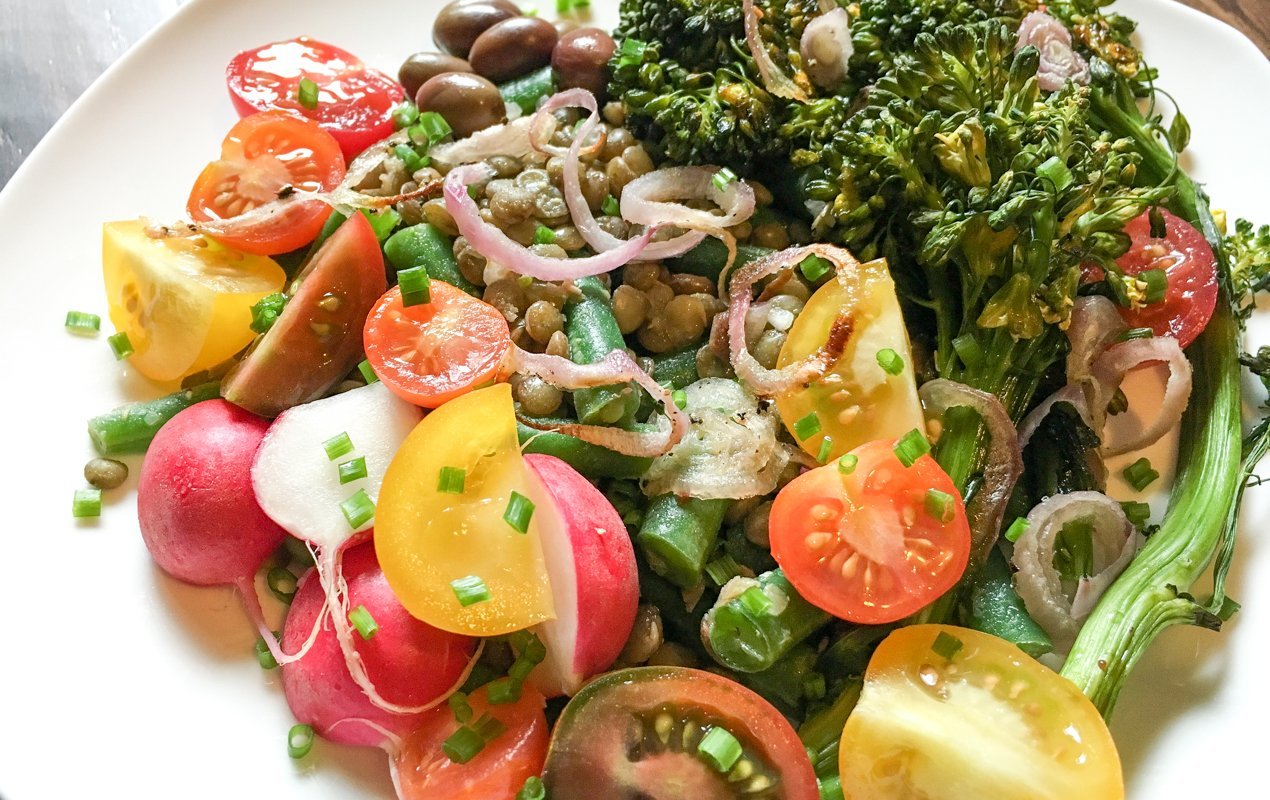 Enjoy the last fruits of summer with this spin on the classic Niçoise salad. Traditionally made with hard boiled eggs and tuna, this version gets its protein from French green lentils and its unforgettable flavor from a zesty shallot and caper dressing. With its bright and beautiful presentation, this salad is sure to be a crowd-pleaser!
Shallots, white wine vinegar, haricot verts and chives – what could be more French? The flavors of this salad come together harmoniously, highlighting the best of the country. Niçoise olives add an extra layer of flavor authenticity. These little olives are only grown in the French Riviera, but can be found stateside without too much trouble. They're worth searching for, but if you can't find them, then they can easily be omitted or replaced with Kalamata olives or regular green olives.
In proper French spirit, this salad is bold enough to be served for a special occasion, but simple enough to be prepared as a little celebration for the every day.
Niçoise-Inspired Lentil Salad with Shallot Vinaigrette
Serves 3-4
Prep Time: 35 minutes
Cook Time: 75 minutes
Total Time: 1 hour 50 minutes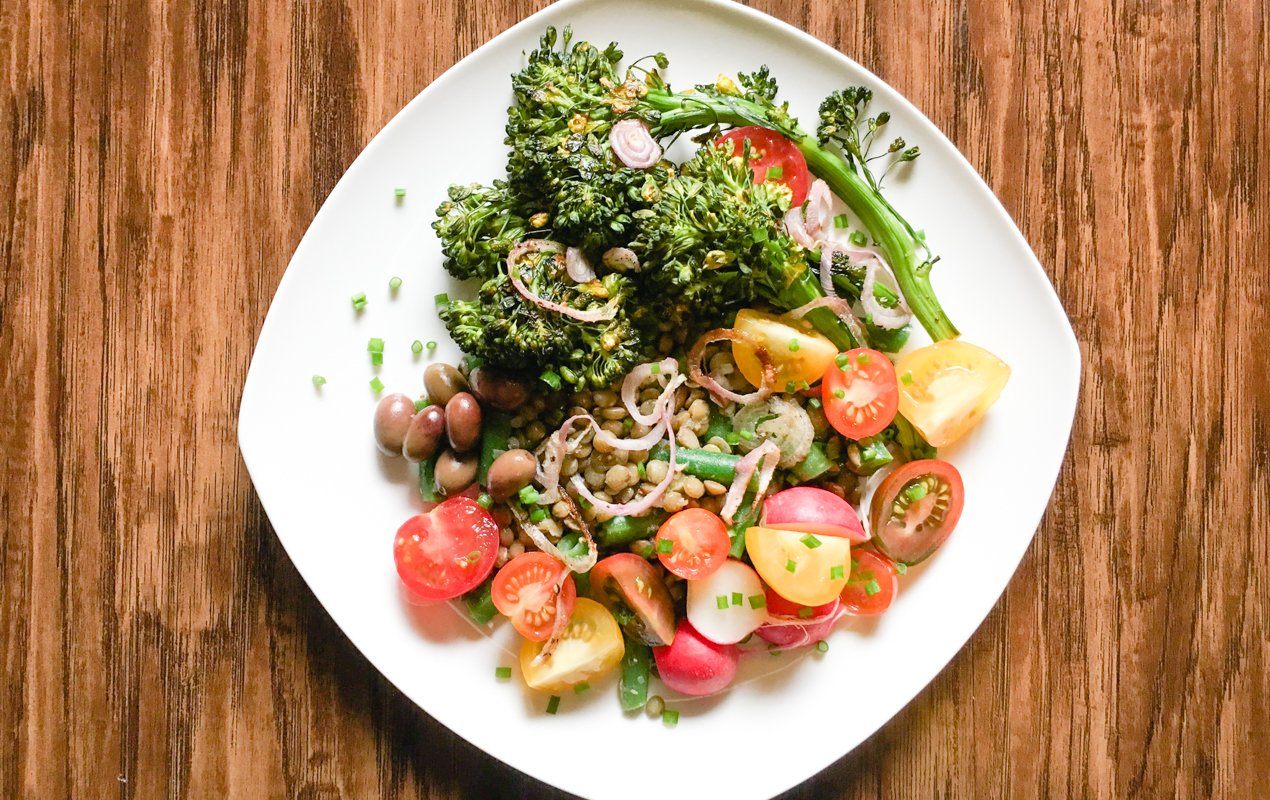 Ingredients for the Vinaigrette:
1 shallot, minced
1 tbsp capers, minced
1/2 tsp dijon or whole grain mustard
2 tbsp champagne or white wine vinegar
Salt and black pepper, to taste
3 tbsp olive oil
Ingredients for the Salad:
1/2 cup French green lentils, rinsed
1/2 pound small red potatoes
1/2 pound green beans, cut into 1 inch pieces
1/4 cup niçoise olives, pitted and finely chopped
1/3 pound broccolini
1 shallot, thinly sliced
1 tbsp olive oil
1/2 tsp salt
1 bunch red radishes, quartered
1 pint cherry/grape tomatoes, varied in color and size if possible, halved or quartered
1/4 cup minced chives
Instructions:
Prepare vinaigrette by combining all ingredients in a jar or small bowl. Set aside.
Bring a medium pot of water to a boil. Add lentils, reduce heat, and simmer until just soft, about 20 minutes. Drain lentils and add to a large bowl.
Fill the pot with water again and bring to a boil. Blanche green beans for 30-40 seconds, until they brighten in color but are still crisp. Remove with a slotted spoon or strainer and place into the bowl with lentils.
In the same water, simmer the potatoes until tender enough for a knife to easily slice through, about 15-20 minutes. Remove from water and set aside.
While the potatoes are simmering, preheat oven to 375 degrees F. Spread broccolini and shallot slices on sheet tray; drizzle with olive oil and sprinkle with salt. Bake until florets are lightly roasted, about 15 minutes.
When the potatoes are cool enough to handle, half or quarter each into bite sized pieces.
Add the potatoes and olives to the bowl with green beans and lentils.  Toss with dressing.
Assemble salad in one large serving dish or on individual plates. Begin with a bed of lentil salad, then place whole stalks of roasted broccolini and shallot on top. Gently arrange turnips and tomatoes around plate. Garnish with minced chives, and it's ready to serve!!
Some Tips:
Each individual ingredient can be prepared simultaneously and/or saved for later. Just store each cooked ingredient, covered in the fridge, until you're ready to assemble and serve.
Use seasonal vegetables wherever possible, as they will give you the most vibrant flavor and color. Have fun plating this salad and appreciating the beauty of the harvest.
Enjoy this salad as a complete meal, or with a soft slice of freshly baked bread and butter. Or, if you can't live without meat, simply add some grilled or roasted chicken breast to really complete the picture!
(Credits: All images by the Author, recipe adapted from The First Mess.)