How often do you get to experience something completely unexpected and unique? The City of Light is at the forefront of the world, with so many fantastic exhibitions and artistic events to enjoy, whether visiting for the first or fifteenth time. The Paris Perfect Travel Design Team is excited to tell you about two brand new museums in Paris that have recently opened their doors to a very enthusiastic public. You just can't miss them!
New Museums in Paris
Atelier des Lumières
The avant-garde Atelier des Lumières (or 'Light Workshop') museum could not be more aptly named. And, en plus, you don't need a word of French to enjoy this electrifying and innovative piece of local culture. Even better, the entire show lasts for around one hour and you can then choose whether to linger and watch it again, or leave and continue exploring other parts of the city.
Imagine a drab-looking former iron foundry around the corner from the Père Lachaise cemetery. Dating from 1835 and steeped in the Plichon family history, the outside of the museum gives no indication whatsoever of the wonders within. Appearances can be deceptive. Once inside, you'll discover the ex-factory transformed into a fabulous, family-friendly and fully immersive exhibition of sound and light, guaranteed to quite literally take your breath away.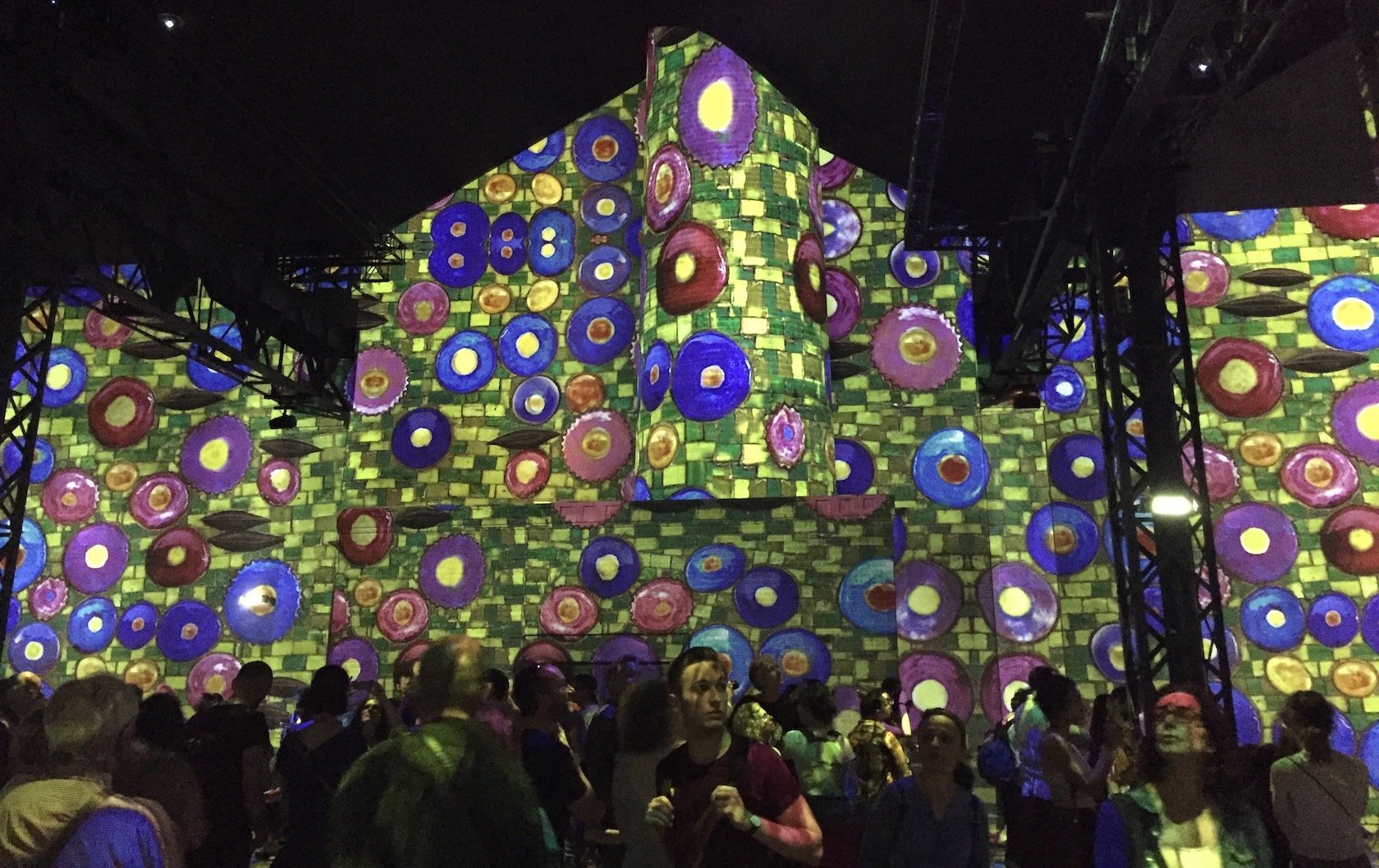 The brainchild of the Fondation Culturespaces and a group of creative Italians (European entente cordiale at its most impressive!), this monumental exhibit is a natural extension of its predecessor at Les-Baux-de-Provence in the south of France, yet this new museum in Paris is a first in the capital. Covering 3,300 square meters from top to toe with walls that are ten meters tall, this exceptional site is not only the sole digital immersive art center in the city, but it's also the world's largest permanent multimedia installation.
The show itself is breathtaking. Against the incongruous backdrop of metalwork, a giant chimney and even a small pool and room of mirrors, the expansive area is gradually metamorphosed into a giant moving canvas, and filled from floor to ceiling with a myriad Neo-Renaissance and Baroque images. Set against a magnificent soundtrack of Beethoven, Wagner and Chopin, the constantly changing displays completely fill every inch of space and cannot fail to stir the soul. As spectators, you are free to wander and be literally immersed in the state-of-the-art system, which projects a series of instantly recognizable paintings, collages and mosaics by artists such as Klimt, Chagall and Schiele.
Swirling, gold-tinged trees by Gustav Klimt are cast against the walls; scenes from 19th Century Vienna magically appear, only to be replaced by surreal characters from Bosch's masterpieces and the angels and demons that populate Egon Schiele's universe. Carpets of flowers trip the light fantastic, and the younger spectators dance and play hopscotch as the images continually move, while the older viewers stand or sit and let the vignettes literally wash over them. This is art at its most inclusive and interactive – where else could you reach out to touch a museum piece on the wall?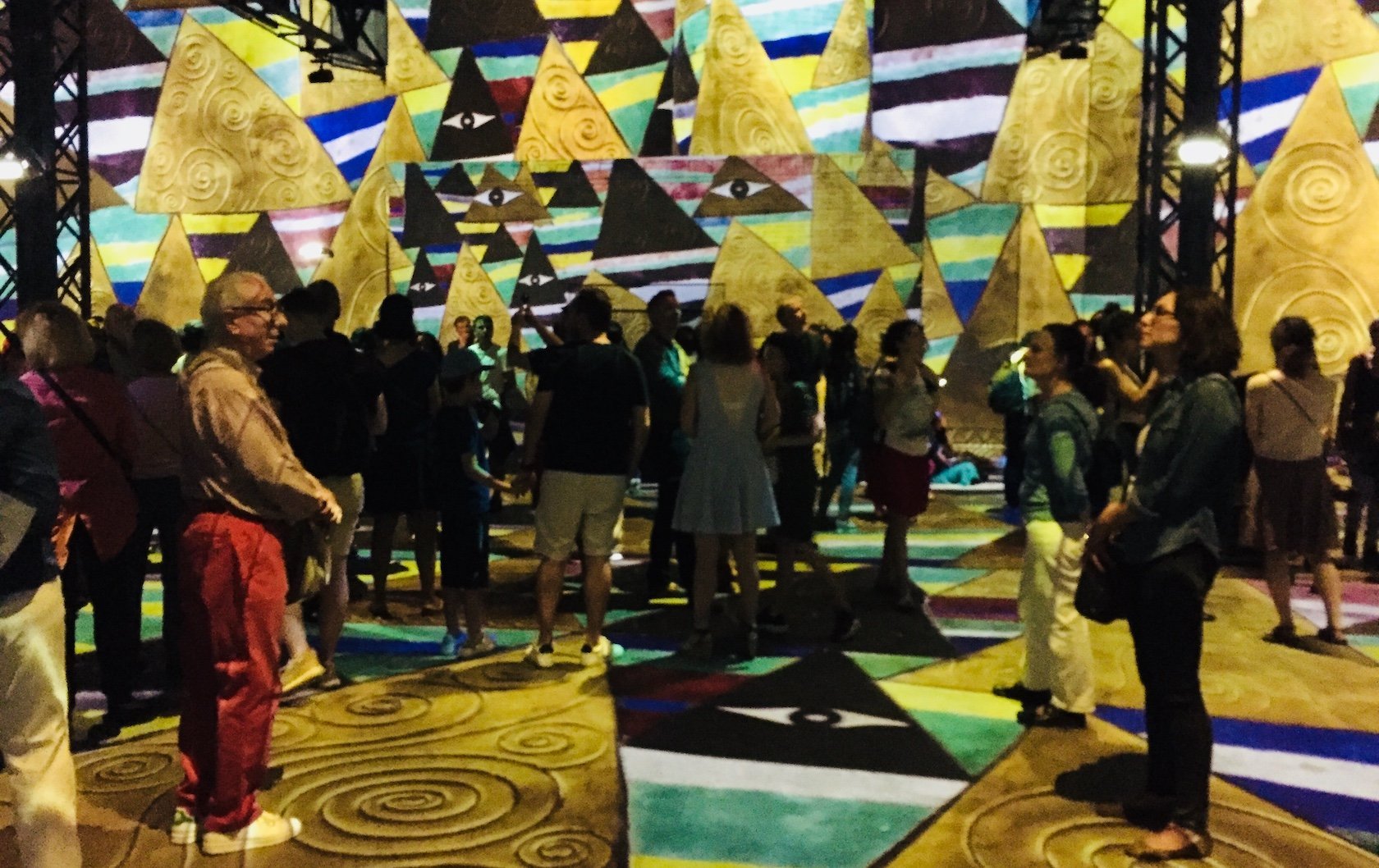 Even the most curmudgeonly of purists will be blown away by the sheer magnitude and spectacle. Atelier des Lumières is easily one of the most unique new museums in Paris. Perfect for families and children of all ages, thrilling for lovers of Secession works and a dazzling sight for anyone who enjoys accessible artistry – this ground-breaking show ticks all the boxes. Do not miss it, and be sure to take all your friends and family!
Musée Yves Saint Laurent
On the well-heeled avenue de Marceau, close to the Champs-Élysées, is our second selection of new museums in Paris. Recently opened to great acclaim and presenting its inaugural exhibition until September 2018, the headquarters of the Pierre Bergé – Yves Saint Laurent Foundation now allows visitors to take a peek inside the palatial hôtel particulier where YSL spent nearly 30 years creating his collections between 1974 and his unexpectedly early retirement in 2002.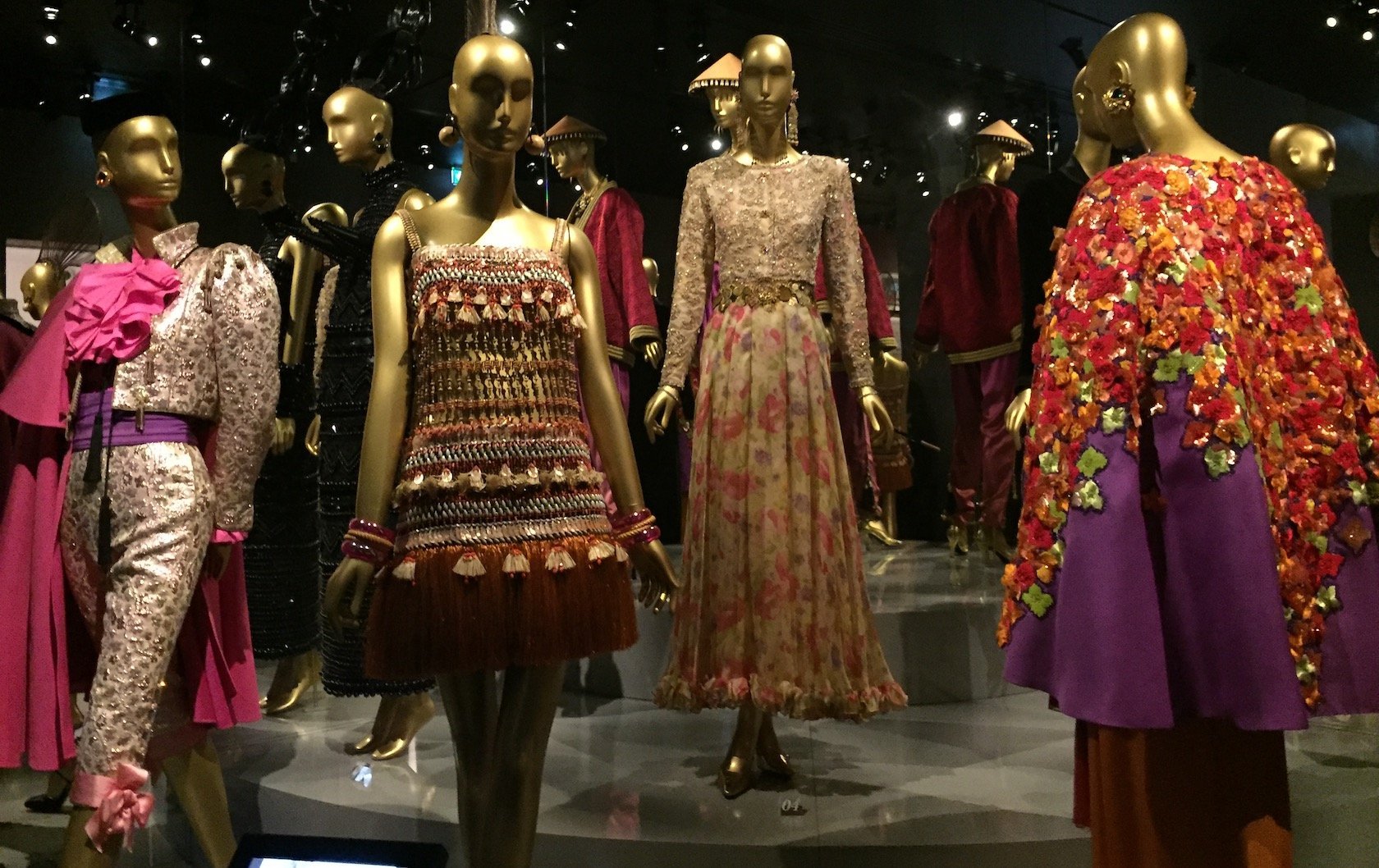 It's a unique opportunity to step into the world of the legendary couturier and catch a glimpse of the life and times of this uber-talented designer. The rooms on display offer a chance to get a close-up view of some of the stunning haute couture gowns spanning 50 years of his career, following his precipitous projection to fame as a young man at the helm of Christian Dior in 1957.
From the moment you step inside the entrance of the museum, expect large opulent mirrors and twinkling chandeliers at every turn; feel the luxurious tread of the carpets underfoot as you pass from room to room. It is all too easy to visualize Yves Mathieu-Saint Laurent welcoming his close friend Catherine Deneuve to take tea in the grand reception room, as they choose her made-to-measure wardrobes. There are reminders of the great artist everywhere, with large format photographs by Richard Avedon and Patrick Demarchelier immortalizing one of the best-known dressmakers of the century.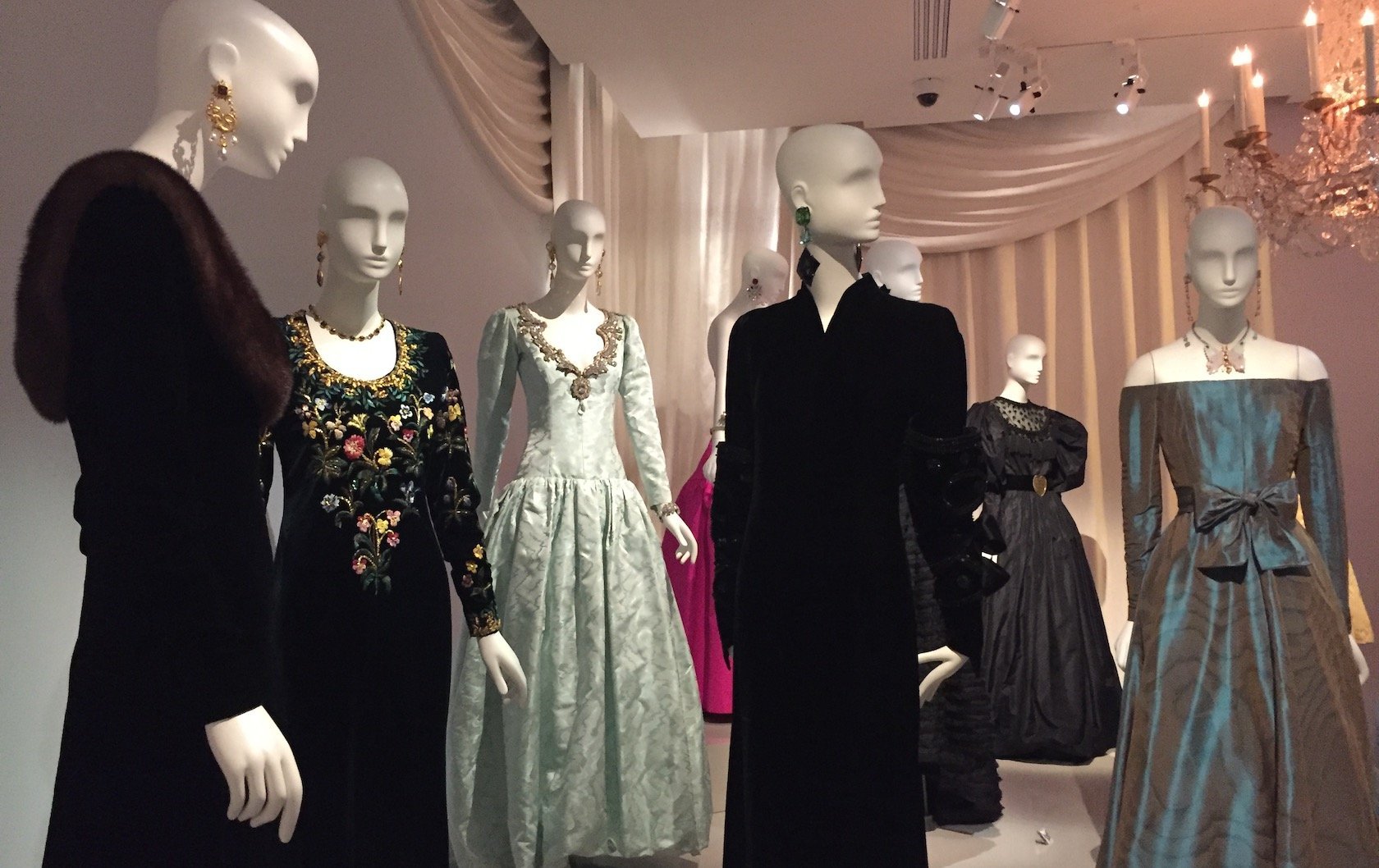 Two short videos portray the key moments in YSL's career and pay homage to his life-long partner in love and business, Pierre Bergé, which are well worth watching. Undoubtedly the high point of the collection is appropriately housed at the very top floor of the mansion. The curators' master stroke is the faithful reproduction of the light-filled studio, where Saint Laurent actually spent his days designing the clothes and accessories that have held generations in thrall.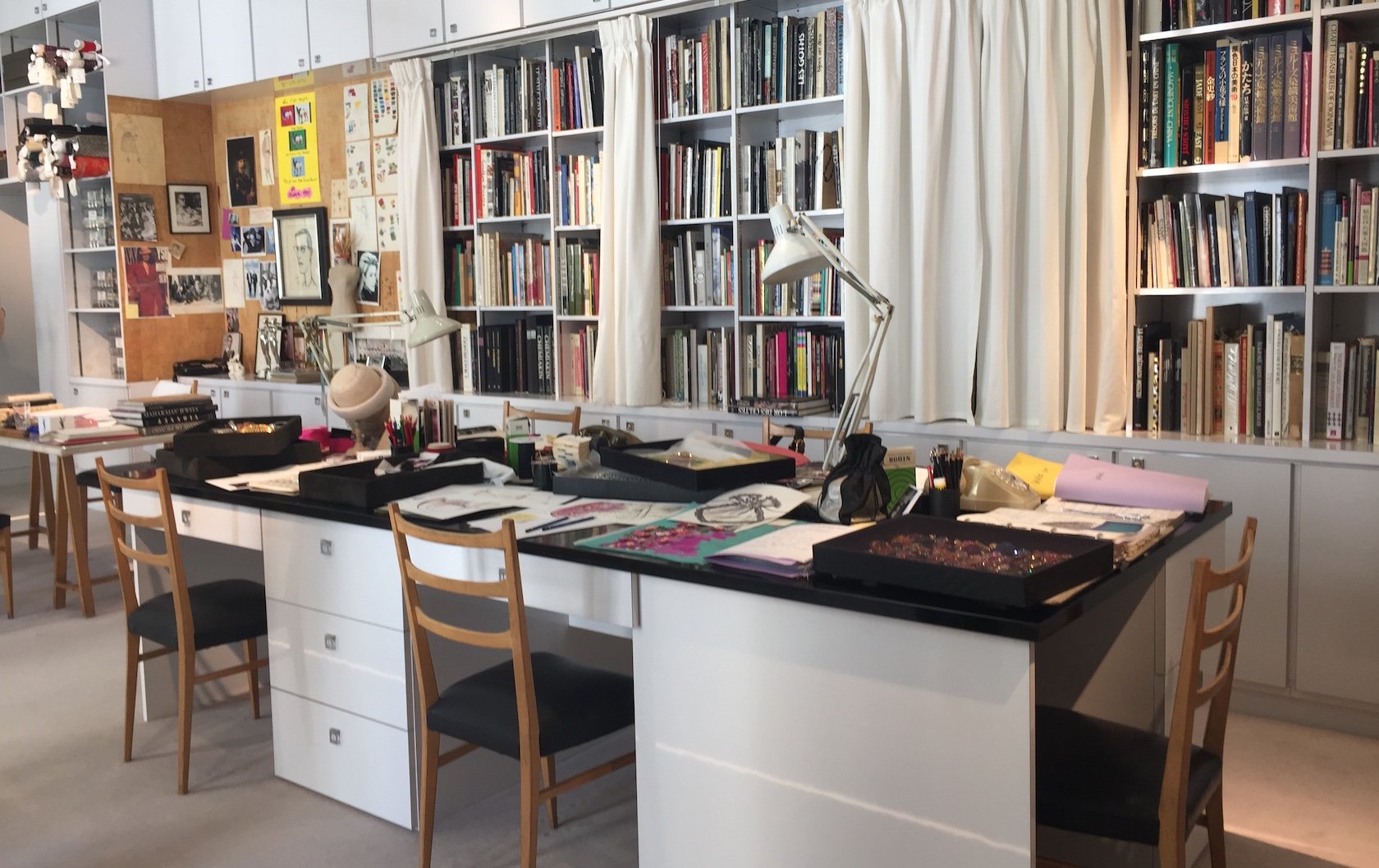 The atelier has been left almost intact, similar to the wonderful Musée de Camondo in the 17th arrondissement, where you feel as though the family is out and will be back for dinner at any second. The desk exhibited in the studio (an unpretentious plank set on a pair of sawhorses) is the one the artist used from 1962, and a pair of his reading glasses have been left alongside a pin cushion and drawing pens. As you walk through this nostalgic inner sanctum, it's impossible not to see YSL in your mind's eye, crafting jewel-encrusted dresses and fingering priceless fabrics.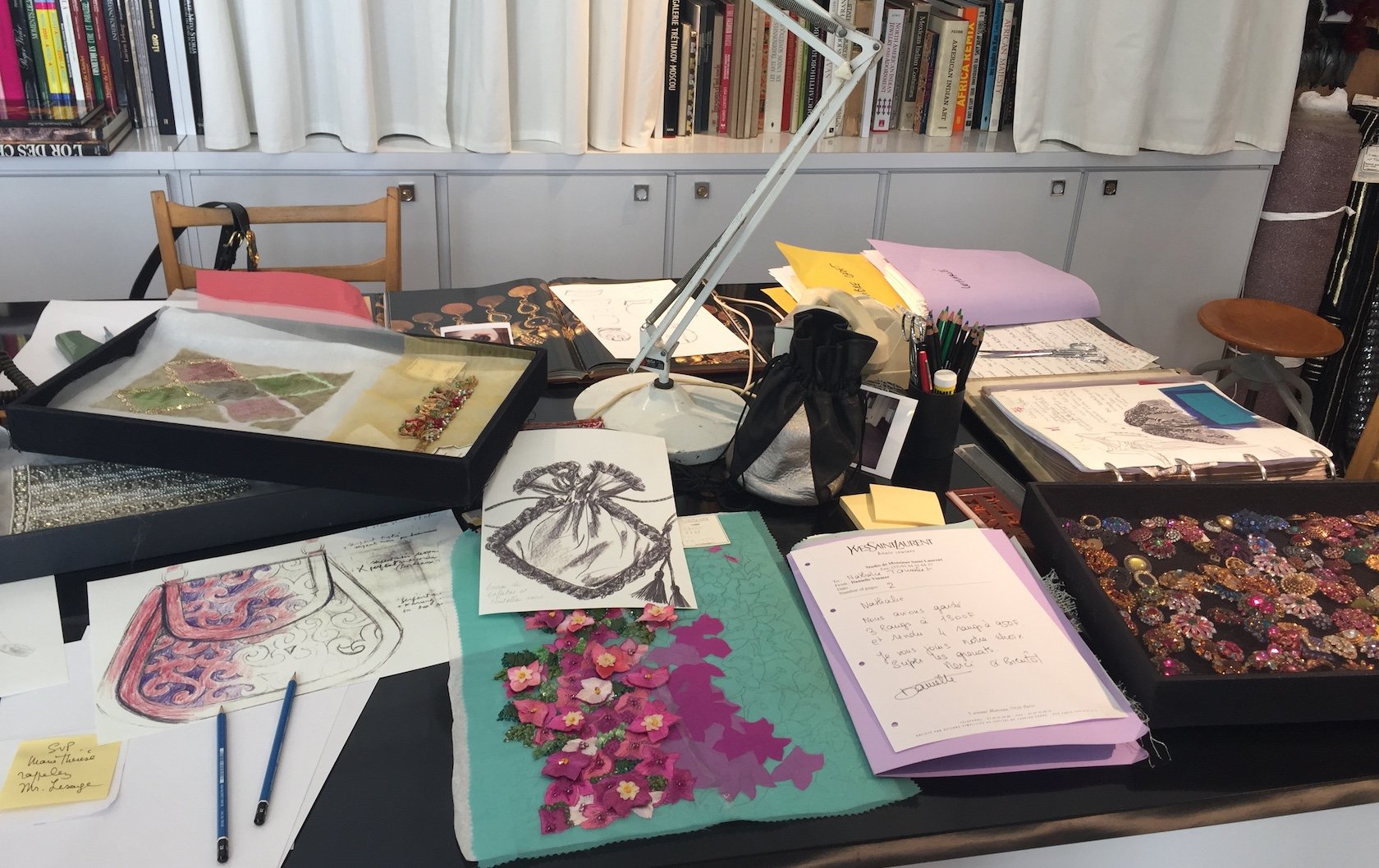 We had been feeling a little forlorn since the fabulous sell-out blockbuster Christian Dior exhibition closed earlier in the year, but morale is restored since the arrival of these two new museums in Paris!
Tips for Visiting the New Museums in Paris
Atelier des Lumières: We strongly recommend that you plan to enter the show just before the start of one of the continuous cycle of hourly projections to get the very most out of the exhibition. Staff at the museum will advise the timings on the day. And beware! Tickets are selling like hot cakes, so be sure to book in advance. Please note that apart from the inconvenience and time spent standing in line, at busy times it is sometimes not even possible to buy your tickets on the day, due to the show's well-deserved popularity.
Atelier des Lumières, 38 rue Saint-Maur, 11th arrondissement. Open every day from 10:00 – 18:00, and 22:00 on Fridays and Saturdays.
Musée Yves Saint Laurent: We suggest you watch both short video films and allow around 60-90 minutes for your visit. Please note that it may be necessary to wait in line for the second film. We also recommend you watch the coverage of Yves's retirement press conference speech, including his immortal words, « j'ai longuement cru que la mode n'était pas seulement faite pour embellir les femmes, mais aussi pour les rassurer, leur donner confiance, leur permettre de s'assumer » 'I have long believed that fashion serves not only to make women more beautiful, but also to reassure them, give them confidence and enable them to become themselves'. Yves Saint Laurent, a fashion icon, forever.
Musée Yves Saint Laurent, 5 avenue Marceau, 16th arrondissement. Open from Tuesday-Sunday 11:00 – 18:00 (last entry at 17:15), and 21:00 on Fridays. Rooms cleared 20 minutes before museum closing time.